Just nights after their victory over the San Antonio Spurs, the Oklahoma City Thunder face another great Western Conference team in the Golden State Warriors. Both feature prime NBA talent with All-Stars abound on either side.
The Warriors dropped the Thunder last time they met, coming on a buzzer-beating jumper from Andre Iguodala on November 14. Oklahoma City has won five straight games since, with Golden State going 1-4 over the last five games.
Both teams have something to prove Friday night but will have some aspects to hone in on to truly be successful.
Barnes needs to step up in Iguodala's absence
Iguodala was huge for Golden State when the team last faced the Oklahoma City. He played stifling defense on Kevin Durant all night, forcing a 5-of-13 shooting night with five turnovers from the All-Star. Iggy also hit the game-winning jumper in the final seconds, making Russell Westbrook's long-range heave count for naught.
The Warriors will be without Iguodala for this game as he misses more time with an injured hamstring. Harrison Barnes hasn't been a seamless substitute in Iggy's absence, averaging 12 points on 37.1 percent shooting in 42 minutes in the three games.
Golden State doesn't have a very strong bench and will rely on Barnes to do a ton of heavy lifting. He'll need to play intense defense on Durant for the entire game, as the team doesn't have another player with his height or versatility to do so.
Barnes won't be relied upon to score, but the Warriors will need him on standby to put the ball in the basket with efficiency.
Can Serge Ibaka repeat his monster game when the Thunder and Warriors last met?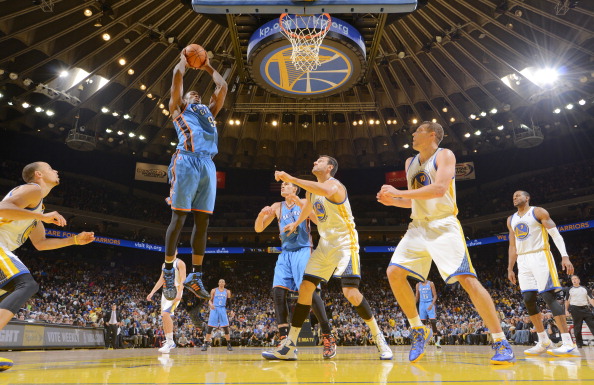 Rocky Widner/Getty Images
Ibaka has always been considered the third wheel of Oklahoma City's Big Three, and rightly so. He doesn't have the best offensive skills despite being able to score from the mid-range area and put the ball on the floor.
Despite this, he put up 27 points and 13 rebounds against Golden State last time, in addition to blocking three shots. With Durant struggling, Ibaka stepped into the spotlight and became an option for the Thunder to score through.
Whether it was Golden State's defense or Ibaka going to work in the previous matchup, it'll be interesting to see if he can repeat his effort. He's been moderately consistent all season averaging 14.7 points and 10.2 rebounds. It wouldn't be a total surprise if Ibaka does break out in this game, yet his monster performance was uncharacteristic.
Keep a tab on this one if the Warriors lock down on Durant and/or Westbrook.
Has Stephen Curry rounded back into form after his absence?
Curry suffered a scary injury against the Utah Jazz on November 18, with Jazz forward Marvin Williams falling onto the point guard's head. Curry ultimately missed two games to clear concussion-like symptoms, but will look to be back to his usual tricks against the Thunder.
The guard initially returned last week but hadn't been up to standard. Curry put up 29 points and eight assists against the Dallas Mavericks on November 27, knocking down six three-pointers. While that's become his trademark, Curry shot just 36.5 percent in his first two games back.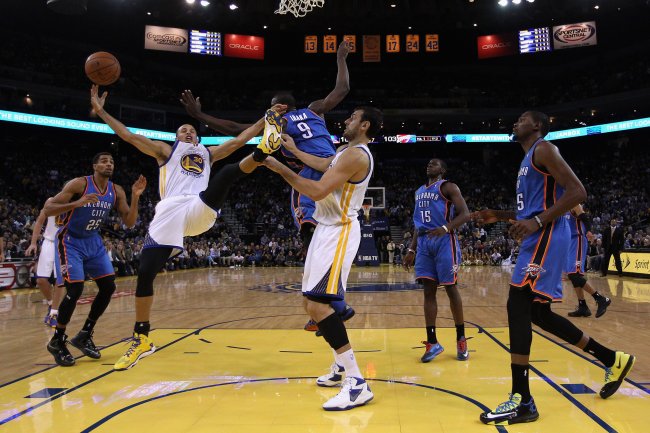 Ezra Shaw/Getty Images
His showing in Dallas would seem to confirm he's back in action. However a second performance of such potency would truly relax fans. Curry can be a streaky shooter on some occasions but needs to be locked in against Oklahoma City.
Curry committed six turnovers to go with his eight assists against the Mavericks, almost double his usual 3.6 per game. He also turned it over five times against the Portland Trail Blazers four nights earlier. Per Monte Poole of CSNBayArea.com, coach Mark Jackson called his point guard out back on November 4, saying his turnovers were "unacceptable".
Curry said this on the matter:
''Just trying to do too much, thread the needle,'' Curry said. ''I've been studying film, trying to get better, and I'll continue to do that.

Who will win tonight's game?

''I've got to play smarter. Sometimes, getting a shot up is better than trying to thread a needle when it's not necessary.''
Curry committed just 2.4 turnovers since then up until his injury against Utah. The guard may have just had a few bad games but can't have a repeat against the Thunder. According to TeamRankings.com, Oklahoma City ranks No. 6 in fastbreak points this season with 16.7 points per game.
The Thunder force 16.1 turnovers per game thus Curry will need to be focused and mentally prepared. The duo of Westbrook and Durant is impossible to contain in the open court, and Curry can help limit this by playing it smart and taking care of the ball. He committed only two turnovers against Oklahoma City last time around, but the Thunder defense will look to take advantage.
Will the Thunder defense lock down on the Warriors?
Oklahoma City boasts a top-10 defense thus far this season, allowing 97.9 points on 42.8 percent shooting. Despite this, the Thunder let the Warriors run all over them last game.
Golden State exploded for 116 points shooting 14-of-23 three-pointers and committing just seven turnovers. The team had 26 assists on 45 made field goals, indicative of their potent offense.
Oklahoma City will only win by clamping down on the Warriors' offense. The combination of Curry, Klay Thompson and David Lee is an impressive one, and the inside-out offensive dynamic that exists between the trio makes it hard to contain.
The Thunder have the defensive players to halt them in their tracks, namely Ibaka, Durant, Westbrook and Thabo Sefolosha. Golden State likes to play an up-tempo offense, as seen with their 101.6 points per game with 47.1 percent and 43.7 percent from the field and long range respectively.
Thompson went off for 27 points in the last matchup en route to hitting 6-of-9 three-pointers. Once the Warriors start knocking down long-range shots, it becomes contagious amongst the team's shooters. Curry and Thompson are then able to play off each other and it's very difficult to contain both while trying to guard inside shots.
Oklahoma City has held its last five opponents to an average of 88.8 points, thus the team's defense is in great form already. The Thunder will need to carry it into tonight's matchup if they wish to continue their winning streak. It began after the last-second loss to the Warriors, so they'll be motivated to ensure it doesn't end at the hands of the same team.