With the Thanksgiving games all wrapped up, it's time to take a look at the latest NFL power rankings for Week 13.
The Detroit Lions came up with a dominating win over the Green Bay Packers on Thursday, winning 40-10. Meanwhile, the Dallas Cowboys and Baltimore Ravens came up with big wins over the Oakland Raiders and Pittsburgh Steelers.
Below is a look at the latest NFL power rankings after Thanksgiving, breaking down all 32 teams.
32. Houston Texans
From super high expectations to nine straight losses, the Houston Texans have collapsed this season, and they're the worst team in the league.
The losses of Brian Cushing and Arian Foster have hurt, but the Texans were bad before those injuries. They may allow just 171.8 passing yards per game, but nothing else seems to be going well for this team. Houston could be in even more trouble, heading into this week's game against the New England Patriots.
31. Atlanta Falcons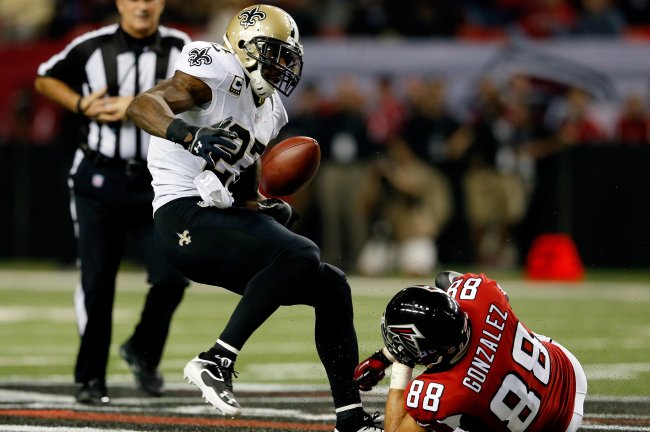 Kevin C. Cox/Getty Images
Much like the Texans, the Atlanta Falcons are in a complete free-fall right now. A 2-9 record along with five straight losses has them looking at a top-five draft pick instead of a playoff berth entering Week 13.
A ton of injuries and a lack of a running game have killed this team. Matt Ryan is noticeably struggling without all of his weapons around him, and the Falcons will be looking to hit the reset button after this season finally ends.
30. Jacksonville Jaguars
A 2-1 record over their past three games is the equivalent of a hot streak considering what the Jacksonville Jaguars have gone through over the past few years. Still, it's not enough to take the team out of the bottom of the league.
The Jaguars rank dead last in scoring, averaging just 12.9 points per game. Until they can get a reliable quarterback, it will likely stay that way, even with weapons like Cecil Shorts and Ace Sanders.
29. Minnesota Vikings
The Minnesota Vikings have struggled this season, as they've had one of the most rocky quarterback situations in the league, with Christian Ponder, Matt Cassel and Josh Freeman all struggling at the position.
Adrian Peterson can only do so much offensively, and the Vikings aren't much better off on the other side of the ball. They're need to find a way to hold opponents to less than 31.5 points per game, or that will kill Minnesota next season, even with a new QB.
28. Washington Redskins
Robert Griffin III hasn't looked the same this season. He's completing just 59.8 percent of his passes with 14 touchdowns and 11 interceptions, with just an 81.8 passer rating.
However, all of the blame can't be put on RGIII. The defense has been terrible, allowing 382.1 yards and 30.7 points per game. That doesn't take all of the blame off Griffin, but it's a big reason why Washington is a loss away from being eliminated from the playoff picture.
27. Oakland Raiders
While the Oakland Raiders have shown flashes of being a solid team over the season, they're still just 1-4 over their last five games, with the one win coming against the Texans.
Matt McGloin is proving that he can be the starter for the rest of the season, but he's going to need some help in the backfield, as his running backs are struggling to stay healthy. The Raiders have some pieces to build around, but they are still a couple of years away from being a playoff contender once again.
26. Cleveland Browns
Brandon Weeden just keeps finding ways to get on the field, and that's bad news for the Cleveland Browns.
Going 1-5 over the past six games hasn't helped things, and now the Browns will need to start looking for a quarterback in the 2014 NFL draft.
25. Buffalo Bills
With players like EJ Manuel, C.J. Spiller, Robert Woods and others, this offense has the chance to be great for the next few seasons. Unfortunately, with several injuries this year, that offense hasn't been effective so far this season.
A huge win over the New York Jets will help their confidence, and the team is still putting up 134.1 rushing yards per game. But until Buffalo adds more talent around Kiko Alonso on defense, this team will struggle to become a dominant force in the AFC East.
24. Tennessee Titans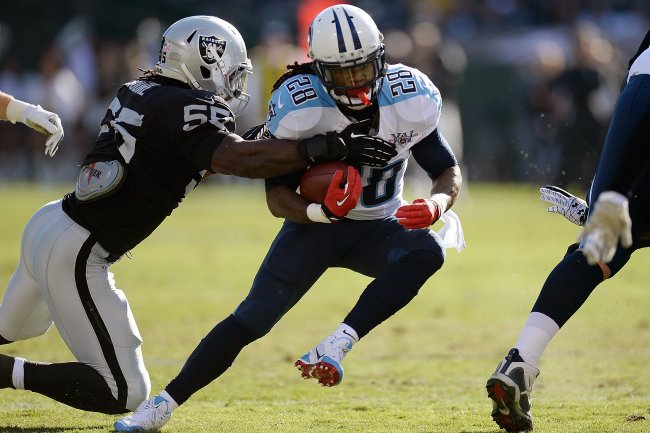 Thearon W. Henderson/Getty Images
Although the Tennessee Titans came away with a win over the Oakland Raiders last week, they're still one of just two teams to lose to the Jaguars.
Ryan Fitzpatrick isn't a bad backup quarterback. However, the real concern is whether or not Chris Johnson can stay consistent. He's been terrific in some games and just plain bad in others. If he can't string together some good games to end the year, the Titans will likely fall out of the wild-card race.
23. Tampa Bay Buccaneers
Seven teams have won three or more straight games, and one of them happens to be the Tampa Bay Buccaneers, who have improved to 3-8.
Mike Glennon deserves a ton of credit for developing into an impressive young quarterback. He's quietly completed 62.5 percent of his passes for 1,782 yards, 13 touchdowns and just four interceptions, and he just seems to get better in every game.
Bobby Rainey is going to have to show that he can make big plays like he did against the Falcons, but even if he can't get it going, the Buccaneers could be in good shape thanks to Glennon and an improving defense.
22. New York Giants
Their four-game win streak came to an end last week against the Dallas Cowboys, and while they're still in the division race, it's going to be hard for the New York Giants to make an epic comeback.
There are still some concerns about the offensive line, and Eli Manning has been knocked around a lot this season. Andre Brown's return has been impressive, but New York needs a lot more than an impact running back to win upcoming games against the Detroit Lions and Seattle Seahawks.
21. Miami Dolphins
In case you haven't noticed, the Miami Dolphins really need some help on the offensive line right now.
Ryan Tannehill is continuing to get knocked around, being sacked nine times in the last three games. Their 3-0 start seems like a distant memory now, and the Dolphins are going to struggle to grab a wild-card spot this season.
20. Green Bay Packers
The good news is that Aaron Rodgers apparently thinks he's ready to go next week against the Falcons, according to SportsCenter.
Packers QB Aaron Rodgers says he hopes to play next Sunday, and he thinks his collarbone is completely healed. (via @BobHoltzmanESPN)

— SportsCenter (@SportsCenter) November 28, 2013
The bad news? The Packers are 0-4-1 in games without him this year, and now their playoff hopes are in serious jeopardy after that terrible loss against the Lions. The Packers have four games that they could win with Rodgers back, but his absence has exposed some weaknesses on both sides of the ball. That's very concerning, even if this team is able to get into the playoffs.
19. New York Jets
The New York Jets finally ended their streak of alternating wins and losses to start the season, but not in the way they were hoping for.
Two straight ugly losses have the Jets sliding down the power rankings once again. The biggest reason for the team's struggles has been Geno Smith, who has thrown 18 interceptions and fumbled eight times. According to his ESPN profile, his season QBR is just 23.4, and that's not going to cut it.
18. Pittsburgh Steelers
The Steelers needed a win on Thursday, but they were unable to get it, which is a major blow to their playoff chances.
Still, they're not that far out of the wild-card race, but they'll have a tough remaining four games. They'll likely have to win all four or at least three of in order to have a shot.
17. Baltimore Ravens
The Ravens will have an easy game against the Vikings, but with matchups against the Lions, New England Patriots and Cincinnati Bengals, it will be hard for the Ravens to grab the No. 6 seed in the AFC.
16. St. Louis Rams
Even without Sam Bradford, the St. Louis Rams are starting to get on a roll, blowing out their last two opponents.
Tavon Austin is finally starting to be used more in the offense, putting up four total touchdowns over the past two games. If the Rams can continue to showcase him, he could make a late run for the Rookie of the Year award.
An intimidating front seven with players like Robert Quinn and Chris Long has made up for the struggling secondary, but St. Louis will need to add some defensive backs this offseason to make some more noise in the NFC in 2014.
15. San Diego Chargers
A win over the Kansas City Chiefs was huge for the San Diego Chargers last week. They had lost their previous three games by an average of just six points per contest, so it was a bounce-back victory for them.
Philip Rivers is having a terrific season, throwing for 3,381 yards, 22 touchdowns and eight interceptions. With weapons like Eddie Royal, Danny Woodhead and Keenan Allen, this offense should be in good shape for quite some time. Once that defense improves, this could be a playoff-caliber team in the AFC.
14. Indianapolis Colts
It's so frustrating to watch the Indianapolis Colts. They've beaten the best of the best in the league, but they've also been blown out by the Rams and Arizona Cardinals. Since Reggie Wayne's injury, the Colts have scored a total of 12 points in the first half of games.
Andrew Luck is a great quarterback, but this team has so many holes that it will have a lot of work to do over the offseason, even if the Colts make a deep playoff run.
13. Chicago Bears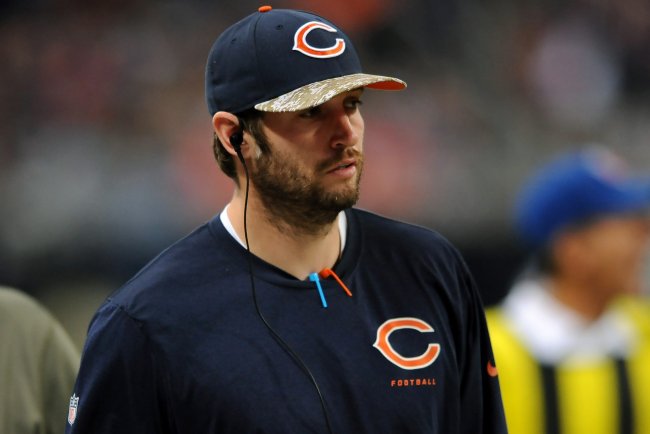 Michael Thomas/Getty Images
Even without
Jay Cutler
, the Chicago Bears are still somehow in the playoff race. Josh
McCown
is stepping up when needed, and although they're just 1-2 in the last three games, they have a terrific chance to take a win against the Vikings and keep up with the Lions for the top spot in the NFC North.
However, if the Bears want to make a playoff run, they'll need to fix their struggling defense, which is banged up.
12. Dallas Cowboys
The Dallas Cowboys are keeping up with the Philadelphia Eagles for the top spot in the NFC East, and a Thanksgiving Day win over the Raiders could be big down the road.
DeMarco Murray was huge in the win, running for three touchdowns. Meanwhile, Tony Romo continues to have a terrific year, throwing 24 touchdowns and just seven interceptions.
While the pass defense is one of the worst in the league, the offense could help lead the Cowboys to their first winning season since 2009.
11. Detroit Lions
When Matthew Stafford and Calvin Johnson are on the same page, the Lions are unstoppable.
That was the case on Thursday. The two combined six times for 101 yards and a touchdown. Although the Lions turned the ball over four times, their offense was still incredibly productive, especially with Reggie Bush, who put up 182 total yards of offense.
With the defense improving and the offense getting more explosive, this team is getting hot at the right time, even after losing the two games before this one.
10. San Francisco 49ers
The San Francisco 49ers needed a big win after losing their last two games, and they got that with a 27-6 win over the Redskins.
Still, they beat the Redskins, and the 49ers have some questions to answer in the passing game. However, according to Matt Maiocco from CSNBayArea.com, it seems likely that Michael Crabtree will be ready to play this Sunday against the Rams.
#49ers WR Michael Crabtree makes it through another practice and appears likely to make season debut Sunday vs. Rams. http://t.co/G5GFADml9X

— Matt Maiocco (@MaioccoCSN) November 28, 2013
Crabtree
's presence should fix a lot of problems with this offense, but until we actually see it, the 49ers will stay at No. 10 in the power rankings.
9. Philadelphia Eagles
With Nick Foles under center, things seem to be working out for this offense. He has 16 touchdowns and zero interceptions through the air, and it's hard to deny how much more effective he's been than Michael Vick.
Even LeSean McCoy is enjoying the presence of Foles, as he keeps making big plays. While the pass defense could still use some work, Chip Kelly's offense should lead the Eagles to a division title as long as Foles stays healthy.
8. Kansas City Chiefs
Two straights losses have exposed the Kansas City Chiefs, and with an upcoming game against the Denver Broncos, they're in danger of losing three in a row.
The defense is starting to come apart a bit, as they've allowed 68 total points in their last two games. With the defense starting to get exposed, the offense could start struggling as well. Now is not the time for the Chiefs to fall apart.
7. Arizona Cardinals
Their defense is one of the best in football, and they have the best weighted defense-adjusted value over average or DVOA, per Football Outsiders
Bruce Arians seems to know what he's doing with this team, and as the offense keeps improving, the Cardinals are looking to snatch up a playoff spot coming out of the NFC.
6. Cincinnati Bengals
The roster for the Cincinnati Bengals has a few holes. Even with the injuries to Geno Atkins and Leon Hall, the defense is still stepping up, and that's good news as the Bengals look to keep the top spot in the AFC North.
Andy Dalton may be inconsistent, but A.J. Green and Giovani Bernard will be able to help him out. The Bengals will be hoping that they can win a playoff game this season.
5. New England Patriots
I would normally have the New England Patriots higher on this list, but when I look at the four teams ahead of them, it's hard to rank them than any of the others.
Offensively, Tom Brady is starting to get on a role with Rob Gronkowski and Danny Amendola healthy and productive. Meanwhile, players keep stepping up on the other side of the ball, which makes this a balanced team that could take the No. 2 spot in the AFC.
4. Carolina Panthers
This looks like a completely different team than we saw last season, and the Carolina Panthers are the hottest team in football right now with seven straight wins.
The Panthers lead the league in scoring defense, allowing just 13.7 points per game. Meanwhile, Cam Newton is becoming a dark-horse candidate for the MVP award, putting up 22 total touchdowns and nine interceptions despite having few weapons to work with on offense.
This team is on fire right now, and Carolina is hoping to keep the hot streak going through February.
3. Denver Broncos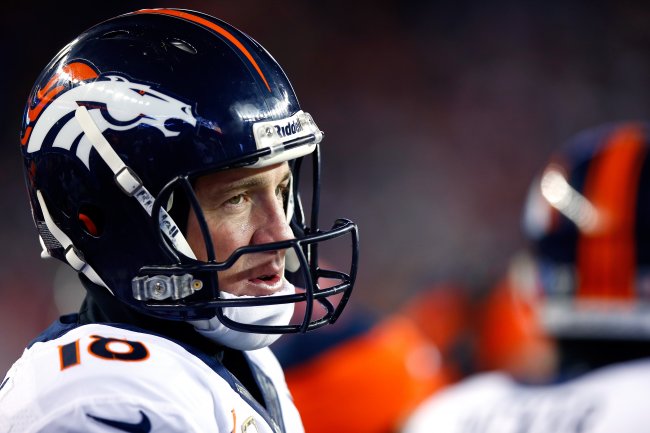 Jared Wickerham/Getty Images
Don't panic, Broncos fans: This team is still in very good shape with
Peyton Manning
playing under center.
The Broncos are the only team scoring at least 28 points per game, scoring 39 per contest. Manning has plenty of weapons to choose from, with names like Wes Welker, Demaryius Thomas and Eric Decker stepping up almost every week.
Von Miller's return has been big for the defense, and while Denver is still giving up more points than it would like, that should change as Miller continues to make huge plays and put the pressure on opposing quarterbacks.
2. New Orleans Saints
Remember when the New Orleans Saints went just 7-9 and had the worst defense in the league in 2012? This is a completely different team now with the return of Sean Payton and the hiring of Rob Ryan.
The Ryan hiring might have been the best thing to happen to this team, as the Saints are playing so much better this season. They are allowing just 309.9 yards and 17.8 points per game, ranking fifth in both categories.
Drew Brees and Jimmy Graham continue to light up the scoreboard on offense, making this one of the most balanced teams in the league. They'll have a big test on Monday, however, as they'll be facing the No. 1 team on these power rankings.
1. Seattle Seahawks
Could it be anyone else at this point?
With a 10-1 record, the Seahawks have won their last six games after losing to the Colts almost two months ago. Russell Wilson and Marshawn Lynch have led an effective offense, but with Percy Harvin coming into the lineup, Seattle could be even scarier down the road.
The only concern right now is with the secondary. Brandon Browner has been hurt lately, and according to Tom Pelissero of USA Today, Walter Thurmond has been suspended for the next four games.
Until the secondary proves to be a liability, this is still the top team in football, but the Seahawks will have a lot of competition behind them as the season winds down.