Will McNabb Fly the Nest:Inside the Mind of A Broken Bird
Ten years ago, Andy Reid put his fate in the hands of a highly touted quarterback from Syracuse. Eleven season's later, the quarterback has put his stamp on the franchise. He is the best quarterback the team has ever employed and also the most scrutinized.
Obviously, Donovan McNabb is the topic of this conversation.
As he constantly is in the bars, on the radios, and on the televisions throughout the city of Philadelphia.
McNabb has been hailed, as well as humiliated, during his eleven seasons wearing midnight green. Despite what some may categorize as unfair treatment, Donovan has stated numerous times that he would like to retire as an Eagle. Does he still feel that way?
There are so many incidents in which McNabb has never really come out and spoke upon, or he has bit his tongue.
It seems as though the good things, such as the Thanksgiving dinner he put together for the homeless of Philadelphia, are not reported nearly as much as his reluctance to understand overtime rules.
How does Donovan really feel on these issues?
Now is the time to speak out.
You've been through so much in your career, what would you rank as the most difficult situation you've experienced?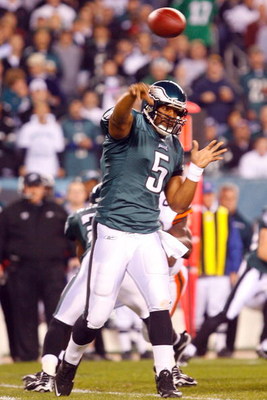 Donovan is constantly being scrutinized, and drama seems to seek him out. The man is under a spotlight, fairly or unfairly. He was booed from the moment he was tied to the franchise, which proved to be a precursor for the rest of his career.
McNabb has been attacked by Rush Limbaugh, the NAACP, the fan base as well as teammates. The franchises all-time winning-est quarterback has also been the star of the most soap operas.
He threw up during the Super Bowl…allegedly. He admitted he didn't know there were ties in the league.
What ranks as the roughest?
If you could go back and change anything about the Terrell Owens saga, what would it be?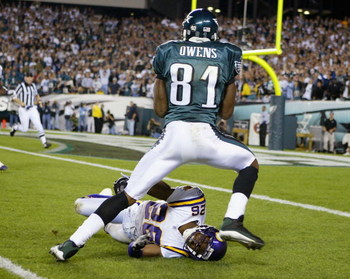 There was so much that went wrong in what could have been a great tandem. These two guys seemed unstoppable at one point, than it came tumbling down faster than Humpty Dumpty. Unfortunately for Eagles fans, no one could put them back together again.
I'm sure Donovan has some regrets involving Owens. It would be interesting to see if he regrets recruiting him at the Pro Bowl prior to Owens' acquisition.
Maybe McNabb regrets not backing Owens in his bid for a new contract. Maybe not.
Either way, his response should be interesting.
Throughout your career, you have gone out of your way to separate yourself from the "running" black quarterback stigma. Do you think you've succeeded? If so, has it helped you evolve as a pocket quarterback? Does it make your offense more potent?
Early in his career, McNabb was bombarded with the black quarterback stereotype. He always maintained that he was a quarterback first, and a scrambler second.
He has definitely separated himself from that part of his game, but has it been to the detriment of his game?
Defenses use to be held accountable for Donovan's legs. Not anymore. Defenses no longer have to defend that aspect of McNabb, which make it easier for them to defend the Birds. Without the threat of McNabb scrambling, defenses can play bump and run coverage with no worries. Defensive backs can turn their backs on McNabb because he's no longer a threat.
Granted, McNabb has slowed down and did have the torn ACL. But he was limiting his scrambling even before that injury, which ironically occurred with him scrambling to the sideline and landing awkwardly.
Every defensive coordinator has known throughout the years that the Eagles lacked wideouts strong enough to get off the line (except Owens of course). Does Donovan's reluctance to scramble come into play?
He is a better quarterback standing in the pocket?
How did you feel after J. Whyatt Mondesire took a shot at you claiming you "belittled the real struggles of black athletes?" Did it sting more, coming from someone of your own race?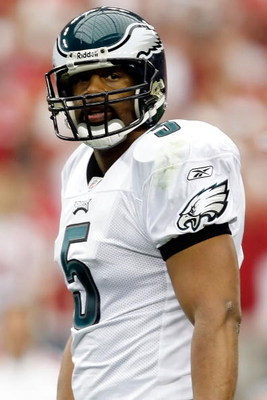 Like they say, when it rains it pours.
As if the Rush Limbaugh attack wasn't enough, McNabb was forced to defend himself against members of an organization created to impower people just like himself.
What kind of an impact did that make on Donovan? Did it leave a mark on him for the rest of his life? What did he learn?
It's a sensitive issue, but it needs to be talked about.
McNabb worked hard to kill the stereotype of scrambling black quarterbacks, yet somehow he was being portrayed as an "Uncle Tom."
He has to be asking,...why him?
Obviously, you were not greeted to kindly by the Philly faithful. In your own view, have you been treated fairly by the city of Philadelphia? Do you think you've been appreciated?
Anytime the Eagles don't perform, McNabb takes the brunt of the heat. Regardless if it's his fault or not, McNabb is the focal point. The great debate of Philadelphia is can he bring a championship to the city.
He is the best quarterback to ever line up under center for the franchise. He is the winningest. He's been to five NFC championship games and one Super Bowl. How many quarterbacks can say that?
Yet the fans are not satisifed. They want him traded, benched, stoned, sent to the CFL. Kevin Kolb is the most popular back-up quarterback in the league...despite what he has shown in his little playing time.
Donovan knows this...but how does he feel? Underappreciated? Undervalued?
Or do you feel like the fans have a reason to expect more?
It's been reported that the Eagles had an opportunity to acquire Anquan Boldin. Now, you said yourself, the team needed to acquire more weapons for you. Instead of including that pick in a deal for Boldin, the team drafted wideout Jeremy Maclin.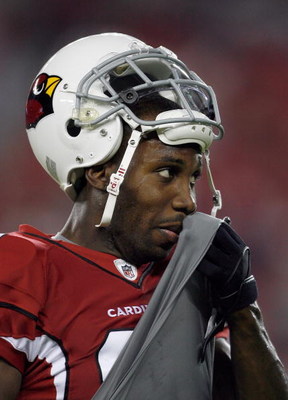 Donovan has to have an opinion on this matter. Is he satisfied with what the Eagles have done? Does he feel as though they are more concerned with the future than the present?
It's been reported by the Arizona Republic that the Eagles offered a third round pick and Sheldon Brown for Anquan Boldin. My initial response….that's it?
Boldin is a proven wide receiver who is big and physical and exactly what this offense lacks. How does McNabb view the Birds attempt at acquiring him? Was it a smokescreen? Were they just unwilling to give him a new contract? If they were going to spend their first rounder on a wide receiver anyway, why not send it to Arizona for a proven commodity?
Mr. McNabb, do you think they are collecting shiny new toys for your replacement?
You've been labeled as a company man by many of your former teammates, but you sort of took a step back from the organization last season. Is that something you are conscious of and, if so, does it bother you?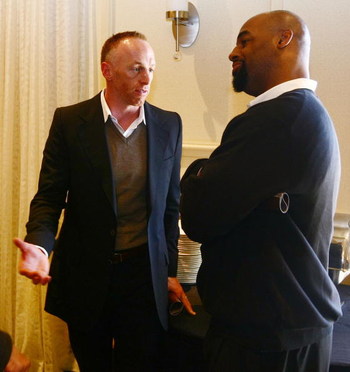 You've been labeled as a company man by many of your former teammates, but you sort of took a step back from the organization last season. Is that something you are conscious of and, if so, does it bother you?
Throughout his career, McNabb toed the company line. He never spoke out against the franchise. In fact, most of the time, his mother was heard from more than him (and I'm not talking Chunky Soup).
Donovan took flack for this from players in the locker room, as well as around the league. Players in contract disputes with the franchise (i.e. Owens and Trotter) took shots at him for not speaking out, although he did chime in when Westbrook felt he deserved an adjustment.
After the arrival of Kevin Kolb, something changed in McNabb. He seemed to realize that he was not guaranteed anything by the franchise he served his entire career. He seemed distant, and has continud on that route.
After the season he demanded new "weapons" before he would discuss an extension, and directed all media outlets to his blog.
So Donovan….what gives?
You've repeatedly insisted that you want to retire with the Eagles. Do you foresee any circumstances in which you do not?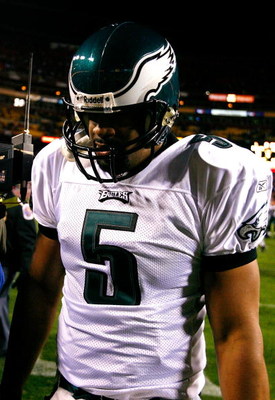 Donovan has reiterated this over and over, but yet it is still debatable.
Deion Sanders was reporting on NFL Network last season that McNabb really doesn't want to be an Eagle.
Which is the truth? Is it somewhere in the middle?
You have to wonder if McNabb had a little piece of him thatreally wanted to play for his hometown Bears..which is no longer an option for him with the acquisition of Jay Cutler.
The drafting of Kevin Kolb had to serve as a wake-up call to the harsh reality of pro sports. Players are replaceable...just ask Brian Dawkins.
Does this scare you Donovan?
Looking at your career statistics today, do you feel you are worthy of the Hall of Fame. If not, what do you feel you need to accomplish to get in?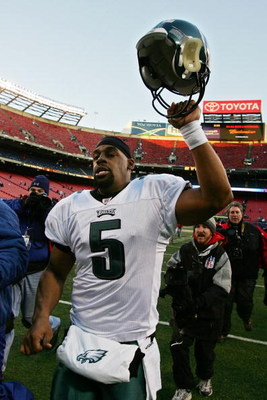 Mcabb's hall status is a debatable issue.
As of right now, he is definitely not a shoe-in.
The first thing that jumps out, of course, is that he is ringless. Dan Marino is ringless, as is Dan Fouts. Therefore, a ring is not a prerequisite to entry.
According to YahooSports, McNabb owns an 85.9 career quarterback rating with 29,320 yards passing, 194 touchdowns, and 90 interceptions. In comparison, Tom Brady sports a 92 .9 career quarterback rating with 26,446 yards through the air, 197 touchdowns and 86 picks. Very comparable statistics.
Of course, Brady has a handful of jewelry.
As does Troy Aikman, owner of a career quarterback rating of 81.6. Throughout his 12 seasons, Aikman threw 165 touchdowns to 141 interceptions. Aikman was a first ballot inductee.
You be the judge.
Keep Reading

Philadelphia Eagles: Like this team?