Reggie Bush Wins 2013 FOX Galloping Gobbler Award
November 28, 2013
Andrew Weber-USA TODAY Sports
Reggie Bush took home the 2013 Fox Galloping Gobbler Award from Ford Field on Thanksgiving courtesy of a stellar performance that helped move the Detroit Lions past the Green Bay Packers, 40-10.
Fox Sports neatly summarized Bush's stellar performance:
Bush started the day slow with a fumble, which is an issue the USC product has battled all season. As ESPN notes, Bush broke a promise he made to fans earlier in the season after his two lost fumbles entering the game:
After the fumble it was smooth sailing for Bush.
It was easy to see the versatile Bush was in for a big day against a shaky Green Bay defense after he made a beautiful grab down the sideline in the first half: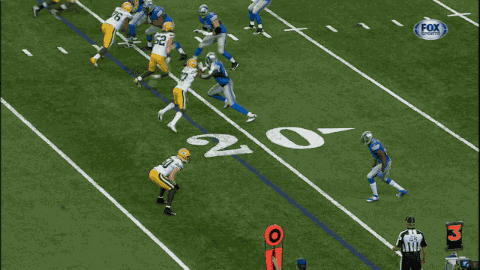 GIF courtesy of B/R.
In fact, seemingly every member of the team got in on the action as the Lions piled up 561 yards of total offense. Fellow running back Joique Bell bruised his way to 94 yards and a score, while receiver Calvin Johnson did what Megatron does with six catches for 101 yards and a touchdown.
Bush himself got into the end zone late in the second half from one yard away to give the Lions a 17-10 advantage at the half:
GIF courtesy of B/R.
The Lions and Bush are riding high after the convincing win. It matters little in the NFC North standings that the win came over a Packers squad without quarterback Aaron Rodgers—Detroit now rests in first place at 7-5 with Sunday's action to go.
Bush has been a major part of the team's success with his 854 yards and five total touchdowns.
On Thursday, Bush was the man to give the Lions a boost of the biggest fashion with some gaudy statistics and was more than deserving of the award as a result.