Jabari Parker Making Case for Top Freshman with Big Game Against Alabama
Use your ← → (arrow) keys to browse more stories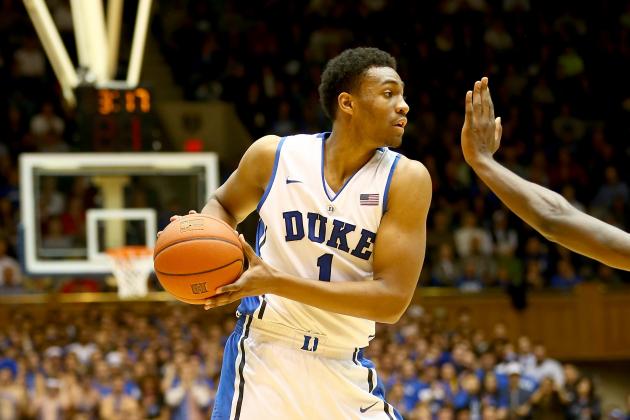 Streeter Lecka/Getty Images

Going against other names like Andrew Wiggins, Julius Randle and Aaron Gordon, Jabari Parker is continuing to prove that he may very well be the best freshman in the nation after his latest big game against Alabama.
Duke downed Alabama, 76-64, on Wednesday to improve to 6-1—the Blue Devils' one loss coming to Kansas. After two scares against East Carolina and Vermont, it was a relief for Duke fans to see their team get an easier win.
Parker was the main reason why the Blue Devils rolled the Crimson Tide, going 9-of-12 from the floor and scoring 27 points while adding eight rebounds, two assists and a block. He was equally effective from the free-throw line, going 9-of-10.
Who is the best freshman in the country right now?
There's no denying that Parker is not only one of the best freshmen in the country, but also one of the best overall players in college basketball today. He's averaging 23.6 points, 8.7 rebounds and 1.7 blocks while also being an efficient scorer, shooting 60 percent from the floor and 60.9 percent from behind the arc.
Coming out of high school in Chicago, Parker was one of the nation's most highly recruited prospects. According to Rivals.com, he was a 5-star recruit and the No. 4 overall player in the country. Recruited for his developed skills on offense along with his overall athleticism, those traits have certainly translated to the college level.
The star freshman is living up to expectations as he's outshining the rest of the top-tier freshmen around the country. As you can see from the table below, the argument can be made the Parker has been the best of all of them:
2013 Star Freshman Stats

| | | | | |
| --- | --- | --- | --- | --- |
| Player | Points/Game | FG % | 3PT % | Rebounds/Game |
| Jabari Parker | 23.6 | 60.0 | 60.9 | 8.7 |
| Aaron Gordon | 12.5 | 46.7 | 50.0 | 9.7 |
| Andrew Wiggins | 16.8 | 58.5 | 40.0 | 6.3 |
| Julius Randle | 19.0 | 55.4 | 0.0 | 13.7 |
Stats up to date through Nov. 27
For a freshman, Parker does a great job in leading the Duke offense. The Blue Devils are averaging 90 points per game, making them one of the most explosive offenses in the nation. Rodney Hood and Quinn Cook have been putting up big numbers as well, averaging 19.9 and 13.4 points.
Parker has scored at least 20 points in every single game to start his career at Duke. According to ESPN Stats & Info, only two other freshmen have done that over the past decade, and those two players were Eric Gordon along with Kevin Durant.
3 freshmen in last 10 seasons have scored 20 points in each of team's first 7 games- Kevin Durant, Eric Gordon, Jabari Parker

— ESPN Stats & Info (@ESPNStatsInfo) November 28, 2013
While many still have Wiggins going with the No. 1 overall pick in next year's NBA draft, Parker is certainly giving him a run for his money. If Parker can keep up his exceptional level of play, then whichever NBA team gets the No. 1 overall pick may have to consider taking him because Parker already appears prepared to take the next step to the NBA.