When the Philadelphia Eagles entered the 2013 season, expectations were that this would be just a rebuilding year.
After all, the Eagles allowed 444 points in 2012, and the team didn't exactly bring in any high-profile free agents or draft picks in the offseason. The addition of defensive coordinator Bill Davis really hadn't turned any heads either.
And through four games, there was really nothing to write home about for the defense. The Eagles surrendered 27, 33, 26 and 52 points in the season's first quarter. It seemed apparent that Davis was next in line of a list of failed defensive coordinators for the Eagles since the tragic death of Jim Johnson, a list that has included Sean McDermott, Juan Castillo and Todd Bowles.
Then Bill Davis gave his "trust me" speech. And since his speech, the Eagles defense has been one of the better units in the league.
Over the last seven games, the Eagles have been the only team in the NFL to allow 21 or fewer points in each contest. They've forced 14 turnovers, including at least one per game. They've also gotten substantial production out of almost every player on the defense.
But there's still work that needs to be done on this defense to turn it into a top-10 unit. For starters, there's probably not a single player on the defense who is in the top five at his position in the league.
That could change, though. Defensive ends Fletcher Cox and Cedric Thornton both continue to improve with each game, as do cornerback Brandon Boykin and safety Earl Wolff.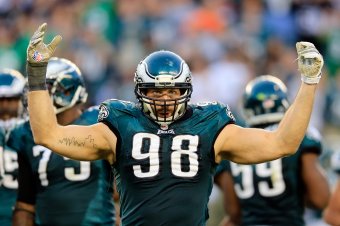 Rob Carr/Getty Images
Veterans DeMeco Ryans, Connor Barwin, Bradley Fletcher and Cary Williams have all played better than expected this year. Trent Cole has revived his career in a 3-4 defense, while Nate Allen is finally playing at the level he did as a rookie in 2010.
It's looking more and more like Davis made the right decision by choosing to switch to a 3-4 defense. Don't expect that to change anytime soon, especially if the Eagles continue to play well on defense.
Credit also goes to Chip Kelly and Davis for selecting what appears to be a terrific group of positional coaches.
In particular, secondary coach John Lovett has done a standout job, especially with Allen and Boykin. Allen is taking noticeably better routes after the ball, and he's recorded 50 tackles in 52 attempts this season, according to Pro Football Focus (subscription required). Boykin has recorded four interceptions and hasn't missed a single tackle this season.
Look for the Eagles to target either a pass-rushing outside linebacker, likely to replace Trent Cole, or a physical cornerback with their first-round draft pick.
The team should also target a player or two in free agency. General manager Howie Roseman made a big splash in free agency this past offseason, and it's really worked, as linebacker Connor Barwin and cornerbacks Cary Williams and Bradley Fletcher have turned into solid starters.
Low-risk signings, if possible, are the best, such as veteran defensive tackle Isaac Sopoaga or safeties Patrick Chung and Kenny Phillips. None of those three signings worked out for the Eagles, but they didn't set back the franchise either because of the minimal salaries, plus the depth on the current roster.
The Eagles have the makings of a top-10 defense. They just need to continue playing like they've played over the past seven games.
Chip Kelly (for choosing the right coaches) and Bill Davis (for running the whole defense) deserve a ton of credit for the performance of the Eagles defense this year. It's made the team into a legitimate playoff contender in a year many thought would be wasted by one of the league's bottom defenses.