Not every European club is bankrolled by a Sheik or a Russian oligarch, so budget, cost-effective, cheap and bargain signings are key for ordinary European clubs. Here are 10 potential bargain signings heading into the 2014 January transfer window.
10. Tom Rogic, Celtic CAM, Age: 20
Australian national manager Ange Postecoglou, who is known for giving young prospects extended runs, threw in the idea of Rogic going on loan to J. League club Vegalta Sendai, coached by his former manager Graham Arnold.
Celtic manager Neil Lennon took umbrage to Postecoglou's suggestion, via Michael Baillie at the Scottish Express: "I don't need other managers to tell me how to manage my players, and certainly not to come out in public about it."
Rogic, a tall attacking midfielder with a sleek dribbling style, is Australia's most technically gifted player but isn't a regular starter under Lennon.
Rogic should be made available for a loan to an Eredivisie club or a 2. Bundesliga club.
9. Giorgi Chanturia, Vitesse LF/RF, Age: 20
Vitesse owner Merab Jordania's pact with Chelsea's Roman Abramovich is so strong that Chanturia, a Georgian like Jordania, doesn't receive the benefit of the doubt like several of the Blues' loanees.
Lucas Piazon has made the left flank his own, scoring seven times and creating four goals in 12 league games, while Christian Atsu has looked threatening in a deep-lying forward position.
Chanturia holds on to the ball too long, and he lacks the football IQ of Piazon, who has become Vitesse's go-to star.
This is why Chanturia is on the outside looking in, only making two league starts this season.
Should Chanturia improve these traits, he can have a long career in one of Europe's top leagues.
8. Cedric, Real Betis LAM/RAM, Age: 21
Is there a footballer in Europe's elite leagues faster than Cedric this season?
Pierre-Emerick Aubameyang obviously has the stride advantage, and Theo Walcott will always be in the conversation, but for those who watched Betis lose 2-1 to Real Madrid, it is hard not to say Cedric is currently the fastest man in Europe's top leagues.
Is Cedric another David Odonkor? Probably. Still worth a punt.
Hard pushed to find a better 2013/14 bargain than Real Betis's Cedric Mabwati, 21, who cost €1,20. That's 2.1m times cheaper than Michu.

— Jonathan Stevenson (@Stevo_football) August 18, 2013
7. Aaron Hunt, Werder Bremen CAM, Age: 27
"There is always a special charm to move to a foreign-based club and this is an issue on my mind," Hunt said, from Bild via Thomas Zocher at Sky Sports. "But Werder Bremen remains my first partner of conversation regarding my future."
At #SCFC presser manager Mark Hughes says that the club are not interested in signing Aaron Hunt from Werder Bremen #Stoke

— Lee Blakeman (@LeeBlakeman) August 29, 2013
While Hunt's representatives have played out his contract situation to a tee, Werder management know they are not losing a world-class player should Hunt leave on a Bosman.
They are not relevant because they are ranked 12th in the Bundesliga.
Werder are in a rebuilding phase, giving playing time to nine players 23 years or younger and hoping the next generation, talents like U-19 star Florian Grillitsch, can make the next step up.
This season, Hunt has looked OK. But as usual, the end product is lacking: one goal and one assist in 13 league games.
Hunt is a tidy player with vision.
6. Jeremy Menez, Paris Saint-Germain CF/RAM, Age: 26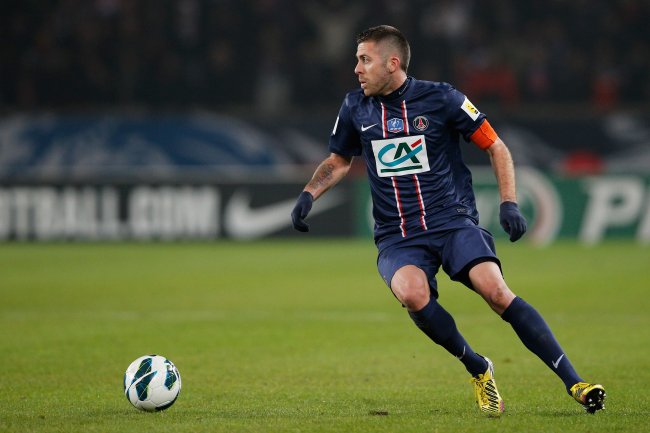 Dean Mouhtaropoulos/Getty Images
You'd expect PSG to extend Blaise Matuidi's contract, but Menez is less likely to receive a contract extension.
He has world-class skill, but world-class productivity? No.
Menez has a sense of entitlement and overrates the pull he commands. PSG don't need to keep Menez when they have effectively replaced him with Hervin Ongenda.
Menez can be a star in the right system under a manager willing to build a team around him.
5. Younes Kaboul, Tottenham Hotspur CB, Age: 27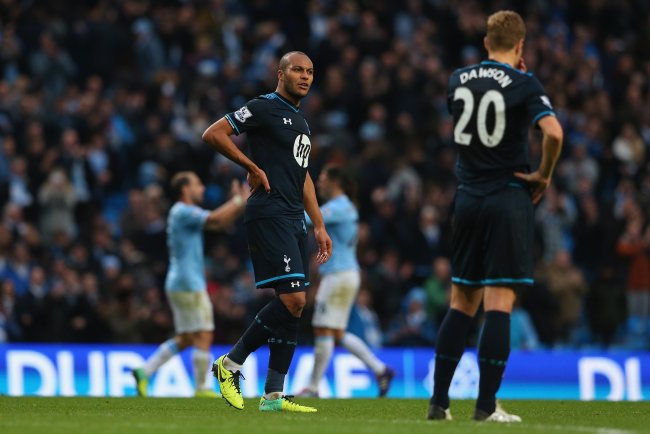 Alex Livesey/Getty Images
He has never played 35 league games or more in one season, let alone 50 total club games.
Kaboul is injury-prone, but when he is fully fit, he is a solid centre-back.
You'd have to ask Andre Villas-Boas what he was thinking when he dropped Kaboul into the deep end against a loaded Manchester City forward line, which scored six goals against Spurs. Kaboul and Michael Dawson were lost at sea trying to deal with the big-man, little-man partnership of Alvaro Negredo and Sergio Aguero.
There is no reason for Spurs to extend Kaboul's contract with Vlad Chiriches, who should have started against City, in the squad.
4. Daniel Baier, Augsburg CM, Age: 29
A former German youth international who never transitioned into an elite footballer, Baier is making up for lost time. He didn't pack it in like Thomas Broich, who has found fulfillment with A-League club Brisbane Roar, and kept plugging away.
Baier is so easy to spot because he is all over the place trying to make plays for Augsburg on both sides of the field.
He is the 13th-best midfielder, according to Kicker Magazine.
That's an achievement considering he plays for minnows Augsburg, a club with journeyman footballers and foreigners learning on the go like South Korean defender Jeong-Ho Hong.
3. Diego, Wolfsburg CAM, Age: 28
Diego saying he is open to leaving Wolfsburg, per Charles Perrin at the Express, is him trying to exert more pressure on the club to offer him a substantial contract extension.
You know what Wolfsburg's reaction will be if they lose Diego on a free transfer?
"Oh well, give Maximilian Arnold the No. 10 shirt."
Diego can split open defences with precise through balls, but he is a "big fish in a small pond" type of player.
2. Miroslav Klose, Lazio CF, Age: 35
Eleven years on from netting a hat-trick of headers against Saudi Arabia, he is still leaping above taller defenders and nodding home.
Last season, Klose scored five times (no surprise, a headed goal was included) against Bologna. Like the Saudi Arabia game, he did not finish the match, getting subbed out after 68 minutes.
If there is any player who deserves easy cash whether it is in the Middle East or in MLS, it is Klose, a class act.
But don't rule out his competitive gene getting the best of him.
He still has what it takes to have a last hurrah for a major European club.
1. Andrea Pirlo, Juventus DLP, Age: 34
In 2011, AC Milan management thought Pirlo had run out of legs and decided not to extend his contract.
He has gone on to win two successive Serie A titles with Juve, a club that are now in the same situation as Milan were two years ago.
If Juve think he is done, Pirlo will be lapping up the big-money offers.
Statistics via WhoScored, FFT Stats Zone, Squawka and Transfermarkt.
Google+: +allanjiang
Twitter: @allanjiangLIVE