With three games on Thanksgiving Day, close battles throughout Sunday and possibly the best game of the year on Monday night, Week 13 provides fans with plenty of excitement.
Heading into the week, 24 teams are either in position to make the playoffs or are no more than one game out. This creates a lot of important games that could either give squads an advantage or knock them out of contention.
Still, there are a few matchups that stand out among the rest. Here is a look at the biggest games of the week with predictions for all 16 games on the weekend's slate.
NFL Week 13 Picks

| | | |
| --- | --- | --- |
| Away | Home | Pick |
| Green Bay Packers | Detroit Lions | Packers |
| Oakland Raiders | Dallas Cowboys | Cowboys |
| Pittsburgh Steelers | Baltimore Ravens | Ravens |
| Jacksonville Jaguars | Cleveland Browns | Browns |
| Tennessee Titans | Indianapolis Colts | Colts |
| Chicago Bears | Minnesota Vikings | Bears |
| Miami Dolphins | New York Jets | Jets |
| Arizona Cardinals | Philadelphia Eagles | Eagles |
| Tampa Bay Buccaneers | Carolina Panthers | Panthers |
| New England Patriots | Houston Texans | Patriots |
| Atlanta Falcons | Buffalo Bills | Bills |
| St. Louis Rams | San Francisco 49ers | 49ers |
| Denver Broncos | Kansas City Chiefs | Broncos |
| Cincinnati Bengals | San Diego Chargers | Bengals |
| New York Giants | Washington Redskins | Giants |
| New Orleans Saints | Seattle Seahawks | Seahawks |
Arizona Cardinals at Philadelphia Eagles
Although people might not have expected this to be a big game at the beginning of the season, these two teams are firmly in contention for a playoff spot and are among the hottest in the league.
The Eagles won three games in a row thanks to the excellent play of Nick Foles at quarterback. The second-year quarterback took over for Michael Vick and has not looked back, leading the NFL with a quarterback rating of 128.
His strong play has seemed to inspire the defense as well. Although the unit gives up a lot of yards, it has not allowed more than 21 points since Week 4, and this is giving the team a chance to win every time out.
Of course, the Cardinals have been just as good during their recent four-game winning streak. A full team effort helped the squad destroy the Indianapolis Colts last week to move to 7-4 on the season.
Carson Palmer has also been better with the football, going two games in a row without throwing an interception after turning the ball over at least once in each of his first nine games.
Unfortunately, the Cardinals have still not proven much of an ability to win on the road, with their only wins coming against the Tampa Bay Buccaneers and Jacksonville Jaguars. That should be the difference in this game, with the Eagles squeezing out a close victory.
Prediction: Eagles 24, Cardinals 21
Denver Broncos at Kansas City Chiefs
If it seems like these teams just played each other, that is because they did. The Broncos earned a 10-point victory at home in Week 11 before both teams lost in Week 12.
While returning to Kansas City should be a nice boost for the Chiefs, the injuries to Tamba Hali and Justin Houston hurt them more than anything. Andy Reid recently stated that the status for Sunday is unknown for each, but it is clear neither will be at 100 percent even if they suit up.
The two defensive ends have combined for 20 sacks this year and are a main source of the team's success on defense. Without them, the Chiefs allowed 41 points to the San Diego Chargers in Week 12.
Peyton Manning should be able to have similar success despite his second-half struggles against the New England Patriots. His offense is still loaded with weapons, and the unit should continue to light up scoreboards.
Even in a hostile environment, the Broncos should get back on track with a win and send the Chiefs to their third loss in a row.
Prediction: Broncos 31, Chiefs 17
New Orleans Saints at Seattle Seahawks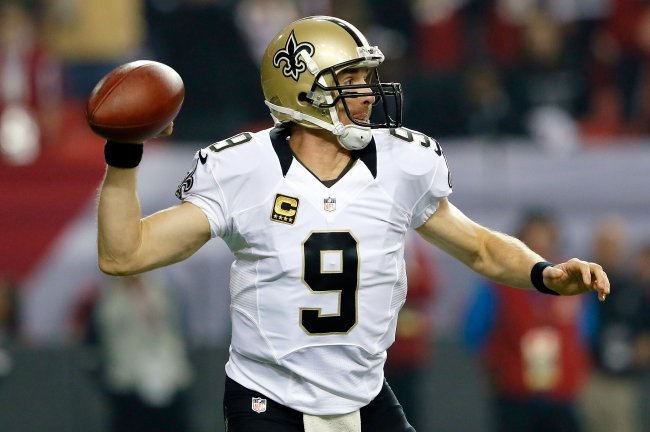 Kevin C. Cox/Getty Images
This game would certainly be a lot more interesting if it was played on a neutral field. Each squad has one of the best home-field advantages in the NFL, so the location will play a huge role.
With the game taking place in Seattle, Saints quarterback Drew Brees will have a hard time adjusting before the snap and getting plays off on time. On the other hand, the Seahawks will be limited in the secondary with Brandon Browner and Walter Thurmond both suspended by the NFL.
Despite the Saints' struggles on the road, the offense should be able to put up more points than many are expecting.
However, the way you beat New Orleans is with the run game, and that is something Seattle does very well. Marshawn Lynch will get a ton of carries and should be able to move the chains throughout the game.
If this matchup is a preview to the NFC Championship Game, the Seahawks are set to send a message to the rest of the conference.
Prediction: Seahawks 27, Saints 24
Rob Goldberg is a breaking news writer for Bleacher Report and currently sits in the 100th percentile on ESPN's Pick 'Em. Follow him on Twitter for the latest analysis.