Chicago Blackhawks: Antti Raanta Is Starting, and It's About Time
Use your ← → (arrow) keys to browse more stories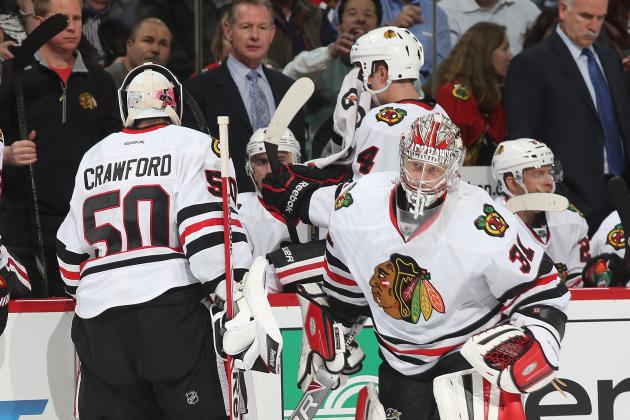 Michael Martin/Getty Images
Antti Raanta, who spelled Corey Crawford last week in Colorado, gets his first NHL start Wednesday in Calgary.
Chicago Blackhawks coach Joel Quenneville is giving the net to backup Antti Raanta Wednesday night. All I can say is that it's about time he got a start.
After making his NHL debut last week in Colorado when Quenneville pulled Corey Crawford, Raanta will begin Wednesday's contest against the Calgary Flames. Crawford has started 13 of Chicago's last 15 games and played the bulk of the other two.
Crawford hasn't seen a full game from the bench since Oct. 24. For Raanta, his first goal is finishing the game against the Flames.
When the buzzer sounds, it would also be great if the 24-year-old rookie assured the 'Hawks of a winning road trip. To do that, Raanta could take a cue from the man across the ice from him Wednesday.
Reto Berra made his NHL debut for Calgary Nov. 3, stopping 42 of 44 Chicago shots to give the Flames a 3-2 overtime triumph over the Blackhawks at the United Center. He hasn't been that good since, though he has started 10 of Calgary's last 11 games.
Raanta shouldn't have to handle that kind of workload unless he finds himself down in Rockford. However, a solid performance could lead to another possible start on the current road trip.
I figured that Quenneville would have given Raanta a start a little earlier in the seven-game Circus Trip. Three Avalanche goals in the first 13:17 may have altered those plans. Raanta relieved Crawford Nov. 19, giving up a pair of goals in the face of 16 shots.
If Quenneville had any designs of giving Raanta the net two nights later in Winnipeg, they were abandoned in order to get his starter back on the horse. Crawford gave up three goals again, though Chicago pulled away in the third period and handled the Jets 6-3.
It seemed a possibility that Raanta could draw the assignment in Edmonton Tuesday after Crawford's big game in Vancouver. However, Crawford started his fifth straight game, surrendering a single goal in an impressive 5-1 'Hawks win.
Tired or not, Crawford is still playing well. That said, the guy needs a night off.
Theorists that claim Quennville wanted to keep Raanta away from the high-flying Oilers offense should take note that Calgary is scoring at a slightly higher clip than Edmonton coming into the contest. The Flames have won two of their last three games, with each game going past regulation time.
Calgary has been off since Friday's 4-3 shootout win over Florida. If the Flames aren't the more talented team heading into Wednesday's puck drop at the Scotiabank Saddledome, they should be the more rested one.
Again, the 'Hawks need a solid effort by their new backup goalie. Crawford needs to be fresh come springtime, and that means ceding the net 20-25 games a season. Whether that's to Raanta or another backup will probably be dictated by Quenneville's confidence in his rookie.
For Raanta, building his coach's confidence in him starts Wednesday night.