Picks, Predictions and Prognosis for Every Week 14 Big Ten Football Game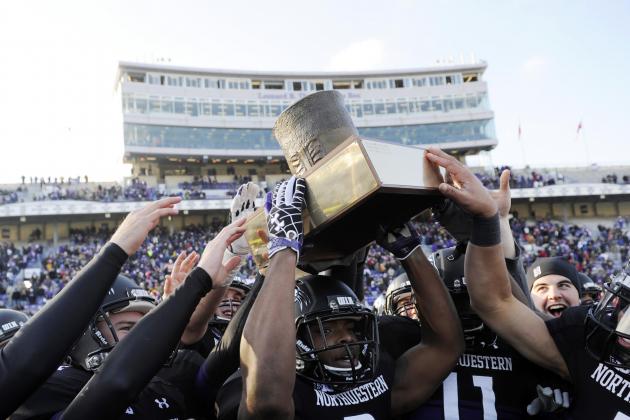 David Banks-USA TODAY Sports

What is there left to play for? Both division championships are already decided and no one can become bowl-eligible with a win.
One could easily think Week 14 has no meaning in the Big Ten. Then again, that would ignore the awesomeness of rivalries galore.
Whether it is "The Game" or the Heroes Game, or the battle for the Old Oaken Bucket or the Land of Lincoln Trophy—there is a lot on the line in the Big Ten.
All eyes will be on Ann Arbor as Ohio State battles Michigan and national title hopes hang in the balance for the Buckeyes, but there are other games that have meaning as well.
So, before we dive into the final week of the regular season, don't forget to check out how last week looked and where my picks stand this season as well.
Last Week: 5-1 (1-5 ATS)
2013 Picks: 72-18 (46-43-1 ATS)
Begin Slideshow

»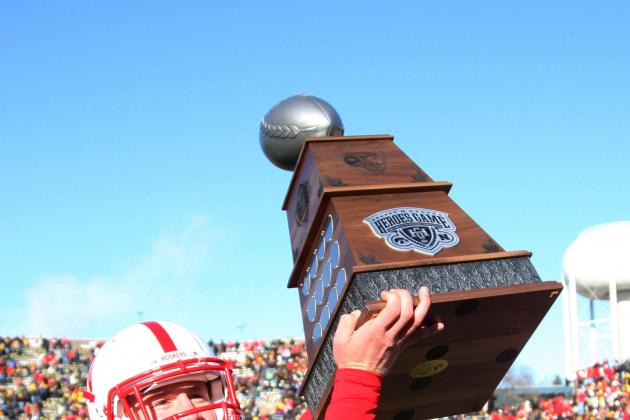 Reese Strickland-USA TODAY Sports

Friday, Nov. 29, at noon ET (ABC)
This matchup has its own day on the Big Ten calendar, a snazzy name (Heroes Game) and a trophy. So, it is a rivalry, right?
Don't tell that to Kirk Ferentz or any of the fans of these two teams. Ferentz put it rather bluntly this week:
Kirk Ferentz on Iowa-Nebraska as rivalry: "Hopefully we can make it one. We haven't beaten them in a while ... in, like, decades" #Huskers

— Rich Kaipust (@RKaipustOWH) November 26, 2013
Can the Hawkeyes go on the road on Black Friday and get a win to maybe spark the rivalry? These two teams are pretty even on paper.
However, Iowa has a massive edge at the quarterback position, where its starter, Jake Rudock, will be on the field. Nebraska is down to its third-stringer in Ron Kellogg III.
What will be key is which running game can be more effective.
Iowa's run defense has been stingy at times this season, allowing 142 yards and only four rushing touchdowns during conference play. That puts them fifth in the Big Ten, and that's where the Hawkeyes defense ranks on the season as a whole—allowing 123.6 yards a game and four touchdowns.
Nebraska has had a bit more trouble stopping the run, especially in the touchdown department. It has given up 13 touchdowns in Big Ten games and 18 touchdowns on the year.
Offensively, both teams feature good running backs, but it will be an interesting battle between Ameer Abdullah and the Hawkeyes linebackers. Look for Abdullah to get his yards, but for the Hawkeyes defense to not allow more than one touchdown rushing.
It leads to Iowa winning in a narrow contest.
Prediction: Iowa 27, Nebraska 24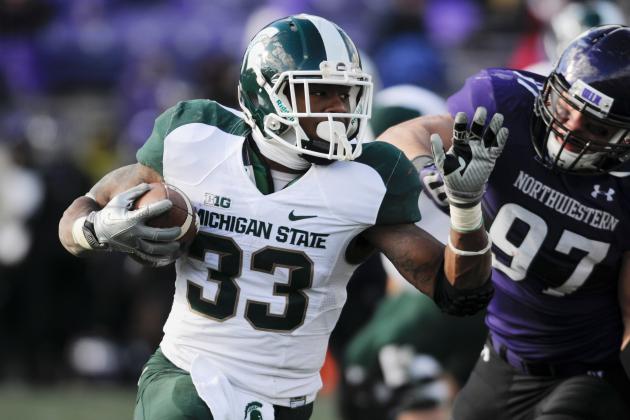 Reid Compton-USA TODAY Sports

Saturday, Nov. 30, at noon ET (BTN)
This game could've been a lot more interesting had both teams' results went another way last weekend. Instead, the air has been taken out of a matchup that could've been for the Legends Division title.
Still, this game is going to be very intriguing because we'll get to know just how good the Michigan State offense really is.
Other than a matchup against Nebraska a few weeks ago, the Spartans offense hasn't really faced a defense that is anywhere near good.
Minnesota's defense is that, coming off a game where they held the Badgers run game to more than 100 yards fewer than its average coming in to last weekend.
Jeremy Langford will present another big challenge, sitting fifth in rushing average (115.4 yards per game) during conference play. However, he is a home run hitter, sitting second in touchdowns (11) during Big Ten contests.
On the other side of things, Minnesota showed last week just how reliant it needs to be on the run game and it didn't work out well against a defense nearly the equal of Michigan State.
If the Spartans allow David Cobb, the Gophers running back, to get loose a time or two, it could be the catalyst needed for Minnesota to jump on this game.
However, no one has really been able to run on the Spartans all season so far and that includes the run-heavy Huskers. Look for that to continue as Michigan State stifles the Gophers offense and wins by three touchdowns.
Prediction: Michigan State 31, Minnesota 10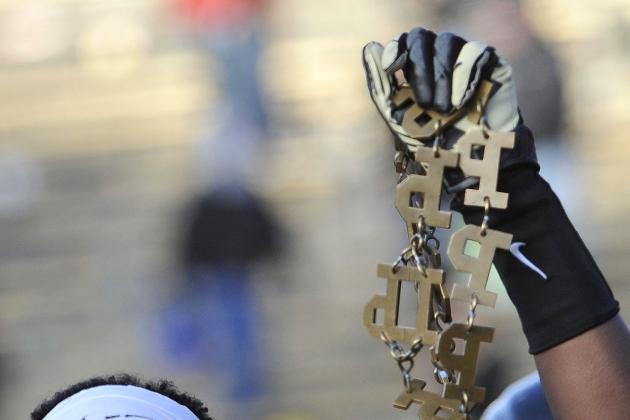 Sandra Dukes-USA TODAY Sports

Saturday, Nov. 30, at 3:30 p.m. ET (BTN)
The beauty of rivalries is that you can throw the records out, as anything goes. For Purdue, that's exactly what you want to hear because 2013 has been a disaster in terms of the record. It is staring a winless Big Ten season in the face with a loss.
However, the Boilermakers hold the Old Oaken Bucket in their possession and Indiana will have to take it.
Neither head coach in this game has hoisted this trophy, with Kevin Wilson losing both matchups and this being Darrell Hazell's first time in the series.
Overall, this series has been really one-sided, with Purdue holding a 72-37-6 advantage.
However, this is 2013 and Purdue is as bad as it's been in years. The lone hope is that Danny Etling finds a way to get the passing game going early and keep his team in a shootout with Indiana.
The Hoosiers, on the other hand, have proven they can win games. They have struggled over the last few weeks to put up points against two of the better defenses in the conference though, and looking at Purdue's defense has to be a welcome reprieve.
It appears as if running back Tevin Coleman is going to struggle to get healthy enough to play in this contest, but he won't be needed against Purdue's Swiss cheese rushing defense. The Boilermakers give up 270.9 yards a game on the ground during Big Ten play.
Stephen Houston and D'Angelo Roberts can at least be effective enough against that kind of defense to help drive this offense when needed.
Look for the Hoosiers to get back to scoring a ton of points as they take the Old Oaken Bucket on the strength of a highly potent passing game. Nate Sudfeld gets back on track and throws for four touchdowns in a big win for Indiana.
Prediction: Indiana 45, Purdue 24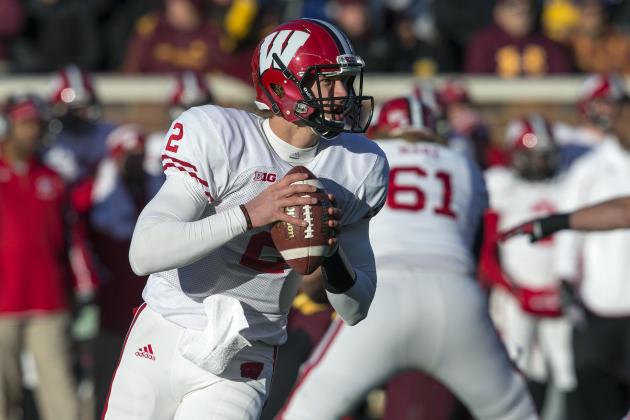 Jesse Johnson-USA TODAY Sports

Saturday, Nov. 30, at noon ET (ESPN)
Wisconsin and Penn State were on the verge of making this a trophy game, but as the two teams go to separate divisions after this season, the trophy talk has been put on hold.
Penn State comes in with hopes of a winning season for the second straight year during the NCAA sanctions, a feat no one would've predicted when the sanctions were handed down.
The Badgers come in with hopes of making a fourth straight BCS bowl game and need a win, plus some help, in order for it to happen.
On paper, this is game screams blowout, but a closer look at these two teams suggests a game that could be closer than the experts think.
That's because, despite the numbers, the Badger pass defense has been shaky outside of freshman cornerback Sojourn Shelton.
If Christian Hackenberg isn't facing a lot of pressure, and that's a big if, it could be a lot closer of a football game.
However, look for Wisconsin to go ground and pound on offense. Penn State hasn't been great against the run during Big Ten play, giving up an average of 171.6 yards a game and 13 touchdowns in conference games.
It's been a few weeks since Melvin Gordon has gone off, but expect it to happen this week as both James White and he go for more than 100 yards. However, look for White to get more carries and more touchdowns on Senior Day for the Badgers.
Wisconsin is a very good football team and look for it to show just how dominate it can be as it weathers an early storm by Hackenberg and wide receiver Allen Robinson.
Prediction: Wisconsin 41, Penn State 21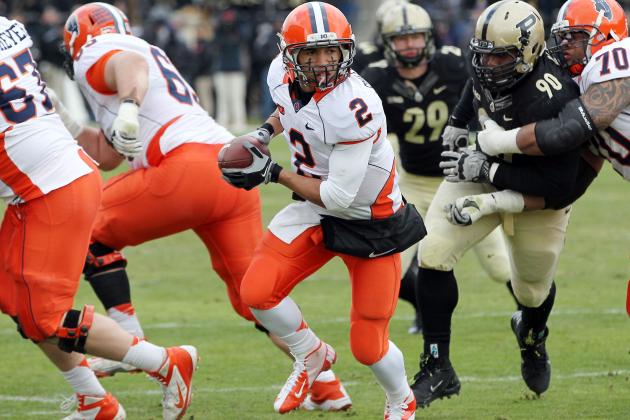 Pat Lovell-USA TODAY Sports

Saturday, Nov. 30, at 3:30 p.m. ET (BTN)
At the beginning of the season, no one would've rightfully said Illinois was the better team than Northwestern.
That still may be the case on paper, but how this season has played out, the Illini come into the Land of Lincoln game with the better Big Ten record.
Yes, that's right, the team with just one win in conference play is the better team.
Northwestern has been completely snakebitten with injuries and close loss after close loss.
What better way to turn a negative season into a positive finish than by winning the final game of the season? That's exactly how the Wildcats are looking at this game and they sure aren't going to go down without a fight.
The Wildcats have lost five of their seven games by 10 points or less this year. Seeing a porous Illini defense standing across the field from them could be the cure to its losing ways.
However, the Illini are coming in having just broken their 20-game losing streak and looking to start a multigame win streak in conference play.
This game could come down to whose offense can be more efficient against the other defense.
Amazingly, that edge goes to Illinois, who has shown the ability to hit for big plays in the pass game all season and has the hotter offense coming into this game.
Yes, the Illini defense isn't great, but it did hold up last weekend and Northwestern's offense just isn't the same without Kain Colter, who appears likely out for this contest.
Look for Nathan Scheelhaase to make Senior Day at Memorial Stadium a memorable moment as he leads the Illini to victory with 250-plus yards through the air and three touchdowns.
Prediction: Illinois 31, Northwestern 21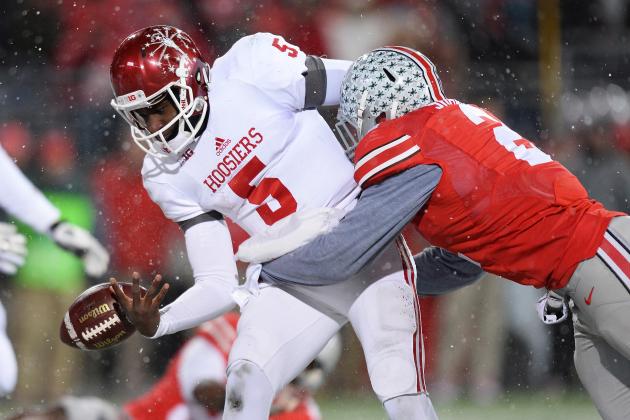 Jamie Sabau/Getty Images

Saturday, Nov. 30, at noon ET (ABC)
Every year this game matters—forget the records, forget what "Ohio" is doing nationally and what "That School Up North" isn't doing nationally. These two programs, these two schools and these two states flat out hate each other.
That said, this game is perhaps the biggest mismatch we've seen on paper in quite some time.
Ohio State features the third best scoring offense and the eighth best scoring defense in the country. It scores 48.7 points a game and gives up just 18.4 points a game.
Even more than that, Ohio State features perhaps the most potent run game Urban Meyer has ever had. Running back Carlos Hyde leads the Big Ten in rushing during conference play with 1,023 yards and has 1,064 yards this season.
Quarterback Braxton Miller has come on recently in the run game as well, rushing for 184 and 144 yards in the last two weeks. He has 738 yards on the year to go with five rushing touchdowns.
Those two will face a rushing defense that has given up just 116.4 yards a game and nine touchdowns.
Something will have to give and the biggest advantage goes to Ohio State up front. The Buckeyes feature the Big Ten's best offensive line unit and that, more than anything Hyde or Miller has done, has been the biggest help to the run game this season.
Defensively, Ohio State has really grown on the line this year and a lot of it has to do with freshman Joey Bosa and his growth. He has become more aggressive and a bigger playmaker for his team and the rest of the defensive line has also followed suit.
Ohio State leads the Big Ten in sacks during conference games (27) and overall (36). The defense also has — tackles for loss on the season.
That's not good news for a Wolverines offensive line that has helped lead this team to a dead last ranking in tackles for loss allowed nationally (9.36 a game) and rank 110th nationally in pass sacks given up.
More than anything Ohio State's offense can or will do Saturday in Ann Arbor, it's the defense that will win this game for the Buckeyes.
The Wolverines simply haven't shown anything in the run game and if you can't run against the Buckeyes, you aren't winning the game.
Look for Hyde to go for more than 150 yards and two touchdowns and Miller to rush for more than 100 yards himself as Ohio State puts a beating on "That School Up North."
Prediction: Ohio State 45, Michigan 17
Andy Coppens is Bleacher Report's lead writer for the Big Ten. Odds courtesy VegasInsider.com. Rankings are official BCS rankings. Don't forget to follow Andy on Twitter: @ andycoppens.