Offensive Adjustments Chiefs Must Make to Upend Broncos in Marquee Rematch
December 1, 2013

Doug Pensinger/Getty Images
Show me a person who says the Kansas City Chiefs have no shot at beating the Denver Broncos this Sunday, and I'll show you someone higher than Dwayne Bowe lounging in Sports Authority Field's nosebleeds.  
Coloradans, I'm sure you're a heartbeat away from touch-scrolling to the comment section so furiously that your fingers blur like ostrich legs. Allow me. 
Peyton Manning! He's only a 6'5" Denver demigod with a laser, rocket arm—the front-runner for league MVP, idiot! That's the truth, Truth.
Justin Houston and Tamba Hali might not even play, moron! Ten-four, Trebek.
The Broncos just beat the Chiefs two weeks ago! (Holds up iPhone with Drake blaring "no lie, no lie, no lie-E-I-E-I...remembers #YOLO. Throws phone in dumpster fire. Has taxidermist package a moose head in a Se7en-style box and send it to Drake's last known Canadian address.)
Look, I get it. Honestly. By virtue of a head-to-head tiebreaker, the Denver Broncos (9-2) sit (somewhat) comfortably atop the AFC West. Manning's a steady-handed surgeon with a week-old Boulder on his shoulder, and he'll be dissecting a crippled Kansas City Chiefs (9-2) defense on Sunday. 
But give me a minute (or 10) for rebuttal. 
In order to tack on an extra digit in the win column, Kansas City needs to exercise five points of emphasis. 
5. Stretch the Field

Denny Medley-USA TODAY Sports
OK, after the San Diego loss, there have been mutterings of "Alex Smith has stretched the field in the past two weeks, and the Chiefs have been winless."
Well, Sherlock, the first loss may have something to do with the fact that Kansas City traveled to the home turf of an offense which leads the league in points per game.
The second? The vaunted but crippled Chiefs defense hosted a high-octane Chargers team, whose passing offense headlines Pro Football Focus' (PFF) ratings. Before Houston and Hali were sidelined, San Diego scored three points. After the duo departed, Rivers and Co. stockpiled 38 points. 
Downfield passing was far from the problem. Don't act simple-minded for the sake of fluffing up your narrative. 
Smith routinely torched San Diego's safeties a week ago. 
For example, on this particular play, the Chiefs quarterback breaks the huddle in shotgun with trips to his left. San Diego deploys Cover 2 with nickel personnel, and Eric Weddle shadows Dexter McCluster to the outside as No. 22 goes in motion. 

NFL Game Rewind
Jahleel Addae, Weddel's backup, lines up as the free safety. Smith initially glances at McCluster then locks on to Bowe, baiting Addae toward the middle of the field. 

NFL Game Rewind
Derek Cox, the corner covering Donnie Avery, plays outside technique, assuming he has safety help back inside. Avery runs a sluggo seam route and darts past the safeties for an effortless touchdown. 
NFL Game Rewind
Downfield passing does two things. Firstly, it forces safeties to respect the vertical threat, which gives defensive coordinators cause to pause when adding an extra man in the box. Jamaal Charles approves. 
Secondly, the potential threat makes defenders playing zone less tempted to pounce on every five- to seven-yard route under the sun. It tends to loosen the restraints on the quick passing game. 
However, vertical heaves are death wishes if the quarterback can't drop back without being chased by an angry mob in half a heartbeat. 
4. Dominate the Trenches (and Start Geoff Schwartz)

Kyle Rivas/Getty Images
I like Andy Reid. The man is a cinch for NFL Coach of the Year. He has an infectiously genuine personality that players and peers adore. When he enters the locker room after a win, he lights up the room like a happy walrus who just did a lap in the Kool-Aid Man's pitcher. 
But let me take this time out to slip a card into the suggestion box: bench Jeff Allen for Geoff Schwartz. 
Every week, I rail against two players for subpar blocking: Avery and Jeff Allen. The difference? One's a finesse receiver; the other's a 307-pound bodyguard. Also, in the past two weeks, Avery has actually shown a newfound willingness to initiate contact. Allen has never had that problem—he just gets manhandled like a plus-sized puppet. 
According to PFF's weekly ratings, Allen has had one above-average performance this season, and it dates back to Week 1 versus the lowly Jacksonville Jaguars. Reality then reintroduced itself: Six of the guard's last seven games have resulted in below-average efforts.
In terms of overall blocking efficiency, PFF currently slots Allen at No. 119 of 129 players at his position. Meanwhile, Schwartz, his backup, is tied with teammate Jon Asamoah at 12th. 
Again, I'm subscriber to the Andy Reid fan club, but his insistence to start the second-year prospect eludes any semblance of logic.
And if you're echoing, "His play can't be that bad" to yourself, I suggest not scrolling downward. 
Let's rewind to the first round between the Chiefs and Broncos. 
Remember that gut-wrenching goal-line stand that stonewalled Kansas City's momentum? If not, allow me to jog your memory. 
On 2nd-and-goal from Denver's 2-yard line, the Chiefs hope to exploit Denver's fixation on Charles by handing off the ball to Anthony Sherman.

NFL Game Rewind
Terrance Knighton bulldozes Allen two yards into the backfield before disengaging him and pawing at the fullback. Sherman, who doesn't exactly exude Charles-like vision, is forced to juke left and plows into a wall of orange jerseys. 

NFL Game Rewind
NFL Game Rewind
The next play more or less served as an encore. 
This time, Charles cradles the handoff and tests his luck behind the right side of Kansas City's line. Sherman, Asamoah and Eric Fisher bully their defenders and pave a lane through the A-gap. Good job, good effort. 

NFL Game Rewind
Kevin Vickerson creates penetration, and although Rodney Hudson flattens him, the 600-plus-pound pile of humanity trips Allen who, once again, finds himself retreating into the backfield.

NFL Game Rewind
His defender, Knighton, then crashes down the line, which impels Charles to briefly jump outside before cutting back toward the goal line. That split second allows the back-side linebacker to spear No. 25 inches before he's able to break the plane. And in comes Ryan Succop.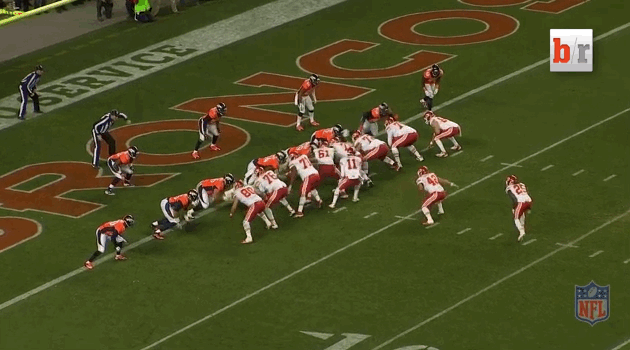 NFL Game Rewind
Allen's most egregious moment didn't stem from the aforementioned stand, though. It actually unfolded on a 26-yard scamper that momentarily silenced the crowd. 
Smith unloaded the ball to McCluster on a wide receiver screen. Everybody, including even Avery (and Schwartz, who was spelling Asamoah), made contact with a Denver jersey—that is, everybody except Allen. 

NFL Game Rewind
When McCluster first cuts inside, the free safety is roughly 11 yards ahead of the left guard. Allen proceeds to whip his head around and obliviously charge upfield while the free safety negates a potential touchdown. 
NFL Game Rewind
How has Allen retained his starting job? No clue, but Reid continues drinking the Kool-Aid (which is borderline cannibalistic).
3. Work the Middle

Doug Pensinger/Getty Images
Smith normally showcases pinpoint accuracy between the hash marks. 
Take a peak at his pass distribution since Week 10's bye: 
Alex Smith vs. Chargers
Left
Middle
Right
20-Plus Yards
1-1, 36 YDS
1-1, 32 YDS, TD
0-1
10-19 Yards
2-2, 31 YDS
4-6, 35 YDS, TD
1-1, 22 YDS, INT
0-9 Yards
3-4, 24 YDS
7-10, 76 YDS
2-3, 12 YDS, TD
Behind LOS
1-1, 2 YDS
3-3, 19 YDS
1-1, 5 YDS
Total
7-8, 93 YDS
15-20, 162 YDS, 2 TD
4-6, 39 YDS, TD, INT
Pro Football Focus
Alex Smith vs. Broncos
Left
Middle
Right
20-Plus Yards
0-1
0-2
1-1 26 YDS
10-19 Yards
2-2, 19 YDS
5-6, 76 YDS, TD
1-3, 18 YDS
0-9 Yards
1-2, 2 YDS
3-9, 32 YDS
1-3, 6 YDS, TD
Behind LOS
1-1, -1 YDS
4-5 YDS, 29 YDS
2-3, 22 YDS
Total
4-6, 20 YDS
12-22, 137 YDS, TD
5-10, 72 YDS, TD
Pro Football Focus
Smith has completed 27 of his 42 attempts (64 percent) for 299 yards, a trio of touchdowns and zero interceptions. 
And there's a misconception about Tom Brady's 344-yard passing performance against Denver last week: New England's big plays didn't stem from downfield heaves. In fact, due to the aggressive wind, Brady only completed one of his five attempts that traveled 20-plus yards through the air. He did, however, connect on 23 of 28 passes that traversed across the middle of the field.
When Smith is afforded a comfortable pocket, he exhibits precise passing, especially when targeting the interior of the field.
Here, on 3rd-and-7, Denver rushes three, and Smith snipes a spiral to Bowe that ignores the commendable coverage. 
NFL Game Rewind
This next pass is a thing of beauty. Denver drops nine into coverage—a breathing nightmare for every quarterback walking planet Earth. 
Smith guns it between the two defensive tackles and onto Anthony Fasano's back shoulder. 
NFL Game Rewind
If it's even slightly in front of the tight end, the play ends with an interception. If it strikes him between the numbers, Chris Harris likely levels Fasano and, at the very least, breaks up the pass. 
Not only does the accuracy allow for the completion, it also enables Fasano to spin away from Harris and rack up an extra four yards at the tail end of the play.
2. Double Down on Screens, Rushing and Play Action
Ron Chenoy-USA TODAY Sports
If you ask one of Reid's detractors to list his or her criticisms of the beloved play-caller, the first two bullet points will revolve around dodgy time management and an antipathy toward rushing.
During the Chiefs' euphoric win streak, those claims were unfounded. Throughout the past two weeks? Eh, not so much.
Before the bye, Charles led the league in rushing attempts. He now ranks fifth. 
During the past two Sundays, Smith's willingness to test the safeties has kept them at bay, and Charles has manufactured 193 yards while averaging 6.4 yards per carry. However, Kansas City's graceful ankle-breaker has only received 30 carries. 
If No. 25 cradled the pigskin a few more times last week, the door probably wouldn't have swung open for Reid's head-scratching gaffe nor Philip Rivers' heart-pounding comeback. 
Feeding Charles a healthier diet of carries also fattens the play-action bait. And for all of the glaring flaws within the Chiefs offense, Kansas City's markedly efficient at capitalizing on play action.  
In this example, the fake to Charles momentarily freezes the strong-side linebacker.

NFL Game Rewind
The aforementioned 'backer and both safeties then lock on to Avery's slice route, which opens a gaping hole in the middle of the defense for Sean McGrath to exploit via a stab route. 
NFL Game Rewind
On another down, the Chiefs align with trips to the left. Since the Broncos play man-to-man, the two receivers nearest to the sideline dart up the field and clear a plot for McCluster's whip route.

NFL Game Rewind

NFL Game Rewind
Despite getting flattened (by Allen's man, no less), Smith delivers the ball to No. 22 for a first down. 
NFL Game Rewind
1. Minimize Miscues

John Rieger-USA TODAY Sports
If Kansas City would've accomplished this simple task, it could've possibly departed Denver with an undefeated record still intact.
Obviously, that wasn't the case.
Avery dropped a picture-perfect downfield bomb from Smith.
NFL Game Rewind
Sherman fumbled inside of the red zone.
NFL Game Rewind
Bowe failed to snag another 20-plus-yard toss down the sideline. 
NFL Game Rewind
Miscues and untimely penalties bedeviled the Chiefs offense. They stymied the momentum in one fell swoop. 
As of late, Kansas City's vaunted defense has been punched in the mouth. Last week, the unit allowed 38 points after Hali and Houston were sidelined with injuries. 
This afternoon, Houston, arguably the club's most well-rounded defender, won't suit up. Fortunately for the Arrowhead faithful, Hali will.
But while the defense has garnered the lion's share of headlines, Kansas City's offense has seemingly hit its stride throughout the past two weeks. 
Reid needs to embrace the ground game, especially since Kevin Vickerson, who has netted defensive stops on 9.9 percent of his rushing snaps (sixth among defensive tackles), has been ruled out.
And when opportunity knocks, it's pivotal that Smith continues his recent readiness to catapult the ball downfield. Unlike the first meeting, safety Rahim Moore won't crack the starting rotation. 
There's little doubt that Andy Reid is an offensive genius, but if Kansas City hopes to add another digit to this season's win column, he'll have to ace the most formidable test of his Chiefs career on Sunday. 
Statistics provided by Pro Football Focus (subscription required).
Follow Brett on Twitter: Follow @BrettGering