Thanksgiving Day Football 2013: Full TV Schedule and Predictions for Thursday
Use your ← → (arrow) keys to browse more stories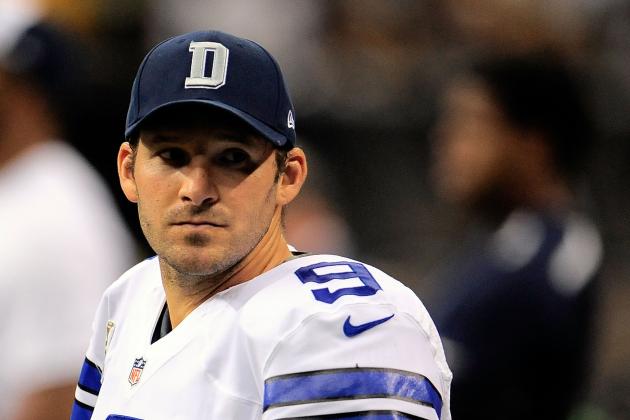 Stacy Revere/Getty Images
Can Tony Romo and the Dallas Cowboys keep the momentum going from Week 12's big win on Thanksgiving?
Thanksgiving is a time for feasting, but it also a special occasion for sports fans to indulge in America's most popular athletic pastime.
A triple-header of NFL action is on tap for Thursday. With the postseason race so wide open in both conferences, all three of these impending matchups have major playoff implications.
No three franchises have made more appearances on Thanksgiving than the Dallas Cowboys, Detroit Lions and Green Bay Packers. The latter two teams will do battle for position in the NFC North, while Dallas will attempt to hang on to the slimmest of leads in the NFC East against the Oakland Raiders.
An AFC North clash between the Pittsburgh Steelers and defending Super Bowl champion Baltimore Ravens will also go a long way in shaping the AFC wild-card picture.
Let's take a look at the TV schedule and what time to catch each game, along with predictions as to how these contests will play out.
2013 Thanksgiving Day NFL Schedule

| | | |
| --- | --- | --- |
| Thurs., Nov. 28 | Time (EDT) | TV |
| Green Bay Packers vs. Detroit Lions | 12:30 p.m. | FOX |
| Oakland Raiders vs. Dallas Cowboys | 4:30 p.m. | CBS |
| Pittsburgh Steelers vs. Baltimore Ravens | 8:30 p.m. | NBC |
Source: ESPN.com
Green Bay Packers (5-5-1) vs. Detroit Lions (6-5)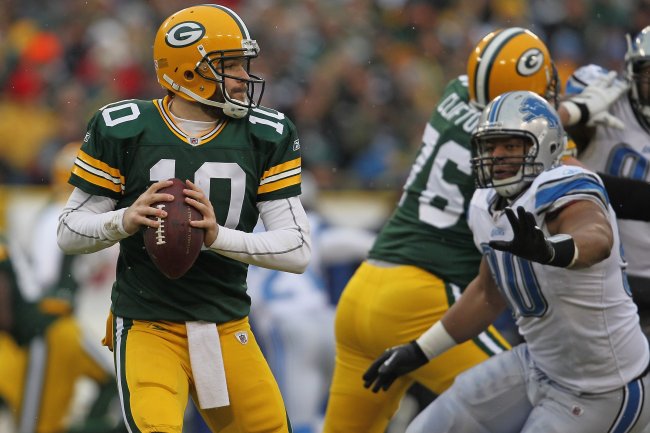 Jonathan Daniel/Getty Images
According to Green Bay head coach Mike McCarthy, superstar quarterback Aaron Rodgers is closer to being ruled out than having a slim chance of playing. Matt Flynn will get the start:

McCarthy-Matt Flynn will be the starter. He's taken all the starter's reps this week. #Packers

— Green Bay Packers (@packers) November 27, 2013
The last time Flynn started a game for Green Bay, he played in front of the Cheesehead faithful at Lambeau Field—against the Lions, at that—and threw a franchise-record six touchdown passes.
Flynn has had failed stints in Seattle and Oakland to establish himself as a surefire backup, but this is his shot to prove himself yet again.
What better stage to do it on than on Thanksgiving—and to give Green Bay a pivotal advantage in the division.
Video Credit: NFL Network
Lions QB Matthew Stafford threw four interceptions last week, and while he does have superstar wideout Calvin Johnson at his disposal, there is no telling what will happen on a short week.
Plus, Flynn is facing the NFL's No. 28 pass defense and has a superior running game led by rookie Eddie Lacy to lean on. The Ford Field dome is actually advantageous for Flynn, too, given his limited arm talent.
All of those factors will allow the Pack to notch the road victory and possibly be atop the division by the time Week 13 concludes.
Prediction: Packers 31, Lions 27
Oakland Raiders (4-7) vs. Dallas Cowboys (6-5)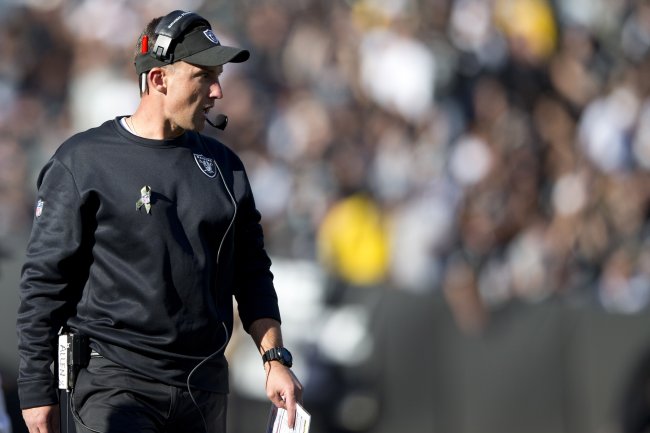 Jason O. Watson/Getty Images
With how unpredictable the NFL is, it wouldn't be surprising to see head coach Dennis Allen's Raiders pull a massive upset here at Cowboys Stadium.
Oakland was beaten last week in the final seconds of the game, while Dallas is coming off a momentous road win over the New York Giants to reign supreme in the NFC East for the moment.
Beware of a letdown from America's Team, whose terrible pass defense offers up undrafted rookie Raiders signal-caller Matt McGloin his most favorable opponent yet.
McGloin threw for three touchdowns in his starting debut against the Houston Texans—the No. 1 defense against the pass in the league. He then had 8.1 yards per attempt against Tennessee's sneaky good unit in Week 12.
Cowboys defensive coordinator Monte Kiffin has certainly been put on notice by McGloin's play, per the San Antonio Express-News' Tom Orsborn:
Monte Kiffin on Matt McGloin: "He doesn't play like a rookie...He's making really good decisions. I'm really surprised he's doing so well."

— Tom Orsborn (@tom_orsborn) November 26, 2013
Rashad Jennings has also brought life to Oakland's backfield, and Dallas is lousy against the run as well in yielding 133.6 yards per game.
The Cowboys played improved defense against the Giants, but they are among the most impossible teams to predict on a weekly basis. Tony Romo bailed Dallas out with a clutch final drive, too, making all the throws necessary to set up Dan Bailey's winning field goal.
Video Credit: NFL Network
It seems ludicrous to assert that McGloin will out-duel Romo. The thing is, he won't have to. Dallas will self-destruct with minimal defensive discipline, pressing Romo to pull another one out.
The magic won't be there on Thursday, but it's a learning experience for the Cowboys and one that could have them moving forward in their bid for the postseason.

Prediction: Raiders 24, Cowboys 20

Pittsburgh Steelers (5-6) vs. Baltimore Ravens (5-6)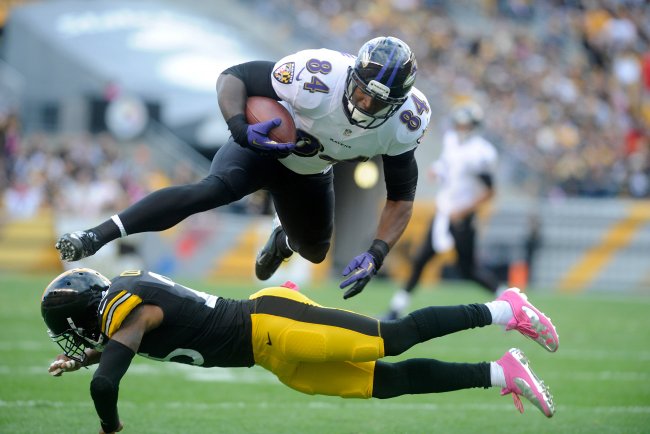 Vincent Pugliese/Getty Images
One inevitability about this game is that it will be physical. Both teams are stacked with Super Bowl winners, and either side will slide into the No. 6 slot in the AFC wild-card race if the Titans lose.
The Steelers have never panicked despite a 0-4 start. QB Ben Roethlisberger is balling out particularly in the past two weeks, registering passer ratings of over 100 in each game and throwing six touchdowns to zero interceptions.
When Pittsburgh goes up top, it's been successful, as Big Ben leads the league in completions of 20 or more yards, per Pro Football Focus:
QBs with most completions on deep throws (20+yds downfield): 23 B.Roethlisberger 22 R.Wilson 21 D.Brees 21 A.Dalton 21 P.Manning 21 G.Smith

— Pro Football Focus (@PFF) November 26, 2013
Which home team is likeliest to win?
Roethlisberger's counterpart, Joe Flacco, won't have to face a defense that is tied for the league lead in sacks with 37 as the Ravens are, but Pittsburgh is still a top-10 team against the pass.
Flacco has followed up his amazing run to Super Bowl XLVII MVP with an underwhelming 2013 campaign thus far to say the least, posting a 76.8 passer rating in throwing 14 touchdowns and 14 interceptions.
Since he hasn't had much of a running game to complement him and flat-out hasn't been getting it done, offensive coordinator Jim Caldwell has opted to throw in some Wildcat with Flacco's backup, Tyrod Taylor.
That is something that Flacco hasn't taken kindly to, saying it makes Baltimore look like a "high school offense," per Clifton Brown of CSNBaltimore.com:
Joe Flacco is very clear he's not fan of wildcat, with him as WR. "I think it makes you look like a high school offense." #RavensTalk

— Clifton BrownCSN (@CliftonBrownCSN) November 26, 2013
It seems as though there is some disconnect between the Ravens staff and Flacco.
While Baltimore seems to be squirming in its defense of the Lombardi Trophy and in lieu of many veterans to take on leadership roles, the Steelers' veteran nucleus has remained composed even when it looked like they were among the NFL's worst teams early on.
That should shine through on Thursday at M&T Bank Stadium, as Roethlisberger will outplay Flacco and guide Pittsburgh to a big win.
Prediction: Steelers 38, Ravens 17