Now that the NFL schedule has reached Week 13, a variety of games the rest of the way take on more importance than ever with potential playoff seeds and berths on the line.
In reality, all games are important. This is even the case for those teams that do not seem to have a shot at the postseason. Not only is it fun for fans and players alike to play the spoiler, but draft order also becomes something that slides into focus.
For those still in the hunt, actually getting to the promised land is the focus. Week 13 has three games in particular that either have important seeding on the line or an ever-important berth at stake.
Here's the full schedule followed by a closer look at the games with the most at stake.
NFL Week 13 Predictions

| | | |
| --- | --- | --- |
| Away | Home | Prediction |
| Green Bay Packers | Detroit Lions* | Lions |
| Oakland Raiders | Dallas Cowboys* | Raiders |
| Pittsburgh Steelers | Baltimore Ravens* | Steelers |
| Jacksonville Jaguars | Cleveland Browns | Jaguars |
| Tennessee Titans | Indianapolis Colts | Titans |
| Chicago Bears | Minnesota Vikings | Bears |
| Miami Dolphins | New York Jets | Dolphins |
| Arizona Cardinals | Philadelphia Eagles | Cardinals |
| Tampa Bay Buccaneers | Carolina Panthers | Panthers |
| New England Patriots | Houston Texans | Patriots |
| Atlanta Falcons | Buffalo Bills | Bills |
| St. Louis Rams | San Francisco 49ers | 49ers |
| Denver Broncos | Kansas City Chiefs | Broncos |
| Cincinnati Bengals | San Diego Chargers | Bengals |
| New York Giants | Washington Redskins | Giants |
| New Orleans Saints | Seattle Seahawks | Seahawks |
*Thursday games. Chris Roling's predictions.
Denver Broncos Stun Kansas City Chiefs
Here we go again.
It was just two games ago these heated AFC West rivals met. Peyton Manning and the Denver Broncos took care of business by handing the Kansas City Chiefs their first loss of the season.
The Chiefs then welcomed San Diego to town and suffered a stunning defeat after giving up a touchdown with less than a minute left in regulation.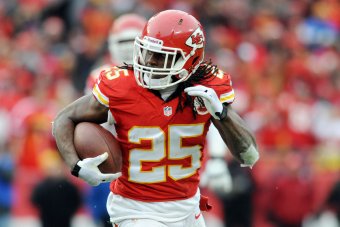 Denny Medley-USA TODAY Sports
If it's any consolation, Manning and Denver lost in Week 12 as well after New England scored 31 points in the second half to pull off the upset.
The problem here is rather simple: Not much has changed since the last time these two met. Thank the NFL for a strange schedule decision here.
Manning still leads the NFL's No. 1 passing attack against a defense that allowed him to throw for 323 yards and a score a couple weeks back.
With critical division and overall postseason positioning on the line, the Broncos will pull off the sweep. With all due respect to coach Andy Reid, the Chiefs are no Patriots offensively, and the NFL's No. 26 passing attack at 206 yards on average simply won't be able to keep up—again.
Prediction: Broncos 34, Chiefs 20
Cincinnati Bengals Sneak Past San Diego Chargers
The San Diego Chargers are right in the thick of things for the second wild-card spot in the AFC at 5-6, especially after the aforementioned shocking win over Kansas City.
Chargers quarterback Philip Rivers was especially impressive with his 392 yards and three touchdowns in the road win.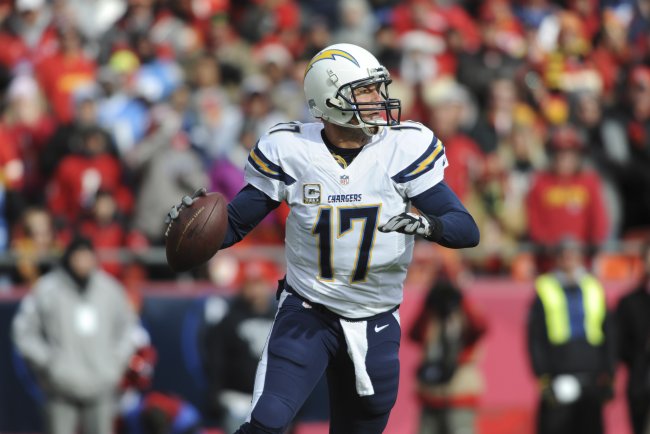 Denny Medley-USA TODAY Sports
Now the Chargers return home, and while that is an advantage against a team traveling across the country, an emotional win may lead to a major letdown here.
That's especially the case against a team like Cincinnati, who arrives well-rested off a bye.
Which game are you most looking foward to?
Cincinnati has not only had over a week to get healthy, but it has also used that time to study Rivers and the offense. Considering the Bengals allow 18.7 points on average and rank in the top 10 against both the run and pass, that's bad news for Rivers and the Chargers.
Flip to the other side, where Cincinnati has a top-10 passing attack to exploit San Diego's defense, which ranks in the bottom five of the league against the pass.
Any way it's sliced, San Diego is in trouble come Sunday afternoon.
Prediction: Bengals 30, Chargers 27
Seattle Seahawks Shock New Orleans Saints
The Week 13 edition of Monday Night Football features two NFC powerhouses in action when the New Orleans Saints make the trip to Seattle to take on the Seahawks.
New Orleans rides an impressive three-game win streak behind the arm of quarterback Drew Brees, who has thrown seven touchdowns to one interception during the streak.
For as impressive as the Saints have looked as of late, Seattle has been even better. The Seahawks ride a six-game win streak as the running game paves the way with star back Marshawn Lynch. He has 125 yards or more in two of his last three games to go with three touchdowns.
Russell Wilson has Total QBRs of 92.3 and 98.5 in last 2 games. Only QB to have 3 straight gms with 92 or better this season- Peyton Manning

— ESPN Stats & Info (@ESPNStatsInfo) November 26, 2013
Unsurprisingly, the Saints rank in the top five through the air; Seattle ranks in the top five on the ground. Here's the kicker—Seattle is a top-two team against the pass with just 180.4 yards allowed on average.
The alleged off-field issues for corner Brandon Browner are a concern, but it does not change much as Seattle has shown nice depth most of the year, though Walter Thurmond III is also suspended.
This opens things up for the Seahawks to keep things basic on the ground and impose their will at home, where they have not lost since December of 2011.
The streak remains alive.
Prediction: Seahawks 23, Saints 20