Ten Players Who Need To Take "Giant" Steps in 2009
After a strong free agency period and draft weekend, The New York Football Giants have many believing that they have what it takes to return to the promise land.
For any given NFL team, the opportunity to win a championship does not come around often. After bringing home The Lombardi Trophy in 2007, Big Blue set out to do it again in 2008. Adverse circumstances caused The Giants to falter town the stretch, and they were robbed of a second chance.
Today is a new day though, and the 2009 season is on the horizon. The great blend of experience and youth present on The Giants' roster has them in great position heading into the 2009 season, and the spotlight is on several players to give Big Blue the boost it needs to reign supreme yet again.
Like Clockwork...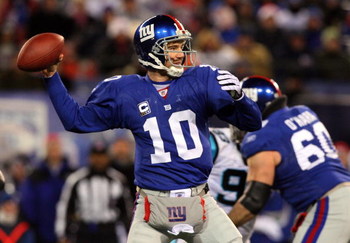 Its like clockwork. Every single year, as training camp approaches, the topic of Eli Manning's development as a quarterback pops up. Every year until Manning retires the spotlight will be on him to take a "Giant" step towards becoming a better quarterback.
Without the receiver half of the best quarterback-receiver tandem since 2005, Eli will face a true test of skill in 2009.
Regardless of the circumstances, Manning is a world champion and has shown everyone his mettle.
The fate of The 2009 Giants will be contingent on whether the following ten players take their game to the next level.
10. Aaron Ross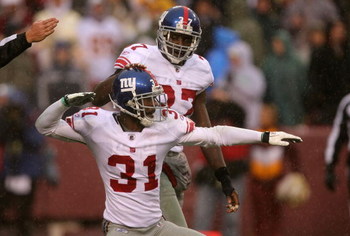 All anyone wants to talk about is DeSean Jackson and Jeremy Maclin. Well The Giants have a young speedster of their own in Aaron Ross.
Ross had a strong rookie campaign and was eventually inserted into the starting lineup by the 2007 postseason.
Despite bursting onto the scene in his rookie campaign, Ross struggled as a sophomore. Many remember his forgettable performance against Cleveland on Monday Night Football, and for good reason.
There were plenty of moments in 2008 where Ross struggled mightily, but he still showed flashes of his big-time ability as well.
If he becomes more consistent in 2009, he will be the perfect antidote for Jackson and Maclin.
9. Kevin Boss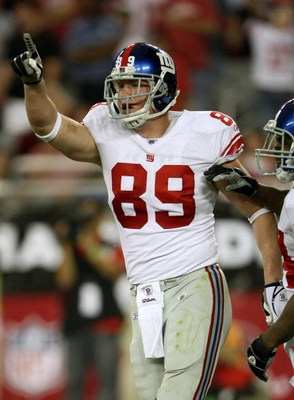 In 2008, Kevin Boss finished only Jason Witten and Chris Cooley in the Pro Bowl voting.
After seeing so little action until late in his rookie season, 2008 was arguably a rookie campaign for Boss.
That said, Boss is in darn good company.
If he continues to progress at the rate he did between 2007 and 2008, he may become the focal point of New York's passing game.
Many were clamoring for New York to go out and get Eli a big target to throw to, when the reality is that Eli has one right in front of him.
Literally.
8. David Diehl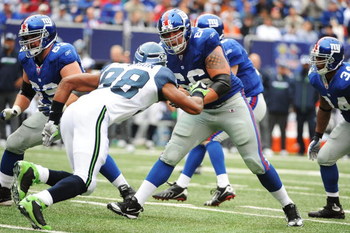 Make no mistake about it, David Diehl is a very good left tackle. His ability to bully opposing defenders at the line of scrimmage in the run game is uncanny.
Many believe that Diehl is a below average pass blocker, but that simply isnt true.
After 13 games, he had only given up two sacks. Against Dallas, he struggled against DeMarcus Ware, who is arguably the best defensive player in the league.
If Diehl works on blocking speed rushers (which should happen with Osi back in the fray), then we have an All- World left tackle on our hands.
7. Ahmad Bradshaw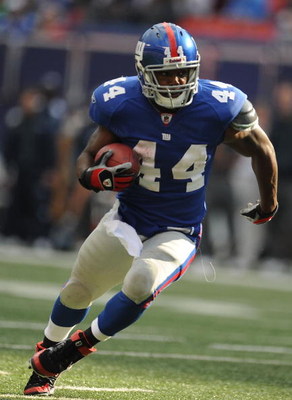 In 2007, Bradshaw ran like there was no tomorrow whenever he got the chance. He simply wouldn't take no for an answer.
After Burress went down this past season, it was in my belief that Big Blue would turn to Bradshaw for some big-play ability. This was not the case, as Bradshaw rarely saw the field.
With Derrick Ward gone, the right to bat cleanup behind Brandon Jacobs is Bradshaw's to lose. Time will tell if he is deserving of such an "honor."
If he is, then The Giants may not have to worry about who they will be passing the ball to.
6. Steve Smith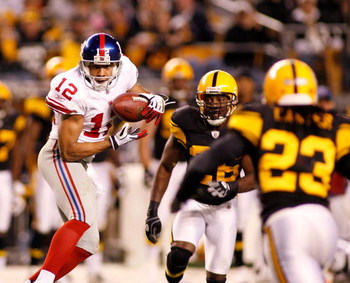 Much like Boss, Smith had what was almost a rookie year in 2008 after missing majority of the 2007 season (Smith's absence was due to injury, Boss was just buried on the depth chart).
Someone forgot to tell Steve Smith that though, as he had over 40 receptions for the Giants in 2008.
Smith was mainly a slot receiver for big blue, but his duties will surely increase in 2009. He has the skill-set to be similar to Marvin Harrison, as he is quicker than he is fast, and he is uncanny in his ability to find the open area of the field.
If Smith can handle his expanded role, New York's passing game will be more than OK.
5. Kenny Phillips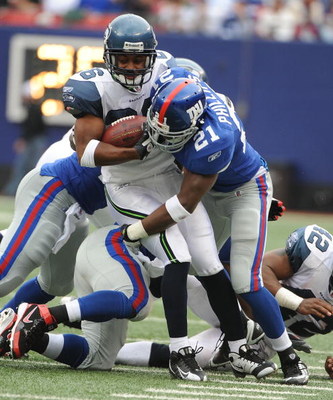 The discussion of how New York's defense will perform in 2009 should begin and end with Phillips.
Every great defense has that ball hawking safety who makes the defensive line's job worthwhile.
Standing at over 6'5", Phillips is a massive presence which can truly strike fear into the hearts of opponents and put New York's defense over the top.
In very limited duty, Phillips made some highlight reel plays by knocking out Pittsburgh's Mewelde Moore and punching the ball from the grasp of Larry Fitzgerald.
If Phillips consistently makes plays like the aforementioned ones, New York's defense will be a force to be reckoned with.
4. Sinorice Moss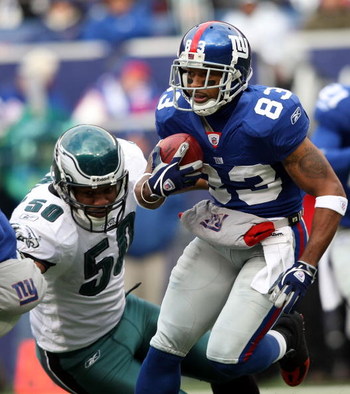 This is serious.
Moss is in a contract year, and offensive coordinator Kevin Gilbride has stated that Moss is currently the number three receiver on the team.
If that is the case, then it's now or never for Moss.
In limited duty last season, Moss was very effective, catching 12-of-12 passes thrown his way, and scoring a pair of touchdowns against Seattle.
On each of his receptions, Moss was seemingly wide open. If he can generate separation like he did in limited duty in 2008, as well as go deep, Moss could actually prove to be one of Big Blue's biggest weapons.
3. Antonio Pierce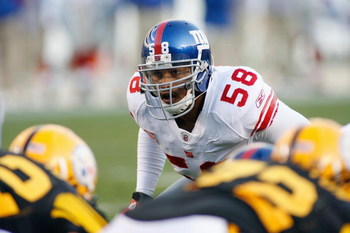 In 2006, Antonio Pierce took his "Giant" leap, and was selected to The Pro Bowl.
In 2007 and 2008, Pierce seemingly took a step backwards.
Pierce's weight skyrocketed in 2008 and he seemed simply too easy to exploit in pass coverage (and no I am not just referring to the Philadelphia game).
Against both Dallas and Carolina, with the game on the line, the opponents took their chances and fired the ball directly in Pierce's vicinity to Jason Witten and Mushin Muhammed respectively.
One of the completions ended the game while the other all but did the same.
The main reason that Pierce needs to step up in 2009 though, is Bill Sheridan.
Pierce needs to continue to make the calls on the field and minimize any transition there may be between Spagnuolo and Sheridan by maintaining a feel for the game.
2. Mathias Kiwanuka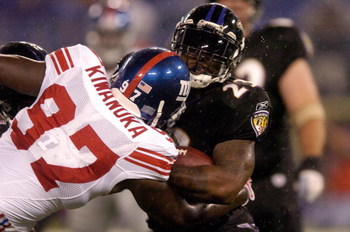 The phrase "you can never have enough pass rushers" was invented as a way to justify the selection of Kiwanuka in the 2006 draft.
He had his best season in 2008, recording 8 sacks and starting every game at defensive end.
Early in his career, Kiwi was hurt by having to switch from defensive end to linebacker, back to defensive end all at a moments notice.
Due to experimenting with position, Kiwi's first four years of his career were lost years.
In 2009, Kiwi will stay at his natural position of defensive end and rotate in as a pass rusher. This should work out fantastically for The Giants, as Kiwi should emerge as an elite pass rusher now that he will be both rested and prepared.
1. Osi Umenyiora
Chief Osi may not have played in 2008, but that doesn't mean that he doesn't need to step his game up.
By the end of the 2007 season, Umenyiora had established himself as one of The NFL's best pass rushers.
If he can return to form, or even improve, then he and Tuck with Kiwi coming in during passing situations may prove even better than the rotation New York sported in 2007.
Look out for the Big Blue Wrecking Crew in 2009 folks.
Keep Reading

New York Giants: Like this team?