Dissecting Most Crucial Matchups in Patriots' Week 13 Contest with Texans
November 28, 2013
Elsa/Getty Images
The New England Patriots must feel like they're on top of the world this week. The mainstream media is singing plaudits for Tom Brady, crowning the Pats as the kings of the AFC and again portraying Peyton Manning as a fraud in cold weather.Most of these sweeping proclamations are short-sighted, but they are the primary storylines surrounding the Patriots this week.
Conspicuously absent are the Houston Texans, who happen to be the team the Pats are actually playing this weekend. Under Bill Belichick, New England has generally been immune to letdowns, but they've had close calls against inferior Texans teams before.
Granted, the Patriots absolutely should win on Sunday against a Texans squad that has lost nine in a row and has the look of a defeated squad. But this is largely the same Houston team—apart from the quarterback position—that finished 12-4 just a season ago. The Texans' downfall is more of a referendum on the indispensability of passable quarterback play than it is an indictment of their overall talent.
Indeed, if the Pats are not careful, Houston still has a handful of players who could make Sunday's contest much tighter than expected. But if New England can win these three matchups, then victory should be almost totally assured.
Interior Line vs. J.J. Watt
Watt is an offensive lineman's worst nightmare, an indefatigable force whom the Patriots will game-plan around. Watt's 10 sacks so far in 2013 portray a good-but-not-great season on the surface, but it does so little justice to how truly dominant he has been this year. 
Among 3-4 defensive ends, Watt's 24 quarterback hits are more than twice as many as the next highest mark, and his 48 stops (stops being solo tackles that constitute an offensive failure) are 15 more than the man in second-place, the New York Jets' Sheldon Richardson.
His numbers aren't quite as historic as 2012—after somehow batting 15 passes, he only has four this year—but he's still arguably the toughest blocking assignment in the NFL. That's clear when comparing his rating and stats to other top-five 3-4 defensive ends:
Ratings and Stats of Top 5 3-4 Defensive Ends in 2013
Overall
Rush
Run D
Sacks
Hits
Hurries
Stops
J. Watt
83.4
39.6
45.0
10
24
26
48
C. Jordan
27.9
23.3
3.4
9
10
36
15
K. Williams
24.9
10.1
16.9
8
10
26
28
C. Campbell
23.1
10.7
11.5
7
10
28
25
M. Wilkerson
21.3
9.8
15.0
10
8
20
30
via Pro Football Focus
However, in two games against New England last season, Watt only compiled one sack, three hits and three stops. In the run game, the Patriots mostly ran away from him, allowing Watt to only compile four tackles in two games. On those plays, Watt typically won his one-on-one matchups quite easily but was a non-factor because of the play design:

NFL Game Rewind
In the passing game, the Patriots typically used quick throws to combat Watt, double-teaming him regularly but not on every snap. Looking at Brady's passing chart in the two games they have played him, we can see that, apart from a few seam routes, nearly everything was under 10 yards:
Tom Brady's Passing Chart vs. Texans in 2012
20+ Left
20+ Middle
20+ Right
3-5, 105 yds, 1 TD
2-6, 100 yds, 2 TD
0-2
10-19 Left
10-19 Middle
10-19 Right
2-2, 27 yds
4-7, 68 yds
1-1, 11 yds
0-9 Left
0-9 Middle
0-9 Right
4-8, 23 yds, 2 TD
19-27, 200 yds
2-4, 33 yds
Minus Left
Minus Middle
Minus Right
2-2, 13 yds, 2 TD
6-7, 62 yds
1-1, 2 yds
via Pro Football Focus
A similar approach will also relieve the pressure on Dan Connolly, who, along with Ryan Wendell, will mostly bear the burden of blocking Watt. Connolly had a pair of minus-2.9 grades against Watt last season, generally avoiding the big blown assignment. Connolly struggled in pass protection early in the year, but he has righted the ship and has been roughly average over the past six games. 
There's nothing that can wreck the Patriots offense like strong and consistent pressure, so expect a lot of screens to Julian Edelman, Shane Vereen and Danny Amendola on Sunday. 
Aqib Talib vs. Andre Johnson
Wide receiver Andre Johnson is the other Texans' All-Pro who presents a stiff challenge for the Patriots. At 32 years old, Johnson is still showing no signs of decline. Houston's passing game revolves almost entirely around him, as evidenced by Johnson's 116 targets and 2.39 yards per route run, both of which rank within the top four among wide receivers.
Fortunately, Aqib Talib is uniquely suited to deal with Johnson, who at 6'3" and 219 pounds, is eerily similar in frame to the 6'3", 229-pound Demaryius Thomas. Talib conceded just four catches for 41 yards to the Broncos' big receiver on Sunday night, and he will need a similar effort to contain Johnson this week.
Johnson is catching fewer of his targets this season, a byproduct of the Texans' atrocious quarterback play. In an attempt to compensate for that, he is also running shorter routes. Johnson's 13.5 yards per reception are still fantastic, but it would also be his lowest mark since 2006. That number stems from a lot more screens and hitch routes, especially in the last few weeks: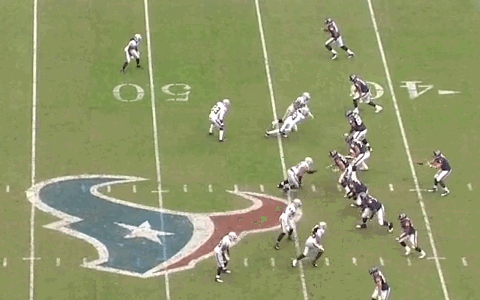 NFL Game Rewind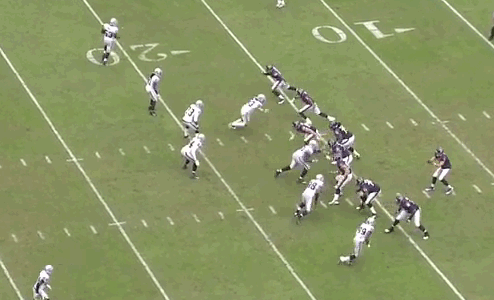 NFL Game Rewind
The Patriots will gladly concede those routes all game. What Talib must take away is the occasional deep shot the Texans still take because, despite concerns about his arm strength, Case Keenum actually ranks first in deep-ball accuracy percentage at 63.6 percent.
Talib's size is a real asset against the deep ball. He has given up just 1.07 yards per snap in coverage, which is in the top third of all cornerbacks. Opposing quarterbacks have also completed just two passes of longer than 20 yards all year against Talib, a testament to his ability to identify where the ball is in the air and make a play on it. 
On this overtime third-down pass deflection against Denver, Talib actually lost position to Thomas, but was able to get his head around and time his jump to make the critical play:
NFL Game Rewind
Talib will have a much larger margin for error against Keenum than he did against Manning, and it would not be a surprise to see him pick off an errant pass on Sunday. And yet, though Talib will cover the Texans' best offensive player, he is probably not the most crucial defender in limiting Houston's offense.
Front Seven vs. Ben Tate
That distinction belongs to the New England front seven, which got gashed by Denver for 280 yards and an eye-popping 5.9 yards per carry. 
In fairness, the term "front seven" was actually a misnomer against the Broncos, as the Pats only had five to six in the box the whole game. In addition, by playing two-high safety coverages, the Patriots never had a safety come down and help in the box like they often do. 
Often times, holes opened up—not because of poor play, but because Denver simply had the numbers advantage:

NFL Game Rewind

NFL Game Rewind
That should change this week, as Belichick will almost certainly dare Keenum to beat the Pats rather than Ben Tate.
Tate is not a superstar, but he is a hard runner who can also make an impact in the receiving game. Despite receiving just 129 rushing attempts so far, Tate has broken 29 tackles and averages 2.44 yards after contact per attempt, both of which rank eighth in the league.
Injuries will play a factor on both sides in this matchup. Tate has played through broken ribs for weeks, and he carried the rock just seven times against Jacksonville last week. 
However, according to The Houston Chronicle's Brian Smith, Tate is still Houston's primary running back, and last week's limited snaps were due to solid running by undrafted rookie Dennis Johnson.
On the Patriots side, ESPN Boston's Mike Reiss has speculated that both Dont'a Hightower and Isaac Sopoaga may have sustained injuries in Week 12, since neither played a second-half snap against Denver. Both were limited in practice on Wednesday, so their status is worth monitoring for a front seven that cannot really afford more injuries.
No matter who is available, however, it seems likely the Pats will play more base defense, meaning that designated run-stuffer Brandon Spikes should see plenty of action on Sunday. It helps that Houston does not present a particularly glaring matchup issue at tight end or running back, which should allow New England to play heavier personnel and rely on their secondary to hold up in coverage.
Bottom line, the Patriots should thrive defensively against a Texans team that has not scored an offensive touchdown in over six quarters. And with the improving offense gaining a rhythm, the Pats should be able to put up points, so long as their fumblitis against the Broncos was only temporary. 
Quite simply, this is the type of mental challenge that Super Bowl contenders should pass.
*All stats courtesy Pro Football Focus' premium section (subscription required), and all photos courtesy NFL Game Rewind.