NFL Predictions Week 13: Teams Sure to Win This Weekend
Use your ← → (arrow) keys to browse more stories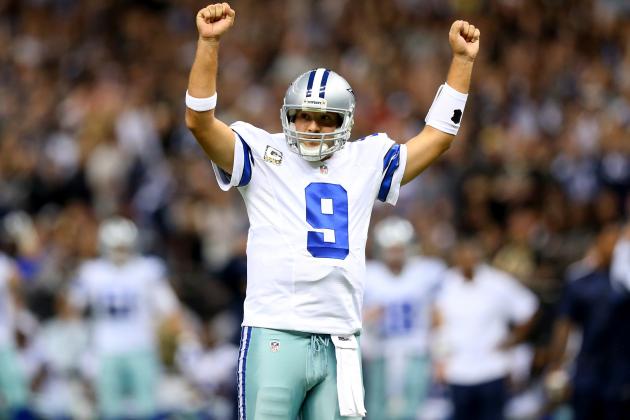 Ronald Martinez/Getty Images

Week 13 features many intriguing games, but the Dallas Cowboys are one of the teams that are locks to win.
It's Thanksgiving week, which means the Cowboys and the Detroit Lions will once again be in the spotlight. Both teams play at home, and both have favorable matchups. If Matt Flynn gets the start for Green Bay in Detroit, however, he might bring back some of the magic from his record-setting game against the Lions that made him millions of dollars.
Some of the top teams in the NFL are going head-to-head this weekend, and those games could go either way. The teams on this list are involved in games that look like mismatches on paper.
Below is a full schedule for Week 13, followed by teams that are sure to win this weekend.
NFL Schedule-Week 13

| | | | | |
| --- | --- | --- | --- | --- |
| Date | Time (ET) | Away | Home | Prediction |
| Nov. 28 | 12:30 p.m. | Green Bay Packers | Detroit Lions | Lions |
| Nov. 28 | 4:30 p.m. | Oakland Raiders | Dallas Cowboys | Cowboys |
| Nov. 28 | 8:30 p.m. | Pittsburgh Steelers | Baltimore Ravens | Ravens |
| Dec. 1 | 1 p.m. | Tennessee Titans | Indianapolis Colts | Colts |
| Dec. 1 | 1 p.m. | Jacksonville Jaguars | Cleveland Browns | Browns |
| Dec. 1 | 1 p.m. | Tampa Bay Buccaneers | Carolina Panthers | Panthers |
| Dec. 1 | 1 p.m. | Chicago Bears | Minnesota Vikings | Bears |
| Dec. 1 | 1 p.m. | New England Patriots | Houston Texans | Patriots |
| Dec. 1 | 1 p.m. | Arizona Cardinals | Philadelphia Eagles | Cardinals |
| Dec. 1 | 1 p.m. | Miami Dolphins | New York Jets | Dolphins |
| Dec. 1 | 4:05 p.m. | Atlanta Falcons | Buffalo Bills | Falcons |
| Dec. 1 | 4:05 p.m. | St. Louis Rams | San Francisco 49ers | 49ers |
| Dec. 1 | 4:25 p.m. | Cincinnati Bengals | San Diego Chargers | Bengals |
| Dec. 1 | 4:25 p.m. | Denver Broncos | Kansas City Chiefs | Broncos |
| Dec. 1 | 8:30 p.m. | New York Giants | Washington Redskins | Giants |
| Dec. 2 | 8:40 p.m. | New Orleans Saints | Seattle Seahawks | Seahawks |
Kyle Newport
Dallas Cowboys (vs. Oakland Raiders)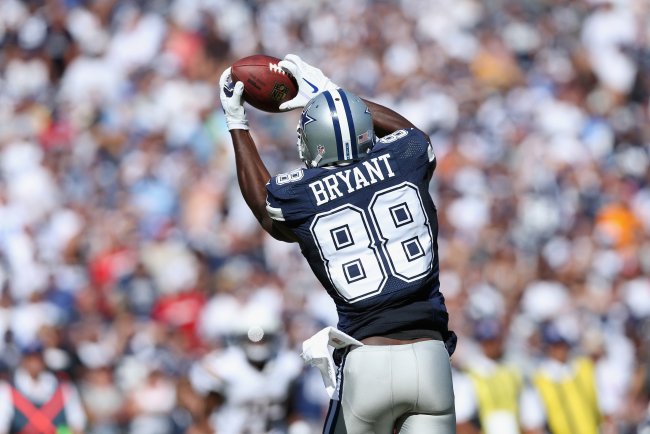 Jeff Gross/Getty Images
The Cowboys are 4-1 at home this season, and now the Oakland Raiders come to town. The Raiders have turned to undrafted rookie Matt McGloin at quarterback as Terrelle Pryor recovers from injury, so they won't be able to keep up with the Cowboys offense.
Although they are only 6-5 on the year, the Cowboys are a different team at home. They have averaged 34.6 points per game and have scored at least 27 points in every game in Dallas this season.
Will the Dallas Cowboys win the NFC East?
Dallas has won five of its last seven games on Thanksgiving and has averaged 29.7 points per game during that span.
The Cowboys have plenty of weapons to use in the passing game. Quarterback Tony Romo has prolific targets in receiver Dez Bryant and tight end Jason Witten. Both Bryant and Witten have at least 560 yards and six touchdowns on the season. Oakland ranks 25th against the pass.
The Raiders rank 29th in throwing the football, so it doesn't look like they have the firepower to keep up with Romo. They are 1-4 on the road, but they won their last road game, which was also in Texas. Oakland is averaging only 18.6 points per game away from home.
On Thursday, there will be too much offense for the Raiders to handle. The Cowboys will keep take a step in the right direction as they try to make the playoffs.
New England Patriots (at Houston Texans)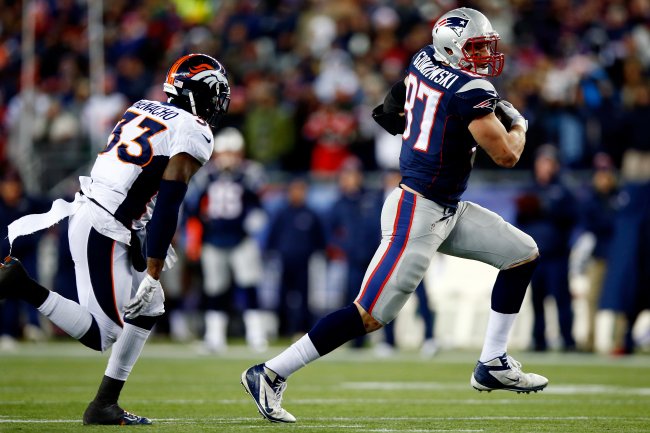 Jared Wickerham/Getty Images
There may not be a wilder game in the NFL this season than the one the New England Patriots were involved in against the Denver Broncos in Week 12.
They fell behind 24-0 in the first half thanks to three fumbles in the first eight minutes. New England then outscored the Broncos 31-7 in the second half and even took a brief lead. It found a way to win against one of the best teams in the league in chilly conditions, so now New England will look to beat up on an inferior opponent.
Are the New England Patriots the best team in the AFC?
As good as the Patriots are, this could be a trap game. This is a Houston team that was expected to contend for a Super Bowl. There's plenty of talent on this team, but things just haven't clicked this year. Also, New England has lost its last three games away from Foxboro, all against contenders.
Playing on the road hasn't been easy for the Patriots. However, their three losses have each been by one possession, including two controversial finishes.
Lucky for them, they get to face a team that has lost nine straight games. How bad has it gotten in Houston? The Texans are 1-5 at home, including losses to the Oakland Raiders and the Jacksonville Jaguars in Houston the last two weeks.
Tom Brady has only five touchdowns to four interceptions on the road this season. He has had his struggles, but he now has a healthy group of targets in Rob Gronkowski, Danny Amendola and Julian Edelman. Since Gronkowski returned to action five games ago, the Patriots have averaged 32.6 points per game.
New England's offense is beginning to click, and the Patriots won't suffer a letdown in Houston.
Carolina Panthers (vs. Tampa Bay Buccaneers)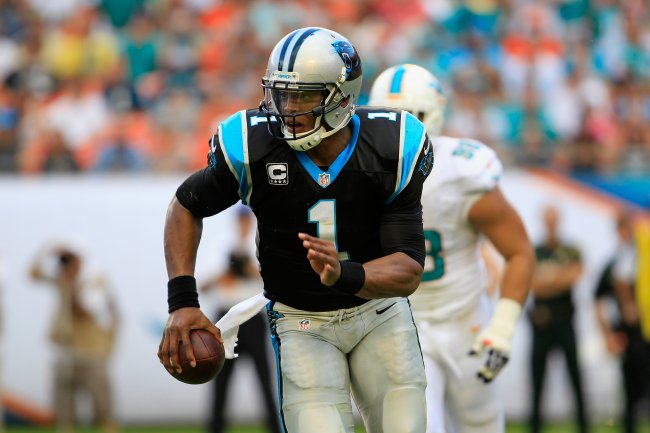 Chris Trotman/Getty Images
The Carolina Panthers were almost the victims of a big letdown, but they found a way to win on the road in the final minute against the Miami Dolphins last week. Now, they get to host the Tampa Bay Buccaneers.
After starting the season 0-8, Tampa Bay has won three in a row. The Buccaneers struggled to score early in the season, but they have scored at least 22 points in four straight games. Now, it will be a test to see if they can score against the Panthers defense.
Are the Carolina Panthers legitimate Super Bowl contenders?
Carolina has the No. 1 scoring defense at 13.7 points allowed per game, and it is third in total defense. Tampa Bay ranks 28th in points per game, so this looks like a great matchup for Carolina.
Quarterback Cam Newton isn't putting up big numbers, but he is doing a good job taking care of the football. The dynamic quarterback has 11 touchdowns to only four interceptions since the middle of October.
The Panthers are 4-1 at home this season. They have averaged 26.6 points per game at home, including 31.5 points over their last four home games—all of which were wins.
No team is hotter than the Panthers. They have won seven in a row, including recent victories over the Patriots—at home—and the San Francisco 49ers. Carolina's only home loss was a 12-7 loss against the Seattle Seahawks in Week 1.
The Panthers won 31-13 in Tampa Bay in Week 8 thanks to a strong second half.
Carolina wins with a good running game and a strong defense. The Panthers will keep pressure on the New Orleans Saints in the NFC South and continue to make a run at the playoffs.
*All stats are via NFL.com