Comparing Ohio State, Michigan's 2014 Recruiting Class: Who Has the Advantage?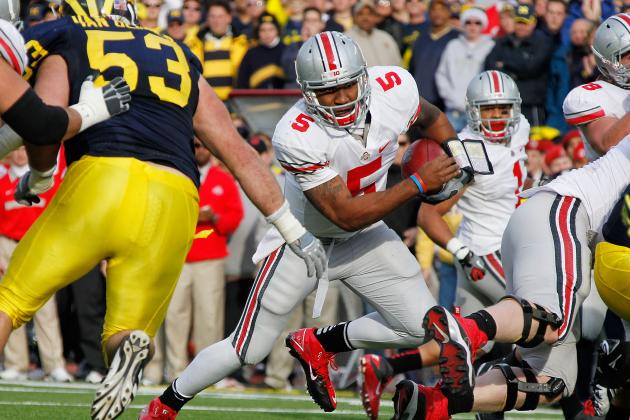 Gregory Shamus/Getty Images

Ohio State and Michigan are scheduled to add to their storied rivalry this Saturday. While the Buckeyes have their eyes on getting into the national title game, the Wolverines will do all they can to spoil the season of their arch nemesis.
The pair of Big Ten powers are also constructing great recruiting classes. Both programs have a chance to finish among the nation's elite, but it's tough to decide which has the better class.
The only way to do that is to see who has the advantage at each unit.
Player evaluations are based on review of tape at Scout.com, Rivals, 247Sports and ESPNU.
Begin Slideshow

»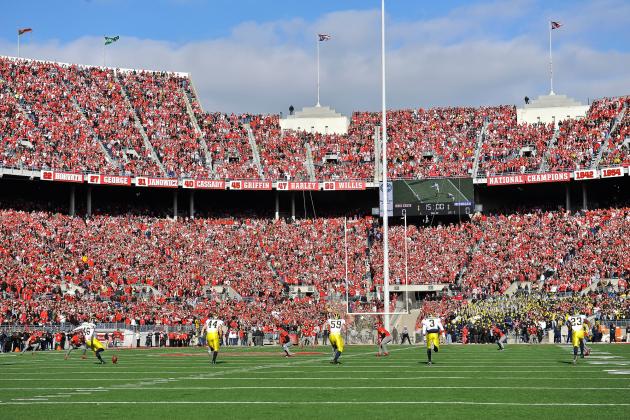 Jamie Sabau/Getty Images

Ohio State has 17 commitments, while Michigan has 16. Yet, the numbers are essentially equal since the Buckeyes' extra pledge comes from 3-star kicker Sean Nuernberger.
There will be no running back examination for this piece, as neither team has a commitment from a player at that position.
Also, there are five "athletes" between the two classes. However, for this piece, those recruits will be counted toward the position they are expected to play in college.
So Jabrill Peppers and Malik Hooker will be considered defensive backs. Noah Brown and Curtis Samuel will be viewed as receivers, while Sam Hubbard will count as a linebacker.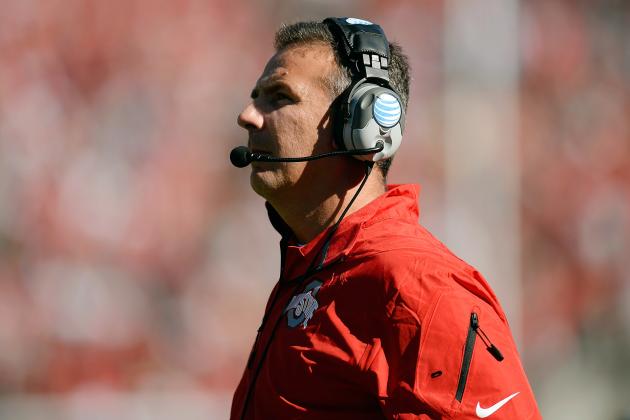 Thearon W. Henderson/Getty Images

Ohio State's commitment:
Michigan's commitment:
Both the Buckeyes and Wolverines have a commitment from a 3-star passer. Collier is a dual-threat passer from Georgia who is 6'4" and 208 pounds.
Speight is a Virginia native who uses his 6'6", 220-pound frame to stand tall in the pocket. Collier has a better chance to play early, as Speight will likely have to wait his turn behind 2013 signed Shane Morris. He can spin the ball with the best of 'em, but Collier has bigger upside.
Advantage: Ohio State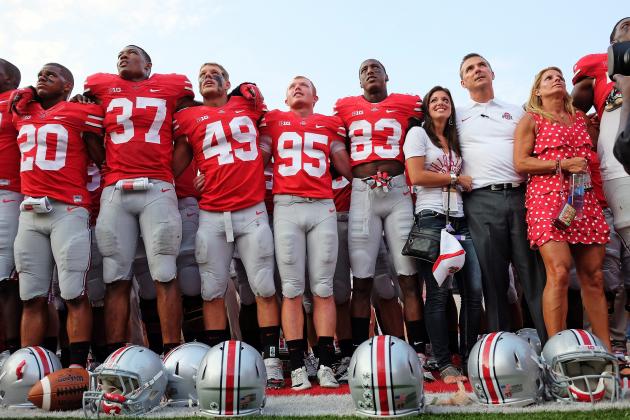 Jamie Sabau/Getty Images

Ohio State's commitments:
Michigan's commitments:
Harris is probably the most natural wide receiver in the group, as he has fantastic ball skills and smooth athleticism. Although Bunting is a tight end, he plays like a receiver at 6'6" and 210 pounds.
Samuel and Campbell are speedsters who could both play a few snaps at running back. Brown may actually prove to be the best player in the Buckeyes' receiver class in the long run.
The depth is the same, but Ohio State has a bit better quality.
Advantage: Ohio State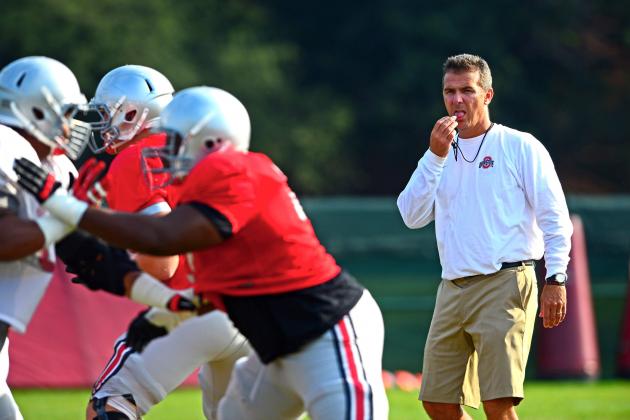 Andrew Weber-USA TODAY Sports

Ohio State's commitments:
Michigan's commitments:
Bushell-Beatty is probably the most talented blocker between the two classes. Michigan will love having him in its program, plus Cole's versatility will be huge.
However, the Buckeyes have great depth in their offensive line class. Jones is not far behind Bushell-Beatty, while Knox is an athletic guard. Also, Trout and Jones are not slouches at all.
Advantage: Ohio State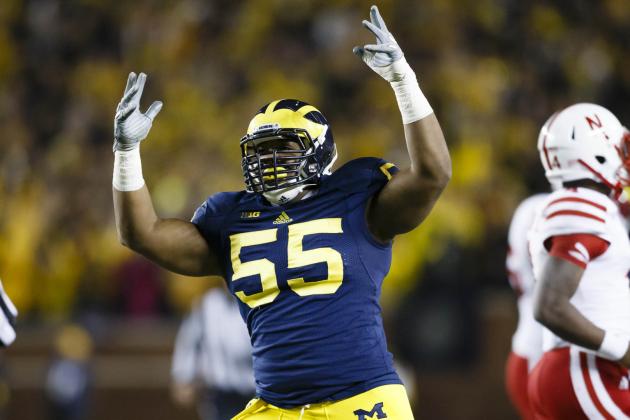 Rick Osentoski-USA TODAY Sports

Ohio State's commitments:
Michigan's commitments:
The best player in this group is Mone, as he has the potential to be a superstar. Marshall also should be a good one due to his ability to be a terror on the edges.
Holmes should be among the best pass-rushers in the Big Ten, while Thompson could be on pace to be a defensive tackle due to him already being 6'5" and 270 pounds.
Advantage: Michigan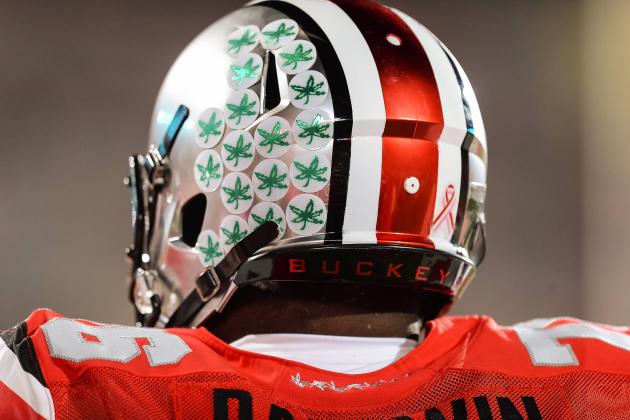 Jamie Sabau/Getty Images

Ohio State's commitments:
Michigan's commitments:
It's easy to see what Ohio State is doing on the recruiting trail at the linebacker position. Athleticism is the emphasis, as all three commitments can play on all three downs. They each have great range, plus they can play in space.
Ferns is a classic 'backer for Michigan, but keep an eye on Winovich. The Pennsylvania native can rush the passer well off the edges, which is why he could get a snap or two at defensive end.
Advantage: Ohio State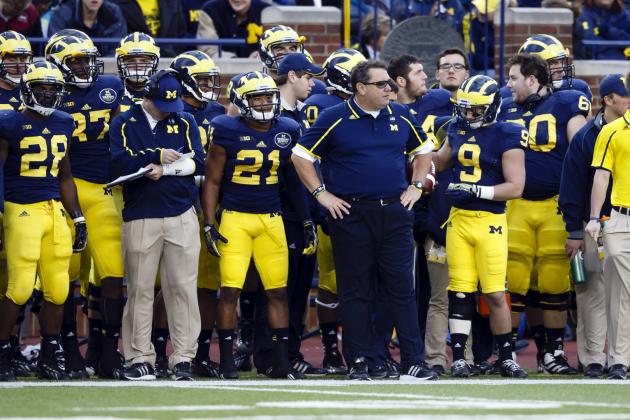 Rick Osentoski-USA TODAY Sports

Ohio State's commitments:
Michigan's commitments:
Michigan has the best overall football player between the two classes in Peppers. He's a rare talent who has exceptional athleticism and intelligence. There's no reason why he shouldn't become one of the greatest players in school history.
Yet, Webb is a talented cornerback who should help the Buckeyes' secondary at some point. Hooker will likely play safety in Columbus, as his movement skills and solid speed project him to be a solid player at that position.
Advantage: Michigan
Ohio State has advantages at quarterback, wide receiver/tight end, offensive line and linebacker. Michigan has superior classes at defensive line and defensive back.
The Buckeyes have the better overall class right now, but use the 2014 Bleacher Report College Football Recruiting Heat Map to track both groups through National Signing Day!
Edwin Weathersby is the College Football Recruiting Analyst for Bleacher Report. He has worked in scouting/player personnel departments for three professional football teams, including the New York Giants and Cleveland Browns.