Wisconsin Badgers vs. Penn State Nittany Lions Complete Game Preview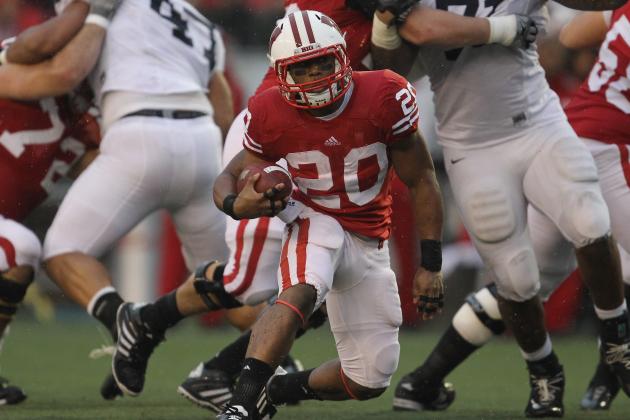 Jonathan Daniel/Getty Images

It's the final game of the regular season for the both the Wisconsin Badgers and Penn State Nittany Lions, and the two teams will continue their annual tradition of facing off in the final week of the season.
Each team is coming off a hard-fought game, although the Badgers (9-2, 6-1) were able to come out on top against Minnesota to retain Paul Bunyan's Axe, while the Nittany Lions (6-5, 3-4) fell in overtime against Nebraska.
Wisconsin is currently riding a six-game winning streak, having won each of its nine games by a double-digit margin. Following Week 13 play, the Badgers moved up four spots in the BCS standings to No. 15, putting them on the cusp of BCS bowl eligibility.
While Penn State continues to recruit well despite the four-year postseason ban, it is beginning to feel the wrath of the reduction in scholarships. The Nittany Lions have taken a step back from a season ago in Bill O'Brien's second year as head coach, but they will look to spoil Wisconsin's Senior Day after failing to win their final home game of 2013.
It figures to be a cold one in Madison—could that even the playing field? Flip through our complete game preview of Saturday's Big Ten clash.
Game Information
Day, Time: Saturday at 2:30 p.m. CT
Place: Camp Randall Stadium, Madison, Wis.
TV: ESPN
Radio: List of Wisconsin stations, List of Penn State stations
Spread: Wisconsin (-24), via Odds Shark
Begin Slideshow

»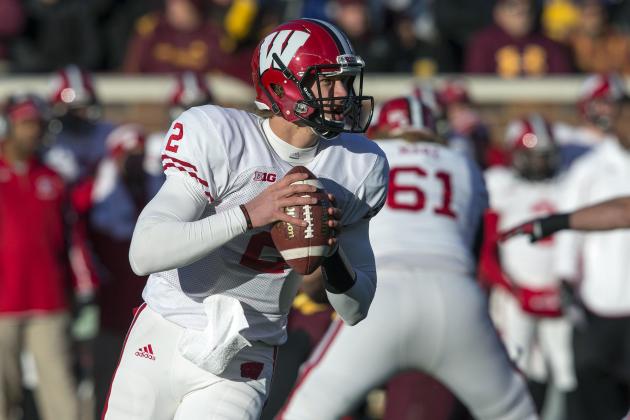 Jesse Johnson-USA TODAY Sports

Don't let Allen Robinson take over
Although the Nittany Lions aren't having quite the type of season they were hoping for, that hasn't been apparent by the way their offense has performed, specifically in the passing game.
Even with a true freshman in Christian Hackenberg at quarterback, Penn State is one of the top passing teams in the B1G. Although Hackenberg has performed admirably in his rookie campaign, he has received a lot of help from wide receiver Allen Robinson, the leading receiver in the conference.
There isn't another receiver in the B1G within 200 yards of Robinson in terms of receiving yards, and he has the ability to take over games. Somehow, Robinson wasn't named a finalist for the Biletnikoff Award, but he will be a handful for Wisconsin's inexperienced cornerbacks.
The cold and potentially blistery weather in Madison could hinder Hackenberg's ability to get the ball to Robinson, but he has great after-the-catch ability and can hurt opponents in just about any aspect of the passing game. If he gets rolling on Saturday, this game could become closer than many expect.
Set up the play-action pass
Penn State, like Minnesota, Wisconsin's previous opponent, is so-so at defending the run. Having a mediocre run defense isn't going to get it done against the Badgers, and against Ameer Abdullah last week, the Nittany Lions allowed 147 rushing yards on 25 carries.
Wisconsin features two outstanding running backs in James White and Melvin Gordon, so the Penn State defense will have its hands full. The Badgers can expect the Nittany Lions to put at least eight men in the box, so it's important to establish the run and make it easier to move the football through the air, specifically via play action.
Throwing the football off of playaction is when Joel Stave has the most success, and while Wisconsin isn't known for throwing the football, Penn State has more difficulty defending the pass.
Given that Penn State will be forced to commit more men to the run, the play-action game, just as it has in the past, should be effective on Saturday for the Wisconsin offense.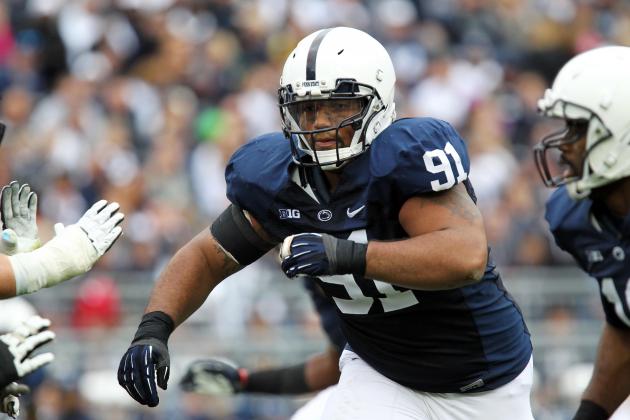 Matthew O'Haren-USA TODAY Sports

Stack the box
Unless we're talking about a high-end defense like that of Ohio State or Michigan State, this is normally going to be a key to victory against Wisconsin every week.
Wisconsin rushes for nearly 300 yards per game, which is good for No. 8 in the FBS. As of late, it has been paced by senior tailback James White, but there is the ever-present threat of Melvin Gordon coming off the edge and breaking it to the house.
That's not to say White doesn't have big-play ability—he set a school record with a 93-yard run against Indiana in Week 12.
White and Gordon are perhaps the two biggest threats on the Wisconsin offense, which leaves Penn State with no choice but to commit more men near the line of scrimmage in an effort to stop the run.
It may leave the Nittany Lions vulnerable on the back end, especially with Jared Abbrederis as wide receiver, but it's a risk Penn State will have to take if it wants an opportunity to pull off the upset.
Empty out the bag of tricks
There's a reason Penn State is projected to lose by three scores by Vegas on Saturday—Wisconsin is a much more complete football team, and the last time the Nittany Lions visited Camp Randall Stadium, they lost by 38 points.
Obviously, this is a different Penn State team, but opponents haven't had much luck making a dent in the Badgers' armor when playing in Madison. The Nittany Lions may have held their ground last season against Wisconsin in Happy Valley, but the Badgers are vastly improved while Penn State has taken a step back.
Penn State has nothing to lose, while Wisconsin has everything to gain. There's no reason for the Nittany Lions to avoid going for broke, which means breaking out some trick plays or a fake punt—you name it.
Catching the Badgers' defense, which is one of the best in the country, off guard could tilt the game in Penn State's favor and give it a fighter's chance on Saturday.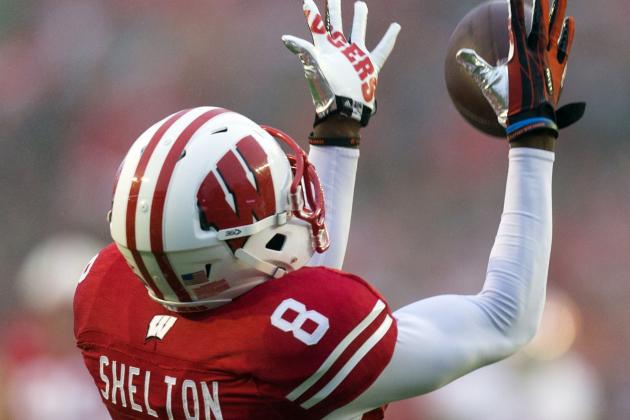 Jeff Hanisch-USA TODAY Sports

James White
James White appears to be finishing what Melvin Gordon started, based on his play over the last four weeks.
White is two yards away from having six consecutive 100-yard outputs on the ground, and he is averaging 152.3 rushing yards per game throughout his last four contests. With Gordon fumbling against Minnesota last Saturday, White took over even more of the burden at running back, carrying the ball 26 times in frigid conditions.
This week, it should be back to normal as far as splitting carries with Gordon is concerned, but White has by far been the more productive back down the stretch. Per usual, he will face an exaggerated number of defenders in the box, but it's nothing new for White—expect him to reach 100 yards on the ground for the fifth straight game.
Sojourn Shelton
It will be interesting to see who gets the majority of the reps lining up face-to-face with Penn State's Allen Robinson, but it could very well be the true freshman, Sojourn Shelton.
Shelton has been the Badgers' top cover corner this season, leading the team in interceptions and passes defended. This week could be the Wisconsin secondary's toughest test yet, however, as Robinson is statistically the B1G's best receiver and Penn State also features multiple threats at tight end.
That being said, it comes down to how much the Badgers can contain Robinson. It's very possible he will get his, but it will also be about limiting the other threats in the passing game, as Robinson has nearly 1,000 yards more than the next player on his team.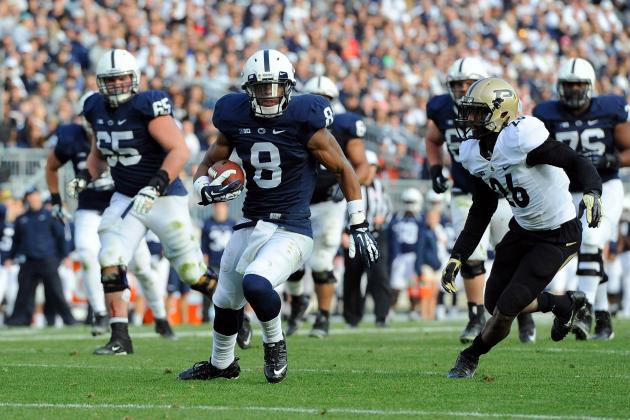 Rich Barnes-USA TODAY Sports

Allen Robinson
No surprise here, as Penn State wide receiver Allen Robinson is one of the most electrifying wide receivers college football has to offer.
Robinson has been true freshman quarterback Christian Hackenberg's security blanket all season long, and that's readily apparent based on the extreme outlier that is Robinson's receiving yards' total compared to his teammates'.
Although the Badgers statistically have one of the best pass defenses in the conference, their deficiencies have been masked by a strong front seven for much of the year. The back end of Wisconsin's defense can be vulnerable at times due to its inexperience, so Robinson could easily have another breakout performance on Saturday.
DaQuan Jones
DaQuan Jones is an intriguing prospect at the next level because of his combination of size and pass-rushing ability. At 6'3" and 318 pounds, Jones plays defensive tackle for Penn State but still leads the team in tackles for a loss and is fifth on the team in total tackles.
Jones also has three sacks on the season, but the number of blockers the senior can occupy, as well as his ability to plug up the middle of the line, could make it difficult for the Badgers to plow it up the middle.
Wisconsin has success running the ball just about everywhere on the field, but if Jones can get some push and help take away one aspect of the Badgers' rushing attack, that could limit the offensive playbook for Wisconsin.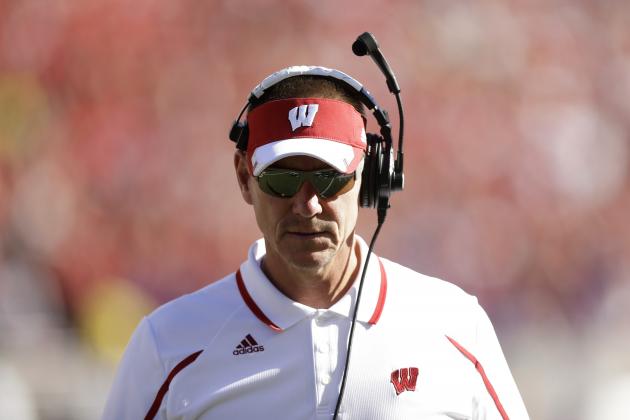 Mike McGinnis/Getty Images

Wisconsin head coach Gary Andersen on the Badgers' BCS bowl game prospects and how much attention he is paying to the selection process.
The best thing I say about that is, if they can find a way to win this game against Penn State, do I think that they deserve that opportunity to play in a BCS bowl game? Absolutely, yes.
Andersen on Borland not among Butkus finalists: "That surprises me. I guess the best linebacker in America isn't on that list" #Badgers

— Badger Football (@BadgerFootball) November 25, 2013
Penn State head coach Bill O'Brien on how to attack the Badgers' 3-4 defense (via John Stuetz of the Daily Collegian).
They're very stout. I think there's been six games where they haven't given up a touchdown. You've got to retrain your players. So to me it's a difficult task. That's what we're doing right now is trying to train our players about, 'These are the 3‑4 plays that we need to run to move the ball against Wisconsin.'
Penn State running back Bill Belton missed the game against Nebraska due to illness and injury, but O'Brien said that Belton (strep throat, shoulder) should be able to play against Wisconsin (via Mark Dent of the Pittsburgh Post-Gazette).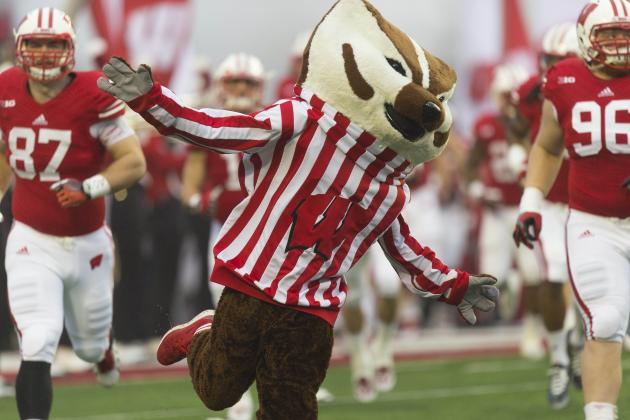 Jeff Hanisch-USA TODAY Sports

Penn State had its Senior Day rained—and snowed—on by Nebraska last Saturday, and now it sets out to not only do the same at Wisconsin but to also put an end to the Badgers' BCS aspirations.
There is always something to play for in college football, and the Nittany Lions—a team with a postseason ban—are playing for pride, a winning record and an opportunity to play spoiler. The pressure is squarely on the shoulders of Wisconsin.
But this Badgers team hasn't given into pressure this season, and that has a lot to do with the senior leadership, as well as head coach Gary Andersen. It's a team that plays fast and loose, and while emotions will be running high on Saturday, Wisconsin should be able to refocus by game time and understand the task at hand—beating Penn State and putting itself in prime position to play in a BCS bowl.
The Nittany Lions have some threats on offense and will be getting healthier, but this Wisconsin defense is just too good. And even though Penn State knows exactly what the Badgers want to do on offense, it won't matter—Wisconsin has had success running the football almost every week.
The Badgers will take care of business, and then all they can do is wait to see if a BCS bowl is in the cards.
Prediction: Wisconsin 38, Penn State 14