The Cleveland Browns thought two weeks ago that their playoff push could run into deep December. After two straight disappointing losses, however, it seems the postseason will once again be a dream and not a reality.
Head coach Rob Chudzinski is faced with quite a few challenges this week. First of all, he will try and prepare Brandon Weeden once again to be the starting quarterback. Then, he must get a young roster to believe it is still playing meaningful football. Finally, he has to keep a locker room together that seems to be splitting between the offense and defense.
After Sunday's loss, safety T.J. Ward expressed displeasure with how the offense has played this season, via Fred Greetham of FoxSportsOhio.com.
"It is frustrating," Ward said. "I'm not going to lie, but it's out of our power. We have to trust that (the offense) is doing everything in their power to win ball games like we are."
These are tough issues for a first-year head coach to handle.
Perhaps the Jacksonville Jaguars coming into Cleveland can be the magic elixir. They are just 2-9 despite winning two of their last three games.
At 4-7, the playoffs are most likely out of reach for the Browns, but if they fall to 4-8, the entire thing could unravel.
AFC North Standings

| | | | | |
| --- | --- | --- | --- | --- |
| TEAM | RECORD | DIV | WIN % | STREAK |
| Bengals | 7-4 | 2-2 | .636 | Won 1 |
| Steelers | 5-6 | 2-1 | .455 | Won 3 |
| Ravens | 5-6 | 2-2 | .455 | Won 1 |
| Browns | 4-7 | 2-3 | .364 | Lost 2 |
NFL.com Standings
The Cincinnati Bengals sit atop the AFC North at 7-4 and are now well rested, as they had a bye in Week 12.
The Pittsburgh Steelers catapulted themselves right back into the thick of the playoff race with their win over the Browns Sunday. They are now 5-6 and in a logjam with Tennessee, Baltimore, San Diego, New York and Miami for the final wild-card spot.
The only team they do not hold the tiebreaker over, however, is Tennessee.
Baltimore, who is among those tied for the final wild-card spot, had a dominating win over the New York Jets, allowing just three points in the game.
The rest of the AFC North is hitting its stride while the Browns have stumbled to the back of the pack.
Injury Report
ILB Craig Robertson (Knee) Did not play Sunday
TE MarQueis Gray (Hamstring) Did not play Sunday
ILB Tank Carder (Shoulder) Left the game Sunday
CB Buster Skrine (Ribs) Left the game Sunday
QB Jason Campbell (Head) Left the game Sunday
Head coach Rob Chudzinski gave an injury update to the media in his Monday press conference:
"As far as injuries, a couple of things that I mentioned last night: (QB) Jason Campbell has a concussion. He'll be going through the NFL protocol for that before he's cleared to play," said Chudzinski, via Nate Ulrich of The Akron-Beacon Journal. "(LB) Tank Carder has a shoulder sprain; we'll see how he is as the week progresses. (DB) Buster Skrine has bruised ribs and again, we'll see how he progresses as the week goes on. Those are the injuries from the game that I have to report."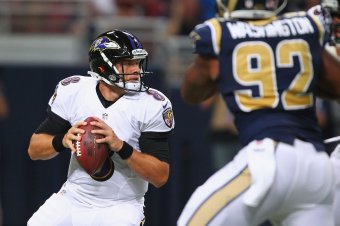 Dilip Vishwanat/Getty Images
He went on to say that the team will probably have to bring in another quarterback.
"There's a good chance that we'll sign another guy before the game."
Nate Ulrich of The Akron-Beacon Journal also reported Monday that the team would work out free agent quarterback Caleb Hanie on Tuesday.
#Browns will bring QB Caleb Hanie in for workout Tuesday, league source confirms. Candidate to serve as Brandon Weeden's backup Sunday.

— Nate Ulrich (@NateUlrichABJ) November 25, 2013
Buster Skrine's injury is concerning because that would thrust rookie Leon McFadden into a large amount of playing time. The only time he has seen the field in extensive action was in the preseason, and opposing offenses targeted him.
The shoulder injury for Carder means that the Browns are now down to their third-string inside linebacker, Darius Eubanks. He did not play all that poorly in relief of Carder on Sunday, however.
What Must Improve
Brandon Weeden
Judging by the year he's had, this seems very far-fetched, but it must happen. He finished Sunday's game 13-of-30 for 209 yards, a touchdown, a lost fumble and an interception returned for a touchdown.
He filled up the stat sheet but in a very bad way.
On one drive in the fourth quarter, he had 78 of his 209 passing yards, all to wide receiver Josh Gordon, when the game was out of hand, and the Steelers were not pressing receivers.
It is a very tough spot to come in as a backup quarterback, but he did it with much success earlier in the season against Buffalo. He now has a full week of practice and first-team reps to prepare for the Jaguars.
If he cannot pass on the Jags, who are 30th in the NFL, allowing 29.5 points per game and have allowed 20 passing touchdowns, then he may want to switch sports again.
The defensive secondary
After a nearly perfect performance the week before against the Bengals, cornerback Joe Haden and his crew got sliced and diced by quarterback Ben Roethlisberger.
While they did not allow a ton of yards overall, just 217, they allowed 171 of those in the first half.
How many wins will the Browns have at the end of the season?
Haden was targeted for almost the entire second quarter and was burned on back-to-back drives. In that two-drive span, he allowed wide receiver Antonio Brown to get 74 yards and touchdown.
Buster Skrine was not much better and eventually left the game with a rib injury. If that holds him out of the game, rookie cornerback Leon McFadden will need to step in and play some quality minutes.
In 11 games this year, he has just three tackles and zero passes defended.
Crank up the intensity
Where was the rivalry-like intensity against the Steelers Sunday? Where was the home-field advantage and swagger that we saw against the Baltimore Ravens?
It all vanished Sunday, and they once again looked like the intimidated little brother to the Steelers.
The worst part is that it was still a competitive football game deep into the third quarter, and you would have thought the Browns were getting blown out by how they were acting.
Fighting just to fight is never productive, but at some point, you need to send a message and be physical with the Steelers.
If the Browns play lackluster football like that again against the Jaguars, they will fall to 4-8 on the season and be one of the favorites to have the first overall pick in next year's draft.
All quotes and observations were gathered firsthand unless otherwise noted.