There will be no waiting until May this time around. After undergoing surgery to repair a torn meniscus on Monday, the Chicago Bulls announced that point guard Derrick Rose will miss the remainder of the 2013-14 NBA season.
Though he was initially characterized as being out indefinitely, the team of doctors determined the best course is for Rose to rule out coming back this year altogether.
It was not noted in the press release whether the doctors reattached Rose's meniscus or needed to shave it partially; the team characterized it merely as a successful repair. A reattachment of the ligament usually results in a longer initial recovery period but has less long-term complications.
The 2011 NBA MVP, Rose's career has been on hold essentially since suffering a torn ACL in Game 1 of Chicago's playoff matchup with the Philadelphia 76ers two seasons ago. Rose missed the entire 2012-13 campaign while recovering from the ACL surgery, a period in which he faced widespread scrutiny for his decision to take the process slow.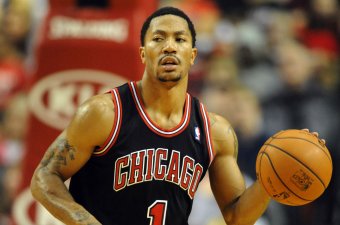 Steve Dykes-USA TODAY Sports
His comeback effort, mired in the expected struggles of a player on the floor for the first time in 18 months, lasted only 10 games. The 25-year-old guard finishes the season with averages of 15.9 points and 4.3 assists per game while only shooting 35.4 percent from the field. All of those would have been career lows extrapolated across an 82-game season.
Rose is now facing the third essentially lost season of his career. Dating back to the 2011-12 campaign, Rose will have missed 181 of a possible 230 regular-season games. Understandably, this news caused massive waves across social media, so here's a look at the best things the Twittersphere had to say.
While the news is devastating, the Bulls won't be going through a repeat of last season. By declaring him out for the season rather than putting vague labels on his status—remember, Rose was cleared for full contact months before Chicago's 2012-13 season ended—it puts all speculation to bed. Ethan J. Skolnick of Bleacher Report thinks that's a good thing:
The best thing the Bulls could have done was rule Derrick Rose out for the season. Kills speculation.

— Ethan J. Skolnick (@EthanJSkolnick) November 25, 2013
Skolnick also noted Chicago is still a playoff team unless management takes drastic measures:
Bulls' roster is still good enough for home court in the East, unless they gut it and start over.

— Ethan J. Skolnick (@EthanJSkolnick) November 25, 2013
Still, the ripple effect from Rose's injury is everywhere. Dan McCarney of the San Antonio Express-News found out just how much the Vegas over/under on Chicago had dropped:
Chicago's over/under dropped from 56.5 to 39.5 after D-Rose announcement.

— Dan McCarney (@danmccarneysaen) November 25, 2013
The Bulls' loss is also the rest of the Eastern Conference's gain. As pointed out by the New York Post's Marc Berman, Rose's injury should help out the two teams in the nation's most populous city overcome their struggles:
Though Rose injury benefits #Knicks-Nets, too tragic to contemplate. Fragility of sports. Health is everything. Not hiring analytics firm.

— Marc Berman (@NYPost_Berman) November 25, 2013
It's unclear at this juncture what the Bulls plan to do. Forward Luol Deng has an expiring contract, and it's highly likely the team looks to make at least one move to get out of paying the luxury tax. K.C. Johnson of the Chicago Tribune said that, no matter what, Rose won't be returning to the same team:
Rose will return next season to a different Bulls team.

— K.C. Johnson (@KCJHoop) November 25, 2013
Speaking of Chicago financials, Rose will now have effectively missed each of the first two seasons of his five-year, $90 million extension. Darren Rovell of ESPN has the news on that front—both the good and the bad:
With DRose out for year, Bulls will have paid $41,028,896 for his 50 games on the court over the last 3 seasons.

— darren rovell (@darrenrovell) November 25, 2013
Bulls got $6.56M of Rose's $16.4M contract last year back from insurance. 41-game deductible resets for this injury.

— darren rovell (@darrenrovell) November 25, 2013
Upon hearing about Rose's injury, many in the NBA community and others reached out to offer their condolences. In particular, Kentucky coach John Calipari seemed optimistic about his former pupil's long-term prognosis:
I can't begin to tell you how bad I feel for @drose with the news that he will be out for the rest of the season.

— John Calipari (@UKCoachCalipari) November 25, 2013
Derrick's injury is similar to what Russell Westbrook had, so he should come back for next year and be fine.

— John Calipari (@UKCoachCalipari) November 25, 2013
If there's anyone who can bounce back from this, it's @drose. My message to Derrick would be to stay strong and stay focused. Love you, kid.

— John Calipari (@UKCoachCalipari) November 25, 2013
Legendary trainer Tim Grover, who is most famous for his work with Michael Jordan, also expressed faith that Rose could return to action better than ever:
Don't write off the career of @drose. He's young, he's driven, and his story is not done. #relentless

— Tim S. Grover (@ATTACKATHLETICS) November 25, 2013
Before there was Derrick Rose, there was Grant Hill. Once one of the NBA's most promising forwards, Hill's career trajectory was fundamentally altered by numerous ankle injuries suffered during his time with the Orlando Magic. While Hill reinvented himself as a role player late in his career, he was never able to recapture his former elite skillset. Celtics Blog's Twitter feed wonders whether Rose will face the same fate:
Derrick Rose officially in Grant Hill territory. Hope he can come back full speed next year. #respect

— CelticsBlog (@celticsblog) November 25, 2013
Unsurprisingly, Stephen A. Smith and Skip Bayless of ESPN's First Take decided to chime in with their piping hot takes. The show's Twitter feed sent out some of the most soundbite-worthy quotes:
"Derrick Rose as far as I'm concerned is FINISHED." - @stephenasmith

— ESPN First Take (@ESPN_FirstTake) November 25, 2013
"I agree Derrick Rose will never be DERRICK ROSE again." - @RealSkipBayless

— ESPN First Take (@ESPN_FirstTake) November 25, 2013
Right as the Bulls were announcing that Rose would miss the rest of the season, the Lakers surprised the world by announcing their injured star,
Kobe Bryant
, had signed a two-year extension. Beckley Mason of Hoop Speak pointed out that the D-Rose news was pushed to the backburner awfully quickly:
Twitter cared about Rose for about 15 seconds until Kobe news.

— Beckley Mason (@BeckleyMason) November 25, 2013
The duality of the information caused Andrew Sharp of Grantland to experience mixed emotions:
As sad as D. Rose makes me, I'm just as happy as Kobe's gonna end his career going insane on the Lakers

— Andrew Sharp (@andrewsharp) November 25, 2013
Overall, most would agree this is a bad day for basketball. Rose, when at the height of his powers, is arguably the most exciting player in the league not named LeBron James. His return to the floor was supposed to challenge the Miami Heat's stranglehold over the Eastern Conference, a responsibility that will now fall solely on the Indiana Pacers' shoulders.
As for what to expect from Rose going forward, it's hard to know. But it's clear that nothing with this Chicago core will ever be the same.
Follow Tyler Conway on Twitter: