Needing a win to keep pace with the Philadelphia Eagles in the NFC East Sunday, the Dallas Cowboys went into New York and knocked off the Giants, 24-21, in a back-and-forth battle.
Tony Romo completed 23 of 38 throws for 250 yards, two touchdowns and an interception. He led a game-winning drive in the final minutes to secure the 6-5 Cowboys' second road victory of the season.
COWBOYS WIN! Cowboys 24, Giants 21. #CowboysNation pic.twitter.com/Z83lLW1Wl3

— Dallas Cowboys (@dallascowboys) November 25, 2013
On the other side of the ball, the Giants, behind a dominant running game from Andre Brown and Brandon Jacobs, won the total yardage and possession battles but struggled on third downs and in the red zone, falling to a 4-7 record overall.
Both teams committed 11 penalties for over 80 yards in the sloppy contest.
The Cowboys struck first when—just three plays after a Romo interception—Orlando Scandrick stripped Victor Cruz and safety Jeff Heath took it back 50 yards for the score a little over 10 minutes into the game:
Tom Coughlin screamed for the whistle to be blown after it appeared Cruz's forward progress was stopped, but his claims fell on deaf ears and the Cowboys had a 7-0 lead.
Following a Josh Brown field goal, which resulted when the Giants' drive lost steam inside the 10-yard line, the 'Boys drove right back down the field, going 80 yards on just five plays. DeMarco Murray broke off huge chunks of yardage and Romo ended the drive with a 20-yard strike to Jason Witten at the 9:37 mark of the second.
The Giants again saw a drive fizzle inside the Dallas 10, settling for a field goal to cut the lead to 17-6 before halftime.
Thanks to a couple of untimely penalties from New York, the Cowboys scored on their first drive out of the locker room. On 3rd-and-goal, Romo connected with Witten for the second time of the night, marking a significant milestone for each, per Cowboys beat writer Clarence Hill:
That was Romo's 200th career td pass and Witten's 50th career td reception.

— Clarence Hill (@clarencehilljr) November 24, 2013
Despite what appeared to be a deflating defensive drive, the Giants didn't fold.
After Manning quickly moved the ball down the field on the next drive, it appeared it was going to end in another field goal. But Brandon Myers made a diving catch down the sideline, and when Jeff Heath and Bruce Carter forgot to touch him down, the tight end stood up and waltzed into the end zone for the 27-yard score:
Following several punts, the Giants put together an eight-play, 58-yard touchdown drive late in the fourth quarter, capped by a Louis Murphy four-yard grab. Down by two with just under five minutes remaining, Coughlin rolled the dice and Andre Brown jogged through a cavernous hole for the two-point conversion to tie the game at 21.
Romo and the Cowboys responded perfectly, driving down the field in methodical fashion before Dan Bailey kicked in the game-winning, 35-yard chip shot as time expired.
Player Grades
Tony Romo, Cowboys: A-
Romo's final numbers aren't anything special, but he faced much pressure and still made some good throws. His first touchdown to Witten, in particular, was an impressive toss:
His up-and-down day, however, was defined on the game's final drive, as he went 4-of-7 (including a drop) and calmly moved the Cowboys down the field for the win.
Game time. Romo to dez clutch. Great win

— Dirk Nowitzki (@swish41) November 25, 2013
While it was an inconsistent day overall, Romo was at his best when necessary.
Eli Manning, Giants: B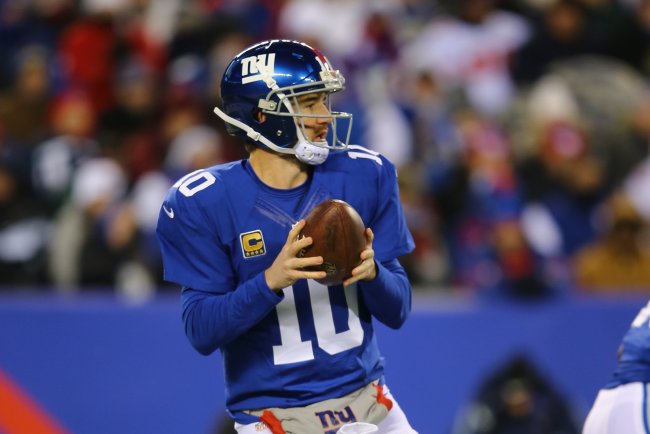 Al Bello/Getty Images
It was a similar so-so performance from Manning.
He struggled with inaccuracy and couldn't put much of anything together early in the game. But he started to figure things out as the game progressed and helped put together two second-half touchdown drives with several nice throws.
Manning finished 16-of-30 for 174 yards and two scores, which isn't beautiful, but he protected the ball and had the G-Men in line to win late in the game.
Dez Bryant, Cowboys: B+
After an early injury scare, Bryant returned and put up over 100 yards receiving. He made his share of mistakes, though.
Romo's lone interception went off his hands, and early in the fourth quarter, he was trying to fight for extra yardage and fumbled. The ball eventually rolled out of bounds, but not before it traveled backward about a fifth of the entire field and killed a Cowboys drive.
The electric wide receiver made up for it, however, as he stepped up and made several key grabs on the game-winning drive.
Say what you will that's why he has on 88

— Michael Irvin (@michaelirvin88) November 25, 2013
Despite the mishaps, he finished with nine catches for 102 yards and was a crucial factor in his team's win, so it's hard to criticize him too much.
Giants Running Game: A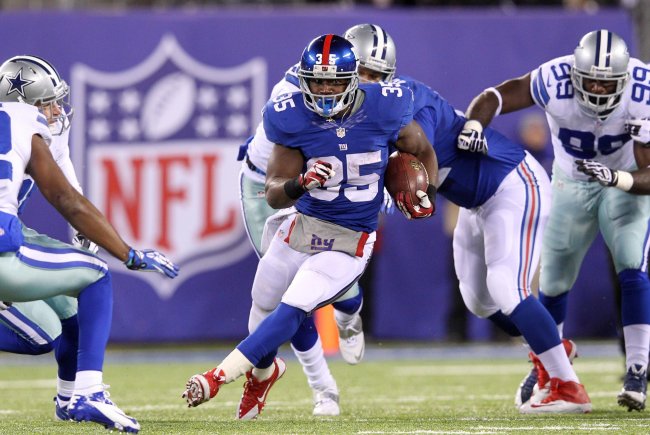 Brad Penner-USA TODAY Sports
The Giants did absolutely whatever they wanted on the ground, as the offensive line dominated the point of attack and opened up huge holes. Both Andre Brown and Brandon Jacobs ran with burst and purpose.
Gaining 202 yards (127 from Brown, 75 from Jacobs) on 30 carries is usually a recipe for a win, but the G-Men couldn't quite put together a complete performance.
Still, if they continue to run the ball like they did on Sunday, more victories will be on the horizon.
What's Next
The Cowboys' annual Thanksgiving Day contest comes next, as they host the Oakland Raiders, while New York gets the usual week off before traveling to Washington to battle the Redskins on Sunday Night Football.