Only three undefeated national championship contenders remain in the latest Week 14 release of the BCS rankings.
The gap between college football's cream of the crop and the best of the rest widened this past weekend. A couple of notable upsets tarnished stellar seasons for some programs, while those at the very top rolled to easy victories.
Here is a look at the standings, which saw a substantial shift in the Top 10:
Week 14 BCS Rankings

| | | |
| --- | --- | --- |
| Ranking | Team | BCS Average |
| 1 | Alabama (11-0) | .988 |
| 2 | Florida State (11-0) | .970 |
| 3 | Ohio State (11-0) | .920 |
| 4 | Auburn (10-1) | .824 |
| 5 | Missouri (10-1) | .808 |
| 6 | Clemson (10-1) | .773 |
| 7 | Oklahoma State (10-1) | .762 |
| 8 | Stanford (9-2) | .667 |
| 9 | Baylor (9-1) | .646 |
| 10 | South Carolina (9-2) | .610 |
| 11 | Michigan State (10-1) | .578 |
| 12 | Arizona State (9-2) | .505 |
| 13 | Oregon (9-2) | .495 |
| 14 | Northern Illinois (11-0) | .462 |
| 15 | Wisconsin (9-2) | .445 |
| 16 | Fresno State (10-0) | .412 |
| 17 | LSU (8-3) | .374 |
| 18 | Oklahoma (9-2) | .338 |
| 19 | UCF (9-1) | .336 |
| 20 | Louisville (10-1) | .252 |
| 21 | Texas A&M (8-3) | .224 |
| 22 | UCLA (8-3) | .192 |
| 23 | USC (9-3) | .178 |
| 24 | Duke (9-2) | .089 |
| 25 | Notre Dame (8-3) | .067 |
Source: BCS
The Alabama Crimson Tide, Florida State Seminoles and Ohio State Buckeyes remained atop the standings in that order, winning their games by a combined score of 171-28.
The stark contrast came when the previous No. 4 Baylor Bears and former No. 5 Oregon Ducks got blown out by an aggregate score of 91-33.
For head coach Nick Saban's Alabama powerhouse, a 49-0 victory over Chattanooga marked the team's third shutout of the 2013 season and the ninth time in 11 games the Tide's opponent had been held to 10 points or fewer.
Alabama has now shut out 10 of its 38 opponents over the last 3 seasons, twice as many as the next-closest team in that span (Florida St)

— ESPN Stats & Info (@ESPNStatsInfo) November 23, 2013
Quarterback AJ McCarron completed 13 of 16 passes for 171 yards and two touchdowns. The first score was to fellow senior receiver Kevin Norwood, and his last throw in Bryant-Denny Stadium was a 38-yard TD strike to Amari Cooper.
Saban highlighted McCarron and Norwood, along with linebacker C.J. Mosley in his opening statement to the media afterward, per Alabama's official website:
We wanted to go out today and improve as a team, play better as a team, and play well for the seniors. It was a pretty emotional day today for a lot of those guys. For a lot of the guys in this senior class...being a part of the team here really means a lot to them. For AJ [McCarron], C.J. [Mosley], Kevin Norwood and just about all of them. It's kind of an emotional thing for me too at the end of the game because a lot of those guys have meant a lot to the program.
Despite a great shot at a third national title as quarterback of the Tide, McCarron is still on the outside looking in for the Heisman Trophy.
Among the front-runners is Florida State freshman phenom Jameis Winston, who completed 14 of 25 passes for 225 yards and four touchdowns in the Seminoles' 80-14 dismantling of Idaho in Tallahassee.
Florida State is stacked on both sides of the ball, but Winston has been sensational in his first season under center, driving the Seminoles into a potential BCS national championship matchup with the Tide.
On the outside looking in are the Ohio State Buckeyes, who beat Indiana 42-14 in Columbus in another showcase of how poor their schedule has been.
That's nothing the Buckeyes can control, but it does seem odd that Urban Meyer has now won 23 games and lost none at the helm, yet OSU has had no shot at a national title.
No Ohio State team has ever won more games in a row. That's 23 straight for Urban Meyer's Buckeyes.

— Zack Meisel (@ZackMeisel) November 23, 2013
Now to the upsets.
Baylor got rocked in Stillwater by Oklahoma State, 49-17. The Bears' prolific offense was not quite up to snuff against a stout Cowboys defense, and to many observers' surprise, Clint Chelf was the best quarterback on the field, not Baylor's Bryce Petty.
No. 10 Oklahoma State DOMINATES No. 4 Baylor 49-17. Cowboys QB Clint Chelf threw for 370 yards and 3 TDs in the win.

— Bleacher Report (@BleacherReport) November 24, 2013
This puts a damper on the previously undefeated Bears' season to say the least, but Art Briles has still engineered an incredible turnaround. If the past few years are any indication, Baylor will be back among the best, and the program still has an opportunity to finish 2013 strong.
While Petty's Heisman hopes took a hit, those of Oregon QB Marcus Mariota were harmed even more in a 42-16 loss to Arizona.
Mariota entered the contest having not thrown an interception, and granted, it took an amazing play from the Arizona secondary to toss his first one:
It took this miraculous INT to stop Marcus Mariota's streak of 353 passes without an INT. #UOvsAZ --> http://t.co/lGQXQ8oX3U

— College GameDay (@CollegeGameDay) November 23, 2013
Nevertheless, the Ducks laid a complete egg in a huge game—and Mariota's sprained MCL was healed enough for him to run for 52 yards on eight carries.
Oregon is known for running the ball down the opposition's throat, but a Ka'Deem Carey-led Wildcats attack amassed 304 yards on the ground, with Carey getting 206 yards and four touchdowns on 48 carries.
.@ArizonaFBall stuns #Oregon behind Ka'Deem Carey's 4 TD (206 rush yards). #UOvsAZ Highlights: http://t.co/7ZDTiBPf59

— ESPN CollegeFootball (@ESPNCFB) November 24, 2013
Although Auburn was idle this week, the Tigers have emerged as the highest-ranked one-loss team and will take on the Tide in the regular-season finale next Saturday with an extra week to prepare.
D.C. Reeves of the Tuscaloosa News notes that Auburn's shaky rush defense may be its Achilles' heel, even in the friendly confines of Jordan-Hare Stadium:
The other stat in #Alabama's favor. Crimson Tide is 59-0 since 2008 when rushing for 150+. Auburn allowing 178.8 rush ypg (4.5 ypc) in SEC.

— D.C. Reeves (@_DCReeves) November 24, 2013
Missouri had no trouble beating Ole Miss 24-10 on the road, keeping an outstanding takeaway streak alive in the process:
Missouri has caused a turnover in 41 straight games, longest active streak in FBS.

— Jon Solomon (@jonsol) November 24, 2013
Tajh Boyd threw five touchdowns to five different players in his final game in Death Valley for Clemson, which blew out the Citadel Bulldogs, 52-6. Stanford quarterback Kevin Hogan also tossed five scores in the Cardinal's 63-13 romp over California.
Reigning Heisman winner Johnny Manziel struggled for the second consecutive year against LSU, and the Aggies defense couldn't halt either dimension of the Tigers offense in a 34-10 loss.
That caused Texas A&M to fall far in the rankings while boosting LSU's stock and hinting at the potential of its young defense.
A stout defense drove Michigan State to a decisive 30-6 road win at Northwestern, and the Wisconsin Badgers also notched a key 20-7 win at Minnesota.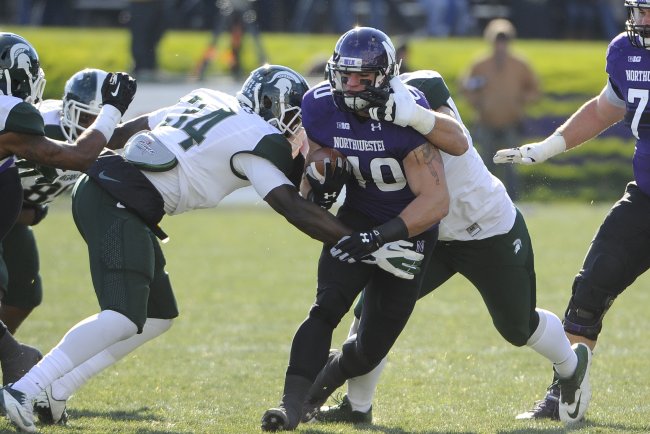 David Banks/Getty Images
The Spartans now have a date with the Buckeyes in the Big Ten championship game and should provide OSU with its biggest test yet.
Northern Illinois and Fresno State continue to get great quarterback play from Jordan Lynch and Derek Carr respectively, and their teams remained undefeated through Week 13.
Lynch ran for three touchdowns and 161 yards in leading the Huskies to 21 unanswered points to close out a 35-17 triumph over Toledo.
The more dynamic Carr threw for a ridiculous 527 yards passing and seven touchdowns in the Bulldogs' 69-28 win over New Mexico, making a case of his own as a Heisman dark horse.
Mariota lost, Manziel struggling. What about Derek Carr for Heisman? #FresnoState QB has 7TDs today. #UNMvsFRESNO: http://t.co/p5Ayrf7WP5

— ESPN CollegeFootball (@ESPNCFB) November 23, 2013
A Pac-12 battle between Arizona State and UCLA saw the Sun Devils edge the Bruins 38-33 to climb back into the lead in the conference's South division ahead of next week's battle with Arizona.
Another team is up to devilish tricks in wreaking surprising havoc this season. The Duke Blue Devils, known far more for anything hoops than gridiron, improved to 9-2 with a 28-21 victory over Wake Forest, tying the school's single-season wins record.
If Duke beats North Carolina next week, it will win the ACC Coastal division and earn a date with the Seminoles in the conference championship game.