Jon Bon Jovi Interested in Becoming an NFL Owner
Use your ← → (arrow) keys to browse more stories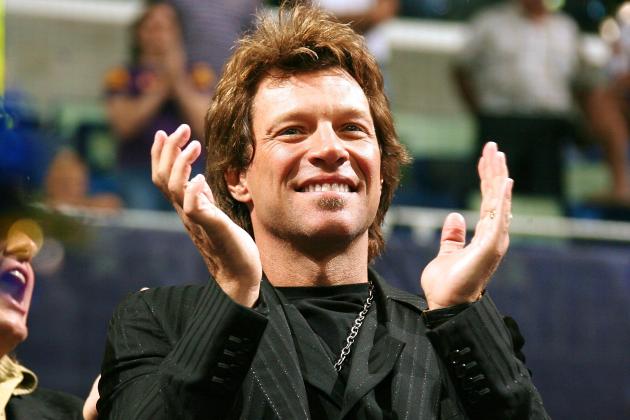 Getty Images

Jon Bon Jovi's publicist confirmed on Monday, Nov. 25, that the rock 'n' roll legend is interested in becoming an NFL owner at some point in the future, courtesy of the Associated Press via ESPN.com.
Jon Bon Jovi's publicist tells The Associated Press that while the New Jersey rocker is interested in becoming an NFL owner one day, he's not currently pursuing the Buffalo Bills.

Ken Sunshine calls a report that Bon Jovi is actively involved in purchasing the Bills "preposterous."
Jason La Canfora of CBS Sports originally reported he was interested in buying the Buffalo Bills when the team goes up for sale.
The Bills will be sold when owner Ralph Wilson, 95, passes, per the report, and the former majority owner of the Arena Football League's Philadelphia Soul is "consumed with purchasing an NFL team."
Wilson, a Hall of Famer, founded the Bills and has been the team's owner since 1960.
However, there will inevitably be competition. Rogers Communications Group out of Toronto has worked closely with the Wilson family for their home games in Canada, and it may have the inside lane to a possible purchase.
According to La Canfora, Bon Jovi had been meeting with Buffalo politicians and executives. He even added a date to play in Buffalo later in his tour.
La Canfora added: "Bon Jovi has a close friendship with Patriots coach Bill Belichick and it is not uncommon for him to jump on a private plane and head to various meetings with NFL bigwigs across the country."
Whether he has the finances to shoulder such a burden is a different story. Although he's certainly extremely wealthy, he would need help.
That is where Tim Leiweke comes in.
As La Canfora notes: "Tim Leiweke is now president and CEO of Maple Leaf Sports and Entertainment, owner of the Toronto Maple Leafs and a massive player in the sports and entertainment landscape of the region."
Bon Jovi has "major ties to Leiweke and his daughter," according to the report, and that could be how the New Jersey native accrues the necessary funds.
Jon Bon Jovi (John Francis Bongiovi Jr.) is best known as the lead singer and founder of his rock band, Bon Jovi, which was formed in 1983. According to Celebritynetworth.com, he has a net worth of $300 million.