Breathe easy, Columbus.
No. 4 Baylor (9-1, 6-1 Big 12) was upset 49-17 by No. 10 Oklahoma State (10-1, 7-1 Big 12) Saturday night in Stillwater.
No. 10 Oklahoma State DOMINATES No. 4 Baylor 49-17. Cowboys QB Clint Chelf threw for 370 yards and 3 TDs in the win.

— Bleacher Report (@BleacherReport) November 24, 2013
That ends the Bears' hopes of making the national title game and eliminates quarterback Bryce Petty from Heisman Trophy consideration.
The junior signal-caller was 28-of-48 for 359 yards passing and two touchdowns.
He was thoroughly overshadowed and outclassed by his opposite number, Clint Chelf. The senior quarterback completed 19-of-25 passes for 370 yards and three touchdowns. Chelf was at some times methodical and others barbaric. His short passes and check-downs helped to open up the Bears secondary for the big play.
It was an almost perfect game from Chelf.
For Oklahoma State, it's quite a change from where it was after that loss to West Virginia back in September. Football Outsiders' Matt Hinton thought Chelf in particular had seen a marked improvement.
Six weeks ago the score in Stillwater would have been reversed, or worse. Ok. State has grown exponentially since WVU. Chelf especially.

— Matt Hinton (@MattRHinton) November 24, 2013
Looking back, what was so surprising is that the Bears nearly drew first blood.
Cowboys head coach Mike Gundy decided to go for it on 4th-and-1 on his own 47-yard line on his team's first drive of the game. The Baylor defense held, giving its offense great field position.
Petty and the Bears worked quickly to get it to the Oklahoma State 27-yard line.
What came next could very well have been the most pivotal play of the game.
On a designed run, Petty scampered toward pay dirt. He had blockers in front of him and a clear path to the end zone; only he stumbled short of the goal line at the 1-yard line.
ESPN thought the turf deserved plenty of credit for its touchdown-saving tackle.
Best tackle of the night so far: Boone Pickens Stadium turf on Bryce Petty. #BAYvsOKST

— ESPN (@espn) November 24, 2013
Baylor still had 1st-and-goal on the goal line.
Running back Shock Linwood's first run went for no gain. Linwood got the carry again, but as he attempted to stretch the ball over the goal line, defensive tackle James Castleman simply swatted it out of the back's hands and subsequently recovered the fumble.
Sensing an opportunity, Gundy opted to go big with the very next play. Chelf hooked up with wideout Charlie Moore for a 28-yard gain to get the Cowboys out of their own end zone. A 51-yard pass to Marcell Ateman would get OK State inside of Baylor territory for the first time in the game.
Five plays later, fullback Kye Staley punched it in from two yards out to put the Cowboys on top, 7-0.
Oklahoma State doubled the lead in the second quarter following a 12-yard touchdown reception from Moore.
Aaron Jones would add a field goal with 13 seconds left to get Baylor on the board and cut the deficit to 14-3.
That field goal couldn't cover up what was an otherwise awful first half for the Bears. Petty couldn't get into a groove passing the football, and Linwood couldn't get anything on the ground. The performance of the Cowboys defense was nothing short of astounding.
What Oklahoma State did so well was to get the Baylor offense off the field quickly. The Bears had three, three-and-outs in the first half alone, via ESPN Stats and Info.
Baylor has three 3&outs in the first half tonight after having two 3&outs in the first half in their first 9 games combined

— ESPN Stats & Info (@ESPNStatsInfo) November 24, 2013
The Cowboys also suffocated Baylor early and didn't let up. Oklahoma and Texas Tech were both competitive early against the Bears, but faded as the game went on. Not Oklahoma State. It never let the momentum swing too far in Baylor's favor for very long.
This wasn't better demonstrated than with their the start to the third quarter.
Oklahoma State took the opening drive of the second half 76 yards in 1:37 to take a 21-3 lead. Chelf would hit wide receiver Tracy Moore for a 56-yard TD to cap it off.
It was a hammer blow to the Bears, from which they wouldn't be able to recover.
The Cowboys capitalized yet again after their defense forced a Baylor punt.
A double-pass to Chelf went 48 yards and got them inside the Baylor 5-yard line. Another touchdown run from Staley increased the lead to 28-3.
The lead would balloon to 35-3 after Chelf ran it in from four yards out.
After getting a touchdown to make it 35-10, Baylor had the ball in the red zone once again. At the 2-yard line, there was a bad snap. Petty ran back to the 22-yard line to try and recover the fumble, only to have the ball squirt out. It was picked up by cornerback Tyler Patmon, who ran it 78 yards to the house to give the Cowboys a 42-10 lead, via CBS Sports' Eye on College Football.
Baylor is all set to make it an 18-point game but then a fumble at the 2-yard line and Oklahoma State houses it. 42-10 Cowboys. 9:58 left.

— Eye on College FBall (@EyeOnCFB) November 24, 2013
And that was how the night went for Baylor.
The teams exchanged scores in the fourth quarter, with Petty hooking up with wideout Levi Norwood to make it 49-17 with 1:59 left in the game.
In the end, it was a great performance by Oklahoma State. The Cowboys deserve all the plaudits headed their way.
Key Player Grades
Clint Chelf, Oklahoma State: A+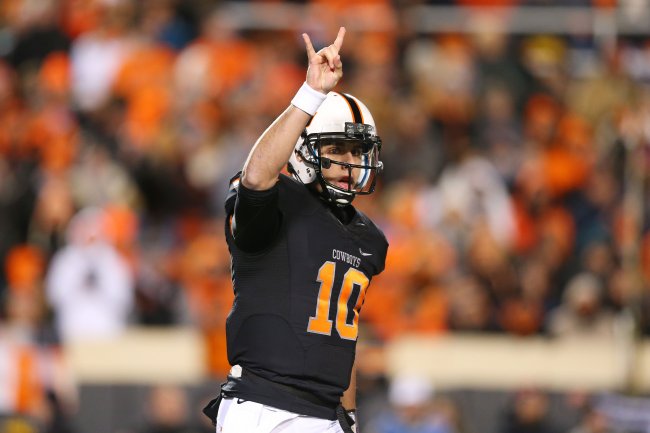 Ronald Martinez/Getty Images
Chelf was simply superb. He managed the game perfectly. He never tried too much, taking foolish chances. Slowly but surely he chipped away at the Baylor defense until it was time for the big play. It didn't matter what throws he made to make, Chelf put the ball on the numbers.
And how about that double-pass? Chelf looked like a wideout as he was running down the sideline. It's a shame he wasn't able to find the end zone on that play.
Oklahoma State Defense: A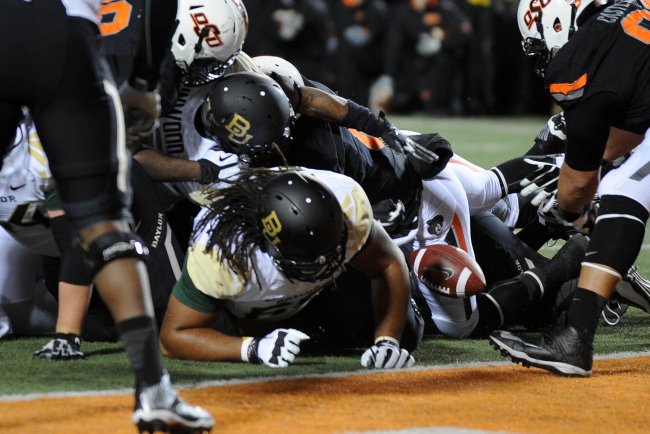 Mark D. Smith-USA TODAY Sports
It's unfair to single out just one or two players from this unit. From start to finish, Oklahoma State was all over Baylor defensively, and it never let up. The Bears never had any time to breathe or regain their footing.
This was a team that averaged over 600 yards and more than 60 points a game. Yet the Cowboys held it to 17 points and 453 total yards.
In addition, that fumble in the first quarter turned the game on its head. It was a heads-up play by Castleman.
Bryce Petty, Baylor: C+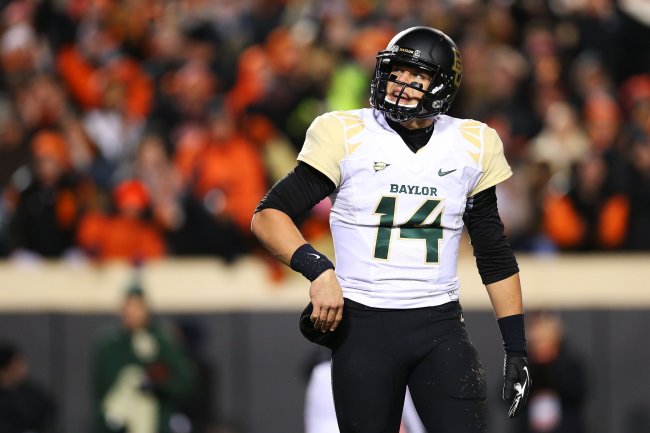 Ronald Martinez/Getty Images
There was a very good chance that after the poor performances of Johnny Manziel and Marcus Mariota, Petty could've made himself the front-runner for the Heisman Trophy. He needed a big performance in order to jump into the discussion with Jameis Winston.
Petty, like Baylor as a whole, laid a major egg. Him down on the turf trying to recover a fumble, only to have the Cowboys recover and house it will be the lasting image of Petty from this game.
What's Next?
Baylor still has two more games left in the regular season. The Bears travel to TCU next week and wrap up the regular season with a home game against Texas. Oklahoma finishes the regular season at home against Oklahoma in two weeks.