Mock Interview with Patriots Wide Receiver Randy Moss
Football player, father, motorsport racing team co-owner, admitted pot smoker, All-Pro receiver, youth racing school ambassador—Randy Moss is a lot of things. But it's what he MIGHT be that can forever solidify him as a legend: The best.
As part of my NFL Correspondent application for Bleacher Report, I decided to make a slideshow for my mock interview for a potential feature story with any New England Patriots player.
I chose Randy Moss, veteran wide receiver who ranks in the top 10 for many receiver records, and is expected to break several in addition to the ones he already owns.
Randy Moss: Once Questioned, Now Idolized...
Hey, Randy. How's it going? I'm Sam Hollingsworth, reporting with BleacherReport.com and I just wanted to put together a pretty lengthy feature about you and your career. Do you mind if I ask you a handful of questions?
You were undoubtedly a premiere college player, breaking all kinds of records and leading Marshall to a Mid-Conference title in your sophomore season, but you were still a questionable pick out of college because of a number of off-field incidents dating back to your high school years.
What was it like being the center of such controversy when you possessed such talent?
Do you look back on the off-field problems and wish you could have avoided them, or do you think those kinds of things helped build you into a better player and human being?
What will you tell your children when they are old enough to understand the controversy that surrounded you growing up, and even up to the 2008 domestic incident that was ultimately dropped?
How long do you expect to continue your professional career as a player?
What do you plan or hope to do once your playing days have ceased?
Do you have any interest in becoming a coach or personnel-type employee?
It was widely noted that you dreamed of playing football at Notre Dame in college and for the Dallas Cowboys as a pro.
With your athletic ability, that was certainly a possibility, but these off-field problems eventually made that impossible. Do you wish you had done anything differently growing up before becoming a pro?
...and Still Sometimes Questioned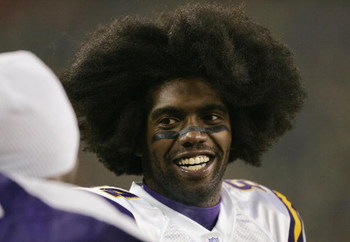 Are you happy with what you've accomplished so far as a football player at Marshall, in Minnesota, in Oakland and continue to accomplish with the Patriots?
What do you consider your greatest accomplishment?
If you could describe your football career in one or just a few words, what would you say?
You've obviously been a part of some high-powered offenses throughout your career. After smashing all kinds of records in high school and college, and then making a splash in your rookie NFL season, as well as ripping apart defenses next to Tom Brady in '07, what would you say was the most fun season to you, personally?
What if you could play for only one season—out of all the seasons you've already played, professional or prior—which team and year would it be and why?
Who do you credit much of your success to throughout life?
What will you miss most about the NFL once you retire from playing?
An Unmistakable Talent With a Personality That Seems To Have Matured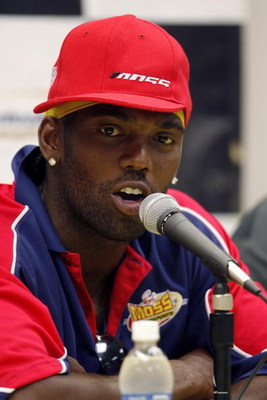 What do you enjoy outside of football in your spare time? Hobbies? Interests?
Do you plan to be involved in Moss Motorsports after retiring from football? What goals do you have in the sport of auto racing? How important is auto racing to you personally? What do you like so much about it?
With your four children growing up, what have been some of your favorite things to do together? What about some of your not-so-favorite things to do together, maybe some tea parties or playing with Barbies (kidding, obviously)?
About five years ago you admitted to have used pot in the past throughout your career, in addition to being caught with it in your vehicle before. Do you still use marijuana? What is your take on the drug?
If you could teach your children only one lesson, what would it be?
You're very high on the all-time NFL records list for multiple wide receiver categories but are also yet to win a Super Bowl. What goals do you have before retiring from the NFL? Which goal is most important to you?
And It Appears As Though a Super Bowl Ring is Mandatory in His Future, While He Most Likely Changes NFL Record Books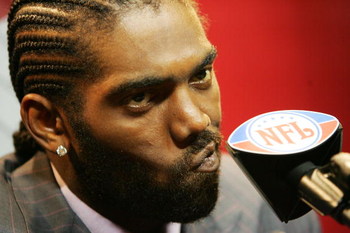 How would you describe the Patriots organization? What about Tom Brady as a quarterback? Bill Belichick as a coach? Bob Kraft as an owner?
What do you look forward to most this season?
How do you think the loss of (offensive coordinator and quarterbacks) coach Josh McDaniels will affect the Patriots this season?
Who did you look up while you were growing up? Who was your favorite athlete?
Is there anything else that you'd like to add?
I appreciate your time and good luck this season.
(There would also be questions added on the spot depending on how each question is answered, depending on if he brings up something I wasn't too aware of and want to find out more about. Those come off the top of your head, because they are obvious questions people would want to know about the player but can't script them because they could be unknown.)
Keep Reading

New England Patriots: Like this team?