Updated NFL Playoff Picture: Analyzing the Latest Scenarios for Week 15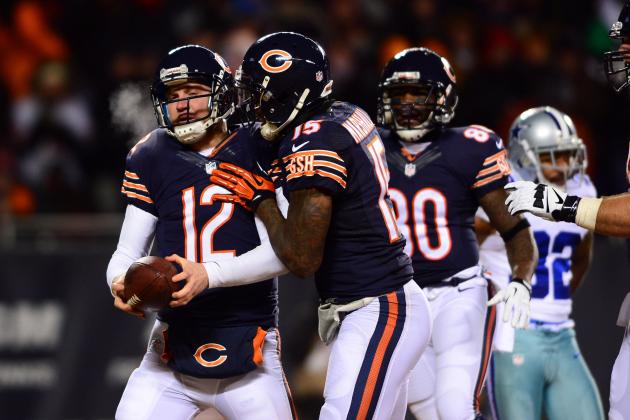 Andrew Weber-USA TODAY Sports
Josh McCown and the Chicago Bears had few problems with the Dallas Cowboys on Monday night.
Yep, there's no place like home.
Entering Week 14, there were nine teams in the NFC with win-loss records of .500 or better. Eight of those teams would be battling head-to-head.
On Sunday afternoon, we saw the Philadelphia Eagles upend the Detroit Lions in the snow. Later, the San Francisco 49ers edged the Seattle Seahawks. On Sunday night at the Superdome, the New Orleans Saints cooled off the red-hot Carolina Panthers. And on Monday night in Chicago, the Bears pushed around the Dallas Cowboys.
What do all four winners have in common? They all hosted their games this week and came away with important victories.
So here is the weekly look at the NFL's playoff matchups as they stand at this moment, updated following Chicago's 45-28 prime-time win over the Cowboys.
Begin Slideshow

»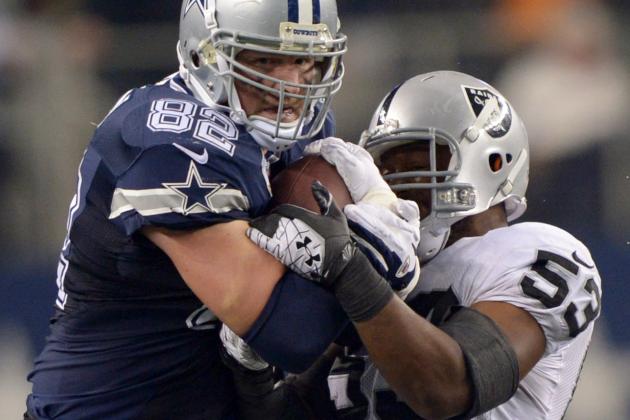 Kirby Lee-USA TODAY Sports

On the Bubble
Listed below are the top teams in each conference that are on the outside looking in come playoff time. The number attached is their current seeding.
AFC
7. Miami Dolphins (7-6)
Joe Philbin's team had a "snow problem" with the weather in Pittsburgh on Sunday, hanging on for a 34-28 victory over the Steelers. The Dolphins ran for a season-high 181 yards, 105 of those yards by running back Daniel Thomas. But that loss to the Baltimore Ravens earlier this season continues to loom large.
Remaining Schedule: vs. Patriots (10-3), at Bills (4-9), vs. Jets (6-7)
8. San Diego Chargers (6-7)
Mike McCoy's team refuses to go away. The Chargers played arguably their most complete game of the season in a 37-14 rout of the New York Giants. It's been quite the turnaround season for quarterback Philip Rivers, who threw three more touchdown passes on Sunday.
Remaining Schedule: at Broncos (11-2), vs. Raiders (4-9), vs. Chiefs (10-3)
9. New York Jets (6-7)
Perhaps it wouldn't be a Jets game without a Geno Smith interception. But the rookie signal-caller also threw for 219 yards and a score, and ran for 50 yards and a touchdown in his team's 37-27 victory over the visiting Oakland Raiders. However, Rex Ryan's unpredictable team owns a disappointing 3-7 record in the conference.
Remaining Schedule: at Panthers (9-4), vs. Browns (4-9), at Dolphins (7-6)
NFC
7. Arizona Cardinals (8-5)
Bruce Arians' team rolled over the visiting St. Louis Rams, 30-10, the Cardinals' first divisional win this season. It was another solid afternoon for quarterback Carson Palmer, and the Arizona defense limited the Rams to 257 total yards.
Remaining Schedule: at Titans (5-8), at Seahawks (11-2), vs. 49ers (9-4)
8. Chicago Bears (7-6)
Josh McCown and his teammates had their way with the Dallas Cowboys, 45-28, at Soldier Field on Monday night and are back tied with the Detroit Lions atop their division. But will that sweep at the paws of the Lions come back and haunt Marc Trestman's club by season's end?
Remaining Schedule: at Browns (4-9), at Eagles (8-5), vs. Packers (6-6-1)
9. Dallas Cowboys (7-6)
For the third time this season, Jason Garrett's club allowed at least 45 points in a game as the Cowboys were rolled by the Chicago Bears on Monday night. The Dallas ground game was very efficient, but the defense continues to have major issues—that's not going to get it done no matter how many points Tony Romo and Co. score.
Remaining Schedule: vs. Packers (6-6-1), at Redskins (3-10), vs. Eagles (8-5)
10. Green Bay Packers (6-6-1)
Mike McCarthy's team finally got back into the win column thanks to the Atlanta Falcons. And while the Packers are sitting in third place in the NFC North, they're still only half-a-game behind the Detroit Lions and Chicago Bears for the division lead. And will we indeed see talented quarterback Aaron Rodgers anytime soon?
Remaining Schedule: at Cowboys (7-6), vs. Steelers (5-8), at Bears (7-6)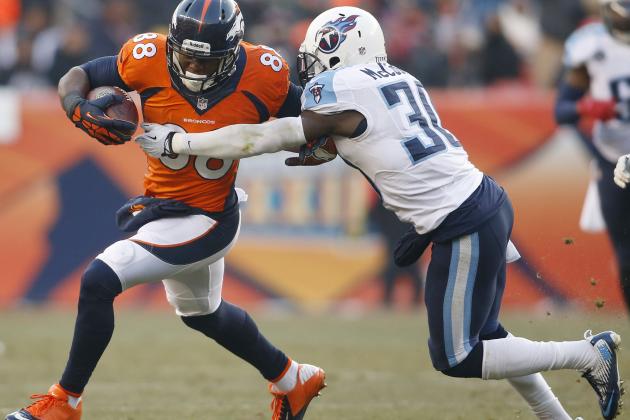 Chris Humphreys-USA TODAY Sports

Clinched Playoff Berth
Playoff Opponent: First-Round Bye
The numbers and the wins continue to pile up for the Denver Broncos.
It was 18 degrees at kickoff in the Mile High City for the Broncos' clash with the Tennessee Titans, but quarterback Peyton Manning was hot despite talk he couldn't play in the cold. The veteran completed 39 of 59 attempts for 397 yards and four touchdowns in his team's 51-28 win. So much for all of those dreary forecasts in regard to the veteran quarterback.
"I won't try to answer it because I didn't give it any validation in the first place," said Manning to Eddie Pells of the Associated Press regarding his supposed issues in frigid temperatures. Instead, the prolific signal-caller let his play do the talking.
Manning has now thrown 45 touchdown passes this season, five shy of tying Tom Brady's NFL record (50 in 2007). The Broncos have scored 515 points in 13 games, 74 points shy of tying the league mark (Brady's 2007 Patriots) for a season.
They have also allowed at least 20 points in all but two games in 2013.
And that continues to bear watching as well.
Remaining Schedule: vs. Chargers (6-7), at Texans (2-11), at Raiders (4-9)
Playoff Opponent: First-Round Bye
Tom Brady and the New England Patriots have always had a flare for the dramatic.
After all, their three Super Bowl wins all came by exactly three points.
This season, they've had their share of magical moments, especially within the friendly confines of Gillette Stadium. There were earlier wins this season over the New Orleans Saints and Denver Broncos that somewhat defied logic.
Add Sunday's 27-26 victory over the Cleveland Browns to the list. Bill Belichick's team trailed 26-14 with less than three minutes to play before rallying for the one-point victory.
The win kept the Patriots in the second spot in terms of playoff seeding. But Belichick knows the Cincinnati Bengals, who handed New England their first loss of 2013, are breathing down their collective necks.
Brady would overcome a pair of turnovers and four sacks by throwing for 418 yards and two touchdowns. But how long can the veteran signal-caller and the offense carry the load? For the fifth straight game and seventh time in their last eight outings, the Pats gave up at least 24 points.
And that's something that needs to be addressed sooner rather than later.
Remaining Schedule: at Dolphins (7-6), at Ravens (7-6), vs. Bills (4-9)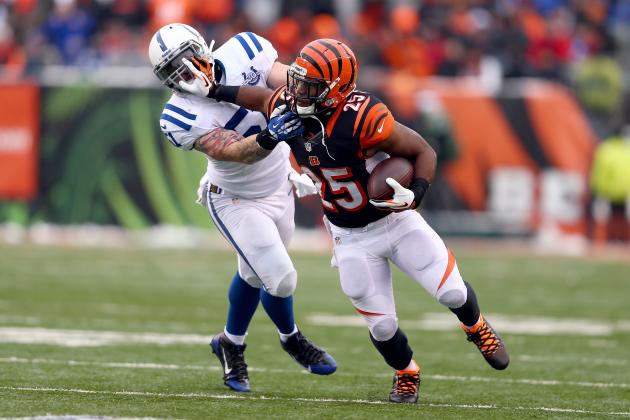 Andy Lyons/Getty Images

Playoff Opponent: vs. Baltimore Ravens (7-6)
It was one of those productive days for Cincinnati Bengals quarterback Andy Dalton.
Good thing.
Marvin Lewis' team jumped out to a 21-0 third-quarter lead and came away with a 42-28 victory over the visiting Indianapolis Colts.
It was a huge win for the Bengals, who leapfrogged the Colts for the third spot in the AFC. And it also kept Lewis' club one game behind the New England Patriots for the second seed, a spot they would own if they finished tied with the Pats at season's end.
Dalton threw for 275 yards and three touchdowns without an interception. He also ran for one score, wasn't sacked and didn't fumble. Rookie running back Giovani Bernard totaled 99 of the team's 155 yards rushing and added 49 yards on four receptions. And the Bengals remained unbeaten at home this season.
Now if they can only get into the playoffs and win a game…
Remaining Schedule: at Steelers (5-8), vs. Vikings (3-9-1), vs. Ravens (7-6)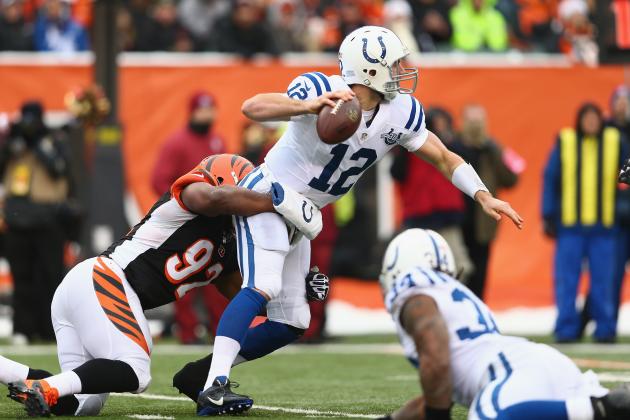 Andy Lyons/Getty Images

Clinched AFC South Title
Playoff Opponent: vs. Kansas City Chiefs (10-3)
Those first-half woes continue to plague the Indianapolis Colts.
Thanks to another slow start, Chuck Pagano's team lost for the third time in five games. And the 42-28 setback to the Cincinnati Bengals could prove to be very costly.
Granted, thanks to the Tennessee Titans' loss to the Denver Broncos later on Sunday, the Colts were able to wrap up their first division title since 2010.
Still, Indianapolis was blanked in the first quarter for the fourth time in six games. Pagano's club hasn't scored a touchdown in the first half in six straight outings. And the Colts have been outscored a combined 114-24 in the first half over that stretch.
But the team also knows it will be playing at least one home game this postseason. And Pagano and his staff do know that they have three more weeks to get this first-half thing under control.
Remaining Schedule: vs. Texans (2-11), at Chiefs (10-3), vs. Jaguars (4-9)
Playoff Opponent: at Indianapolis Colts (8-5)
All's well in the "Show Me State" once again.
Well, at least part of it.
The Kansas City Chiefs snapped a three-game losing streak courtesy of a 45-10 humbling of the Washington Redskins at FedEx Field. It was absolutely and positively a rout from the get-go as Andy Reid's team opened up a 17-0 first-quarter advantage and a 38-10 halftime lead.
Running back Jamaal Charles ran for 151 yards and a touchdown, also scoring on a reception. The Kansas City pass rush came up with six sacks, and Bob Sutton's defensive unit forced a pair of turnovers.
And last but not least, the Chiefs took advantage of arguably the worst kick-coverage units in the league. Dexter McCluster took back a punt 74 yards for a score, and Quintin Demps returned a kickoff 95 yards for a touchdown.
Most importantly, Reid and his team were able to stop the proverbial bleeding. A Chiefs team that had allowed a whopping 103 points in its previous three games was all over the Redskins, limiting them to 257 total yards and just 10 points.
And for now, the Chiefs can exhale for at least one day…maybe.
Remaining Schedule: at Raiders (4-9), vs. Colts (8-5), at Chargers (6-7)
Playoff Opponent: at Cincinnati Bengals (9-4)
If you slept through the first three quarters of the Baltimore Ravens' clash with the Minnesota Vikings, we'll give you a pass.
However, if you gave up on the game because it didn't hold your interest, shame on you.
The Ravens and Vikings combined for 42 points in the final 15 minutes. The teams took their turns taking brief leads. There were a total of four touchdowns scored with less than two minutes to play.
When the flurries cleared, John Harbaugh's team survived a 29-26 donnybrook. The final points of the game came when quarterback Joe Flacco threw a nine-yard touchdown pass to Marlon Brown with four seconds to play. It capped a five-play, 80-yard drive that Flacco manufactured in 41 seconds.
So the Ravens remain ahead of the Miami Dolphins for the sixth spot in the AFC…for now. Just take a look at Baltimore's remaining three games, all against current division leaders.
It's safe to say Harbaugh and company are going to have to earn that sixth-straight playoff appearance.
Remaining Schedule: at Lions (7-6), vs. Patriots (10-3), at Bengals (9-4)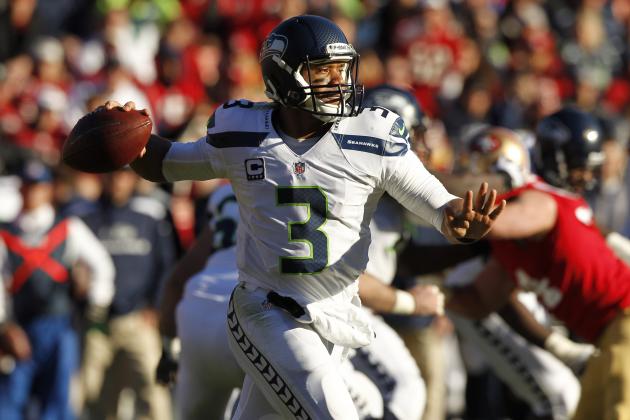 Cary Edmondson-USA TODAY Sports

Clinched Playoff Berth
Playoff Opponent: First-Round Bye
Yes, the Seattle Seahawks are human.
How can that be?
We'll avoid the temptation to be cute. And no doubt, head coach Pete Carroll isn't chuckling after his team saw its seven-game winning streak come to an end at San Francisco.
The Seahawks managed only 264 total yards in a 19-17 loss to the 49ers. Carroll's club had only 50 offensive plays and was limited to just 86 yards rushing in the setback.
Still, the team is tied for the best record in the NFL at 11-2 and own a two-game lead in the NFC West over the second-place Niners with three weeks remaining.
And two of those games are at home. Of course, next week the Seahawks head to MetLife Stadium to face the New York Giants. It's a place that Carroll and his team hope to return to in early February.
Remaining Schedule: at Giants (5-8), vs. Cardinals (8-5), vs. Rams (5-8)
Playoff Opponent: First-Round Bye
Now that's more like it.
Those had to be the sentiments of New Orleans Saints head coach Sean Payton, who watched his team rebound from last week's 34-7 Monday night loss to the Seattle Seahawks with an impressive 31-13 victory over the Carolina Panthers at the Superdome.
Quarterback Drew Brees completed 30 of 42 passes for 313 yards and four touchdowns in the Sunday night win. New Orleans spotted their guests an early 6-0 lead before scoring 31 consecutive points. And the Saints' improved defense continued its unheralded play.
Rob Ryan's unit sacked Panthers quarterback Cam Newton five times and held Carolina to 239 total yards. The win also marked the ninth time in 13 games this season that the Saints allowed fewer than 20 points in a game, a feat they managed only three times during all of 2012.
The victory gave Payton's club a one-game lead in the NFC South. But who knows how long that will last?
And these Saints will see these Panthers in Week 16 in Carolina.
Remaining Schedule: vs. at Rams (5-8), at Panthers (9-4), vs. Buccaneers (4-9)
Playoff Opponent: vs. San Francisco 49ers (9-4)
The Philadelphia Eagles appear to be in cruise control these days.
And following Sunday's 34-20 come-from-behind win over the visiting Detroit Lions, combined with the Dallas Cowboys' loss to the Chicago Bears on Monday night, Chip Kelly's team is back atop the NFC East by themselves.
Thanks to a season-high 299 yards on the ground, including a team-record 217 yards by running back LeSean McCoy, the Birds plowed through the snow at Lincoln Financial Field and rallied from a 14-0 third-quarter deficit to knock off the NFC North front-runners.
"It was tough, to be honest," said McCoy, via Rob Maadi of the Associated Press. "But the guys were giving me so much room. I actually like to run in between the tackles."
Now McCoy, Kelly, quarterback Nick Foles (who threw his first interception of the season) and the rest of the club can sit and enjoy a cheese steak or two.
Remaining Schedule: at Vikings (3-9-1), vs. Bears (7-6), at Cowboys (7-6)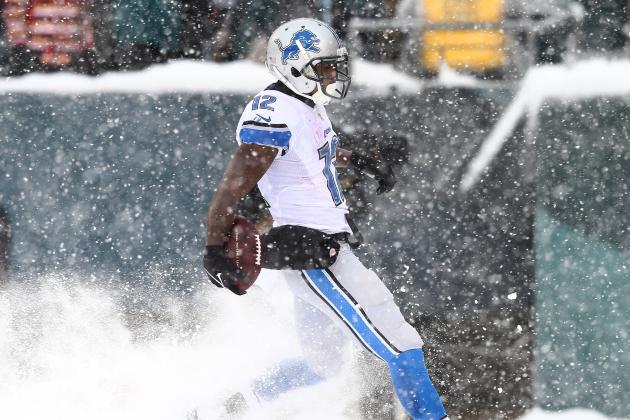 Elsa/Getty Images

Playoff Opponent: vs. Carolina Panthers (9-4)
It would be easy to say that the Detroit Lions shot themselves in the foot once again this week—if they could even see their feet.
Playing in blizzard-like conditions in the City of Brotherly Love, Jim Schwartz's team squandered a 14-0 third-quarter lead and fell, 34-20, to the Philadelphia Eagles.
The Lions lost for the third time in four outings. For the fourth straight game, they committed at least three turnovers. Detroit has coughed up the ball 15 times during their current 1-3 stretch. And Detroit is once again tied for first place in the NFC North thanks to a victory by the Chicago Bears on Monday night.
Schwartz and Co. never seem to make it easy on themselves.
Remaining Schedule: vs. Ravens (7-6), vs. Giants (5-8), at Vikings (3-9-1)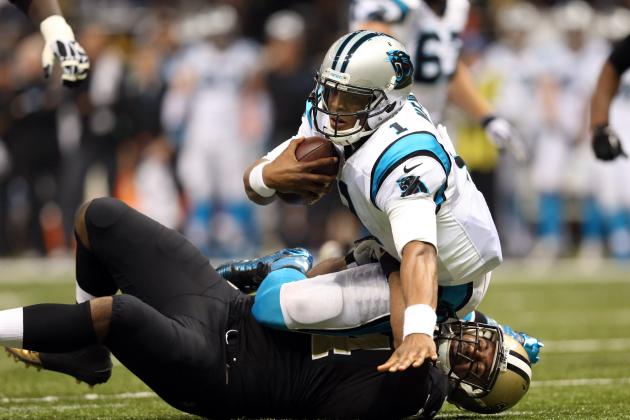 Crystal LoGiudice-USA TODAY Spor

Playoff Opponent: at Detroit Lions (7-6)
All good things must come to an end.
But the Carolina Panthers' franchise-record eight-game winning streak went out with a whimper rather than a bang as Ron Rivera's team was humbled at the Superdome by the New Orleans Saints, 31-13.
"I'm surprised and I'm disappointed," said Panthers head coach Rivera, via Max Henson of Panthers.com. "I think we are a better football team than the way we played today."
They certainly have been for most of the season. But the Carolina defense, which had allowed only two first-half touchdowns in its first 12 games, watched Saints quarterback Drew Brees throw for three scores in the second quarter. And a unit that had given up 12 touchdowns in a dozen outings allowed New Orleans to find the end zone four times on Sunday night.
Last but not least, Panthers quarterback Cam Newton was sacked five times for 49 yards, which offset his 48 yards rushing. In four losses this season, the improving signal-caller has been sacked 19 times.
Still, it is one loss. And payback is certainly a possibility in two weeks in Charlotte.
But this was a learning experience for a young and talented team.
Remaining Schedule: vs. Jets (6-7), vs. Saints (10-3), at Falcons (3-10)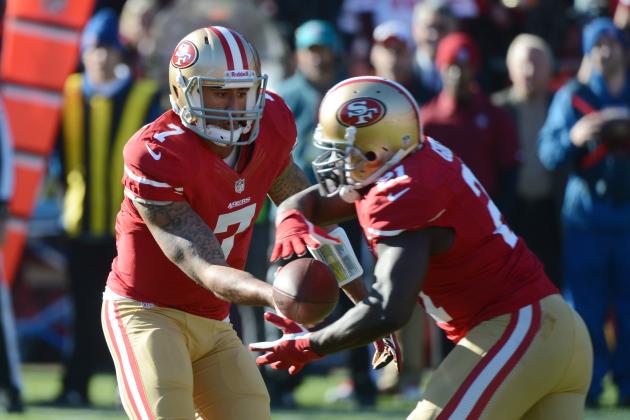 Kyle Terada-USA TODAY Sports

Playoff Opponent: at Philadelphia Eagles (8-5)
Scoring points against the Seattle Seahawks has become very difficult for the San Francisco 49ers no matter where the game is played.
But a win is a win. Jim Harbaugh's ground game got its kick from Frank Gore, as well as plenty of kicks from Phil Dawson. His fourth field goal of the game came with 26 seconds to play and gave the Niners a 19-17 win over Pete Carroll's team.
Ultimately, it was the ability to run the ball and stop it that proved to be the difference in this clash. The Seahawks were limited to 86 yards on the ground, while Harbaugh's quad rolled up 163 yards rushing, 110 of those by Gore.
In the last four meetings with Seattle, the 49ers have been held to fewer than 20 points in each of those outings.
That's something to certainly keep in mind if these NFC West rivals clash for a third time this season.
Remaining Schedule: at Buccaneers (4-9), vs. Falcons (3-10), at Cardinals (8-5)