NFL Predictions: Week 14 Awards Watch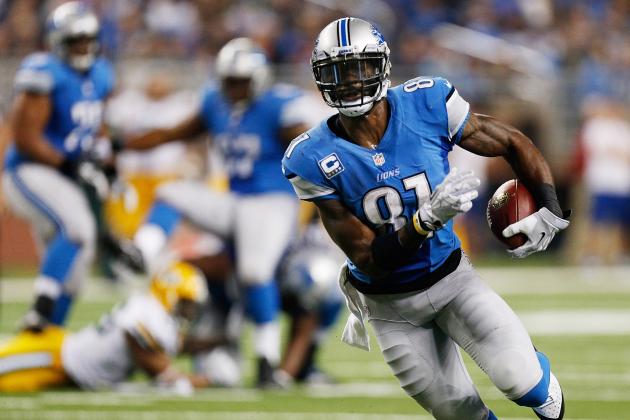 Gregory Shamus/Getty Images
Is red-hot Detroit Lions wide receiver Calvin Johnson the front-runner for Offensive Player of the Year honors?
There are just four weeks remaining in the NFL regular season, and players and teams have their sights set on winning divisions, securing playoff berths and wrapping up No. 1 seeds.
Meanwhile, here we are focused on more important things…kind of. As has been the case on Wednesday morning all season, here is a breakdown of who we feel are the front-runners for the league's seven individual awards (courtesy of the Associated Press each year), as well as who is also under consideration for each honor.
Provided are some thoughts on each accolade and its perceived leader at the time. There are also some notes on four other possible candidates as well as five other players and/or coaches worth consideration.
And if the awards race is anything like the playoff chase the next four weeks, it's going to be fun watching who comes out on top.
Begin Slideshow

»
John Rieger-USA TODAY Sports

There are doubters when it comes to Denver Broncos quarterback Peyton Manning's ability to play in the cold.
But this past Sunday at Arrowhead Stadium, the veteran signal-caller came up big because he managed to keep his cool.
Despite a pair of first-half interceptions, Manning rallied his team from a 21-7 second-quarter deficit for a 35-28 win over the Kansas City Chiefs at Arrowhead Stadium. The prolific passer finished the afternoon with 403 passing yards and five touchdowns, four of those to wide receiver Eric Decker.
How fortunate for the Broncos that Manning continues to put up big numbers. Denver allowed 20 or more points for the 10th time in 12 games this season. The team has allowed 317 points in 2013, 28 more than all of last season (289). But who's counting?
This week, Denver welcomes the Tennessee Titans to the Mile High City and the visiting head coach knows what he may be in for when it comes to the Broncos and Manning.
"Obviously, he's having a great year," said Mike Munchak to David Boclair of NashvillePost.com. "They're putting up huge numbers. I don't think anyone's really stopped him at all, even when they have lost. So obviously it's a huge, huge challenge, especially playing at their place…"
As for a few other worthy candidates when it comes to this honor…
2. WR Calvin Johnson, Detroit Lions
The productive target wasn't with the Lions when the team last won a game on Thanksgiving Day. Johnson continued his hot play in Detroit's 40-10 victory over the Green Bay Packers, totaling six receptions for 101 yards and a score. His 1,299 receiving yards this season remains tops in the league.
3. QB Russell Wilson, Seattle Seahawks
After tying the NFL rookie record for touchdown passes in a season a year ago (26), Wilson has already thrown for 22 scores in 2013. The second-year pro has been particularly hot as of late, throwing 14 touchdown passes (two or more scores in each contest) compared to only two interceptions in his last six outings. Wilson's 456 yards rushing sometimes goes unnoticed, too.
4. QB Drew Brees, New Orleans Saints
Rarely have we seen Brees and the Saints shellacked like we did Monday night at Seattle. Still, the loss showed that Sean Payton's team still has a lot of work to do on the defensive side of the ball. And that means Payton's offense must also continue to produce. Brees has now thrown 29 touchdown passes this season, 21 of those going to tight ends and running backs.
5. QB Tom Brady, New England Patriots
After a very rough start, the veteran quarterback is beginning to find his groove. And the Patriots are pretty thankful considering they've managed to rally for consecutive 34-31 victories over the Denver Broncos and Houston Texans. Brady has thrown 10 touchdown passes and just two interceptions in his last four games, quite the difference after a start that saw him total nearly as many interceptions (six) as scores (nine) in his first eight outings this season.
In The Discussion
6. RB LeSean McCoy, Philadelphia Eagles
7. QB Cam Newton, Carolina Panthers
8. QB Tony Romo, Dallas Cowboys
9. QB Matthew Stafford, Detroit Lions
10. RB Jamaal Charles, Kansas City Chiefs
Now it's getting very interesting.
After a pair of outings in which he had just three touchdown passes total, Denver Broncos quarterback Peyton Manning got back on track for what has looked like a record-breaking season from day one.
Manning's five-touchdown performance in Denver's 35-28 win over the Kansas City Chiefs marked the eighth time in 12 games that Manning has thrown for at least three scores and brought his season total to 41 touchdown passes.
The productive passer also continues to lead the league in passing yards (4,125) and ranks second in the NFL in completion percentage (68.1). And he's now just nine touchdown passes short of tying the record for a season (50), set by New England Patriots quarterback Tom Brady in 2007.
Speaking of chasing a record…
2. WR Calvin Johnson, Detroit Lions
He leads the NFL with 1,299 receiving yards and is tied for the league lead with a dozen touchdowns. Johnson is still 665 yards shy of tying his own NFL record in that department (1,964 yards in 2012), but we are talking about a player that has totaled 48 catches for 962 yards and eight scores in his last six games alone.
3. TE Jimmy Graham, New Orleans Saints
The big-time target was one of the lone bright spots in the team's Monday night loss to the Seattle Seahawks. Graham scored the only touchdown in the Saints' 34-7 setback and remains tied for the NFL lead with 12 touchdowns scored this season.
4. RB LeSean McCoy, Philadelphia Eagles
The former Pro Bowler ranks second in the NFL in rushing with 1,088 yards, second on the Eagles with 39 receptions and first in the league with 1,523 yards from scrimmage. It is somewhat surprising that McCoy has scored just six total touchdowns in 12 games, but you can "blame" emerging quarterback Nick Foles for that. Wow, what a problem.
5. QB Drew Brees, New Orleans Saints
The Saints' signal-caller is the only player in league history to throw for at least 5,000 yards and total at least 40 touchdown passes in two straight seasons. And with 3,794 yards passing and 29 scores through the air, the chances of a three-peat in both instances is a distinct possibility.
In The Discussion
6. RB Adrian Peterson, Minnesota Vikings
7. RB Marshawn Lynch, Seattle Seahawks
8. QB Philip Rivers, San Diego Chargers
9. WR Antonio Brown, Pittsburgh Steelers
10. RB Jamaal Charles, Kansas City Chiefs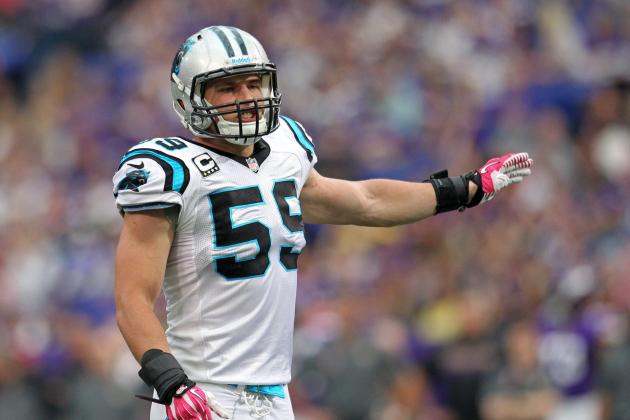 Brace Hemmelgarn-USA TODAY Sport

Nine tackles. That total, which he accrued on Sunday against the Tampa Bay Buccaneers, seems pretty ordinary for Carolina Panthers middle linebacker Luke Kuechly.
But he and his defensive teammates have been nothing but extraordinary this season.
Thanks in part to Kuechly and his team-high 102 tackles, these Panthers now find themselves tied atop the NFC South with a 9-3 record.
This Sunday night at the Superdome, Ron Rivera's team will look to extend a franchise-record eight-game winning streak with a victory over the New Orleans Saints.
Consider this amazing statistic when these teams square off in prime time. The Panthers have allowed a league-low 157 points and 12 touchdowns this season. The last time we saw Sean Payton's club on Sunday Night Football, the Saints scored 49 points and seven touchdowns.
And considering how Drew Brees likes to use his running backs and tight ends in the passing game, Kuechly will be a very busy guy this weekend.
The following defenders have also been very busy this season.
2. FS Earl Thomas, Seattle Seahawks
The anchor of the league's No. 1 ranked defensive unit in terms of fewest total yards allowed, Thomas totaled six tackles in his team's statement win over the New Orleans Saints on Monday night. He leads the Seahawks with 84 stops and is tied for the team lead with four interceptions.
3. DE Robert Quinn, St. Louis Rams
The former first-round draft choice has spent more time in backfields than some running backs this season. Quinn ranks second in the NFL with 13.0 sacks (more than one-third of his team's total of 37 sacks), has forced six fumbles and accrued 38 tackles.
4. OLB Robert Mathis, Indianapolis Colts
The veteran defender has totaled a career-high 15.5 sacks, tops in the NFL this season, and has been a very bright spot for an Indianapolis defense that still does not strike a lot of fear into opponents. And when you consider that the Colts have just 30 sacks this season, Mathis' play is even more impressive.
5. CB Richard Sherman, Seattle Seahawks
The standout defender had a solid game against the Saints on Monday night and may be the league's best cornerback at the moment. He is tied with Earl Thomas for the team lead with four interceptions and he and cornerback Brandon Browner pace the Seahawks with 10 passes defensed.
In The Discussion
6. DE Muhammad Wilkerson, New York Jets
7. DE Chandler Jones, New England Patriots
8. OLB Vontaze Burfict, Cincinnati Bengals
9. DE J.J. Watt, Houston Texans
10. DT Ndamukong Suh, Detroit Lions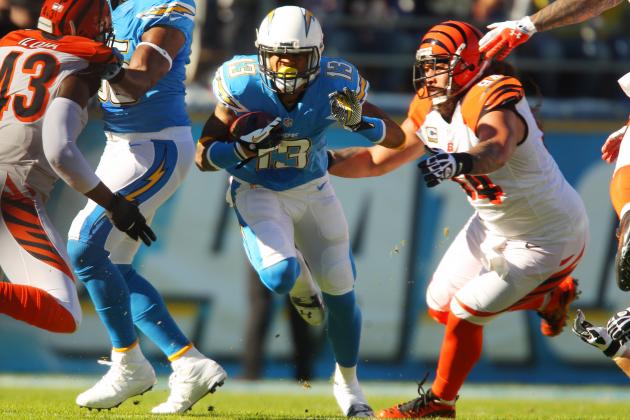 Stan Liu-USA TODAY Sports

Talk about finding your groove.
San Diego Chargers wide receiver Keenan Allen has opened a lot of eyes this season. And over the last two weeks the third-round pick from California is suddenly a major player when it comes to Offensive Rookie of the Year honors.
In his last eight games, Allen has reached the 100-yard receiving mark five times. His 58 receptions and 843 receiving yards lead all rookies this season, and those yards are tops for the Chargers in 2013.
How impressive has been Allen's play? He needs just 157 yards the last four weeks to become just the 17th rookie in league annals to reach the 1,000-yard receiving mark.
There have been some other impressive debuts as well…
2. RB Giovani Bernard, Cincinnati Bengals
Perhaps it is only fitting that Bernard ranks second on this list. The first running back drafted in April, Bernard ranks second on the club with 521 yards rushing and only wide receiver A.J. Green (72) has totaled more receptions (43) for the Bengals in 2013. Bernard is also tied for the team lead with seven total touchdowns.
3. RB Eddie Lacy, Green Bay Packers
If you can find one member of the Green Bay Packers that had a good game at Detroit on Thanksgiving, please send us a note. In all seriousness, Lacy and his team were dominated in the Motor City, but the second-round pick still ranks ninth in the league with 822 yards rushing this season.
4. QB Mike Glennon, Tampa Bay Buccaneers
Since hardly anyone scores a touchdown against the Carolina Panthers, we'll give Glennon a bit of a break for last week's outing. For the season, the young signal-caller has completed 62.8 percent of his throws and has thrown more than twice as many touchdowns passes (13) as interceptions (five).
5. WR Terrance Williams, Dallas Cowboys
Williams has caught just five passes in his last three games, but he has still totaled 33 receptions for 531 yards this season. And his five touchdown grabs rank third on the club this season. But with veteran Miles Austin back in the lineup, don't be surprised if those numbers increase down the stretch.
In The Discussion
6. WR/KR Cordarrelle Patterson, Minnesota Vikings
7. RB Zac Stacy, St. Louis Rams
8. WR/KR Tavon Austin, St. Louis Rams
9. RB Le'Veon Bell, Pittsburgh Steelers
10. G Larry Warford, Detroit Lions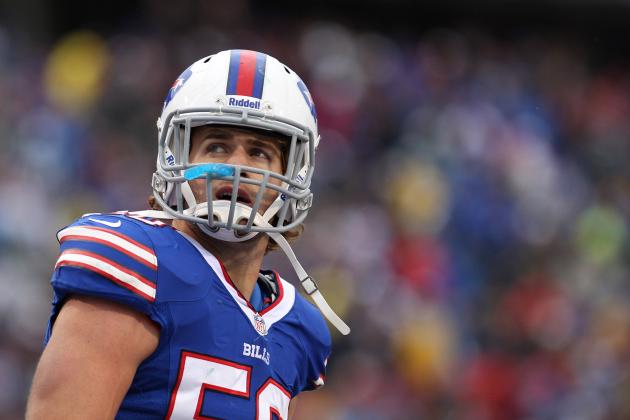 Timothy T. Ludwig-USA TODAY Spor

It has not been the best of times for the Buffalo Bills this season.
For the ninth straight year, the franchise will not post a winning campaign. And this team still hasn't been to the playoffs since 1999.
But in a draft that netted the Bills franchise quarterback EJ Manuel and wide receiver Robert Woods, middle linebacker Kiko Alonso has been the valedictorian of the team's 2013 class.
The second-round pick has totaled 125 tackles and four interceptions, just part of the impressive numbers he has put up this season. It's hard to top Alonso's consistency considering he has totaled 10 or more tackles in three straight games and seven of his 12 appearances this season.
There are some other impressive rookie defenders on this list…
2. DT Star Lotulelei, Carolina Panthers
Ron Rivera's defense hasn't missed much of a beat with defensive end Charles Johnson out of the lineup the last two games. The steady play of Lotulelei has been one reason why. The Panthers haven't allowed a touchdown in seven straight quarters.
3. DT Sheldon Richardson, New York Jets
New York's defense is arguably coming off its worst performance of the season, but that didn't stop Richardson from getting five tackles in Sunday's 23-3 loss to the Miami Dolphins. The first-round pick ranks fourth on the team with 64 tackles and is third on the club with 3.5 sacks.
4. OLB Alec Ogletree, St. Louis Rams
Could the Rams' other first-round draft choice in April unseat veteran linebacker James Laurinaitis as the team's perennial tackle leader? Ogletree has totaled 85 stops, just six fewer than Laurinaitis (91), ranks third on the team with eight passes defensed and second on the club with four forced fumbles.
5. FS Eric Reid, San Francisco 49ers
The Niners' rollercoaster season continues, but the defense has remained stellar as of late. In Sunday's 23-13 win over the St. Louis Rams, Reid totaled five tackles and knocked down a pass. San Francisco's first-round pick in April ranks fourth on the club with 56 tackles, has five takeaways and nine passes defensed.
In The Discussion
6. DE Ziggy Ansah, Detroit Lions
7. SS Kenny Vaccaro, New Orleans Saints
8. FS Tyrann Mathieu, Arizona Cardinals
9. LB Paul Worrilow, Atlanta Falcons
10. SS Johnathan Cyprien, Jacksonville Jaguars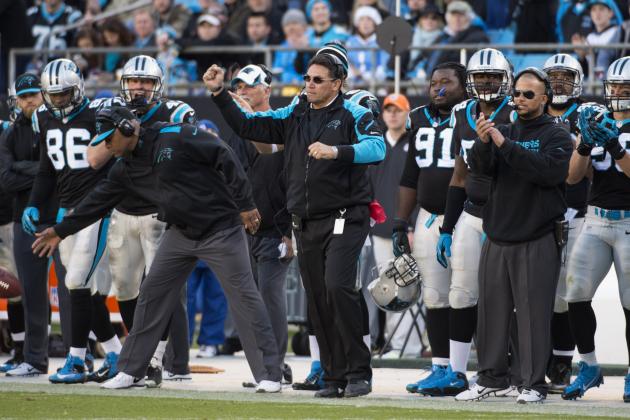 Bob Donnan-USA TODAY Sports

The hottest team in the league is getting ready to play its biggest game since it was a division champion five years ago.
But the question these days surrounds the Carolina Panthers viability as a Super Bowl contender.
The answer should be obvious, especially when you have a defensive unit that has allowed only a dozen touchdowns in as many games and a team that has given up a league-low 157 points.
Ron Rivera's forte is defense, and that forte will be severely challenged this Sunday night at the Superdome when the Panthers take on the New Orleans Saints.
Sean Payton's team is licking its wounds after Monday night's trip to Seattle. But he won't get any sympathy from Rivera, who has his team on a franchise-record eight-game winning streak and headed toward its first playoff berth since 2008.
There are a few other men doing yeoman's coaching work as well.
2. Pete Carroll, Seattle Seahawks
The turnaround for this talented team actually began very late last season. Hence, it is not a big surprise that the Seahawks own the best record in the NFL with an 11-1 mark. It is worth noting that after starting 6-5 in 2012, Carroll's club is 16-1 in its last 17 regular-season games.
3. Bill Belichick, New England Patriots
It's been a bumpy ride for the perennial AFC East champions this season. But the Patriots do own a three-game lead in the division with four weeks remaining, and this team is playing its best football of the season at the moment. The fact that Belichick was able to hold the club together during its early struggles tells you all you need to know.
4. Andy Reid, Kansas City Chiefs
A three-game losing streak, two of those losses to the Denver Broncos, has taken a little bit of the shine off of these Chiefs. But Reid still has this team very much in the postseason hunt, and seven more wins than a year ago can't be easily dismissed.
5. Bruce Arians, Arizona Cardinals
Yes, a loss to the Philadelphia Eagles last week may have put a major crimp in the Cardinals' playoff plans this season. But don't count out this club and what Arians has managed to do. Now, if this team can only beat the teams in its own division.
In The Discussion
6. Chip Kelly, Philadelphia Eagles
7. Sean Payton, New Orleans Saints
8. Jim Schwartz, Detroit Lions
9. Joe Philbin, Miami Dolphins
10. Marvin Lewis, Cincinnati Bengals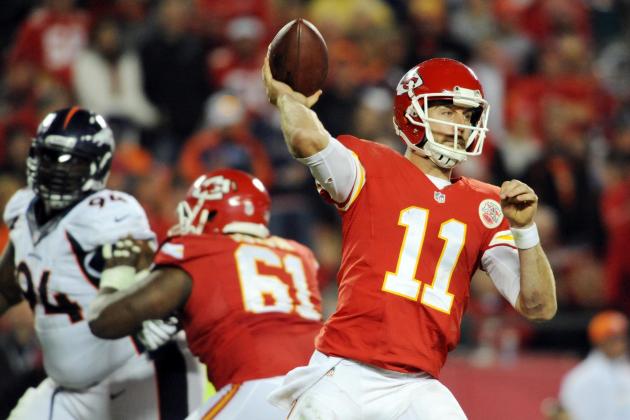 Denny Medley-USA TODAY Sports

OK, what's the problem now?
For weeks, critics of Kansas City quarterback Alex Smith said that he couldn't put up the necessary points if his team got into a shootout with some of the higher-scoring clubs in the league.
It's safe to say that over the last few weeks alone Smith has done his part and dispelled at least some of those critics. Still, his team is currently riding a three-game losing streak following that stunning 9-0 start.
The nine-year veteran has thrown eight touchdown passes in his last three games, equaling his total for his first nine outings this season.
And remember, we are talking comeback player here, not MVP. Smith has rebounded well from last season's half of a season with the San Francisco 49ers.
Here are a few other notables on the comeback trail…
2. RB LeSean McCoy, Philadelphia Eagles
While he's been overtaken by Minnesota Vikings running back Adrian Peterson for the NFL rushing lead, McCoy has still amassed a league-high 1,523 yards from scrimmage in a dozen games. McCoy was limited to 12 contests a year ago and managed only 1,213 yards rushing and receiving combined.
3. SS Troy Polamalu, Pittsburgh Steelers
The Steelers came up short in Baltimore on Thanksgiving night, but it's been quite the bounce back year for the rangy Steelers safety. Polamalu ranks third on the team with 55 tackles and has two sacks, one interception and three forced fumbles.
4. CB Brent Grimes, Miami Dolphins
It has taken the former Atlanta Falcons standout a little bit of time to round back into shape after missing all of 2012. The free-agent pickup has totaled four interceptions and 14 passes defensed this season, with three of those thefts and eight of those knockdowns coming in the last five games.
5. OLB Terrell Suggs, Baltimore Ravens
The one-time NFL Defensive Player of the Year (2011) has not come up with a sack in each of his last four games, but that's four more games than Suggs managed to play during the regular season a year ago. The 11-year veteran ranks third on the team with 68 tackles and remains tops on the club with nine sacks.
In The Discussion
6. WR Eddie Royal, San Diego Chargers
7. CB Lardarius Webb, Baltimore Ravens
8. RB Maurice Jones-Drew, Jacksonville Jaguars
9. CB Darrelle Revis, Tampa Bay Buccaneers
10. CB Terrell Thomas, New York Giants