Updated NFL Playoff Picture: Analyzing the Latest Scenarios for Week 14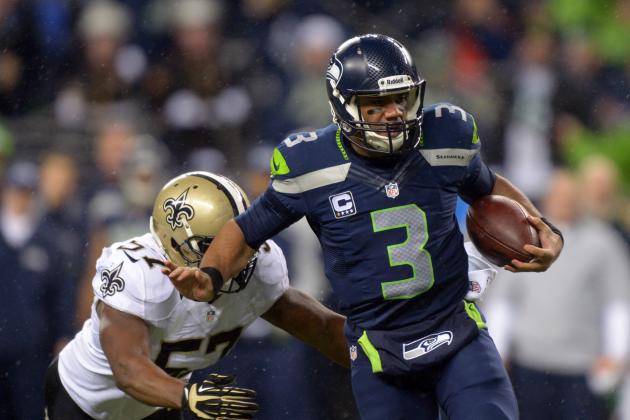 Kirby Lee-USA TODAY Sports
The Seattle Seahawks brought new meaning to the words "statement win" with their 34-7 victory over the New Orleans Saints on Monday night.
There are only 64 games remaining in this current NFL season.
In what may be quite the understatement, these next four weeks are going to prove to be very interesting.
And hopefully a lot more interesting than on Monday night at Seattle, where Pete Carroll's Seahawks flexed their muscles and dominated the New Orleans Saints 34-7.
That also means there are 11 playoff berths to be decided as Seattle wrapped up a postseason invitation with the impressive victory.
Speaking of the postseason, here is the weekly look at the NFL's playoff matchups updated following Monday night's contest.
Begin Slideshow

»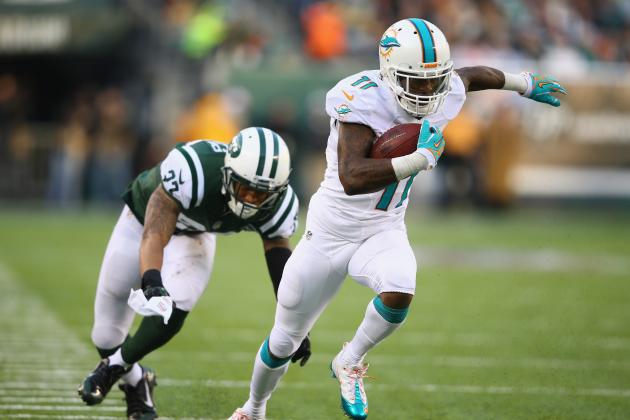 Al Bello/Getty Images

Listed below are the top teams in each conference that would be on the outside looking in come playoff time. The number attached is their current seeding.
AFC
7. Miami Dolphins (6-6)
Joe Philbin's club became the latest team to take advantage of the generosity (three turnovers) of the reeling New York Jets. Of course, it is also something the Dolphins have been better at this season. Miami has totaled 21 takeaways in a dozen games, five more (16) than it managed in 2012.
Remaining Schedule: at Steelers (5-7), Patriots (9-3), at Bills (4-8), Jets (5-7)
8. Tennessee Titans (5-7)
Their recent struggles within the division (0-4 in 2013) continue to be a stumbling block for the Titans, who held the Indianapolis Colts to one touchdown on Sunday but came up short, 22-14. And it is even harder to win when your quarterback (Ryan Fitzpatrick) commits four turnovers.
Remaining Schedule: at Broncos (10-2), Cardinals (7-5), at Jaguars (3-9), Texans (2-10)


9. Pittsburgh Steelers (5-7)
Ben Roethlisberger and Co. saw their three-game winning streak end in Baltimore on Thanksgiving night despite giving up just one touchdown to the defending Super Bowl champions. Mike Tomlin's team likely needs to run the table if it is to reach the playoffs.
Remaining Schedule: Dolphins (6-6), Bengals (8-4), at Packers (5-6-1), Browns (4-8)
10. San Diego Chargers (5-7)
The Bolts ran into one of the league's better defenses in the Cincinnati Bengals, who handed Mike McCoy's team a 17-10 loss on Sunday. Meanwhile, San Diego allowed 164 rushing yards and committed three turnovers.
The Chargers' conference record is a dismal 3-6. That's not good considering the logjam that is the AFC wild-card picture.
Remaining Schedule: Giants (5-7), at Broncos (10-2), Raiders (4-8), Chiefs (9-3)
11. New York Jets (5-7)
Will we see Geno Smith versus the Oakland Raiders this coming Sunday? The rookie quarterback was yanked on Sunday in the team's 23-3 loss to the Miami Dolphins, the third straight setback for Rex Ryan's club. Of course, backup Matt Simms didn't fare much better, as the Jets managed just 177 total yards and had as many turnovers as points.
Remaining Schedule: Raiders (4-8), at Panthers (9-3), Browns (4-8), at Dolphins (6-6)
NFC
7. Philadelphia Eagles (7-5)
Chip Kelly's team did what it had to do on Sunday in a key 24-21 win over the visiting Arizona Cardinals. Quarterback Nick Foles hasn't thrown an interception this season and is a key part of an Eagles team that has committed just 15 turnovers in 12 games. That's quite a change from recent seasons, as the Birds gave up the football a combined 75 times in 32 games from 2011-12.
Remaining Schedule: Lions (7-5), at Vikings (3-8-1), Bears (6-6), at Cowboys (7-5)
8. Arizona Cardinals (7-5)
After throwing just two interceptions in his previous four games, Cardinals quarterback Carson Palmer threw a pair of picks and lost a fumble in Sunday's crucial loss to the Eagles. Bruce Arians' team still has three games vs. its NFC West rivals remaining, and that's not promising considering Arizona's record within the division (0-3) this season.
Remaining Schedule: Rams (5-7), at Titans (5-7), at Seahawks (11-1), 49ers (8-4)
9. Chicago Bears (6-6)
Marc Trestman's club not only had its chances on Sunday at Minnesota, but it has had opportunities all season as well to establish a foothold. The Bears have dropped six of their last nine games following that 3-0 start. The Chicago defense has allowed a whopping 504 yards rushing in its last two games alone.
Remaining Schedule: Cowboys (7-5), at Browns (4-8), at Eagles (7-5), Packers (5-6-1)
10. Green Bay Packers (5-6-1)
Never say never when it comes to the NFL, but the Pack will be hard-pressed to get back to the playoffs thanks to this current 0-4-1 run, which includes a humbling 40-10 loss to the Detroit Lions on Thanksgiving Day. And will we actually see quarterback Aaron Rodgers again in 2013?
Remaining Schedule: at Falcons (3-9), at Cowboys (7-5), Steelers (5-7), at Bears (6-6)
Playoff Opponent: First-Round Bye
He's back...as if he ever really left.
Denver Broncos quarterback Peyton Manning watched as the Kansas City Chiefs opened up a 21-7 second-quarter lead on Sunday.
Considering the veteran performer had just seen his team squander a 24-point halftime lead a week earlier in Foxborough, this deficit looked like child's play.
When the barbecue smoked finally cleared in Kansas City, Manning had overcome a pair of interceptions by throwing for 403 yards and five touchdowns in a crucial 35-28 win over the Chiefs, sweeping the season series from Andy Reid's club.
Four of those scores went to wide receiver Eric Decker, who dispelled any notions that Manning's arm strength is a concern.
"I think he showed people why he's so great," Decker told Mike Klis of The Denver Post. "He can throw the football deep. We never had questions about that, but maybe outside people had speculations. We knew he could throw the football deep and fortunately we made enough plays today."
The bigger question when it comes to "deep" figures to be asked in January—as in, how deep of a playoff run can Manning and the Broncos make this time around?
Remaining Schedule: Titans (5-7), Chargers (5-7), at Texans (2-10), at Raiders (4-8)
Playoff Opponent: First-Round Bye
Quarterback Tom Brady and the New England Patriots are starting to look like themselves again.
That means finding a way to win games when they aren't at their best. The latest example is a 34-31 victory over the Houston Texans at Reliant Stadium.
Bill Belichick's defense had its issues on Sunday, allowing 385 total yards and watching Texans running back Ben Tate run for 102 yards and three scores.
But Brady and experienced pass-catchers such as wideout Julian Edelman and tight end Rob Gronkowski proved to be the difference. The Patriots signal-caller threw for 371 yards on 29 completions and his sure-handed duo combined for 15 of those receptions for a total of 228 yards.
So the Pats have now rallied for consecutive 34-31 victories the last two weeks. And that final score has a nice ring to it.
Remaining Schedule: Browns (4-8), at Dolphins (6-6), at Ravens (6-6), Bills (4-8)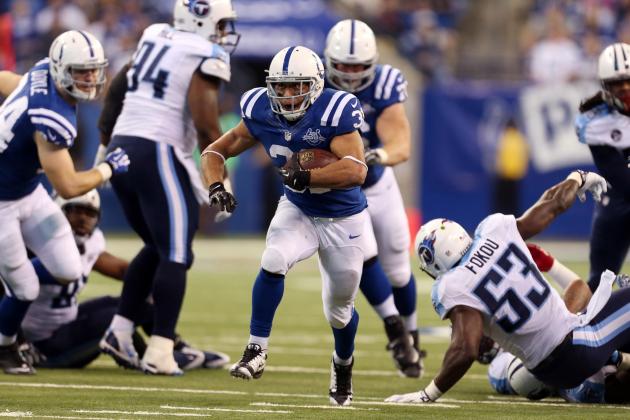 Brian Spurlock-USA TODAY Sports

Playoff Opponent: vs. Baltimore Ravens (6-6)
If you are head coach Chuck Pagano, how good are you feeling about your Indianapolis Colts these days?
The AFC South leaders moved closer to a division title thanks to a 22-14 win over the visiting Tennessee Titans. The Colts own a three-game lead over Tennessee with four weeks remaining, swept the Titans this season and have yet to lose a game within the division (4-0).
And perhaps a playoff rematch with the defending Super Bowl champion Baltimore Ravens in January would be somewhat ironic. The teams met in the postseason a year ago, and this past week, both scored exactly 22 points thanks to one touchdown and five field goals.
Still, the Indianapolis defense did force Titans quarterback Ryan Fitzpatrick into four turnovers. And fifth-year running back Donald Brown has proved to be a pleasant surprise this season given all the hopes for Trent Richardson this fall.
As for the biggest news on Sunday, the Colts actually owned a 12-7 halftime lead. In their previous four games, Pagano's team had been outscored by a combined 93-12 in the first 30 minutes.
Remaining Schedule: at Bengals (8-4), Texans (2-10), at Chiefs (9-3), Jaguars (3-9)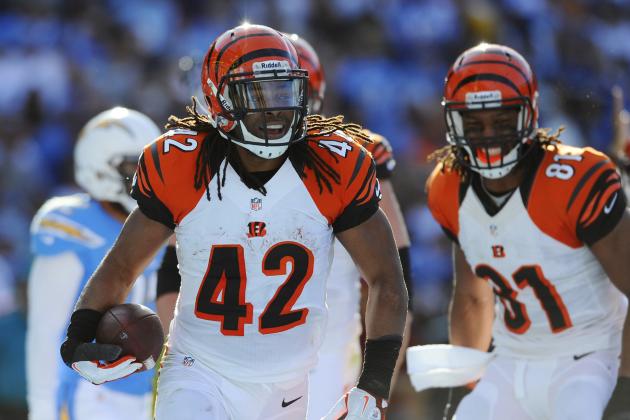 Christopher Hanewinckel-USA TODA

Playoff Opponent: vs. Kansas City Chiefs (9-3)
The Cincinnati Bengals have a very deep defensive unit that continues to get the job done. That's very rare in the National Football League these days.
Marvin Lewis' team came away with a hard-earned 17-10 win over the San Diego Chargers on Sunday.
The Bengals have been playing without defensive tackle Geno Atkins for a few weeks now and have adjusted accordingly. Cincinnati gave up just 91 yards rushing in Sunday's win and forced three San Diego turnovers. Unheralded linebacker Vontaze Burfict totaled a game-high 13 tackles as Lewis' club continues to close in on the AFC North title.
And talk about big games this week? The Bengals host the Indianapolis Colts this Sunday in a contest that could have big-time ramifications come playoff time.
Remaining Schedule: Colts (8-4), at Steelers (5-7), Vikings (3-8-1), Ravens (6-6)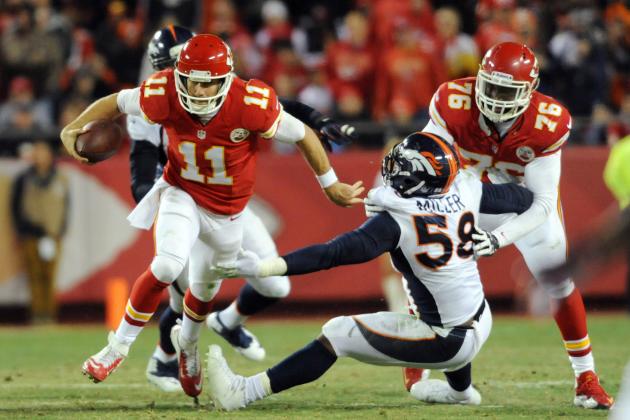 Denny Medley-USA TODAY Sports

Playoff Opponent: at Cincinnati Bengals (8-4)
How quickly the tide turns. Andy Reid's club has gone from being the talk of the NFL to people asking "What's wrong with the Chiefs?"
The defense is the problem, even if the team gets put off by the answer.
Huh?
After limiting each of their first nine opponents to 17 or fewer points and allowing a total of 111 points during their 9-0 start, the Chiefs have given up a whopping 103 points during this current three-game losing streak.
Kansas City's 35-28 setback to the Denver Broncos on Sunday also saw opposing quarterback Peyton Manning throw for 403 yards and five touchdowns. It was the second loss to the Broncos in three weeks for the Chiefs, who didn't sack Manning in either contest.
If Kansas City's defense doesn't get back on track soon, could the team's postseason plans suddenly get sacked?
Remaining Schedule: at Redskins (3-9), at Raiders (4-8), Colts (8-4), at Chargers (5-7)
Playoff Opponent: at Indianapolis Colts (8-4)
The Baltimore Ravens have already lost as many games as they did all of last season. But that doesn't mean John Harbaugh's club won't be around in January to defend its Super Bowl title.
Led by place-kicker Justin Tucker for the second straight week, the Ravens came away with a tough 22-20 victory over the Pittsburgh Steelers on Thanksgiving night. Quarterback Joe Flacco and his teammates have scored a total of two touchdowns in the last two games.
Meanwhile, Tucker has connected on nine field goals in the two wins and 27 straight dating back to Week 3. The second-year pro and former undrafted free agent leads the team with 109 points and has missed just two field-goal attempts all season.
Flacco has been up and down, but the Baltimore defense is playing better these days.
Can the Ravens close the deal on a sixth straight trip to the playoffs considering they close the season with three straight games vs. divisional leaders?
Stay tuned.
Remaining Schedule: Vikings (3-8-1), at Lions (7-5), Patriots (9-3), at Bengals (8-4)
Playoff Opponent: First-Round Bye
Game, set and match?
The Seattle Seahawks own the NFL's best record and are the first team in the league to wrap up a playoff berth after humbling the New Orleans Saints, 34-7, on Monday Night Football.
So just how big of a win was this for the NFC West leaders? The Seahawks have the No. 1 seed in the conference within their grasp. And considering they've won 14 straight games at home, the odds of an opposing team going up to the Pacific Northwest and winning this season look slim indeed.
The Seahawks not only own a three-game edge over the San Francisco 49ers in their own division but possess a two-game advantage over both the 9-3 Saints and 9-3 Carolina Panthers. And Pete Carroll's team defeated both of those clubs this season.
The victory was one of the most impressive performances by any team this season. The Seahawks outgained the Saints by well over 200 yards (429-188) and limited quarterback Drew Brees to a mere 147 yards through the air.
Meanwhile, Seattle quarterback Russell Wilson has rarely been better, and that's saying something. The second-year signal-caller completed 22 of 30 passes for 310 yards and three touchdowns and led the team with 47 yards rushing.
Carroll's club has now won seven straight games, the last three by at least 21 points.
Talk about being on a roll.
Remaining Schedule: at 49ers (8-4), at Giants (5-7), Cardinals (7-5), Rams (5-7)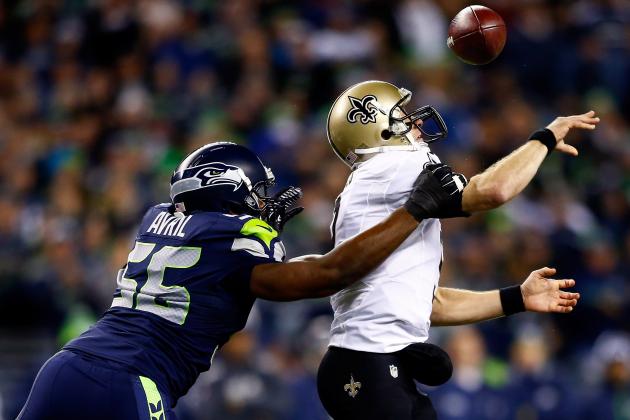 Jonathan Ferrey/Getty Images

Playoff Opponent: First-Round Bye
Prior to this week's visit to the Pacific Northwest, the New Orleans Saints' last visit to Seattle was lowlighted by Marshawn Lynch, who ran over Sean Payton's defense in the fourth quarter.
On Monday night in Seattle, the Seahawks simply ran over the Saints period.
Now Payton and Co., off Monday night's 34-7 loss to the Seahawks, must get ready for their NFC South showdown with the Carolina Panthers, who have won eight straight games and are tied with the Saints for the division lead.
Things couldn't get much worse than they did for New Orleans on Monday night. Quarterback Drew Brees threw for only 147 yards and the Saints gained only 188 yards as a team.
As we know, things are usually much different at the Superdome, where Brees and his teammates have yet to lose this season (6-0). But it is worth noting that last season, both the Saints and Panthers finished with identical 7-9 records.
And two of Carolina's seven victories came at the expense of the Saints.
Food (and great food) for thought when it comes to New Orleans this Sunday night.
Remaining Schedule: Panthers (9-3), at Rams (5-7), at Panthers (9-3), Buccaneers (3-9)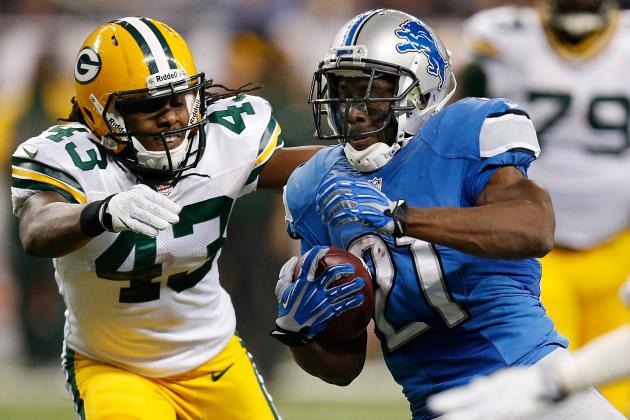 Gregory Shamus/Getty Images

Playoff Opponent: vs. San Francisco 49ers (8-4)
Back in Week 3, the Lions won a game at Washington for the first time in team history by a score of 27-20. A few weeks later, Detroit completed its first season sweep of the Chicago Bears since 2007.
And thanks to a 40-10 holiday victory over the Green Bay Packers, the team was able to knock a few more things off its bucket list. The win not only snapped a five-game losing streak to the Packers, but Detroit also ended a nine-game skid on Thanksgiving Day that dated back to 2004.
And thanks to the Chicago Bears' 23-20 overtime loss to the Minnesota Vikings on Sunday, Jim Schwartz's club suddenly finds itself all alone atop the NFC North.
Still, the Lions are not out of the woods (or is it the jungle?) yet. The team still has a trip to Philadelphia this week and will attempt to cool off the hot Eagles. And the team's recent turnover issues (12 in its last three games) have to have Detroit fans a little wary.
But it sure does beat a 4-12 season, doesn't it?
Remaining Schedule: at Eagles (7-5), Ravens (6-6), Giants (5-7), at Vikings (3-8-1)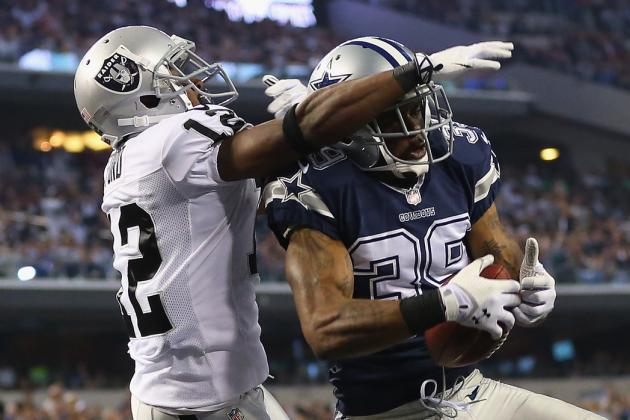 Ronald Martinez/Getty Images

Playoff Opponent: vs. Carolina Panthers (9-3)
For just the second time this season, the Dallas Cowboys have won two games in a row.
Will they make it three straight when they travel to the Windy City to meet the Chicago Bears next Monday night?
If Jason Garrett's team displays the kind of balance it did on Thanksgiving Day in its 31-24 victory over the Oakland Raiders, the odds of another win certainly increase.
In any case, the Cowboys remain tied with the Philadelphia Eagles for first place in the NFC East. But Garrett's club does own a 4-0 record within the division and beat the Birds in Philadelphia. And this year's season finale is in Dallas, a home date with the Eagles.
It appears to be all set up for the Cowboys in 2013. But will this appearance prove to be deceiving...again?
Remaining Schedule: at Bears (6-6), Packers (5-6-1), at Redskins (3-9), Eagles (7-5)
Playoff Opponent: at Dallas Cowboys (7-5)
While the Carolina Panthers have clinched their first winning season since 2008, they obviously have bigger fish to fry.
And there are fewer better places to enjoy some seafood than New Orleans, where on Sunday night the Panthers and Saints will square off in a battle of 9-3 teams.
Consider that four games into the season, Ron Rivera's team was 1-3 and New Orleans was 4-0, it has been quite a comeback for Carolina thanks to eight straight wins.
Those consecutive victories are a team record. After their 27-6 win over the Tampa Bay Buccaneers on Sunday, the Panthers have now allowed only 12 touchdowns in as many games this season.
And what a showdown this week at the Superdome, especially when you consider that just a few weeks ago, the Saints scored seven touchdowns in one evening in a 49-17 win over the Dallas Cowboys.
Let the chess match (with some awfully big pieces) begin.
Remaining Schedule: at Saints (9-3), Jets (5-7), Saints (9-3), at Falcons (3-9)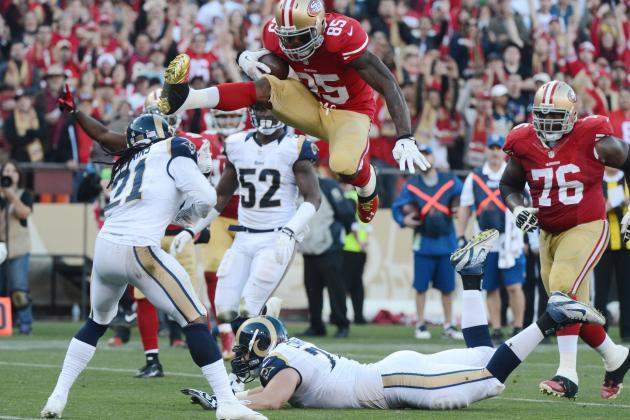 Kyle Terada-USA TODAY Sports

Playoff Opponent: at Detroit Lions (7-5)
So what else is new?
The 2013 San Francisco 49ers have not made a habit of winning the close games.
Simply put, the Niners have made a habit of winning lopsided games. Sunday's 23-13 victory over the St. Louis Rams was the team's seventh consecutive win by double digits.
Jim Harbaugh's club has won eight games this season and with the exception of their Week 1 victory over the Green Bay Packers (34-28), the 49ers other seven wins are by at least 10 points.
Now back to the task at hand. Thanks to the Seattle Seahawks' 34-7 win over the New Orleans Saints on Monday night, the defending NFC West and conference champions find themselves three games behind Pete Carroll's team with four weeks to go.
While the Niners host the Seahawks this Sunday, the chances that Harbaugh's team will win a third straight NFC West title are slim to say the least even if they can end Seattle's seven-game winning streak.
Remaining Schedule: Seahawks (11-1), at Buccaneers (3-9), Falcons (3-9), at Cardinals (7-5)