UCF remains on track for a BCS bowl after its 41-17 win over the Rutgers Scarlet Knights (5-5, 2-4 AAC) on Thursday night in Orlando.
Using their 1-2 punch of quarterback Blake Bortles and running back Storm Johnson, the No. 18 Knights (9-1, 6-0 AAC) hammered their opponents offensively. They out-gained Rutgers 452 yards to 221.
Bortles ended up with 335 passing yards, 32 rushing yards and two total touchdowns, while Johnson generated 75 yards and two TDs on the ground.
It was important for UCF to get out to a fast start in order to thwart any possibility of an upset. As the heavy favorite, you don't want your opponent to start believing it can pull off the victory. The earlier you can kill that hope, the better.
The Knights wasted little time in asserting their dominance, taking the opening drive of the game 69 yards for a score. Bortles hit wideout Breshad Perriman for a four-yard touchdown to put UCF up 7-0.
CBS Sports' Chip Patterson noted that it's a pleasant sight to have Perriman back in the end zone after the scary head injury he suffered a few weeks ago.
Good to see Breshad Perriman healthy and catching TDs. Carted off after vicious hit 2 weeks ago

— Chip Patterson (@Chip_Patterson) November 22, 2013
The big plays kept coming for the Knights, as Rutgers quarterback Gary Nova had his pass intercepted by Knights defensive back Clayton Geathers on the very next drive.
Working with a short field, UCF made the most of the turnover, with Johnson punching the ball in from 12 yards out after a three-minute, 56-yard drive to give the Knights a 14-0 lead.
That's Storm Johnson's 10th rushing TD of the season! UCF now leads with a score of 14-0 #RUTGvsUCF #ChargeOn pic.twitter.com/Ox396dRF14

— UCF Knights (@UCFKnights) November 22, 2013
ESPN College Football posted a highlight of the powerful touchdown run.
Breaking tackles & stormin' in! Storm Johnson squats 615lbs & here's how it comes in handy. #UCF, 14-0. #RUTGvsUCF: http://t.co/MVBVk2SJMr

— ESPN CollegeFootball (@ESPNCFB) November 22, 2013
And of course, there were puns galore on Johnson's name. Christian Bruey of WFTV in Orlando offered this one up:
It stormed before the game & now it's Storm-ing during it. Storm Johnson with the nasty TD run. 14-0 #UCF

— Christian Bruey (@CBrueyWFTV) November 22, 2013
On that drive came perhaps the play of the game and a concise summary of what the Knights did to Rutgers. After catching a pass, UCF running back William Stanback put his head down and ran right over a defender.
Following that touchdown, the UCF defense came up big again. Rutgers was only able to go 10 yards in five plays, handing the ball back to the Knights offense.
Whatever fight the Scarlet Knights had left was likely sapped after UCF went 86 yards in over seven minutes, capped off by another Johnson touchdown run.
With three UCF wins decided by three points this season, most recently against Temple last week, the Orlando Sentinel's Matt Murschel thought the Knights were sick of having to scrape out close wins.
Storm Johnson's TD pushes #UCF up 21-0. Me thinks the Knights are tired of close contests.

— Matt Murschel (@osmattmurschel) November 22, 2013
The Rutgers offense finally responded. Running back Paul James hammered it in from one yard out to cut the deficit to 21-7. It was an important score—if only to temporarily stop the bleeding and demonstrate that the Scarlet Knights could put a drive together.
Although they built some nice, positive momentum, it would be short-lived.
For their fourth straight drive, the Knights would get a touchdown. This one was courtesy of a seven-yard run by Bortles.
Offensively, the Knights were a monster in that first half. They were attacking Rutgers with Johnson and Bortles on the ground. Over the top, Bortles was finding Perriman and fellow wideout J.J. Worton downfield.
For the Scarlet Knights to get back into the game, they'd have to create their own luck and that's exactly what they did toward the end of the first half.
Anthony Cioffi blocked Caleb Houston's punt. The ball would bounce into the end zone and be recovered by Rutgers' Andre Patton for the touchdown, halving the deficit to 28-14.
#KeepChoppin. Anthony Cioffi gets a huge block, leads to #ScoopNScore. At half, #UCF lead is 28-14. #RUTGvsUCF: http://t.co/kMVwRCSOwP

— ESPN CollegeFootball (@ESPNCFB) November 22, 2013
Still, that blocked punt didn't change the fact that, for the second week in a row, Rutgers did itself no favors with a poor first half. When you look at this week and last, the Scarlet Knights were outscored 62-21 in the first half.
With the way Rutgers went into halftime and the fact that it received the ball to start the second half, there was a chance that it could get back into the game.
The UCF defense forced the Scarlet Knights into a three-and-out, effectively ending any chance of a second-half comeback.
Shawn Moffitt added a couple of field goals in the third and fourth quarters, with Stanback notching a one-yard run to keep Rutgers at a distance.
The Scarlet Knights got a field goal with 33 seconds left to go out on a somewhat high note.
Key Player Grades
Blake Bortles, UCF: A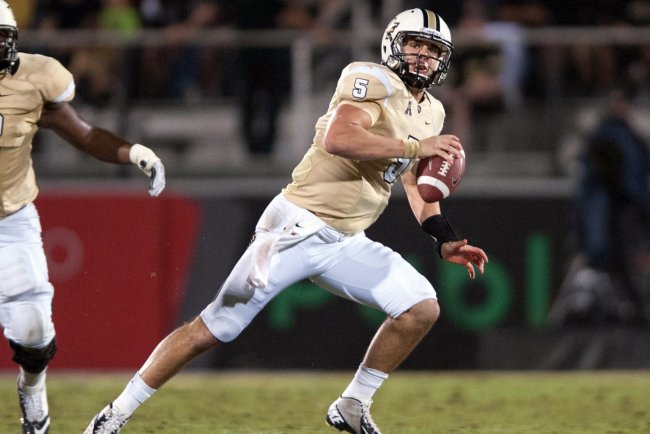 USA TODAY Sports
Drew Stanton was full of praise for Bortles during the game.
This Blake Bortles kid from UCF is fun to watch & looks as good as any QB I've seen this year in college football

— Drew Stanton (@drewstanton) November 22, 2013
The junior signal-caller was great both on the ground and through the air.
Although getting almost 400 yards of offense is nice, perhaps Bortles' most important stat is zero interceptions. So many times, you see big upsets spurred by a pick-six or a quarterback heaving multiple INTs.
Bortles was near perfect on Thursday night.
Storm Johnson, UCF: A-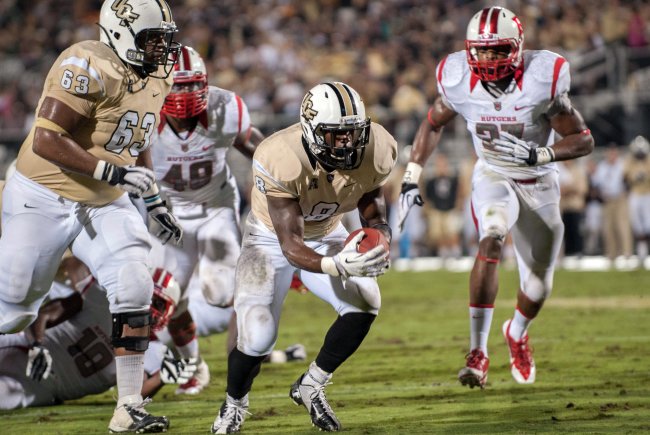 USA TODAY Sports
The junior running back wasn't prolific on the ground. However, his punishing runs helped to break the spirit of the Rutgers defense.
It must have been comforting for George O'Leary to know that he could hand the ball off to Johnson and get five or six yards on just about every play.
Gary Nova, Rutgers: C
Nova wasn't helped by the fact that Rutgers had no rushing game to speak of. UCF knew the Scarlet Knights were going to throw the football on most plays and had a game plan with that in mind.
In addition, Rutgers' receivers were dropping passes and generally ineffective.
However, much of the Scarlet Knights' offensive struggles have to fall on the quarterback. Nova's decision-making was questionable and he just didn't look sharp on his passes. In the end, he finished 11-of-34 for 107 yards.
What's Next?
The Knights will look to keep their perfect conference record when they welcome in the 2-7 South Florida Bulls. UCF finishes up the regular season with a trip away to 4-5 SMU.
Rutgers stays on the road next week when it takes on the 0-9 Connecticut Huskies.