The Detroit Lions host the Tampa Bay Buccaneers in a game that has taken on heightened significance and intrigue after the past week. We'll get into the specific matchups that will decide this contest, but let's first take a look at the overall picture.
The Lions took a step back in Pittsburgh and lost their cushion in the NFC North. They hold a tiebreaker over the Chicago Bears but don't have that extra game lead that once looked commanding. Additionally, the once favorable schedule is looking more difficult with games against the New York Giants and Philadelphia Eagles appearing much tougher now than earlier in the season.
The Bucs started out 0-8, prompting calls for Greg Schiano's job. Each week brought a more bizarre story involving the franchise—everything from MRSA breakouts to locker room grumblings. The last two games have brought wins and better vibes as the team is shaping an identity.
Now, let's check out the individual matchups that will determine the outcome.
Wide Receiver Calvin Johnson vs. Cornerback Darrelle Revis
There's no need for the modifier arguably. Regardless of the metric used, whether you dive into the numbers or just use the eye test, Calvin Johnson is the best receiver in the game.
The Top Wide Receivers in the NFL

| | | | | |
| --- | --- | --- | --- | --- |
| Name | Receptions | Yards | Average | Touchdowns |
| Calvin Johnson | 59 | 1,083 | 18.4 | 11 |
| A.J. Green | 67 | 1,020 | 15.2 | 6 |
| DeSean Jackson | 58 | 985 | 17.0 | 7 |
| Andre Johnson | 72 | 966 | 13.4 | 5 |
ESPN.com
Nobody would blame you if you stopped there. Those numbers are ridiculous. And the comparison to other elite receivers is skewed since he was forced out of the game at Green Bay with a knee injury.
But there is one more stat line that feels important here.
Calvin Johnson vs. Darrelle Revis - Nov. 7, 2010

| | | | |
| --- | --- | --- | --- |
| Receptions | Targets | Yards | Touchdowns |
| 1 | 4 | 13 | 1 |
ESPN.com
Obviously, these numbers are from a game that took place three years ago. One game isn't determinative of what will happen this Sunday. Offensive coordinator Scott Linehan has implemented new techniques to get the ball to his best playmaker. He moves Johnson around the field, including putting him in the slot where he can use his frame to establish position and shield defensive backs from the pass.
The first tilt between these two does serve as a reminder that Revis can hang with the All-Pro wideout, and that he shouldn't brushed off quickly.
The Bucs brought in the recovering-from-injury lockdown machine with hopes of plugging one of their biggest holes from 2012. They shipped a first-rounder and likely another third-round pick to the Jets and handed Revis a huge contract.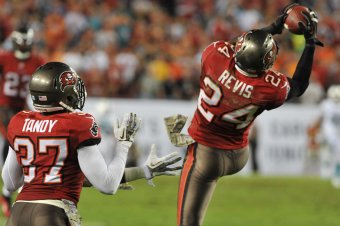 Al Messerschmidt/Getty Images
Yet, instead of taking advantage of his press-man skills, Tampa forced him to play more zone. His performance was above average, but since he wasn't shutting one guy down all game and his team started the season with eight straight losses, nobody paid too much attention to him.
That's a shame. Not only is he ranked as Pro Football Focus's best corner, he's only allowed 19 catches for 128 yards and a single touchdown. As Greg Schiano accurately stated to Dave Birkett of the Detroit Free Press, Revis is "back to being the guy we remember."
Johnson's importance was proven when the Lions mustered just nine points in the one game he missed. The winner of this clash will go a long way towards putting his team in excellent position to win.
Defensive Tackle Gerald McCoy vs. Guards Larry Warford and Rob Sims
Quietly, McCoy has put together a season comparable with that of the more acclaimed Ndamukong Suh. But who cares about an interior defensive tackle when his team is 2-8?
Only Tampa fans, the fans of that week's opponent and hardcore numbers guys are probably aware of the season that McCoy has been having.
Story of the Stats
Player
Tackles
Sacks
QB Hurries
QB Hits
Ndamukong Suh
17
4
38
8
Gerald McCoy
18
6
33
10
Profootballfocus.com
You know McCoy is important to the Bucs' pass rush. What you don't see in the above table is just how vital he is in disrupting the opposition's passing game. His team has failed to support him in his quest for the quarterback, as he has four more hurries than the next two guys combined. He's also one of only three Bucs (linebackers Lavonte David and Mason Foster) to earn a positive pass-rushing grade for the season.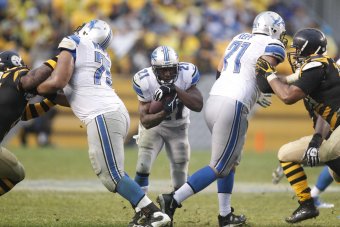 Charles LeClaire-USA TODAY Sport
Against the Steelers in Week 11, the Lions offense stalled in the fourth quarter with quarterback Matthew Stafford failing to complete a single pass down the stretch. A huge factor in that lack of execution, aside from drops, was all the pressure the Steelers created. They were able to push the pocket with bull rushes and move Stafford around. Anytime a quarterback isn't allowed to scan the field and set his feet comfortably, erratic throws will follow.
Guards Rob Sims and Larry Warford have been steady, although Warford has quickly establishing himself as a force. Currently, Pro Football Focus has him tied with Josh Sitton as the third-best guard in the league.
Detroit will need to establish the run, both to up the odds of victory this week and to establish some rhythm and confidence moving forward. Again, McCoy's presence is a huge impediment. It'll largely fall on Sims and Warford to create rushing lanes between the tackles, which is where 43 percent of the Lions' rushing yards are generated.
Defensive Tackle Ndamukong Suh vs. Guard Davin Joseph
The Lions missed 14 tackles last week. They were averaging just over six a game prior to that dismal showing. Out of Detroit's 69 missed tackles on defense this season, Suh has only three. He's so strong that if he gets his hands on a running back, the ball-carrier's going down.
Tampa Bay Rushing the Last Two Games

| | | | | |
| --- | --- | --- | --- | --- |
| Date | Opponent | Attempts | Yards | Touchdowns |
| Nov. 11 | Miami Dolphins | 37 | 140 | 1 |
| Nov. 17 | Atlanta Falcons | 38 | 186 | 2 |
ESPN.com
Tampa Bay has been running the ball like crazy lately. The offensive line has opened holes so big that dudes named Bobby Rainey are going off.
Exactly.
Suh has recorded an impressive 16 stops (a stop means creating an offensive failure) on rushing plays alone. When he's able to blow up a play on his own, it takes away a chance for one of the lesser tacklers to whiff.
Tampa Bay quarterback Mike Glennon has been coming on as of late. It's important that the Lions make him think about the pass rush. As shown above, that's another area in which Suh can play a huge factor.
Out of all the featured matchups, this one presents the biggest advantage. Bucs guard Davin Joseph isn't on the same level as Suh from a physical standpoint. Suh must dominate this battle if the Lions are going to excel defensively.
All grades, stats and ranking are courtesy of Pro Football Focus, and require an subscription.
Brandon Alisoglu has been covering the Detroit Lions for two years. He has been published at Yahoo!, Bleacher Report, CNN and other websites. He also co-hosts a podcast called Lions Central Radio with Nick Kostora that can be found on ITunes and Stitcher. Follow him on Twitter for more football talk.