Chicago Bears Are Still a Work in Progress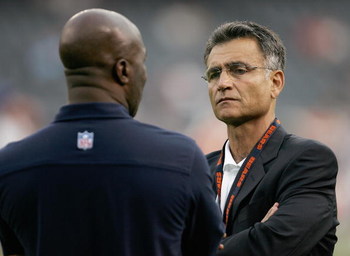 Rome wasn't built in a day and the Bears won't be rebuilt in an off-season. However, to say the least, Jerry Angelo has come a long way in making this team look like an Empire again
The trade brought a franchise quarterback - a Julius Cesar if you will. Then free agency brought in reinforcements for the offensive line, and the draft brought an infusion of youth on defense.
That's an impressive overhaul for one spring.
Jerry Angelo has brought a new, more aggressive attitude and vision to the roster. A more balanced approach intended to reopen a closing Super Bowl window; a window that had been fading along with and aging defense but is now being propped open with the addition of Jay Cutler.
Still, this roster is a work in progress that has some glaring holes, none of which is bigger than the missing No. 1 wide receiver. Unfortunately, it doesn't end there as the holes on defense may not be as large but they are more numerous, with questions lingering at free safety, defensive end, and cornerback.
Wide Receiver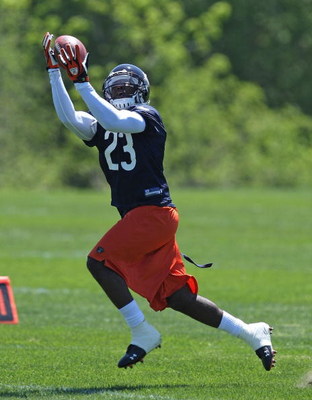 This is the position everyone will be talking about from now until the moment that someone other than Devin Hester emerges.
If the Bears stumble out of the gate, particularly offensively, Jerry Angelo will watch the good graces he piled up in trading for Cutler burned by the furry of fans who are watching him struggle without a No. 1 wide receiver.
Obviously there is still time for a change.
A veteran free agent might be added at any point between now and the start of the season. Sadly, none of the available options appear to be clear upgrades over what's currently on the roster.
Conversely, Angelo could continue to think big and pursue free agent Plaxico Burress or Anquan Boldin via trade.
Plax would be the easiest to acquire since his release from the Giants, but he comes with considerable PR and locker room risks. Questions will linger late into the summer about his legal status and any sort of additional league disciplinary action.
Despite his dominance on the field, he has now pushed his way out of two cities with his contract demands and off-the-field actions. For someone who's already stepped outside his comfort zone once this off-season, it's hard to see Angelo going this far out again.
Any sort of Boldin deal has its own hurdles, the biggest being the first round pick required in any trade that now resides in Denver.
Would the Bears give up a third-straight first rounder?
What about the additional contract demands of Boldin?
The Bears reportedly tried and failed to complete a trade for Boldin during the draft centered around the 49th overall pick. The Cardinals have him under contract for two more seasons and have every reason to believe he won't hold out, so why should they sell low?
One part of this story still unfolding is Boldin's recent decision to fire his agent Drew Rosenhaus, which could indicate a drastic shift in philosophy.
Given the uncertain future of the NFL, Boldin may want to lock in his new deal now at all costs. If he's finally willing to sit out it might force the Cardinals to the bargaining table in good faith.
That's the one situation in which the price might come down enough for the Bears to swoop in and nab him, but even in this best-case-scenario they'd still have to outbid at least half a dozen other teams.
Angelo did this one already for a quarterback; will he place the same sort of premium on a wide receiver?
Without any additional help Cutler is likely to see the same eight-man boxes that Orton did during his time under center. Defenses will jam Hester as well as Olsen and Clark coming off the line and force Cutler to hold on to the ball.
The Bears may need to rely heavily on Cutler's ability to make their receivers better or their passing game will be grounded.
Right Cornerback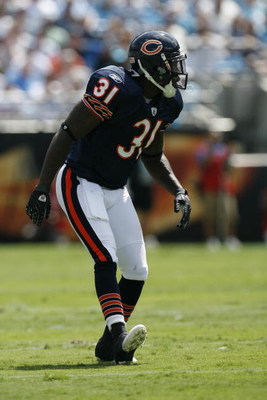 During his time as director of player personnel with the Tampa Bay Buccaneers, Jerry Angelo developed several guidelines on how to build a Cover-2 defense under the current NFL salary cap.
Among those guidelines was to pay only one cornerback and use the draft to find cheap replacements for the other. This is a guideline Angelo broke in 2007 when he signed both Charles Tillman and Nathan Vasher to contract extensions.
So far the results haven't been good.
They've been particularly bad for Vasher, who has suffered through two injury-plagued and ineffective seasons. The 'Interceptor' is now a question mark instead of a Pro Bowler.
Nathan Vasher will enter the season with his job on the line.
The early performance of rookie D.J. Moore gave the Bears enough confidence to switch Corey Graham to safety. It doesn't take too large of a leap to think that early struggles by Vasher could push Moore past him on the depth chart.
Ironically enough, Moore and Vasher are incredibly similar players: both are undersized corners that use leaping ability, instincts and quickness to make plays on the ball. Both players are capable in coverage, but teams will force them to tackle with running plays to the outside and exploit them in match-ups with taller receivers.
Just last week the Bears were considering signing free agent Rod Hood(since signed with the Browns); probably not a huge vote of confidence for either guy.
A free agent addition is still a possibility, but it would have to be the right player. Otherwise we'll just have to wait and see if Angelo chooses to revert back to form and lean on the cheaper, less experienced player or if Vasher can regain his Pro Bowl form.
Free Safety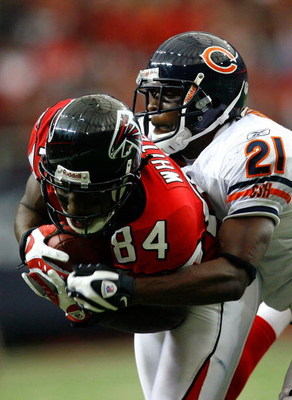 The fallout from the right cornerback position has had a direct effect on the competition at free safety, adding Corey Graham into the mix.
Unable to beat out seventh round pick Trumaine McBride during their rookie campaigns in 2007, it was Graham who took over for Vasher last year and excelled.
Although not much of a ball-hawk, Graham's steady tackling was a desperately needed stabilizing force. He finished fourth on the team with 91 tackles and obviously left a strong impression on teammates and coaches alike.
Unfortunately, Graham's conversion to safety – a position he hasn't played regularly since high school – won't necessarily be speedy or guaranteed.
That's where Josh Bullocks comes in.
A castoff from the disastrous New Orleans Saints secondary, Bullocks is a physically gifted player prone to mental errors, much like Danieal Manning. He even has a youtube video devoted to his numerous gaffs.
The Bears know they aren't getting a superstar in Bullocks, but given his talent it's always possible that a change of scenery, scheme or coaching could turn the light on. He may not set the world on fire but Bullocks does provide an insurance policy for Graham.
Another name thrown around for this position has been Craig Steltz.
Since he was drafted out of LSU in the fourth round last year the Bears have insisted that Steltz has the skills to play free safety while many observers consider him a much better fit on the strong side.
Steltz brings the least amount of upside out of the three, but also the least amount of risk. He may not have the same range in coverage, but if teams are able to exploit Graham and/or Bullocks on play-action the coaching staff could be forced to turn to Steltz, if for no other reason than to cut down on big plays.
If forced to be completely honest Bears coaches would probably admit they'd like Graham to win the job, but if that doesn't happen they'll be forced to choose between the upside of Bullocks and the stability of Steltz.
Defensive End
For a team that runs a defense predicated on pressure from the four down linemen, the 12 sacks the Bears got out of the defensive end position last season was pathetic.
This year Israel Idonije will be returning to end after a productive season at defensive tackle, but that's to increase his contributions on special teams, not defense.
The other addition is fourth round pick Henry Melton, but he's only been playing the position for two years after being converted from running back at Texas. Expecting anything more than a minimal contribution this year would be foolish.
So it'll be the same cast of characters – Alex Brown, Adewale Ogunleye and Mark Anderson – trying to recapture the success of seasons past but this time under the direction of Rod Marinelli.
Marinelli may not be able to get on the field and sack the quarterback for them but he brings quite the reputation as a motivator and was a major component in the Buccaneers long run of success with the Cover-2.
And if that's not enough, the impending free agency for Ogunleye and Anderson should be.
Ogunleye has been regarded as mostly a disappointment after the Bears acquired him from Miami for Marty Booker and signed him to a sizable extension.
But he had an underrated 2007 with nine sacks and six forced fumbles, and a strong start to 2008 with a safety against the Colts before completely disappearing.
The talent undeniably exists, but will the numbers follow?
As for Anderson, things haven't gone right since the moment his rookie season ended. Elevated over Alex Brown into a starting position following the Super Bowl he was supposed to build on his 12 sack rookie campaign with more playing time.
After being engulfed against the run and turning in only five sacks in 2007 the Bears returned Brown to his rightful starting place and believed Anderson would recapture his pass rush magic as a situational player.
The result was one sack in 2008.
Anderson has completely failed to develop a secondary pass rush move, and as a result his speed rush around the edge has been neutralized. Without a counter move back to the inside there won't be much hope for a rebound season.
Alex Brown is the same consistent performer against the run who brings six to seven sacks a year and the Bears can surely count on that from him again.
The question will be if Marinelli can get enough out of Ogunleye and Anderson to help the Bears cut down on how often they blitz.
If he can't, there isn't much hope for the Bears to be a dominant defensive unit and fans might see a lot more of Henry Melton than they want to.
Work Still To Be Done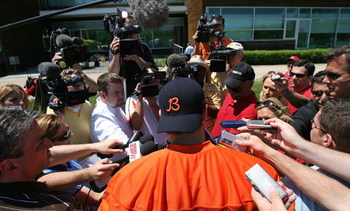 Fans need to keep in mind that Jay Cutler wasn't the final piece to the puzzle and that the roster is still a work in progress.
Their current weaknesses may even be severe enough to keep the Bears out of the playoffs despite all of Angelo's upgrades.
Especially considering most of the Bears solutions rely on younger players to step up or veterans to return to form.
But just remember this is day one, even the big guy took six.
Keep Reading

Chicago Bears: Like this team?