NFL Week 12: Breaking Down This Weekend's Biggest Matchups
November 21, 2013

Al Messerschmidt/Getty Images
Week 11's matchups between teams aren't overly compelling, but there are a number of individual battles this week that should be fascinating to watch unfold.
The Dallas Cowboys and New York Giants' matchup may no longer be worthy of a prime-time slot, but the importance of this game for determining the winner of the NFC East is still huge. Incredibly, the Giants look like they could put themselves back in contention for the playoffs with a win over the Cowboys. For that to happen, they need their quarterback and his receivers to be on the same page.
Andrew Luck's season has taken a step in the wrong direction lately, despite their victory on Thursday Night Football over the Tennessee Titans last week. Luck will need to be at his inspirational best again during the Indianapolis Colts' matchup with an overwhelming Arizona Cardinals defense.
In the biggest game of the week between the Denver Broncos and New England Patriots, Tom Brady and Rob Gronkowski will need to provide a spark to ignite the Patriots offense. Gronkowski had very little impact in this matchup last year. That can't happen this season because the Broncos offense has been way too efficient to this point.
Antonio Brown of the Pittsburgh Steelers and Joe Haden of the Cleveland Browns are young, rising stars in today's NFL. On Sunday, they get to face off against each other in what should be a fiery battle.
But Brown and Haden will take a backseat to the confrontation between Darrelle Revis and Calvin Johnson, as the best cornerback and the best wide receiver in the NFL face off for the first time since 2010.

Brian Bahr/Getty Images
Eli Manning vs. his Wide Receivers
Jason Pierre-Paul versus Tyron Smith is the most reputable matchup in this game, but while Smith has been a dominant left tackle this year, Pierre-Paul's impact has been almost completely eradicated by offseason back surgery. Pierre-Paul won NFC Defensive Player of the Week last week, but he was terrible for four quarters, winning the award because of a late interception.
With Pierre-Paul's inability to get to the passer, the focus of this game shifts onto Eli Manning and his wide receivers. Manning hasn't been massively successful during the Giants' four-game winning streak, but he has only thrown two interceptions during that span. Last week against the Green Bay Packers, Manning threw one interception when he and his wide receiver weren't on the same page.
That has been a major issue for Manning and his receivers this year and a huge number of his interceptions have come as a result of miscommunications.
When the Cowboys and Giants faced off in Week 1, Manning threw three interceptions to spoil his four touchdowns and 450 yards. The Giants proved that day that they could move the ball on the Cowboys defense with ease, something that many other teams have also proven since, so avoiding turnovers will be the key to victory this weekend.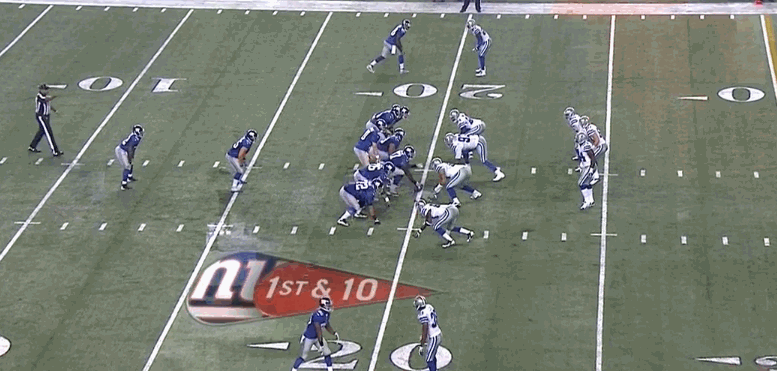 Me
Hakeem Nicks, Victor Cruz and Rueben Randle should easily find space down the field against the Dallas secondary. It's just a matter of avoiding those negative plays that cost the Giants possessions.
Tony Romo and the Cowboys offense should also be able to put up big numbers against the Giants defense. In Week 1, they scored 36 points, while the Giants defense hasn't really improved since then, outside of the addition of middle linebacker Jon Beason.
Last week, Beason led the unit to multiple turnovers of Scott Tolzien. Those turnovers proved to be huge, but even if Romo turns the ball over on Sunday, he has much more firepower to overcome and rebound from those mistakes in comparison to Tolzien.

Christian Petersen/Getty Images
Andrew Luck vs. the Arizona Cardinals' Front 7
Quietly, the Cardinals have won their last three games. Those victories have come against the Atlanta Falcons, Houston Texans and Jacksonville Jaguars, so it's difficult to get too excited about the winning streak. However, it's very easy to get excited about the franchise's outstanding defense.
While John Abraham, Patrick Peterson, Tyrann Mathieu and Daryl Washington receive most of the attention, the Cardinals defense is so good because of the quality that is strung through it. There is no real weak spot on the defense that isn't compensated for by multiple pieces around it.
Maybe the greatest strength of the Cardinals defense is the interior of their defensive line. Darnell Dockett is enjoying a new lease on life at 32 years of age in Todd Bowles' scheme. Dockett and younger star Calais Campbell have terrorized opposing team's offensive lines all season long. Along with nose tackle Dan Williams, they have been able to disrupt passing games while still shutting down the run.
Edge-rusher Abraham has seven sacks this season. Abraham is at the end of his career, but he is still producing on a weekly basis. With him coming off of the edge and the interior presence, it's very difficult to account for everything the Cardinals defense can do to you. When you add in Karlos Dansby and Daryl Washington blitzing from the second level, it's easy for offenses to become overwhelmed. 
With the Colts visiting the desert this Sunday, the Cardinals' front seven have a great opportunity to make a statement against one of the best quarterbacks in the NFL.
Andrew Luck is already limited in who he can throw the ball to because Dwayne Allen, Ahmad Bradshaw and Reggie Wayne are sidelined. Compensating for the Colts' lack of talent on the offensive line has been much more difficult for the young quarterback since he lost Wayne specifically.
Unless Luck has an outstanding game, the Cardinals front seven could easily shut down the Colts' offense.

Me
Over the last two weeks, the Cardinals have faced bad offenses, but Case Keenum of the Houston Texans was able to avoid pressure multiple times, and the Jacksonville Jaguars built their offensive game plan on screens and quick passes to negate the pass rush. The Cardinals were still able to get a lot of pressure.
The Colts won't alter their game plan. They won't look to use more quick passes or screens. Instead, they will try to run over this front seven and rely on Luck to make precise throws under constant pressure.

Dustin Bradford/Getty Images
Tom Brady/Rob Gronkowski vs. the Denver Broncos Pass Defense
If this season has taught us anything, it's that Peyton Manning will always find ways to put points on the board. Manning single-handedly took away the Kansas City Chiefs' pass rush last week, and it doesn't look like the Patriots will have the secondary to contain his weapons this week.
With that in mind, the key matchup for this game comes on the other side of the ball.
Tom Brady and the Patriots offense will need to find ways to outscore the Broncos. That doesn't seem like much of a challenge, but the Patriots struggled with the Carolina Panthers' front seven this week and could have really suffered if the Panthers had better secondary pieces.
Even though the Broncos' front seven isn't as dangerous as the Panthers', they do have enough pieces to pressure Brady with better coverage on the back end.
Critically, the Broncos match up very well with the Patriot offense.
Danny Trevathan and Wesley Woodyard have the size and speed to run with Rob Gronkowski, especially if given safety help. Chris Harris and Dominique Rodgers-Cromartie match up very well to the Patriots' diminutive receivers, even if Champ Bailey misses out again. The absence of Rahim Moore could hurt, but the Broncos should have enough depth to cover for bad safety play if they can get pressure upfront.
That puts the spotlight on Von Miller and Shaun Phillips. Miller hasn't been as impressive this season as he was last year. That is likely due to his late start, after he missed the first six games of the season through suspension. Miller had two sacks against the Patriots last year, while this year he will get to face off against backup Marcus Cannon, as Sebastian Vollmer is out for the season because of an injury.
Last year, the Broncos limited Gronkowski to four receptions for 35 yards. They frustrated the tight end by using linebackers and safeties on him. He was able to beat Joe Mays more than once, but Mays is no longer on the field, and he's nowhere near as good in coverage as Trevathan is.

Me
The Patriots spread the field by motioning Stevan Ridley wide right. The Broncos don't adjust, instead leaving their inside linebackers lined up over Gronkowski and Deion Branch in the slot. Woodyard is covering Branch, with Mays on Gronkowski. Even at this stage, the Broncos are already in trouble because Mays has dropped too deep off the tight end.

Me
Instead of being closer to Gronkowski and playing more aggressive coverage, Mays has to give him a free release and allow Brady to immediately look his way. With better coverage linebackers, the Broncos could be more aggressive in these types of situations. That is the added dynamic that Trevathan offers.

Me
Trevathan won't give Gronkowski that free release, so Brady won't have a simple read, and Gronkowski won't have a simple catch. 
If the Patriots are to keep pace with the Broncos offense, they will likely need Gronkowski to have one or two big plays down the field. He had none last season and they still won, but these teams have both changed a lot over the last 12 months or so.

Joe Sargent/Getty Images
Antonio Brown vs. Joe Haden
Antonio Brown is playing like an all-pro wide receiver, while Joe Haden is being touted by many as the best cornerback in the NFL right now. Both are important pieces for their respective teams, and both are coming off of big games last week.
Brown had an terrific 147 yards and two touchdowns on seven receptions last week against the Detroit Lions. That type of display isn't that rare for Brown this season. He has six games with at least 80 yards receiving, five total touchdowns and at least five receptions. Without Brown, the Steelers offense would be in serious trouble.
Conversely, very few first-choice wide receivers have had much success against the Cleveland Browns this season. That has as much to do with the defense as a whole as it does Haden, but Haden is the one consistently following receivers around the field. While he doesn't shut down receivers each week with his coverage ability, he does intimidate quarterbacks because of his outstanding ball skills.
Haden has just three interceptions on the season but two of those came last week against the Cincinnati Bengals. While his stats aren't eye-popping, Haden is the type of cornerback who will take advantage of opportunities that come his way.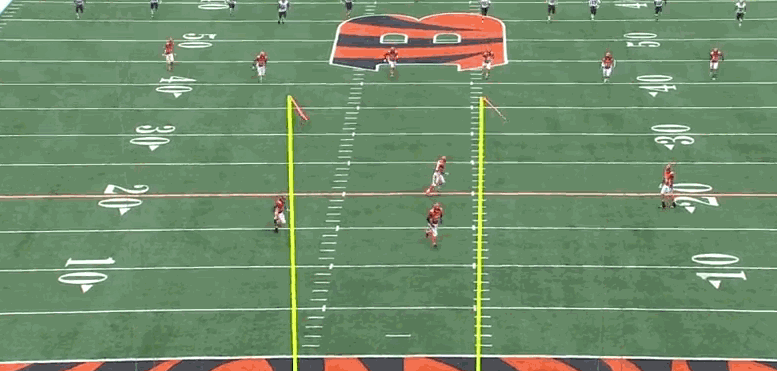 Me
The battle between Brown and Haden will be fascinating because Brown isn't the type of receiver who needs to catch the ball downfield. The Steelers should be able to get the ball out quickly to find him and negate the Browns' outstanding pass rush. However, Ben Roethlisberger's accuracy this season has been very inconsistent. If he targets Brown 10 times, Haden is as likely to have three interceptions as Brown is to have 10 catches.
Me
Whoever wins out between these two young stars will help his team out more than anyone else on the field.

Gregory Shamus/Getty Images
Calvin Johnson vs. Darrelle Revis
What happens when an unstoppable force meets an immovable object?
It's time to find out.
One could argue that the answer to this question has already been found, but when Darrelle Revis and Calvin Johnson last met in 2010, Johnson was yet to reach his peak as a receiver. Revis held Johnson to one reception for just 13 yards that day, but since then, Johnson has elevated himself to previously unforeseen levels.
Johnson had at least 1,600 yards in each of the two seasons since 2010, and he already has almost 1,100 yards in just nine starts this season. In short, Johnson has been unstoppable for a long time. Outside of cutting his production off at the source by getting to quarterback Matthew Stafford, there doesn't seem to be a way to prevent Johnson from having a huge impact on every single game he plays in.

Me
Last season, Johnson ripped through every single cornerback that tried to cover him for extended periods. The above chart, which is taken from this article, looks at every single route he ran, not just when the ball was thrown his way. If Revis wants to be as successful as he would expect to be against Johnson, he will need to outperform every single player on this chart.
Revis won't be intimidated by Johnson. He is still clearly the best cover cornerback in the NFL, even considering the Pro Bowl-caliber play of players such as Richard Sherman and Leon Hall. He hasn't shown any real limitations since returning from his torn ACL that he suffered last season.
There is a lot of analysis that could be done for this matchup, but the reality is that both players are essentially as good as they could possibly be so this could definitely go either way. Revis will likely look to be physical with Johnson at the line, before using his stellar technique to shadow the receiver and attack the ball instead of looking to play overly aggressive coverage after the initial release.
Johnson's greatest advantage on the other hand is his size. He could try to bully Revis, but even though the former New York Jets cornerback is slender in build, he is not lacking in strength. This is the kind of matchup that you would want the camera to follow on every single snap.

Wesley Hitt/Getty Images
Jimmy Graham vs. the Atlanta Falcons' Coverage
With just two victories on the season, the Atlanta Falcons are already resigned to their fate in the NFC South. The Falcons have fallen behind the Carolina Panthers and New Orleans Saints, so at this point all they can hope to do is try to avenge losses against each team.
Their opportunity against the Saints comes on Thursday Night Football in Atlanta.
The Falcons and Saints faced off in Week 1 of the season, as the Saints sealed a close victory with a late defensive play. Although the Saints were lucky to escape from that game with a victory at home, they should feel very confident that they can beat the Falcons in Atlanta.
After so many demoralizing losses and a crucial injury to Julio Jones, this Falcons team is very different to the one that entered the season. Matt Ryan has looked overwhelmed in recent weeks and that is unlikely to change against Rob Ryan's energetic, aggressive defense.
If Atlanta's offense struggles, they will need their defense to have a huge day against the Saints' ultra-efficient offense. That's a very tall task because the Falcons don't appear to have any pieces who could even make life tough for Jimmy Graham or Marques Colston.
Me
Brees has been spreading the ball around as much as ever this season. He should base his passing offense off of Graham and Colston with the short week of preparation though.
Cian Fahey writes the Film Room column for Football Outsiders, the Pushing the Pocket column for FootballGuys and is a Featured Columnist for Bleacher Report. You can follow him on twitter @Cianaf