Beating the San Francisco 49ers will likely take a strong defensive effort from the Washington Redskins and a commitment to the running game.
The latter should not be a problem provided Washington schemes a way to outnumber the 49ers defensive front and help Alfred Morris get loose for big gains.
But coaxing a stout performance from a defense that has been woeful in recent weeks will be a greater challenge. The Redskins simply have to find ways to apply pressure to San Fran's league-worst passing attack.
Defense: Take Vernon Davis Away and Force Colin Kaepernick to Throw to His Right
Quarterback Colin Kaepernick has been abysmal for much of the season. Blighted by the absence of key receivers like Michael Crabtree, Kaepernick has only exceeded 200 yards passing twice this season.
One of the main problems is his inability to force big plays through the air. His yards-per-completion average is 7.2, down from 8.3 in 2012.
Kaepernick's primary big-play target is tight end Vernon Davis. He has tallied 16.3 yards per catch. He is also often Kaepernick's first read.
The struggling passer had been criticized for focusing too much on his first read, as Sports Illustrated's Don Banks notes, citing the now infamous "remedial" tag applied to Kaepernick by ESPN's Trent Dilfer:
ESPN analyst and former 49ers quarterback Trent Dilfer created a bit of a buzz Sunday night, saying on the air that Kaepernick this season has not fared as well because defenses have taken away his first read, rendering him a "remedial'' passer who has not learned how to comfortably work through the rest of his receiving progressions.

Kaepernick has to do a better, more patient job of finding his receivers, even if his first option isn't there or he's forced to throw a few guys open, a skill he has yet to show much feel. And his receivers need to start helping him out more, getting better separation and consistently winning their share of jump balls.

Taking Davis away from Kaepernick will force him to show he can work through his progressions without mistakes. Ideally, the Redskins want Kaepernick throwing to his right and should let their defensive backs jump the inside against his receivers.
Two plays from San Franciscos's last two games, both defeats, show these three things in practice. The first example comes from Week 10 against the Carolina Panthers.
As they often do, the 49ers split Davis out in a wide receiver alignment on the left. The Panthers would use a safety and a linebacker to double him on the outside.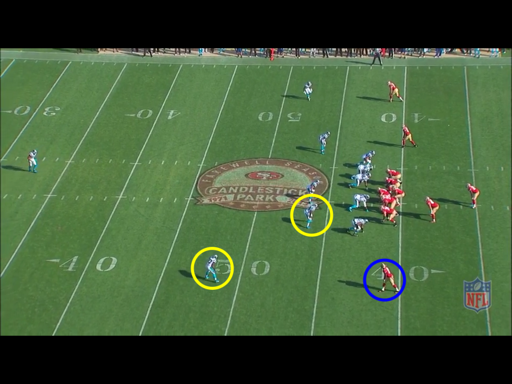 Fox Sports and NFL.com Game Pass.
At the snap, both defenders drifted into place to bracket Davis with both deep and underneath coverage.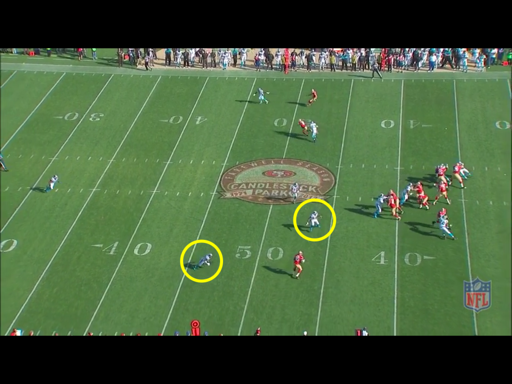 Fox Sports and NFL.com Game Pass.
From the quarterback view, it is clear Kaepernick was looking Davis' way immediately.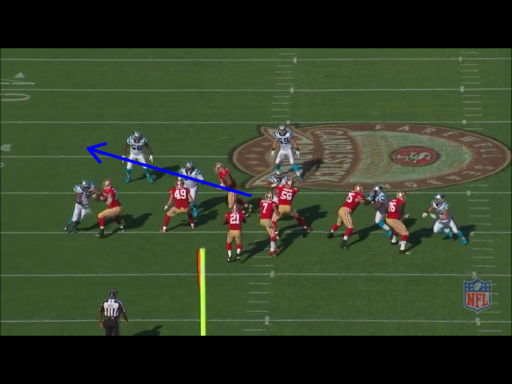 Fox Sports and NFL.com Game Pass.
But as the bracket around the the tight end closed, so did any room Kaepernick had to aim a pass his way.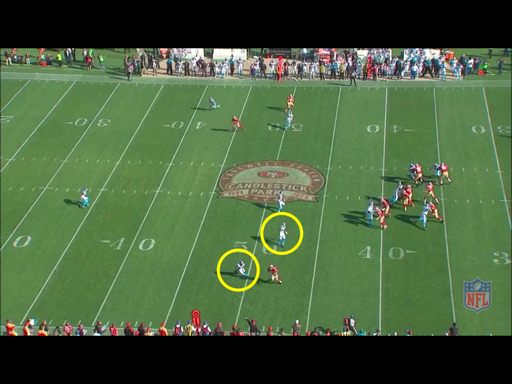 Fox Sports and NFL.com Game Pass.
He was therefore forced to throw back across to his right, trying to connect on a deep ball to wideout Anquan Boldin. But Panthers cornerback Captain Munnerlyn read the throw and jumped to the inside for what should have been an interception.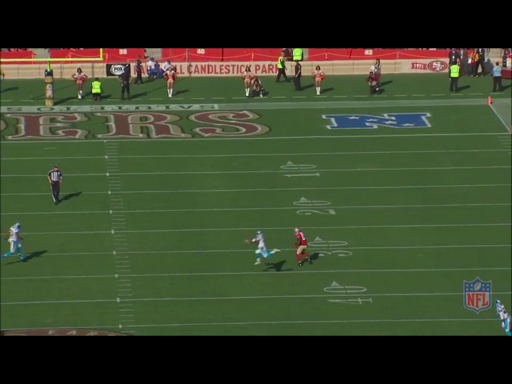 Fox Sports and NFL.com Game Pass.
The sight of defensive backs jumping to the inside and getting their hands on wayward Kaepernick throws has become a common one in recent weeks.
It is something that opportunistic Redskins cornerbacks DeAngelo Hall and David Amerson can certainly take advantage of.
The 49ers lost 10-9 to the Panthers, mostly because of Kaepernick's dire performance, producing only 91 yards passing.
Last week the New Orleans Saints defense took the same approach to keeping Davis quiet and stifling Kaepernick. Like the Panthers, the Saints doubled up on Davis and aggressively denied him a clean release downfield.
On this play, linebacker Curtis Lofton and safety Malcolm Jenkins would combine to stop Davis getting free.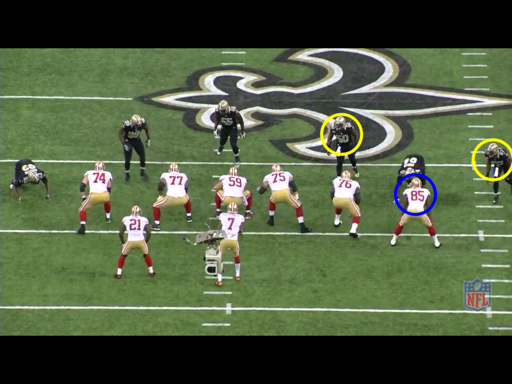 Fox Sports and NFL.com Game Pass.
They were on the cusp of the rules as they clamped onto Davis to prevent him from attacking the deep middle.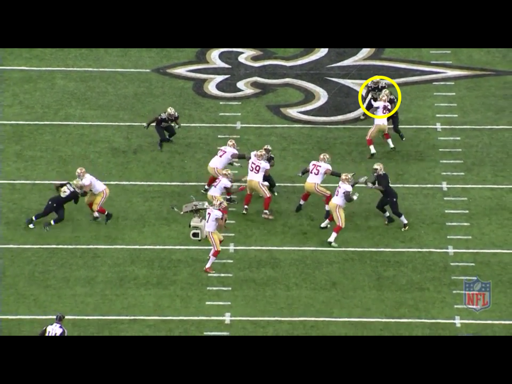 Fox Sports and NFL.com Game Pass.
Kaepernick was again looking Davis' way right from the start. But with the tight end unable to escape his coverage, Kaepernick was soon forced to throw deep the other way.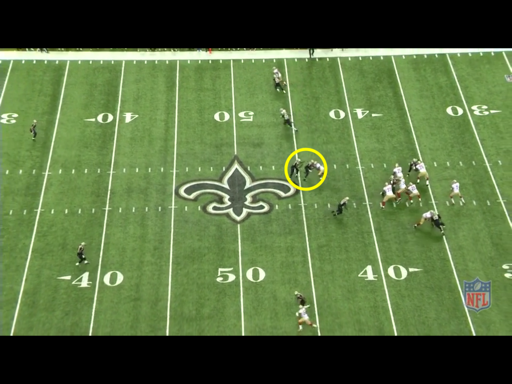 Fox Sports and NFL.com Game Pass.
He again targeted the right sideline, but his poor throw let another cornerback, Jabari Greer, jump to the inside to swat the ball away.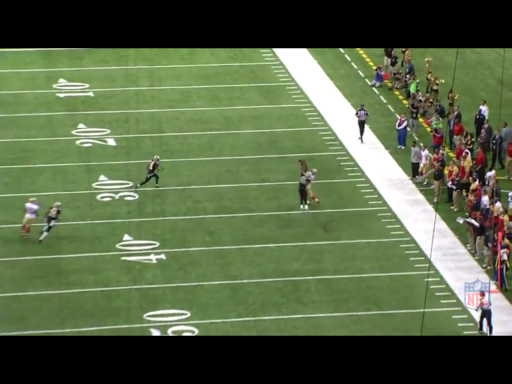 Fox Sports and NFL.com Game Pass.
Double-teaming Davis should be the priority for the Washington defense on Monday night. Taking him away will eliminate San Francisco's vertical passing potential.
It will also force Kaepernick to make the kind of throws he has been missing all season.
Negating Davis will be a tough duty for inside linebackers Perry Riley Jr. and London Fletcher as well as safeties Brandon Meriweather and Reed Doughty.
But aggressive pressing, even at the risk of penalties, along with help behind, can make Davis a non-factor.
The other key tactic will be combining this coverage scheme with consistent pressure. The Redskins have struggled to generate a steady rush and must get more creative with both their fronts and personnel.
An example from last week's loss to the Philadelphia Eagles shows the value of moving players around. On this play, coordinator Jim Haseltt tweaked his nickel front to move outside pass-rusher Brian Orakpo (98) to the inside.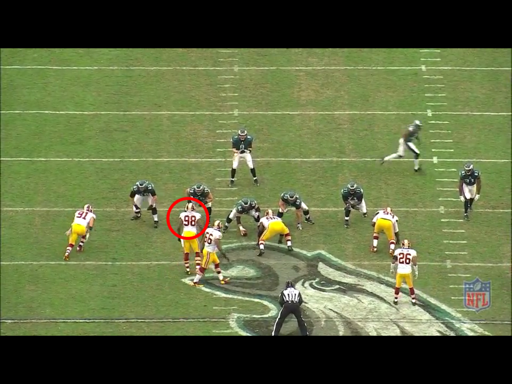 Fox Sports and NFL.com Game Pass.
He was on the same side as the team's other top-pressure ace Ryan Kerrigan. The two would run a twist, with Kerrigan slanting inside and Orakpo looping around the corner.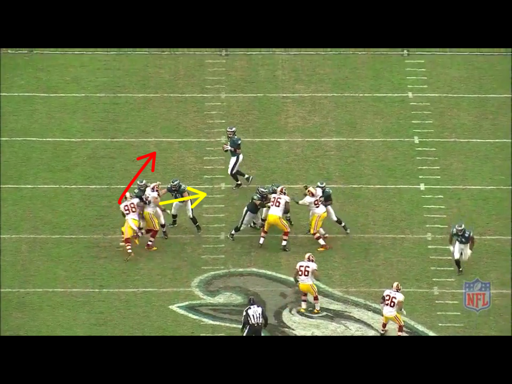 Fox Sports and NFL.com Game Pass.
Orakpo easily beat the right tackle, who had initially been occupied with Kerrigan, off the edge and sacked quarterback Nick Foles for a five-yard loss.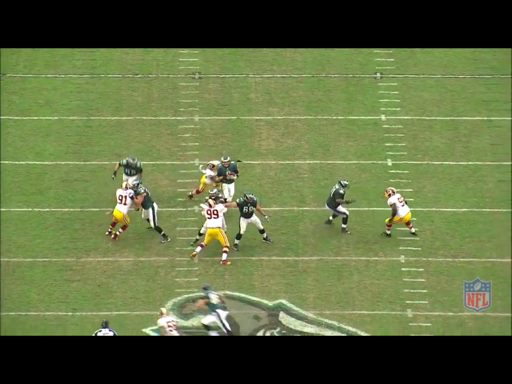 Fox Sports and NFL.com Game Pass.
Moving playmakers like Orakpo and Kerrigan to create different pressure fronts could exploit a 49ers O-line that has allowed nine sacks in the last two weeks.
Haslett would be wise to run plays like this from the other side in Week 12. Pressuring Kaepernick from the left will force him to throw right, where he often misses his target.
Of course, the Redskins must rush with discipline. They will know all about the danger Kaepernick poses as a runner from read-option plays.
They have seen that scheme from their own offense and quarterback Robert Griffin III in practice often enough. The Washington defense has to bring pressure but cannot be reckless and lose contain on the outside.
Trapping Kaepernick in the pocket should be viewed as good as a sack in this game.
Keeping Kaepernick under pressure while taking away his primary read will stymie one half of the San Francisco offense.
Of course, Haslett can't ignore the threat posed by the 49ers' fifth-ranked rushing attack, but the Washington offense can help limit that threat.
Outnumber the 49ers Defensive Front in the Running Game
San Francisco's once vaunted rush defense is not as stout as in recent seasons. The 49ers rank 13th against the run this season, surrendering an average of 103.8 yards per game.
Teams can enjoy success if they outnumber the San Francisco defensive front with overloaded lines and attack the weak edges. The Indianapolis Colts relied on this ploy to amass 184 yards and three rushing scores in a 27-7 Week 3 victory in San Francisco.
Their most common tactic was to supplement their line by adding 6,7", 323-pounder Joe Reitz as an extra tackle on the left side.
This allowed them to attack one side of the defense by outnumbering the 49ers and creating a weak edge. A play from the fourth quarter was a great example of how this scheme worked.
Aside from their six-man O-line, the Colts also used a H-back, Dominique Jones (46). He would motion to align in front of fullback Stanley Havili and running back Ahmad Bradshaw.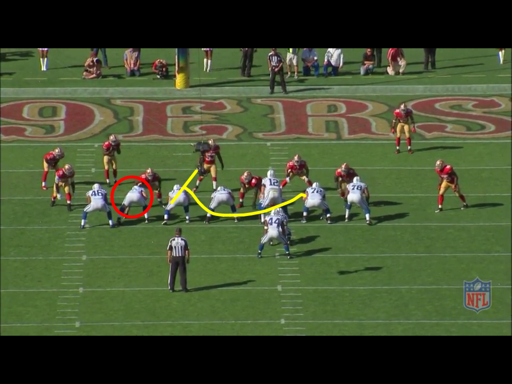 CBS Sports and NFL.com Game Pass.
Reitz, shown in the red circle, would help double-team the defensive end to clear the way for right guard Jeffrey Linkenbach (72) to pull around the corner.
At the snap, Jones executed a kick-out block on rush linebacker Aldon Smith. Reitz and Anthony Castonzo combined to double-team the defensive end, while Havili and Linkenbach led the way for Bradshaw.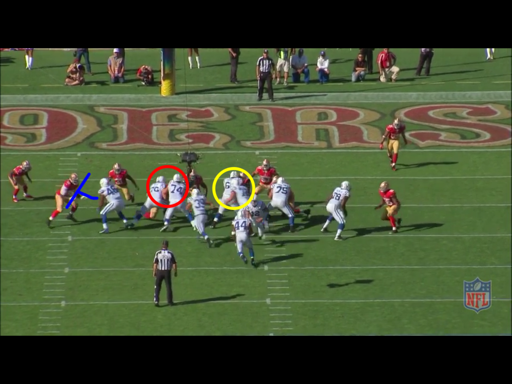 CBS Sports and NFL.com Game Pass.
The pair made key blocks to knock open a big hole on the left side. Bradshaw attacked it and gained eight yards. Quarterback Andrew Luck would score on a six-yard run two plays later.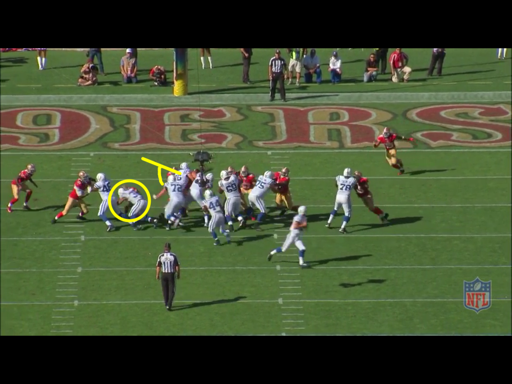 CBS Sports and NFL.com Game Pass.
The Colts used a lot of these overloaded lines to overwhelm the 49ers up front. It is a power concept taken from San Francisco head coach Jim Harbaugh's days in charge at Stanford.
Power principles, such as pulling guards, are not something the Redskins usually rely on in head coach Mike Shanahan's zone system. But the Washington offense has featured more overloaded lines this season.
Against the Eagles, coordinator Kyle Shanahan regularly deployed three tight ends to create mismatches on one side of the defense.
He should do the same against San Francisco and target the side away from rugged veteran defensive end Justin Smith, still the linchpin of the 49ers run defense.
Given the form Morris is in, the Redskins should feel confident about establishing their ground game. If they control the clock, it will force Kaepernick to air it out more often.
That should suit a defensive game plan that must be tailored to shutting Davis down and forcing a struggling passer into mistakes.
All screen shots courtesy of Fox Sports, CBS Sports and NFL.com Game Pass.
All statistics via NFL.com.