Jacksonville Jaguars vs. Houston Texans: Breaking Down Houston's Game Plan
November 21, 2013

Kevin Jairaj-USA TODAY Sports
The Houston Texans should be looking forward to facing off against the Jacksonville Jaguars.
After all, the Texans may be mired in an eight-game losing streak, but the 1-9 Jaguars must look like a Thanksgiving turkey to Houston, all trussed up and ready for carving. 
The oddsmakers seem to think so, installing the Texans as 10-point home favorites, according to the Week 12 betting lines at ESPN.com. The Texans will try to forget how they came up short previously as home favorites against the St. Louis Rams and Oakland Raiders. 
Meanwhile, cracks in the veneer of unity for this dysfunctional outfit have turned into fault lines stretching in several directions.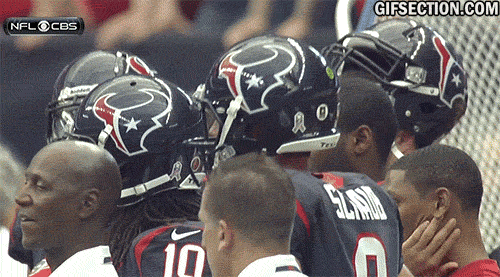 GIFSection.com
Some of the frustration among the Texans was exposed when Andre Johnson and Matt Schaub exchanged unpleasantries after a possible go-ahead pass fell incomplete in the waning minutes against Oakland. Schaub appeared to have accused Johnson of running a half-hearted route, to which Johnson replied that Schaub should basically shut his pie hole.   
Ben Tate and Owen Daniels reacted to the booing of Schaub when he took over for starter Case Keenum by lecturing their fans on stadium etiquette. Tate labeled Houston fans as "wishy-washy" for voicing their disapproval. Daniels was more diplomatic in an appearance on Sports Talk 790 in Houston by saying, ""We want people who are going to be quiet when we're on offense and loud when we're on defense." 
Such distractions must take a back seat if Houston is going to get its act together. The Texans rank eighth in offensive yardage and first in yardage allowed on defense. That would indicate that they should have enough wins to still be in playoff contention, but those rankings cannot compensate for the debits accumulated in other categories for Houston.   
The Texans' most obvious problem is turnovers, with 19 giveaways compared to only eight takeaways having led to the worst ratio in the league, according to SportingCharts.com. The Texans have 22 takeaway points versus 86 giveaway points for a minus-64 deficit. 
Although Houston has five straight games with a pick-six, that is only part of the story. Except for their matchup against the San Francisco 49ers, the Texans have allowed at least one drive or play of 75 yards or more during that stretch. The 49ers didn't need to cover that much territory because of the four Texans' turnovers they forced in their 34-3 victory. 
Normally, breaking down the game plan would concentrate on how the Texans should exploit their opponent's weaknesses. Since the Texans have been their own worst enemy, the emphasis here will be on addressing some of their problems.
Offense 
The crowd at Reliant Stadium is usually one of the most supportive in the NFL. The boos that rained down last Sunday when Keenum was pulled and Schaub came off the bench were no surprise. "CK7," as Keenum has now been dubbed, brought two elements to the offense that Schaub lacked: the ability to extend plays and a willingness to throw deep. 
Both qualities were on display on Keenum's touchdown throw to Garrett Graham in the second quarter. Johnson was also rejuvenated by finally having someone who could get the ball to him without Johnson having to slow down for it. 
Unfortunately, the second quarter is always followed by the third quarter. In each of Houston's three preceding games, the magic generated by CK7 in the first half never made it out of the locker room for the second half. 
The blame should not entirely fall upon the shoulders of the young quarterback. The Kansas City Chiefs and Arizona Cardinals created more than enough pressure on him with a five-man rush while the Indianapolis Colts tightened their Cover 2 zones to support their corners. 
When it comes to picking up the blitz, Keenum has a lot to learn. The sack/fumble that preceded the entry of Schaub into Houston's loss to Oakland shows why head coach Gary Kubiak thought it was time to make a change. 
Here, Houston is running trips left in a bunch formation. Posey is the trailer in the bunch and will probably be the last receiver to be picked up in coverage. 

NFL Rewind
Keenum waits too long for Hopkins to get open. Cornerback Mike Jenkins, who has read the quarterback, is certain that he is hot for the crossing route to the open part of the field. 
There was a split second where Posey was open before the pocket collapsed. If Keenum had unloaded, he could have avoided the sack and might have even made the throw for the first down. 
Kubiak is a lame-duck coach on an even shorter leash than the one he used to yank Keenum from the Oakland game. The best chance for Kubiak to save his job is to chalk up some wins and—for whatever reason—going back to Keenum. 
Developing a quarterback may be Plan B in his survival scenario, but after Schaub fizzled in the red zone, it is the only card Kubiak has left to play. 
CK7 may survive the audition despite the lack of a running game, a solid offensive line and a shortage of experienced receivers. He will also have to prove himself again in 2014, when a new coach, a new system and a new competitor at his position will all be part of the mix. 
That opportunity will not be available if he is unable to garner his first win over a Jacksonville team with the league's worst offense and the worst overall defense.
Defense 
The Texans have done something no team has ever done before with their dubious pick-six record. John Elway and Peyton Manning had set the previous record of three straight games with interceptions returned for touchdowns, so someone was bound to make it four. T.J. Yates helped set a league record of five straight, a mark that could stand for quite some time. 
While it does not carry the same level of ineptitude, the Texans defense has probably set a record of its own. In all likelihood, no team has ever led the league in fewest yards allowed in Week 12 and still had a 2-8 record. 
It has not happened in the last 10 seasons, which is as far back as the weekly standings go at TeamRankings.com. If anyone at Elias Sports Bureau or ESPN Stats & Info would like to challenge this claim, be my guest. 
Regardless of whether this is a unique accomplishment or not, the Texans have found ways to lose each of their last eight games. Last week, it was an 80-yard run by Rashad Jennings out of the Wildcat formation. 
The Raiders offensive line had a Lombardi-like seal up the alley, with only D.J. Swearinger to beat. Jennings is able to stiff-arm the safety because of poor tackling technique. 

NFL Rewind
Swearinger fails to break down and go for a part of the body that he can wrap up, such as the legs or waist. There is no way that Swearinger, at 5'10' and 200 pounds, is going to take down a 6'1" 235-pound running back by his shoulder pads. That was just one instance by one player, but it could be considered the difference in the game. 
The Texans have maintained their top defensive ranking, at least in yardage allowed, by ranking No. 1 against the pass. Their opponents have not had to throw with any kind of frequency because Houston turnovers have put them in excellent scoring position. The fumble by Garrett Graham in Houston's first offensive series did just that, putting Oakland in business at the Texans' 16-yard line. 
When opponents do put the ball in the air, defensive coordinator Wade Phillips makes it easy for them to make the most of their attempts. Ted Johnson, the starting middle linebacker for the New England Patriots' three Super Bowl winners, has noticed Phillips' overreliance on man coverage. 
In his Ted's Takeaways: Week 11 article for CBS Houston, Johnson's prescription was to mix in more zone coverage:
Oakland (and the previous teams) anticipate the Texan's D playing it so they run "man-to-man beaters".  This mostly comes in the form of "pick" plays off of "bunch" formations.  It would really be beneficial for the Texans to mix in some more "zone" coverage to keep the opposing QB guessing.
 The first touchdown pass by Matt McGloin to Denarius Moore off the Graham fumble demonstrated what Johnson is referring to, as Moore and Rod Streater are in straight-up, man coverage across from Brice McCain and Brandon Harris.  

NFL Rewind
Streater runs a little comeback curl and squats down where McCain is going to intersect Harris' path to Moore. This simple non-move by Streater picks Harris right out of the play and Moore scores easily. If the cornerbacks had zone responsibilities, each could have covered his area and they would not have been in each other's way. 
After Keenum's first career interception a few minutes later, McCain is so spooked by the previous TD pick that he gives Streater too much cushion inside the red zone. Streater does not have a hand laid on him as he scores with the same ease as Moore. 
The Texans defense allowed three touchdown passes by McGloin, an undrafted free agent. Last season in Reliant Stadium, the Texans surrendered 372 yards and four touchdowns to the Jaguars and Chad Henne. At least Justin Blackmon is on indefinite suspension this time, depriving Jacksonville of one of its few rising stars. 
Who would have thought Sunday's game would come down to which team is worse than last year's version? All of a sudden, that 10-point spread looks insane.