Dwight Howard Answers Hakeem Olajuwon's Criticism, Defensive Issues Loom Larger
November 21, 2013

Ronald Martinez/Getty Images
Dwight Howard has drawn criticism from multiple sources recently for his post game and his defense, and he provided a stern on-court rebuttal for one of those rebukes in Wednesday's game. None of his critics are more venerable than Hakeem Olajuwon, the Hall of Famer and professor to big men, who worked with Howard in the offseason.
Apparently, Olajuwon doesn't like what he's been seeing from his student so far. 
Wednesday night, Howard shined on offense against the Dallas Mavericks in a 123-120 loss. He flourished with an array of moves in the post as the entire Rockets offense hummed. However, Houston was done in by its defense in a shaky fourth quarter, and Dwight failed to put up much resistance to the Mavs run. Far from being a tone-setter on defense, Howard looked lost in a crowd of bodies as Dirk Nowitzki and Monta Ellis poured in jump shots.
Though Howard did nothing to quell the concerns about Houston's lackluster defense, he delivered a dominant performance in the post that will have Olajuwon reconsidering his opinion and a defensive effort that will have other critics certain of the theirs.
Howard's Potency in the Post
Dwight Howard had all his post moves working against the Dallas Mavericks on Wednesday, and he made mince meat of Samuel Dalembert for much of the night. It seemed to come as a direct response to the comments made Tuesday by Olajuwon.
Referring to their work together in the offseason, Olajuwon was frank: "I thought we were doing a good job...but what I see now is that when Dwight gets in competition, he has a tendency to go back to all of his old habits" (via Fran Blinebury of NBA.com).
Howard shook off those old habits and whipped the Mavs for 27 points on a perfect 11-of-11 from the field through three quarters, a personal record for the most consecutive field goals to start a game. 
Howard finished the night with an impressive stat line: 33 points on 12-of-16 shooting, 9-of-13 from the foul line, 11 rebounds and only one turnover. The performance was timely, as it came on the heels of even further criticism about Howard's play down low. 
Zach Lowe of Grantland slammed Howard in an article also published on Nov 19, wondering whether the Rockets could balance their run-and-gun offense with Howard's "fading inside game." 
Lowe backed up his low opinion of Houston's center with some hard stats and harsh words: 
To be blunt: Howard's post game is dead, or at least on life support, and if it doesn't recover, the Rockets run the serious risk of wasting a dozen possessions per game in order to keep the big fella happy. Howard has shot 20-of-60, or 33 percent, on post-up attempts this season, per Synergy Sports. That would have ranked 88th out of 92 players who recorded at least 75 post-up plays last season. He has turned over the ball on an astonishing 24 percent of his post-up chances this season, per Synergy. That would have ranked last among those 92 players last season.

 
From the sound of Lowe, you would think that Dwight Howard had become a shell of his former self. Of course, he gets slammed even when he puts up nice stats simply because he's such a polarizing personality who still offers great on-court potential. 
Howard came into Wednesday's game averaging 17.2 points per game on 53.6 percent shooting, along with 13.9 rebounds and 2.4 blocks per game on the season. He seems energized in his new uniform and should be in for a bounce-back year if he can remain healthy, even if his post game is not quite what it once was.

Fernando Medina/Getty Images
But Lowe's criticism received some credence from its coincidental timing with Olajuwon's disappointed-teacher routine. The former Rockets great did not mince his words about Howard, saying: "I wish he was doing a better job. Dwight has always been athletic and aggressive and he still is. But when I watch him, what I see are opportunities that he is missing. When he gets the ball, he seems to be taking his time to decide what move to make, where he should go." 
Well, Howard was certainly decisive on Wednesday. He had great chemistry with Houston forward Chandler Parsons, who also had an excellent game, and the frontcourt duo hooked up for multiple buckets. Howard even seemed eager to get out on the break and run the floor. Perhaps he just wanted to show Mark Cuban what he missed out on. 
Ronald Martinez/Getty Images
Dwight looked invigorated and outmuscled Dalembert repeatedly, thanks in part to the Mavericks center waiting until late in the fourth quarter to front the entry pass. Howard's footwork allowed him to get good looks at the hoop from either side of the paint, and he was able to drain his jump hook with both the left and the right hand over a helpless Dalembert. 
Don't expect Howard's stellar play in the post to continue on a nightly basis, but it at least seems the rumors of his demise was greatly exaggerated.  
But the big man let his petulant tendencies get the best of him at the wrong time against the Mavs. He got slapped with a technical foul for tossing the ball into the crowd when Houston led by five points with under three minutes remaining. In such a close loss, that needless infraction was extremely foolish.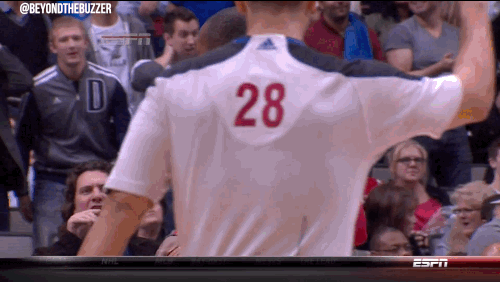 BeyondTheBuzzer.com
That was just another example of why Howard cannot be a real leader on a team, something that Kobe Bryant seemed to sense during Dwight's brief stint with the Los Angeles Lakers. Between his diva mentality and aging talent, Howard's contributions will always come with a qualifier, no matter how good the stat lines look. 
Indefensible Defense
It was a dominant offensive performance for Houston through three quarters and a lackluster defensive effort for all four quarters. The problem with any up-tempo offense is that it gives the opponent plenty of opportunity to score as well. 
The Rockets defense is bad but not awful. They rank 16th in the league in points allowed per 100 possessions, giving them a middling efficiency rating (per NBA.com). Since their offense ranks third in efficiency, they should be able to outrun most opponents.
Unfortunately, Houston faced the league's fourth-most efficient offense on Wednesday night in the form of the Mavericks. The Rockets dominated the game with their relentless scoring and had 101 points heading into their fourth-quarter collapse. The shots stopped falling, and the Mavs took control of the tempo.
Dallas outscored Houston 36-19 in the fourth. For the game, Dirk Nowitzki and Monta Ellis combined for a staggering 72 points, which came on 26-of-38 shooting no less. The Rockets dominated scoring in the paint 56-36, but Dallas killed Houston with their mid-range game, as shown in the shot chart. Of course it would have been nice if Howard had actually blocked a shot, but the real killer was the soft underbelly of Houston's D.

ESPN
It's not like Houston lacks good defenders. Patrick Beverley is relentless and Howard is a three-time Defensive Player of the Year award winner. Parsons brings high energy on both ends of the floor and does not lack for effort. It's just too bad that Howard cannot find a way to coexist with Omer Asik, as that makes for a stout defensive pairing. 
One large problem has been the almost complete lack of interest that James Harden has shown on defense. While some of his disinterest on that end could have been attributed to the foot injury that held him out of the Nov. 13 game against the Philadelphia 76ers, Harden seems sure to be a defensive liability more often than not.
It seems that defense will be Houston's bugaboo going forward, and fixing that will be a long-term project. But for now the team can be encouraged about Howard's resurgent performance in the post which came just as some respected voices were sounding the death knell for him.
Still, coach Kevin McHale will somehow have to shore up the Houston defense if this team is to have a genuine chance for advancing in the postseason.