The Citadel Bulldogs vs. Clemson Tigers: Complete Game Preview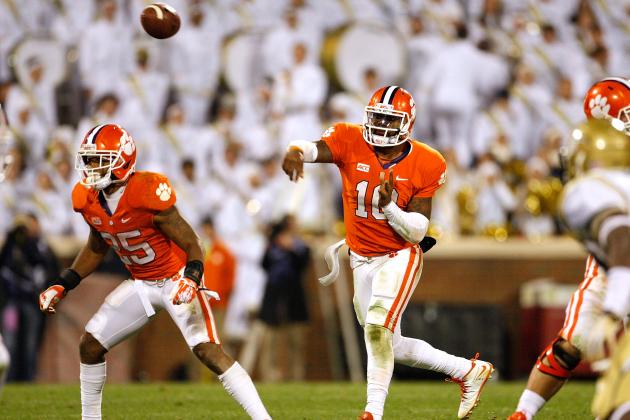 Tyler Smith/Getty Images
Clemson quarterback Tajh Boyd hopes for a great home finale this week.
Last week's results:
No. 7 Clemson (9-1, 7-1 ACC) beat Georgia Tech 55-31.
The Citadel (5-6, 4-4 Southern Conference) beat VMI 31-10.
Will Clemson look ahead to South Carolina?
This game comes at a good time on the schedule for Clemson: For the first time in Dabo Swinney's five-year tenure, Clemson has scheduled an FCS opponent the week before its rivalry showdown with South Carolina. Just like Georgia Tech, The Citadel runs a triple-option offense. But it begs the question: Will the Tigers, a 42.5-point favorite come out flat or think about their looming rivalry game this week?
Swinney doesn't think so.
"We don't have time to peek ahead. We have Monday, Tuesday, Wednesday preparation to go through, we have a preparation process to deal with each day, regardless of the opponent. We believe in it very much. It's very proven and very productive on game day. That's what we do. If the game turns out where guys can get a little rest, that's great. The objective is to win a football game."
Swinney first became aware of The Citadel as a University of Alabama senior receiver in September 1992. The Crimson Tide faced Arkansas, which was guided by interim head coach Joe Kines. Why? Because head coach Jack Crowe had been fired a week earlier after losing to The Citadel.
A side note: Clemson legend Danny Ford was brought in as a consultant by Kines later that season and took over as Arkansas' head coach in 1993.
"I didn't know who The Citadel was in 1992. That was literally the first time I'd heard of The Citadel. They beat Arkansas," Swinney said. "You better be ready each and every week. You don't play with great passion, toughness, attention to detail, can't do the things you need to do to win games, you'll get beat. I don't care what sport it is, what level it is, how much discrepancy it is, you'll get beat."
How will Clemson send off its seniors?
When Swinney took over for Tommy Bowden in December 2008, Clemson's recruiting was struggling. The Tigers' Class of 2009 had suffered defections due to Bowden's resignation under pressure in October 2008 and the subsequent uncertainty over who would be Clemson's next head coach. So Swinney made the decision to sign a 12-man 2009 class (which he dubbed "The Dandy Dozen") and carry over scholarships to the following season.
Seven players remain from that class: quarterback Tajh Boyd, linebacker Quandon Christian, tailback Rod McDowell, guard Tyler Shatley, linebacker Spencer Shuey, tight end Darrell Smith and offensive tackle Brandon Thomas. Saturday, they'll play their final home game alongside four other scholarship seniors in kicker Chandler Catanzaro, long snapper Phillip Fajgenbaum, cornerback Darius Robinson and corner Jerrodd Williams.
It is a small but decorated class. Boyd, Christian, McDowell, Shatley, Shuey, Thomas, Catanzaro and Fajgenbaum are starters. Boyd owns more than 50 Clemson single-season and career passing records and owns the ACC's career passing touchdown record. And a win Saturday would give this class the most wins over a four-year period by a Clemson senior class since 1984. With three more wins, it will reach 39 and tie the 1991 team for second-most by a class in Clemson history.
The class has won an ACC title and won or shared two ACC Atlantic Division titles. As Swinney's first Clemson recruiting class, they hold a special place in his heart.
"They transformed Clemson. Changed the culture at Clemson. They set the standard and made it realistic to achieve that standard," he said. "They've done things that have never been done. They have a ton of records, a ton of (firsts), did a lot of things that have not been done in a long time here on their resume.
"This group came here at a time of total change and no guarantees, and took a leap of faith with me as a head coach and in Clemson. What a journey it's been. They're part of the bricks and mortar and have laid a foundation for our future success."
Is this Sammy Watkins' final game in Memorial Stadium?
Watkins won't be honored alongside Clemson's seniors, but the odds are good that this is his final home game in a Clemson uniform. The standout junior wide receiver has recovered from a down sophomore season in a big way, piling up 71 receptions for 1,086 yards and nine touchdowns. He is projected as a top-15 pick in the 2014 NFL draft, and Swinney himself has said that Watkins is a top-10 pick and has "a big decision to make" at season's end.
Watkins is a semifinalist for the Biletnikoff Award, given to college football's top receiver. He is seven yards behind DeAndre Hopkins for the program's career receiving-yardage record and 22 receptions behind Aaron Kelly for the program's all-time receptions mark (which took Kelly four years to accomplish).
"Coming into this season it was about dominating every team, putting my face back on Clemson and letting everyone know I can play and be that same guy from my freshman year," he said. "I came in this summer, worked the hardest I've ever worked, and it's showing on the field. I'm practicing hard every day, doing the little things right, and coach can't ask for more from me than me."
Watkins says he'll evaluate his draft status following the season but admitted he is getting a lot of contacts from potential agents and financial advisers, which he is ignoring for now. Clemson fans would be wise to get a look at him while they can.
Time: Noon, Saturday.
Place: Memorial Stadium, Clemson, S.C.
TV: ESPN3.com (online only)
Radio: Clemson and The Citadel radio networks (regional).
Spread: Clemson -42.5 via vegasinsider.com
*Unless otherwise noted, all quotes for this article were obtained directly by the author.
Begin Slideshow

»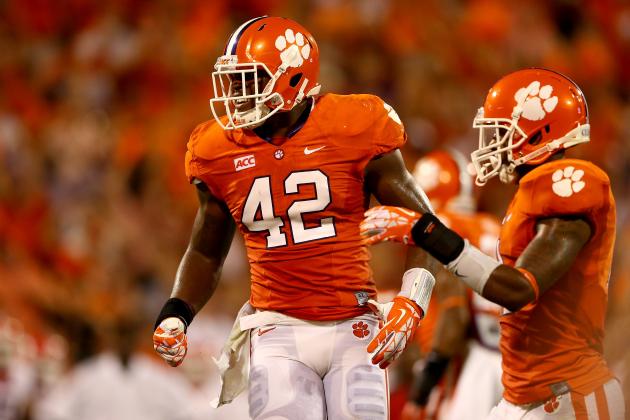 Streeter Lecka/Getty Images
Clemson's defense will be tested by The Citadel's triple option.
Stop the option
Much like last week's opponent, Georgia Tech, The Citadel runs the triple option. That's a positive for Clemson: Defensive coordinator Brent Venables said there is a significant amount of carryover from the Tech game plan. The Bulldogs average 282.1 yards rushing per game, with 158 of their 212 first downs coming from rushes.
Clemson showed solid discipline against Tech's flexbone option, holding the Yellow Jackets to 248 yards rushing, below their season average of 311. However, Venables wasn't altogether pleased, noting a 65-yard touchdown by back Robert Godhigh and 60 yards rushing on a fourth-quarter drive with the game well in hand.
Take control early
With South Carolina looming next week, Clemson's ideal scenario would be to take The Citadel out of the game early, get its starters to the sidelines and get young players valuable experience. Boyd is beat-up, battling through a bruised collarbone as well as ankle and knee injuries.
In addition, players like new starting right tackle Isaiah Battle need a lot of snaps to prepare for the Gamecocks as well as Clemson's bowl game. Letting the Bulldogs hang around for three or four quarters is not how the Tigers want to head into their biggest game of the season. Clemson owns a streak of 17 consecutive double-digit wins over unranked opponents, currently second-longest nationally behind Alabama.
Force turnovers
Clemson's defense has been very active this season, forcing 25 turnovers. Meanwhile, the offense has committed only 15, creating a plus-10 turnover margin, or 1.0 per game. Clemson has intercepted a pass in 13 consecutive games, the longest active streak in the nation. It is the program's longest streak since 1981-83, when the Tigers picked off a pass in 25 consecutive games.
If the Tigers can get an early turnover or two and cash them in Saturday, it could take the bite out of the underdog Bulldogs very, very quickly.
Rob Kinnan-USA TODAY Sports
The Citadel will be a heavy underdog at Clemson's Senior Day.
Break big plays
Despite its improved play last week against Georgia Tech, Clemson's defense remains vulnerable to big plays against the option, and big plays in general. The Tigers have allowed 10 plays of 50-plus yards this season, including two to fellow FCS foe South Carolina State earlier this season.
Last week, Tech back Robert Godhigh broke a 65-yard touchdown run and became the first opposing player in Memorial Stadium history to pile up 100 yards rushing and receiving in the same game. Perhaps the Bulldogs could find a way to sneak him into a uniform this week.
Keep your poise
At 5-6, this will be the Bulldogs' season finale. Essentially, it is their bowl game, a final chance to impress before the pads and helmets are stowed away until spring practice. Emotions will be high in Memorial Stadium as Clemson honors its senior class and celebrates Military Appreciation Day, always an important day given CU's military history. The Citadel can't afford to be rattled by an expected sellout crowd of 80,000. If that happens, its hopes of an upset will disappear quickly.
Strike first
With Clemson as a 42.5-point favorite, Memorial Stadium will hope for a quick destruction of The Citadel, a happy sendoff for the Tigers' seniors and a quick trip back to the parking lots and tailgates.
The Bulldogs hope to hang around a while longer. To do so, they'll need to seize momentum. And nothing would make Clemson doubt itself like a quick touchdown. The Bulldogs must start quickly and make the Tigers think.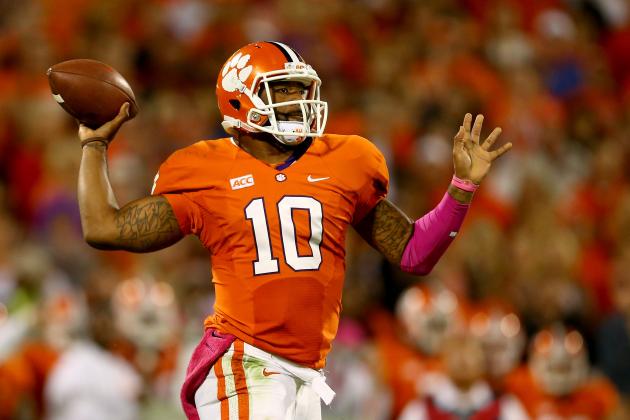 Streeter Lecka/Getty Images
Tajh Boyd has enjoyed one of the most decorated careers in Clemson and ACC history.
Senior QB Tajh Boyd
When he suffered a collarbone injury last week against Georgia Tech, Boyd heard a "crunching sound" and initially thought his college career was over. It turned out to be just a bruise, and the decorated senior quarterback will play his home finale this week. Boyd holds more than 50 Clemson single-game, single-season and career records and has 24 touchdowns against seven interceptions this season, averaging 296 passing yards per game. He also has eight rushing touchdowns and will be motivated for a big effort in his final game in Memorial Stadium.
Junior WR Sammy Watkins
Watkins, a likely top-15 pick in April's NFL draft, could also be playing his final home game. He leads the ACC in receiving yardage (1,086), is second in receptions (71) and tied for first in receiving touchdowns (nine). He'll provide a serious test to The Citadel secondary, which gives up an average of 208 passing yards per game to opponents. Like Boyd, he'll also likely be motivated to put on a show in what could be his final Death Valley appearance.
Junior LB Stephone Anthony
Anthony is enjoying a standout junior season. His 95 tackles lead Clemson's roster, and his 11 tackles for loss are second behind junior end Vic Beasley. So are his four sacks. He'll surely pile up quite a few tackles Saturday against the Bulldogs' triple-option offense and will need to play disciplined and smart to keep big plays from happening.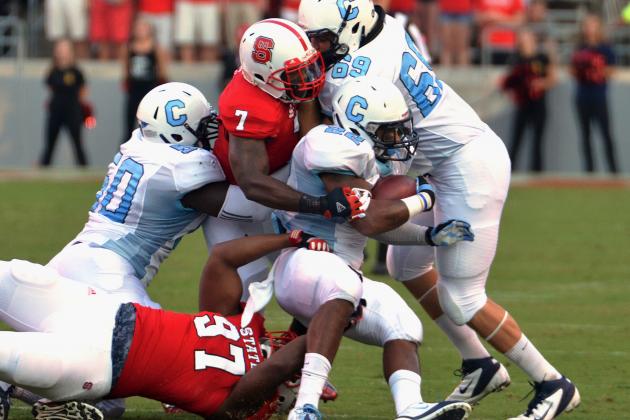 Rob Kinnan-USA TODAY Sports
Darien Robinson is a dangerous tailback in The Citadel's option scheme.
Senior QB Ben Dupree
Like most good option quarterbacks, Dupree is a dual threat. He has 939 rushing yards this season, averaging 85.4 yards rushing per game, and has 18 rushing touchdowns. His longest run is 73 yards. He also has 578 yards passing with three touchdowns and one interception. He'll need to be efficient for the Bulldogs to have any hope of an upset.
Senior RB Darien Robinson
Robinson is right behind Dupree as the Bulldogs' No. 2 rusher with 921 yards and seven touchdowns, averaging 83.7 yards rushing per game. He has seven rushing touchdowns, and his longest run is 62 yards. He also has 14 receptions for 183 yards and two scores, including a 65-yard gain.
Junior LB Carl Robinson
Robinson is by far the Bulldogs' best tackler with 92, 17 more than the team's No. 2 defender, James Riley. He also has four tackles for loss and a forced fumble. He'll need to be a constant presence in Clemson's backfield to slow down the Tigers' high-powered offense.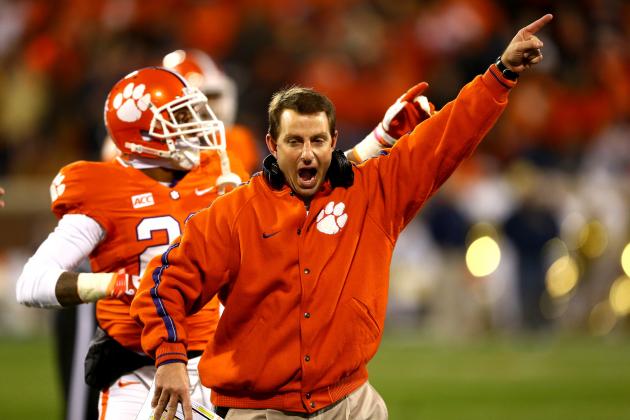 Streeter Lecka/Getty Images
Dabo Swinney sends his first recruiting class out this week in Memorial Stadium.
"It is just one of those really special times that gets frozen in time for these seniors as they have their last moments in Death Valley. This has been a special group to coach and be around the last four or five years. They are going for their 31st win this Saturday, and what an accomplishment that would be. I would say these guys have left quite a legacy here at Clemson." — Clemson coach Dabo Swinney, on his seniors' final home game Saturday.
"This is an offensive football team over the last three, three-and-a-half games that's kind of getting better every week. We've got some things we've got to clean up, got to get better, but that's every week. I think you're seeing guys play with a lot of confidence." — Clemson offensive coordinator Chad Morris, on an offense that is averaging 51.3 points per game over the last three weeks.
"It's special. I've thought about it through the course of the year, with time winding down. I was driving yesterday and thinking about it. Last week I realized it'd be my last night game in the Valley, and then this week will be my last game. It's going to be a wild ride, for sure." — Clemson senior quarterback Tajh Boyd, on his final collegiate home game.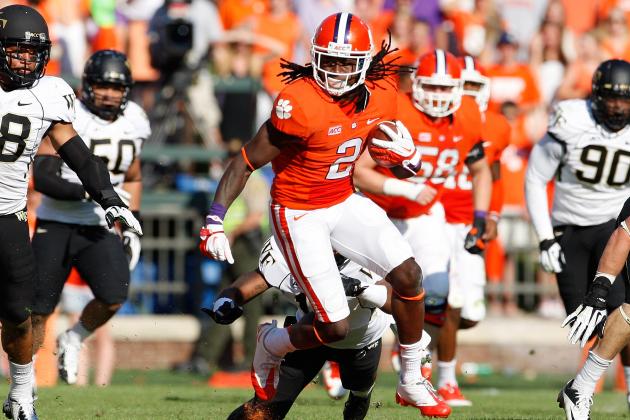 Tyler Smith/Getty Images
Sammy Watkins could be playing his final home game in Memorial Stadium Saturday.
The Citadel is perfectly positioned on Clemson's schedule between an always-tough game with Georgia Tech and next week's crucial rivalry matchup against South Carolina. The Tigers are ready for the Bulldogs' option scheme, which is very similar to Tech's system.
A perfect ending to the home season would be for senior quarterback Tajh Boyd to lead a few touchdown drives, with junior Sammy Watkins grabbing a score or two. Then, cede the stage to backup Cole Stoudt and allow young players to gain experience.
With Clemson listed as a 42.5-point favorite, that is likely to happen. The Tigers have been focused against lesser opponents, and on what will be an emotional Senior Day, expect that to continue. It's hard to expect much from a Citadel team that has already lost to in-state FCS foes Furman, Wofford and Charleston Southern. Clemson 55, The Citadel 10.
Connect with Greg on Twitter @gc_wallace