College Football Week 13 Predictions: Picking Top 25 Games Against the Spread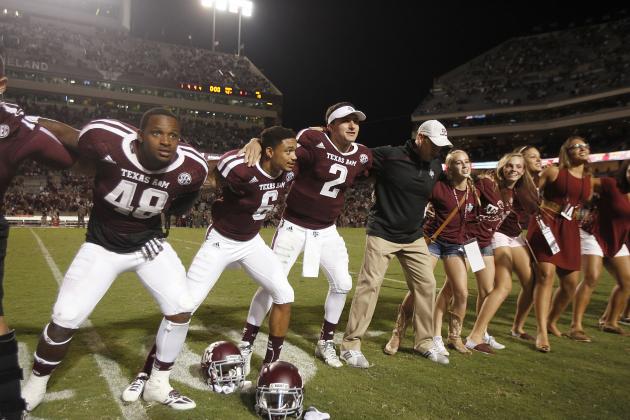 Thomas B. Shea/Getty Images

Those who bet Georgia last weekend experienced the full scale of gambling emotions. There was defeat and disappointment early on followed by a stretch of hope and excitement. Then there was elation and likely a solid string of bad celebratory living-room dance moves. And then there was heartbreak, the final portion of this cycle that ended on a play that will be watched for years.
Have no fear, Georgia backers. We're here to get you back on that point-spread horse. It's time to turn the page.
Week 13 has a bit of everything. There are marquee matchups with major BCS ramifications, and there are also point spreads that are so robust they should come equipped with a disclaimer and some Benny Hill theme music.
After another week above .500, it's time to do it all again, only better.
Picks Against the Spread Entering Week 13: 117-95-2
Spreads courtesy of VegasInsider.com
Begin Slideshow

»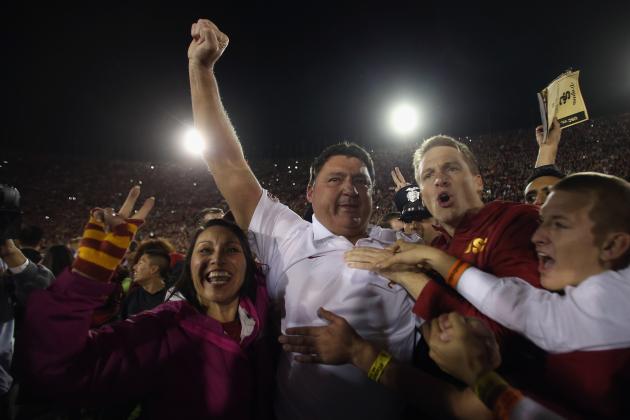 Jeff Gross/Getty Images

Hello, USC. Welcome (back) to the party.
The Trojans are back in the Top 25 thanks to an upset victory over Stanford, and Ed Orgeron is making things interesting in the USC coaching search. Not only that, but Orgeron is also making USC backers a bit of money.
Since taking over, the Trojans have covered five of six games, including the last four. The offense is finding a rhythm, and the defense continues to be stout. The turnaround has been remarkable, although now we have the ultimate road letdown scenario.
USC won't lose this game, but laying 22.5 on the road seems like a lot after last weekend, even against an inferior opponent like Colorado.
The Buffs are 3-1 against the spread at home, and they get this game at the right time. It won't be close, but it will be close enough.
The Pick: Colorado (+22.5)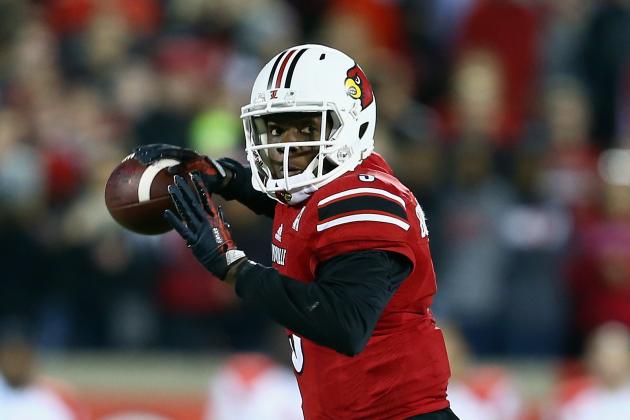 Andy Lyons/Getty Images

At some point, Louisville has to really blow someone out, correct? We're running out of weeks for this to be answered, although Memphis seems like a likely candidate to make this possible.
The Cardinals have covered once since Sept. 21 and fell well short of covering the 17-point spread against Houston in Week 12. They haven't been sharp since beating FIU 72-0, and quite frankly, who hasn't beaten FIU 72-0?
[glares awkwardly in the direction of Southern Miss]
Memphis is certainly improved this season, and the Tigers have won (and covered) the last two times out. The defense, in particular, has been much better, although this team isn't exactly an offensive juggernaut.
I'm falling back into the trap of taking Louisville, a trap I've fallen into a few times before this year. The Cardinals are better than they've shown this year, and I will say this until we've run out of games to prove it.
The Pick: Louisville (-24.5)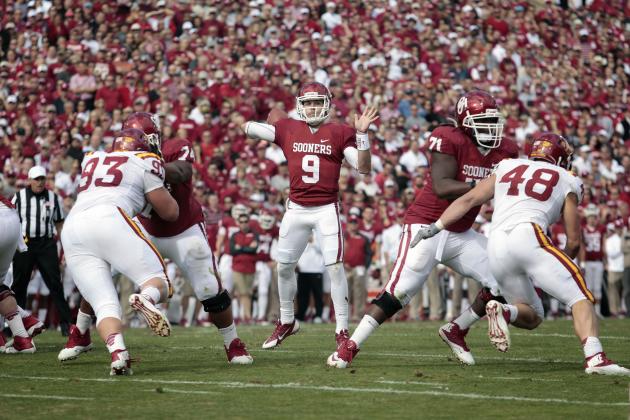 Brett Deering/Getty Images

A Top 20 team is getting points against an unranked foe, and this line is even more interesting given how Oklahoma looked in the second half against Iowa State.
Yes, it was Iowa State, but the offense looked looked like it found itself with Trevor Knight in the game. It's uncertain who will see the majority of the snaps at quarterback this week, although Knight seems like a likely choice.
Kansas State has somewhat quietly found a rhythm, winning its last four and covering five of the past six games. The Wildcats just barely edged TCU as a 12-point favorite in Week 12, however, breaking a streak of covers.
At home in Week 13, the oddsmakers seem to like K-State, as seen with this figure. And although Trevor Knight's performance was encouraging, the magic of Bill Snyder will be on display. That man is a wizard.
The Pick: Kansas State (-3.5)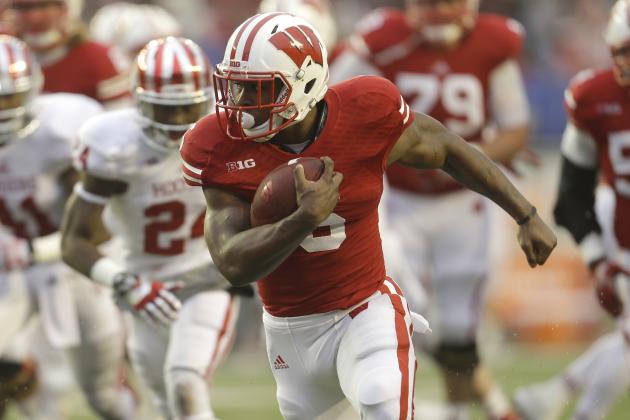 Mike McGinnis/Getty Images

If you've bet Wisconsin every week this year, you haven't lost. It's that simple, really.
With the Badgers' 51-3 beatdown of Indiana in Week 12, they are now 9-0-1 against the spread, the lone push coming against Ohio State.
Minnesota is no slouch itself by Vegas standards, covering the spread in seven of 10 games. The Golden Gophers also enjoyed the bye week prior to this week and will have the luxury of playing this one at home.
Sixteen is a significant number, given how well Minnesota has played and also the style of play we can expect to see. Both teams will likely run the ball a great deal, and the forecast high of 20 degrees—Big Ten weather is here, folks—tells me this will be a conservative game plan on both sides.
For that reason, let's play weatherman and take the points.
The Pick: Minnesota (+16)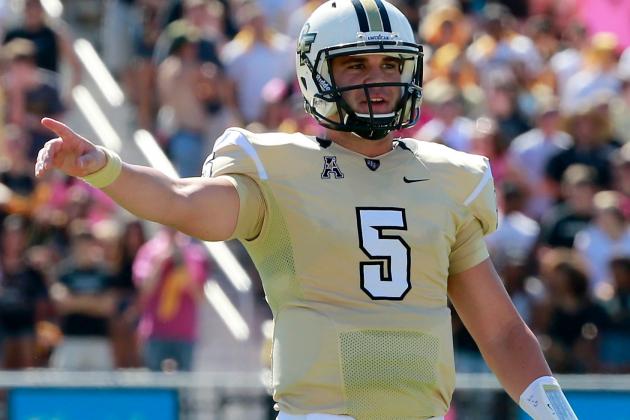 Sam Greenwood/Getty Images

As a 17-point underdog, Temple gave Central Florida everything it could handle and more in Week 12. The Knights needed a substantial comeback—fueled by this absurd grab—to walk away winners and stay in prime BCS position.
Despite the close call and non-cover, UCF is still a solid 6-3 against the spread and 4-1 against the spread at home. The Knights will now welcome Rutgers—the same Rutgers that just got housed by Cincinnati 52-17 in a pick 'em game.
The Scarlet Knights have lost four out of the last five against the spread, and the defense has not done well against teams that can throw the ball. With UCF quarterback Blake Bortles playing the way he is, this is not good news.
The Pick: UCF (-17)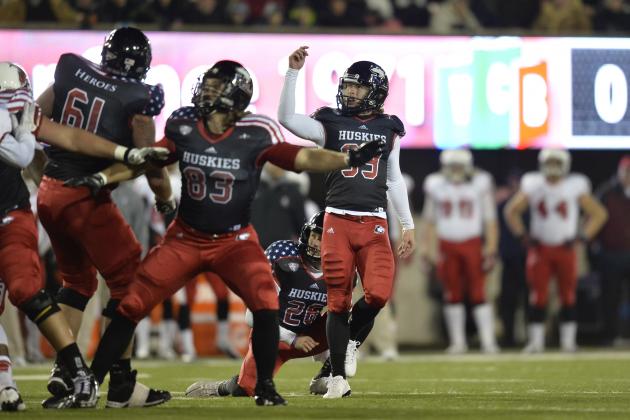 Brian Kersey/Getty Images

A fascinating MAC game gets an intriguing point spread. While small, it doesn't feel far off, given the results in recent weeks.
It's rare to see teams near the top 15 open up as just a field-goal favorite against an unranked foe, but Toledo has been superb. Two of the team's three losses came against Missouri and Florida (and this was before Florida went all Florida on us). The Rockets have also covered the last three games and four of five games at home.
Northern Illinois has now covered four consecutive games thanks in large part to a fascinating late cover against Ball State in Week 12. What was wrong with taking a knee?
Quarterback Jordan Lynch is worthy of the lofty praise and Heisman consideration he's receiving, although I believe such talk hits a roadblock here. Toledo is hot, and it stays hot with a big conference win (and small upset) in front of the home crowd.
The Pick: Toledo (+3)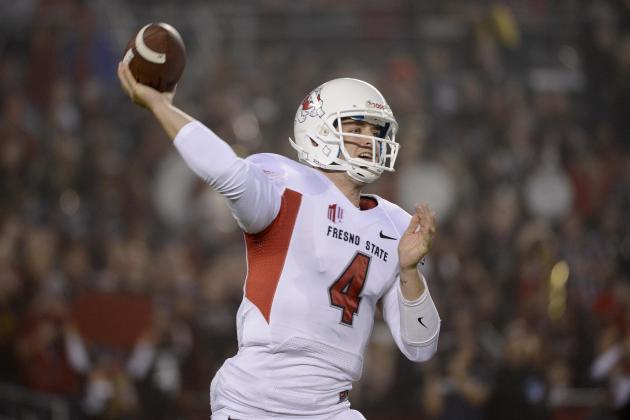 Donald Miralle/Getty Images

The New Mexico defense has...struggled. Yes, that seems appropriate. The Lobos have allowed 35 or more points in eight games this year and 40 or more points four times.
Just last week, New Mexico allowed 66 points to Colorado State at home.
Fresno State has an offense that should enjoy these stats, especially at home. The Bulldogs took their bye after an impressive 48-10 victory at Wyoming in Week 11. This win marked only the second time all season that Fresno covered the spread.
Despite the enormous number and Fresno's inability to pay Vegas backers in 2013, this is not a good matchup for New Mexico. Well, most matchups aren't good for New Mexico, but this one really isn't good.
Look out, 60-point threshold. Hello, cover.
The Pick: Fresno State (-31)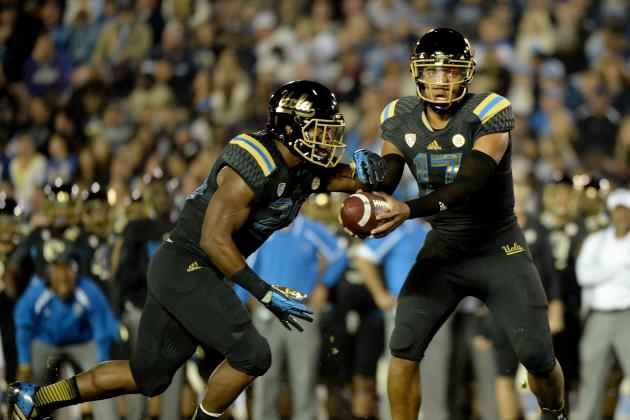 Harry How/Getty Images

Now this is a game that won't get the buzz or appreciation it deserves.
UCLA is a slight underdog at home, although this should come as no surprise at this point. The Bruins were only a small favorite against Washington last week (they covered) and were a small underdog to Arizona the week before (they covered and won).
For the season, UCLA is a solid 7-3 against the spread.
Arizona State did not cover in Week 12, missing the 13.5-point spread against Oregon State by the hook thanks to a late backdoor touchdown. On the year, the Sun Devils are 5-5 against the number.
Historically, UCLA has owned this series at home, covering against Arizona State eight out of the last 10 times. And despite the emergence of linebacker/running back Myles Jack, I'm putting that trend to the test here.
Big road win a-comin' for the better overall team.
The Pick: Arizona State (-2)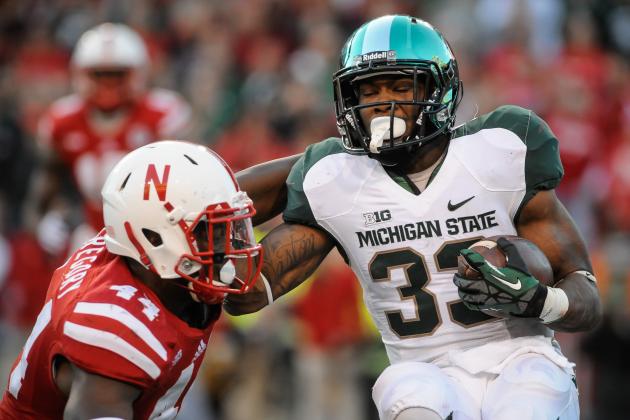 Eric Francis/Getty Images

Why on Earth is this point spread not larger?
Northwestern suffered its second consecutive heartbreaking loss against Michigan on Saturday, and Wildcat bettors are still wondering just how that last-second field-goal scene transpired.
Michigan State will now come to town after forcing approximately 3,796 turnovers at Nebraska, and the Spartans have covered five of the past six games. Defensively, Sparty gave up more than 20 points for only the second time this season, although there's no reason to panic.
So again, I repeat: Why isn't this a bigger spread? Northwestern's offense has struggled, and this is not the team you want to play if that's the case. Yet, in what should be brutally cold conditions in Evanston, this game could be closer than you think.
Vegas believes this to be the case, and for that reason so do I.
The Pick: Northwestern (+7.5)
Last year, LSU was the only team other than Florida to deliver the Johnny Football Kryptonite. This time around, the personnel has certainly changed, although the Tigers are not without athletes.
Still, if you like points, you'd better tune in. The over/under in this game is just a shade over 70, and the scoreboard operators will be busy.
Despite Texas A&M's impressive offensive output, the Aggies have only covered twice in the past six games. This will mark just the second time this season they have been an underdog, the first coming against Alabama. (Yes, they covered with a beautiful backdoor touchdown.)
LSU hasn't covered a spread in more than a month, although I believe that changes. Johnny Football will do Johnny Football things, but LSU running back Jeremy Hill should have a monster game against this front.
Also, never underestimate home field in the SEC.
The Pick: LSU (-4)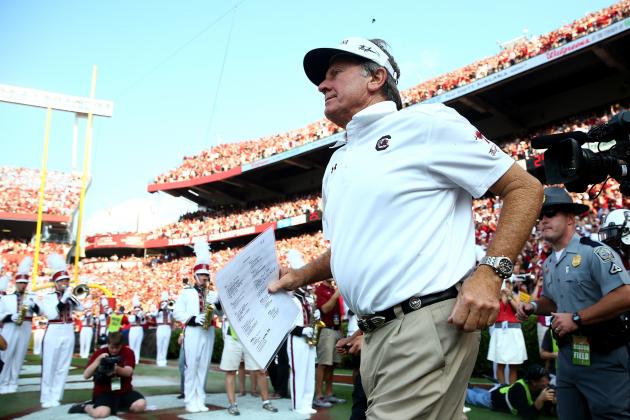 Streeter Lecka/Getty Images

Before we get into analysis, let's celebrate the fantastic Coastal Carolina's Chanticleers logo. That bird clearly has a steroid problem, and I love it.
Second, although we don't talk about Coastal Carolina often, this team is 10-1 on the year playing in the Big South. The Big South isn't exactly the SEC, but it felt important to acknowledge.
South Carolina, however, is in an interesting position. With its yearly game against Clemson on deck, the overall interest and intensity against Coastal Carolina will probably be minuscule.
The Gamecocks will certainly win, but Steve Spurrier will likely dig deep into his bench early. Let's take the points and hope the steroid birds show up enough.
The Pick: Coastal Carolina (+34.5)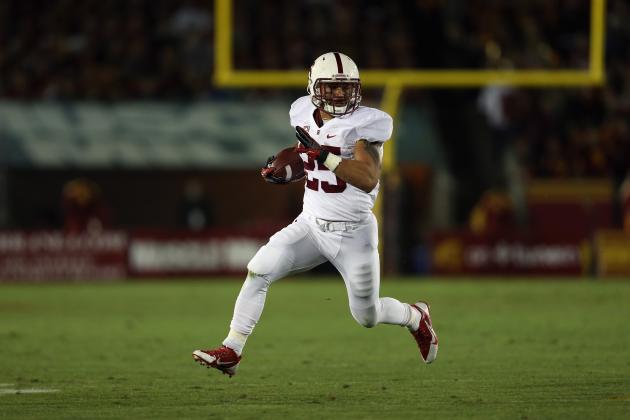 Jeff Gross/Getty Images

The Big Game has a big point spread.
Cal's lone win this season came against Portland State back in Week 2, and the results against the spread aren't much better. The Bears have covered just twice despite dealing with large numbers all year, and that about sums up the season.
For Stanford, how will it bounce back after losing at USC? The win here won't be a problem—this much we know—but the 32.5-point margin is a different story. Thus far, this hasn't been an offense that blows teams out.
As bad as Cal is—and it is not pretty—Stanford has not scored above 32.5 points since September. That will likely change in this game, but Cal should be able to muster up enough points to cover this number.
The Pick: Cal (+32.5)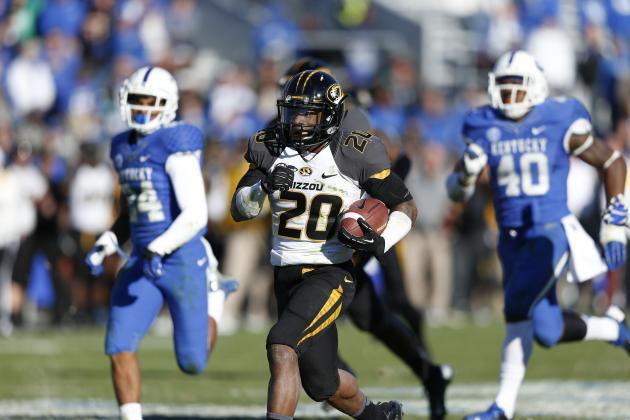 Joe Robbins/Getty Images

That sound in the distance is the Vegas siren blaring. Please proceed in an orderly fashion away from the side the oddsmakers are begging you to take.
Missouri is absolutely rolling, and starting quarterback James Franklin should be back this week. The Tigers have lost just one game against the spread, and the season has been perfect outside 11 or so minutes against South Carolina.
So what's with this number?
Ole Miss has quietly worked its way back into the Top 25, winning the last four and covering in four of the last five. Outside of being shut out against Alabama, even the losses (Auburn and Texas A&M) would be considered "good" losses. The Rebels were competitive against both teams.
This line tells you everything. Look for The Grove to be slightly more awesome than usual and the home underdog to come away victorious.
The Pick: Ole Miss (+2.5)
Streeter Lecka/Getty Images

After leaving with an injury against Georgia Tech, Clemson quarterback Tajh Boyd will play in this game. Well, he will start, but he might not play long.
Much like South Carolina—its opponent in Week 13—Clemson's Week 12 opponent doesn't exactly generate much excitement or fear. (Sorry, Bulldogs. And yes, that's The Citadel's mascot.)
With a significant matchup on deck, however, the approach might be similar. Score some points, score a few more points and then make good use of the depth chart in the final home game of the season.
Sure, The Citadel lost to Charleston Southern earlier this year, but I like this spot better. Not to win, goodness no, but to compete enough with Clemson's backups' backups.
The Pick: The Citadel (+39.5)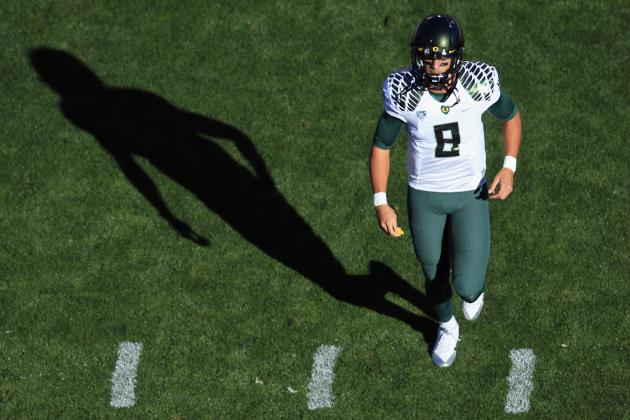 Doug Pensinger/Getty Images

Marcus Mariota has yet to throw an interception for Oregon. That has no actual significance for this game, but this is a reminder that it's Week 13 and that is ridiculous.
After a slow start against Utah last week, the Ducks eventually picked it up. They did not cover the 28.5-point spread, although the 44-21 victory was convincing enough. Well, unless you bet Oregon.
Arizona's season was moving along swimmingly, and then the last two weeks happened. The Wildcats hung tough with UCLA but could not pull off the win. Then Washington State came to town and won outright as an 11-point underdog.
Neither team has covered a game in the month of November, although something has to give here. Oregon should win this one comfortably, but not too comfortably on the road.
I'll take the three touchdowns and hope last week was just one of those "whoops" situations.
The Pick: Arizona (+20.5)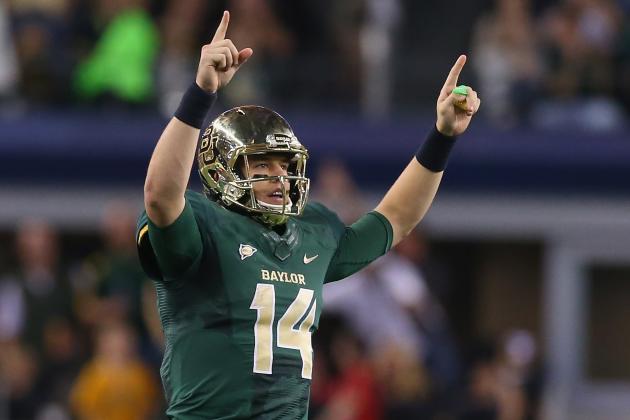 Ronald Martinez/Getty Images

This has the makings to be a phenomenal football game, although it might not deliver the Big 12 basketball score most are expecting. While the points may not approach obscene levels, there will still be plenty of scoring.
What's perhaps most interesting about this matchup is that Baylor will be playing only its third official road game of the year. Last week's win (and cover) against Texas Tech was not in Waco, but rather at a neutral site.
Oklahoma State has watched its offense improve weekly, and the Pokes have not lost against the spread since early October. They've also won (and covered) their past five games at home against Baylor.
Granted, this is a much different Baylor team (albeit one that is pretty beat up right now).
While I believe the Bears will find a way to win this game, home field looms large. Stillwater will play an enormous role in this game, keeping Oklahoma State close until the very end.
The Pick: Oklahoma State (+9.5)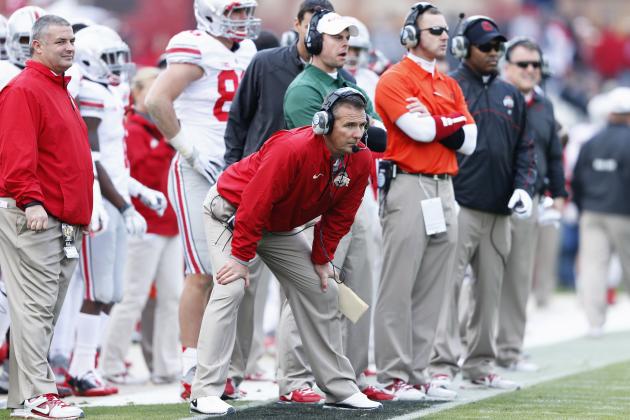 Joe Robbins/Getty Images

For the third week in a row, Ohio State is at least a 30-point favorite. It's 1-1 against the spread in these games, easily cruising past this spread against Purdue but falling short of this lofty number against Illinois.
And despite seemingly handling everyone in their way, the Buckeyes continue to dwindle in the BCS.
Engage: style points.
Indiana was just blasted by Wisconsin, having no answer for a strong rushing attack. It gets Carlos Hyde this week, which is about the worst possible news you can be handed if you're a defense on its heels.
Although the Hoosiers nearly upset the Buckeyes last year, this is a different team and a different stadium. Outside of its own stadium, Indiana has yet to cover against the spread.
The Pick: Ohio State (-34.5)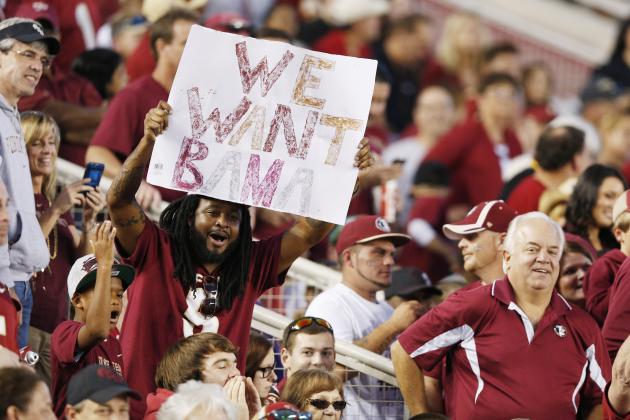 Joe Robbins/Getty Images

You're looking live at one of the largest point spreads ever generated for a college football game. It's not the all-time highest, but rarely do two FBS teams see a number this high.
Florida State will enter this week as more than an eight-touchdown favorite, and at this point the line feels warranted. As 34- and 38-point favorites, FSU beat conference foes by the score of 59-3 in consecutive weeks. That's just weird. It's also impressive.
This will be the sixth game this year that Florida State is at least a 34-point favorite or higher. It's worth noting that the Seminoles are 4-1 against the spread thus far.
Idaho, meanwhile, just gave up 59 points...to Old Dominion. That's problematic, although Florida State will have the backups in before the first quarter ends.
I just can't lay 57.5 points. I don't feel good about taking them against this team, but I will. IT'S 57.5 POINTS.
The Pick: Idaho (+57.5)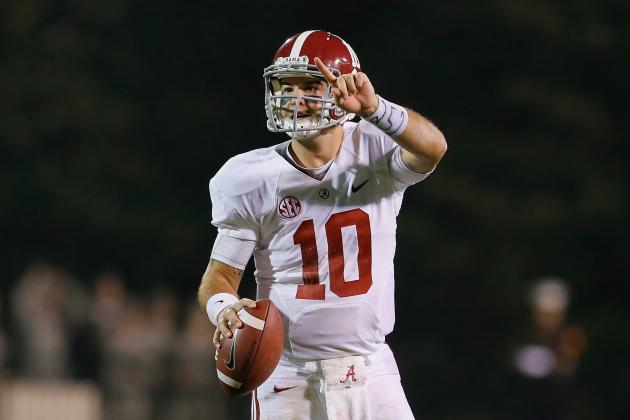 Kevin C. Cox/Getty Images

After a disappointing win against Mississippi State, Tennessee-Chattanooga will serve as Alabama's pre-Iron Bowl appetizer. Yes, the same Tennessee-Chattanooga that just lost to Samford last weekend. It was close, though.
This puts head coach Nick Saban in an interesting scenario.
Alabama can't be heading into the home stretch playing like it did against Mississippi State. With that said, you probably don't want to risk injury in a game like this, either.
Historically, Saban has pulled his foot off the pedal in games such as these—see Georgia State earlier this year—but the Alabama backups, and their backups, and their backups would start on the other team.
This won't be a statement game by any means, but it is a time to get right before things get serious again.
The Pick: Alabama (-49.5)