Dallas vs. NY Giants: Full Roster Report Card Grades for New York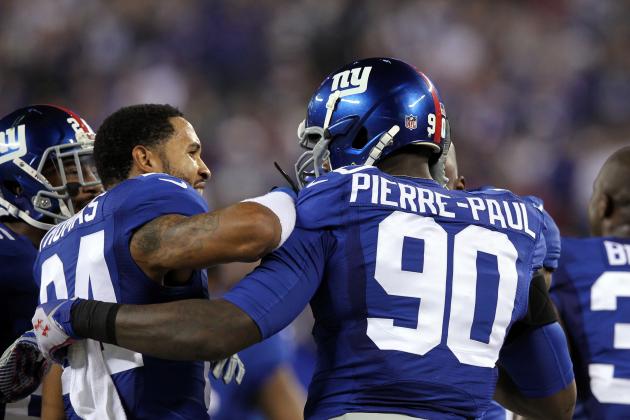 Brad Penner-USA TODAY Sports

Dallas Cowboys 24, New York Giants 21
It's hard not to wonder what might have been if only the New York Giants had played as good of a game as they talked leading up to their critical division showdown with the Dallas Cowboys.
Defensive end Jason Pierre-Paul, who kicked off the chatter by declaring that the Giants would "put it on" the Cowboys, was virtually a non-factor in the game, coming up with just one tackle.
Safety Antrel Rolle, who backed up Pierre-Paul's prediction that the game would be a blood bath, finished tied for first in total tackles with six.
However, when he moved to the slot cornerback spot due to injuries, he was one of the contributors who couldn't stop the Cowboys' game-winning drive.
Well, at least cornerback Terrell Thomas, who was indifferent about whether his declaration that "we're gonna win this game" made the Cowboys' bulletin board, played a solid game.
It didn't matter, however, as the Giants' season-long struggles in the red zone and on third down, and the defense's struggles against a healthy NFL starting quarterback, were obstacles that they couldn't overcome in a game that they desperately needed to win.
The loss drops the Giants to 4-7, and, even worse, gives the head-to-head tiebreaker to the Cowboys, who are also 4-0 against NFC East foes for the first time since 2007.
While the Giants are not mathematically out of the playoffs, it's time to face facts. This team, as currently configured, is going nowhere this year.
Still, that's a hard truth to swallow, as in the dejected Giants locker room, there were still embers of hope flickering, albeit in hushed tones.
"We've got five games left and we have to win every one. That's the only way that will possibly give us a chance," said quarterback Eli Manning during his postgame press conference.
"We don't know if that's going to be good enough, but that's the only way."
Begin Slideshow

»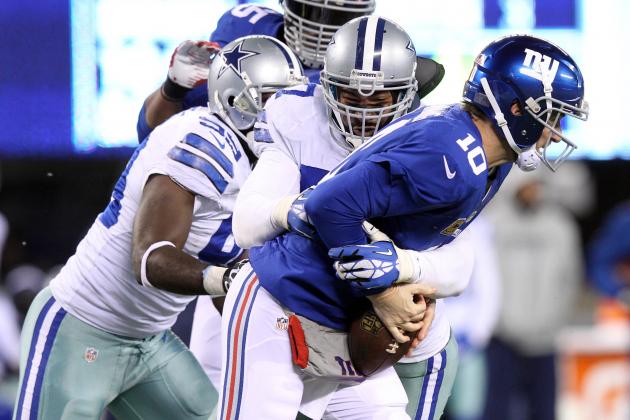 Brad Penner-USA TODAY Sports

Eli Manning
The good news is that Manning didn't throw any interceptions.
The bad news is that ever since the coaches have moved away from the deep pass, Manning's weekly numbers just haven't been worth writing home about.
This week, he completed 16 of 30 pass attempts (53.3 percent) for 174 yards and two touchdowns. Credit Dallas for taking away Victor Cruz for the majority of the game, while the other receivers failed to fill the void that Manning faces due to the lack of a healthy Hakeem Nicks and a tight end who can separate.
While Manning mostly had a clean pocket, the short-passing game that the Giants have shifted to in order to help take some of the pressure off the offensive line just doesn't seem to be meshing with his strengths.
It also didn't help that, despite the presence of a running game, the play action was missing this week.
It also didn't help that his blocking couldn't keep Dallas' defensive front from pushing the pocket, oftentimes resulting in Manning attempting to throw passes into tight spaces.
However, let's not put this all on the shortcomings of others.
Manning hasn't looked anywhere near the two-time Super Bowl MVP who used to generate fourth-quarter magic that would make Tom Brady's big comeback against Denver on Sunday night look like child's play.
He continues to miss wide-open receivers. He's also taking far too long to get his offense set, which is why he had one delay of game penalty and would have had another were it not for him taking an emergency timeout.
Last, but not least, he appears to be changing plays at the line of scrimmage far too often to those that are just not producing the desired results.
Unit Grade: C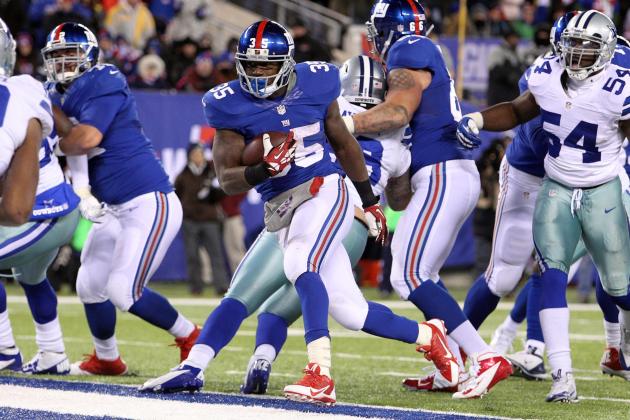 Brad Penner-USA TODAY Sports

Andre Brown, Brandon Jacobs, John Conner (fullback)
Head coach Tom Coughlin always preaches balance on offense, but in retrospect, he might have been better off sticking with the running game, which was the team's hot hand.
Brown and Jacobs combined for 202 yards rushing on 30 carries. That's an average of 6.7 yards per rush, the running game's best per-rush production this season.
Brown (127 yards, 21 carries), in particular, was electric, recording his second 100-yard rushing game of the season by topping his impressive 115-yard performance from two weeks ago.
Jacobs (75 yards, 9 carries) turned back time to 2007, when he was a force with which to be reckoned. He ripped off a nice 37-yard rush that was the Giants' longest run from scrimmage this season.
It was also the Giants' first rush to go for 20 or more yards since David Wilson and Kregg Lumpkin had runs of 25 and 22 yards, respectively, on Dec. 16, 2012 vs. Atlanta.
Conner, who shook off a hip flexor injury to deliver more punishing lead blocking, had a big hand in those totals by throwing numerous effective seals and kick-out blocks that moved guys out of the holes.
Unit Grade: A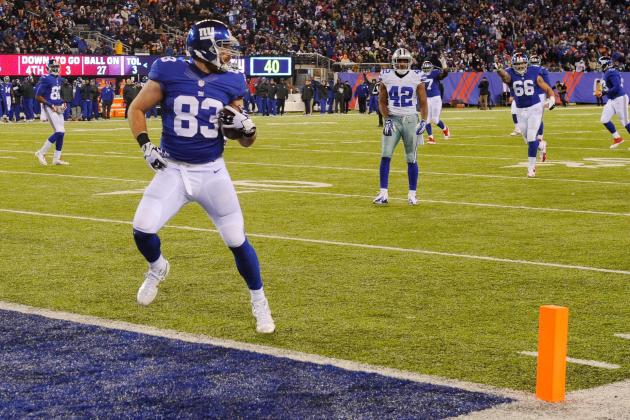 Robert Deutsch-USA TODAY

Brandon Myers, Bear Pascoe
Give Myers (39 yards, 3 receptions, 1 drop) credit for alertly getting off the ground after making a red-zone reception and getting into the end zone when he realized that no Cowboys defender had touched him.
As a blocker, Pascoe (5 yards, 1 reception) remains the better of the two, though he routinely makes his mark as a blocker by simply getting in the way rather than by throwing game-defining blocks.
Myers had some decent seal blocks, but when it came to short yardage, he gets no push, which was as frustrating to watch as the Giants' continued insistence on running ill-fated screens.
Perhaps the hope is that Myers will one day morph into a forceful edge-blocker. If it hasn't happened by now, then the odds of it happening within the next five games are slim to none.
Unit Grade: C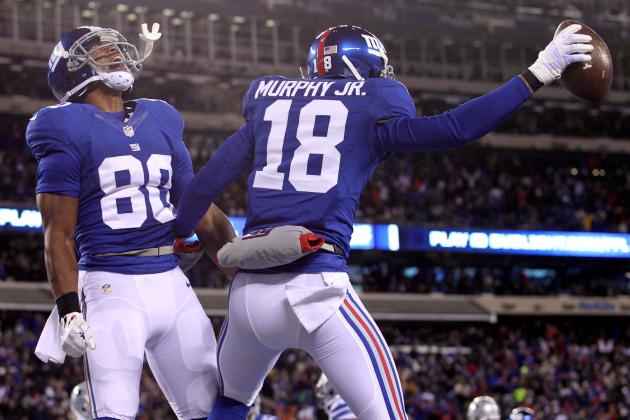 Brad Penner-USA TODAY Sports

Victor Cruz, Ruben Randle, Jerrel Jernigan, Louis Murphy
Facing a Cowboys defensive secondary that has struggled, the Giants receivers couldn't separate or consistently make big plays.
In addition, when a running back—in this case Andre Brown—ends up with more receptions (four) than the receivers, that means that the receivers were either not getting open or the quarterback wasn't seeing them when they were open.
At times, Randle (64 yards, 3 receptions) looked like a stud; at others, he looked like a dud, especially with his route running, which continues to be inconsistent.
In the third quarter, Randle had single coverage against a cornerback, but instead of him getting off his block and into a pattern, receiver and quarterback were not on the same page on the sight adjustment.
The result? An incomplete pass.
Cruz (27 yards, 2 receptions) drew a lot of attention from the Cowboys, who did not want to be burned by him.
Interestingly, the Giants rarely attacked the middle of the field against the Cowboys' linebacking corps, which was missing two starters. Add that to the list of head-scratching decisions by the coaching staff this week.
Jernigan (24 yards, 2 receptions) also struggled as a receiver. His biggest contribution in the game ended up being a downfield block that helped spring Randle for his 64-yard catch-and-run.
Murphy (4 yards, 1 reception) made amends for his route-running red-zone blunder against Green Bay by running a perfect corner route and getting himself open for a touchdown pass that Manning probably could have taken in himself.
Add it all up, and the Giants' wideouts caught just nine passes (out of 19 targets). That's terrible production.
Unit Grade: C-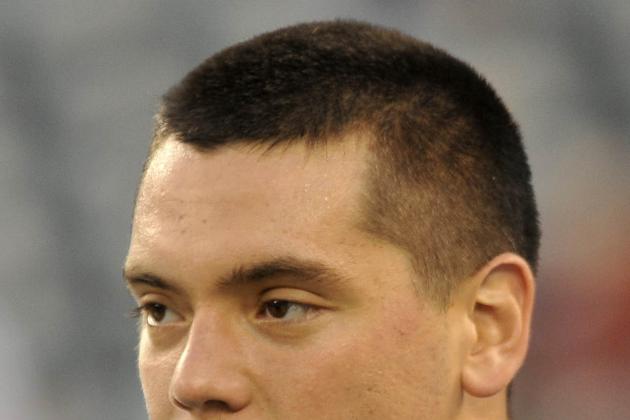 Joe Camporeale-USA TODAY Sports

LT William Beatty, LG Kevin Boothe, C Jim Cordle, RG David Diehl, RT Justin Pugh, LG James Brewer
On 30 passing plays, two ended up in a sack and three resulted in Eli Manning being hit. That's 16 percent of the plays in which the offensive line came up short.
We'll start with Beatty, who went against DeMarcus Ware for the bulk of the game. Beatty was called for a blatant holding penalty when he bear-hugged Ware, who had beaten him around the edge.
It was, at times, alarming how Ware was successful in pushing the pocket. Quite simply, Beatty is not being true to his pass-blocking technique, though his run blocking was just fine.
Pugh continues to turn in a solid weekly effort and does so with virtually no help blocking. He didn't allow many, if any pressures, and was just as effective with his run blocking. Pugh was easily the offensive line's best performer this week.
Boothe started out at left guard, where he had some hiccups in pass blocking, but when he slid over to center for Cordle, he was a different player.
One of the great mysteries of the 2013 season is why Boothe, who has typically done better at center than guard, wasn't moved to center when David Baas went down with a season-ending knee injury.
Likewise, when Brewer came in at left guard, he also played an efficient game in both pass blocking and run blocking.
This season, Brewer has shown himself to be much better inside as opposed to playing in space. It's a mystery as to why the coaches refuse to stick with him playing inside, instead lining him up as a jumbo tackle, where his blocking lacks bite.
Diehl was part of the breakdown on both of the sacks against Manning, as he struggled to defend nearly every pocket pressure. Diehl was so ineffective in pass blocking that it was, at times, painful to watch.
The good news is that his run blocking was about as pristine as it could be, as he executed some long pulls with virtually little effort.
Cordle, who suffered a knee injury in the second quarter, had a tough time of it against the Cowboys interior, whiffing on one block that resulted in a sack and struggling to create space in the running game.
A hard-working and genuinely good guy who gives as honest of an effort as one will find, Cordle didn't suffer a torn ACL, but it sounds like he might be sidelined for a bit.
Unit Grade: D+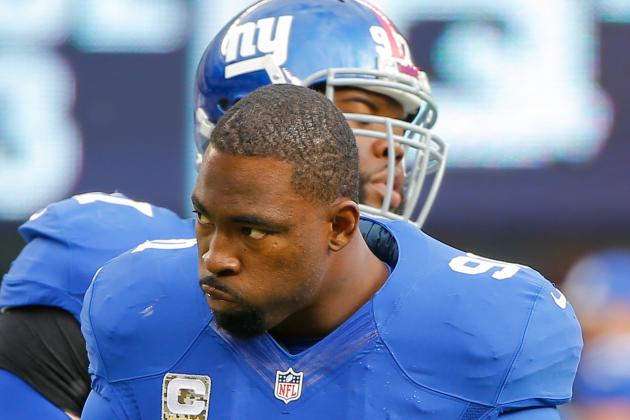 Jim O'Connor-USA TODAY Sports

Starters: Justin Tuck, Mathias Kiwanuka; Backup: Jason Pierre-Paul
To say that it wasn't a very productive game for the defensive ends would probably be an understatement.
Tuck, the best of the bunch, managed one sack on the day, pressuring quarterback Tony Romo on more than a handful of early plays. He also did a nice job playing contain.
With that said, there were some negatives that included him reacting passively to a screen and then suddenly struggling in the pass rush in the fourth quarter with the game on the line.
Overall, Tuck (4 tackles, 1 sack, 1 tackle for a loss, 1 quarterback hit) made the most plays of the defensive ends, but his production was not enough to have an impact the game.
Pierre-Paul was literally no match for Cowboys tackle Tyron Smith. It didn't help that Pierre-Paul (1 tackle) played the game with a bad shoulder for which he needed X-rays after the game after re-injuring it. Still, after talking up such a good game, one might have thought there would be more fight in Pierre-Paul's game
Kiwanuka was also invisible for the most part, expect when he committed two third-quarter personal fouls, the roughing the passer infraction negating a turnover.
Unit Grade: D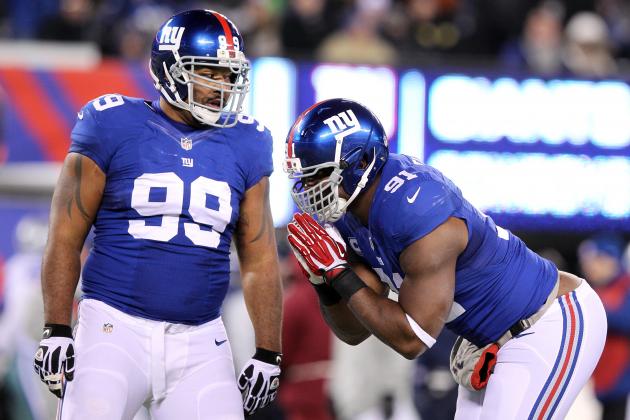 Brad Penner-USA TODAY Sports

Linval Joseph, Cullen Jenkins, Mike Patterson, Johnathan Hankins
This normally reliable group had a mixed showing this week.
As he's done all season, Joseph (3 tackles, 0.5 sacks, 1 tackle for a loss, 1 quarterback hit) was effective between the tackles, mucking up the inside running lanes and forcing the Cowboys to try to run the ball to the edges.
Joseph also pushed the pocket as he always does, but he failed to get consistent pressure against quarterback Tony Romo.
Jenkins (2 tackles, 2 sacks, 2 tackles for a loss, 2 quarterback hits) was the star of the group, his sacks stunting Dallas scoring drives. Working against rookie center Terence Frederick, Jenkins had little difficulty against the young player.
Patterson (one tackle) played one of his quietest games of the year, at times looking as though he was moving at half speed.
Hankins was given a handful of snaps, but he didn't dent the stat sheet.
Unit Grade: C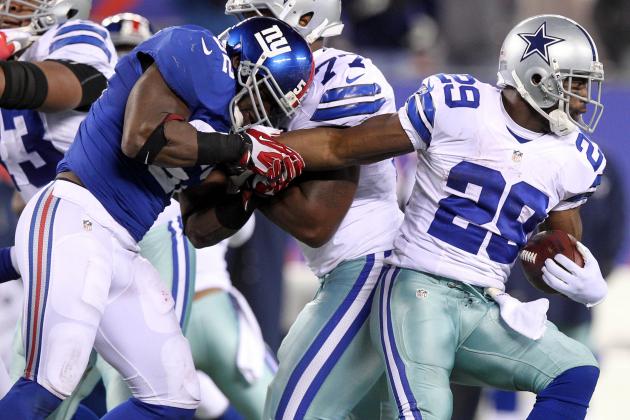 Brad Penner-USA TODAY Sports

Jon Beason, Keith Rivers, Jacquian Williams
After playing so well these last few weeks, this unit was a non-factor in helping the cause.
Beason's blitzes were picked up with seemingly little to no difficulty. He finished with four tackles and appeared to be overmatched in coverage situations.
Williams (4 tackles, 1 pass breakup) was the best of the bunch, showing off his impressive speed and instincts running down a couple of edge plays and effortlessly cutting back with the runner to string things out.
Interestingly, he was not called upon to handle Witten as much, an odd strategy given that Williams has the skill set to match up well against the veteran tight end.
Rivers (one tackle) saw the fewest snaps of the linebackers. He was mostly limited to running plays, where his contain game has been solid the last few weeks.
This week, he mostly came up empty, especially when the Cowboys loaded up on his side of the field. He also allowed a couple of checkdown passes in the flat.
Unit Grade: C-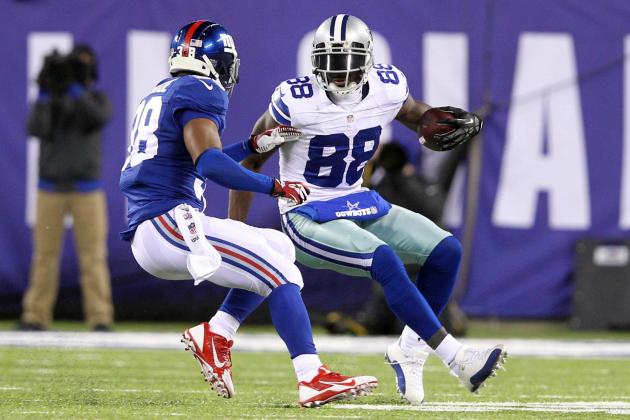 Brad Penner-USA TODAY Sports

Prince Amukamara, Trumaine McBride, Terrell Thomas
Until he was forced from the game with a groin injury, McBride (6 tackles, 4 solo, 2 pass breakups) had been playing well enough.
He drew Dez Bryant more than initially anticipated, and he did well, as Bryant didn't exceed 100 receiving yards until after McBride, who doesn't give receivers a big cushion, left the game.
Amukamara (6 tackles, 1 pass breakup) did face Bryant on a few plays, getting his hands in there to disrupt Bryant.
Because of the windy conditions, there weren't many deep passes thrown, but when Romo did take his shots, Amukamara, who tied with safety Antrel Rolle for the team lead this week in tackles, did a solid job in coverage.
Thomas (6 tackles, 5 solo) was the best of the bunch, shutting down the slot receiver for three-quarters of the game.
When McBride was injured, Thomas moved outside and Rolle was inserted as the slot cornerback. Romo completed three passes for 32 yards on the Cowboys' game-winning drive, as Rolle and Co. had no answers to stop them.
Unit Grade: C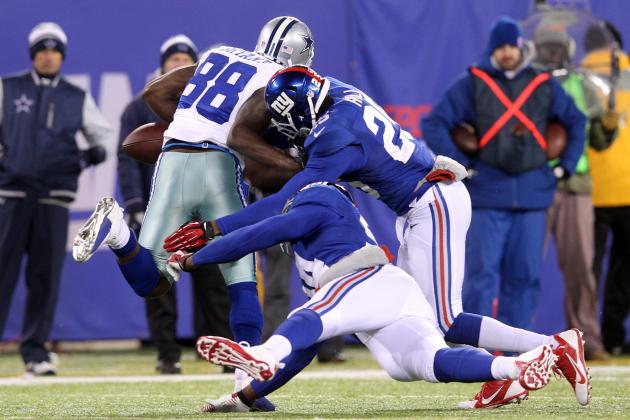 Brad Penner-USA TODAY Sports

Antrel Rolle, Will Hill, Ryan Mundy
As a safety, Rolle (6 tackles, 1 interception, 2 pass breakups) had another solid game. However, when Trumaine McBride went down with an injury and Terrell Thomas had to move to the outside, Rolle, and not Jayron Hosley, was asked to play the slot cornerback, which is not his best position.
Rolle's biggest problem was that he gave up far too much cushion, which translated into a free release for the receivers.
With Rolle not getting his hands on receivers, Tony Romo naturally went after him, especially on the game-winning scoring drive in which Rolle allowed all three passes thrown at him to be completed for 32 yards.
Hill (6 tackles, 4 solo, 1 forced fumble) looked to be the primary culprit who was late in getting over to break up a touchdown pass to tight end Jason Witten.
Surprisingly, Hill wasn't sent on any blitzes of note, as he would show blitz and just stand there after the ball was snapped, in essence not doing much of anything.
He did force a big fumble in the second half that was recovered by the Giants. However, Mathias Kiwanuka's personal foul penalty negated the turnover on what was one of the key plays in the game.
Mundy (4 tackles, 2 solo) came into the game after McBride exited, and had the deep safety responsibilities. On the Cowboys' game-winning drive, he allowed two completions for 30 yards, including a big 13-yard pickup on third down with Dallas needing 10 yards.
Unit Grade: C+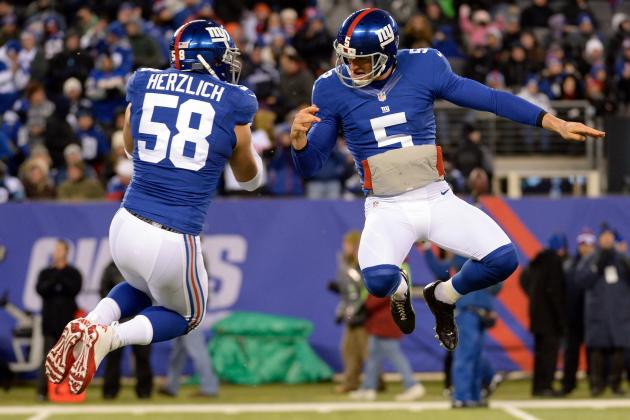 Robert Deutsch-USA TODAY

P Steve Weatherford, K Josh Brown, PR Rueben Randle, K Michael Cox
The undisputed star of the unit was Weatherford, who finished with a 51.6 net punting average.
Yes, that 51.6 net average came in the very same winds that, two weeks ago, gave Weatherford all kinds of trouble.
Per the Giants' postgame notes, Weatherford tied his career high with a 68-yard punt, giving him two kicks of that length this season and three overall. He averaged a season-high 54.6 yards on five punts.
Brown made both of his field goals, but his kickoffs seemed to fall victim to the swirling winds of MetLife Stadium, as just one went for a touchback.
Dallas finished with an average of 21.7 yards per kickoff return and a long of 25 yards by electric return specialist Dwayne Harris.
Randle returned one punt for 16 yards. He had a second return for 20 yards negated by a penalty.
Otherwise, Randle did a good enough job with his ball security, calling for four fair catches, which was acceptable given the windy conditions.
Cox returned three kickoffs for an average of 23.3 yards. He seems to have finally settled down in that role, showing good vision and acceleration. He also does a nice job of following his blocks.
Unit Grade: B+