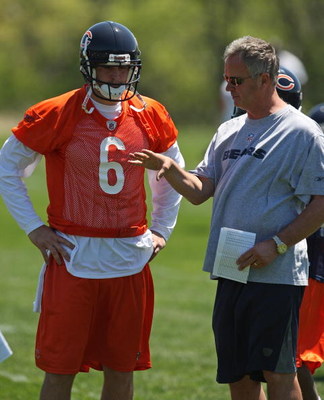 Offensive Coordinator, Ron Turner: "Alright, listen up, Kid. This year marks the 200th anniversary of that British fella, Charles Darwin's birthday. You know why Darwin matters to us in this glorious age, Jay?"
Jay Cutler: "Garsh! I reckon one of my bio courses at Vandy mentioned that Charles Darwin was the grandfather of modern biology and he proposed the theory of 'Natural Selection."
OFRT: "That's right, college boy. Good to see you didn't spend all your days in Nashville studying co-eds and hydroponics. Now, the key for us footballers is to keep on evolving, much like Darwin's beloved finches on Galapagos. So now you're here in Chicago with me; and we're forcing the 'Powers of Darwin' on this whole busted offense. Mercifully, we dragged that bearded freak, Orton, behind the barn and blasted his cranium apart with a shotgun; or sent him to Denver in exchange for you, I can't remember which. So you and I are gonna be making some big changes on offense."
JC: "Uhhh, coach?" [shaking disbelief and confusion from his cerebellum] "Got it! Sounds great, skip. What sorts of changes are we gonna be implementin' 'round here."
Gunnin' & Runnin'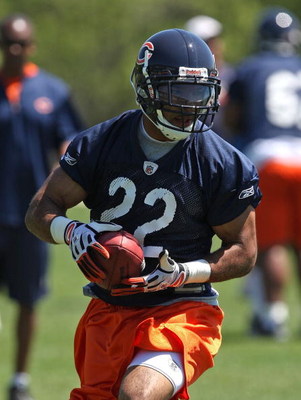 OCRT: "Now Jay, you recognize this feller right here, yes?"
JC: "Sure do, coach! That's my good buddy, Matt."
OCRT: [sucker punches Jay Cutler in the solar plexus] "NO! You imbecile, he is NOT your 'good buddy.' That man is your best running option. He's good and with those hack-toothed buffoons Rex and Kyle running the show last year, I had to give him the ball waaaay too much. He performed admirably, but, yeah, this season we be evolvin, Jay! With Matt last season this offense was a capable running offense but without a deep threat, we were as restricted as an ostrich. Sure, we could run, but without wings we simply buried our heads and used Robbie Gould's leg to score field goals. Eff that noise, you hear me, Jay? I want touchdowns. No more ostriches, only ferocious and marauding falcons, got it?"
JC: [still weary from Turner's punch] "Sir, I understand. Falcons and touchdowns. Jay no likey ostriches or field goals."
OCRT: "Damn straight, skippy."
Devin Hester = Cheetah With More "Cattitude"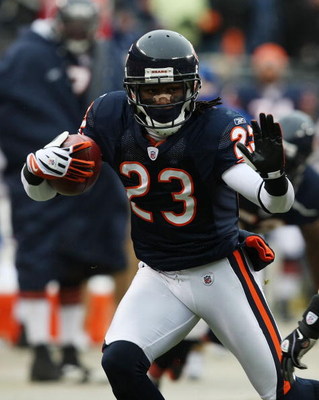 JC: "Hey Coach, I know you want more passing and less running; and a whole lot less 'ostriches and field goals."
OCRT: "Yes, go on..."
JC: "Well, who exactly am I gonna be gettin' the ball to? It's not like [stifling chuckle] the Bears wideouts are [more stifling] a threat."
OCRT: [sigh that's more begrudgingly aware than Turner would prefer] "Jay, you're right. But listen, I swear to you, I HAVE A PLAN. [removes remote from pocket, pushes large red button. sirens go off, portion of turf at practice facilities rolls away to reveal an underground cage with Devin Hester gnawing on a pigskin.]
JC: [gasping] "Is that Devin?"
OCRT: "Not just "Devin," but the new and improved "DEVIN" I blended his DNA with that of a cheetah, he's more cat than man and his reflexes are 100% improved."
JC: "That's inhuman."
OCRT: "But not illegal, Jay. You should see what Lovie and the defensive boys are cooking up for Urlacher: polar bear/mustang DNA sequences."
Always Be Closing (or Evolving)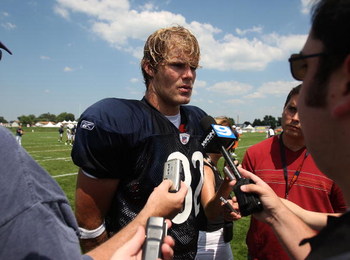 JC: "What about the rest of the receivers?"
OCRT: "Well, we had planned on using most of them as decoys, what with Devin's newly discovered "abilities, wink, wink. But, sure!, I'll bite; I wanna run some sophisticated out routes for those rooks Iglesias and Knox. Meanwhile, I want Forte to be a safety valve option out of the backfield so always keep your eyes open for him; plus, I want Olsen to be available in the flats or as a potential deep route, he's a T-1000 sent here from the future to kill John Connor. He dinged his mainframe in timetravel and, well, now he's ours."
JC: "Sounds good, so when do I get to 'evolve' coach?"
OCRT: "It's already begun, I've been lacing your food with bison DNA for the past three weeks. Tim Tebow won't be the only quarterback freak in town after I'm done with you, Jay."
Keep Reading

Chicago Bears: Like this team?