Cecil Shorts has had enough with the Jacksonville Jaguars offense, and he's not afraid to say it.
The third-year wideout had two receptions from five targets for 22 yards in the Jaguars' 27-14 Week 11 loss to the Arizona Cardinals on Sunday. After the game, Shorts had a meltdown, per the Florida Times-Union's Ryan O'Halloran.
#Jaguars WR Cecil Shorts (two catches): "I'm not holding my tongue anymore ... " (con't)

— Ryan O'Halloran (@ryanohalloran) November 17, 2013
Shorts: "To have 1 target until 7 minutes left in the game, that's [bleeping] dumb. That's dumb, period." #Jaguars

— Ryan O'Halloran (@ryanohalloran) November 17, 2013
Shorts on if he'll go to Gus: "I have to say something and sit down with them because it's getting ridiculous in my opinion." #jaguars

— Ryan O'Halloran (@ryanohalloran) November 17, 2013
Asked if his problem is with the play-calling or trigger man, Shorts said: "I've said too much already." #Jaguars

— Ryan O'Halloran (@ryanohalloran) November 17, 2013
With Jacksonville running its record to a paltry 1-9, you have to think that Shorts isn't the only one fed up with the team's performance, and it was only a matter of time before those frustrations boiled over after a loss.
In defense of Chad Henne, Patrick Peterson is one of the best corners in the league. With him shadowing Shorts for most of the game, the chances probably weren't often there from Henne's perspective.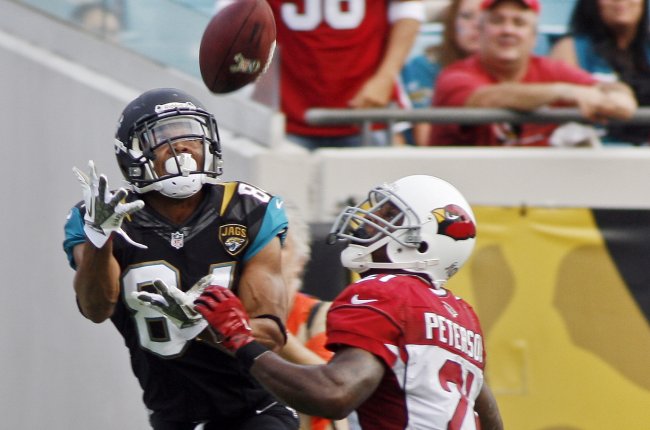 Phil Sears-USA TODAY Sports
But Shorts' complaints have likely been a long time coming.
On Monday, head coach Gus Bradley was asked about Shorts' outburst and discussed what action he took after the comments (via John Oesher of Jaguars.com):
Bradley on Cecil: "I understand where Cecil's coming from. It doesn't make it all right." Talked to team, Cecil about being quick to judge.

— John Oehser (@JohnOehser) November 18, 2013
He is the leading receiver for the Jaguars this season, with 48 receptions for 607 yards and one touchdown.
Considering the carousel that is Jacksonville's quarterback position, those numbers are actually quite impressive.
Henne has gotten the majority of the snaps but has a QB rating of 72.8, throwing three touchdowns to seven interceptions in eight games. Blaine Gabbert has been even worse. In three games, he's had a QB rating of just 36.0 and has one touchdown to seven interceptions.
Do you agree with Shorts' critiques of Jacksonville's offense?
Not surprisingly, Football Outsiders had the Jaguars ranked dead last in passing efficiency coming into the week.
As a promising receiver, Shorts likely feels his best years are being wasted in Jacksonville. That, in turn, could cost him money down the line, as teams could shy away from giving him a big contract in free agency.
It will be interesting to see how this storyline evolves as the season goes on. The Jags are once again in disarray. With so many issues on the field, any off-the-field distractions certainly won't help.