Big Ten Football: What We Learned During Week 12
November 17, 2013

Eric Francis/Getty Images
Wide receivers nearly rushing for 100 yards, triple overtime in Evanston and turnovers galore—the Big Ten had it all and then some in Week 12 of the college football season. 
The top three teams in the Big Ten continued to show why they are head and shoulders above the rest, as Michigan State, Ohio State and Wisconsin all got big wins in very different fashion. 
With just two weeks left in the regular season, both divisions are all but officially wrapped up after this weekend as well.
Michigan State grabbed at least a share of the Legends division crown and can wrap it up next week with a win. Ohio State can wrap up the Leaders division next week with a win of its own, but a loss keeps Wisconsin's faint hopes alive for another week. 
As the conference picture begins to clear up, what did Week 12 teach us about the Big Ten? Let's explore the lessons learned. 
Tommy Armstrong Jr. Isn't the Answer at Quarterback for Nebraska

Eric Francis/Getty Images
Michigan State pulled away late in the fourth quarter for what looks like a major blowout on the scoreboard (41-28), but Nebraska can only look at itself for the reason it lost that game. 
Five turnovers, all inside its own territory, and 21 points off said turnovers did the Huskers in in this one. 
However, the real story was the ineffectiveness of Tommy Armstrong Jr. in the passing game. He finished the day just 9-of-21 for 143 yards and two touchdowns to one interception. 
Normally those are good enough numbers if Ameer Abdullah is doing his thing, but Armstrong had issues in the turnover department all game long, and it negated a 123-yard performance by Abdullah. 
Armstrong's issues weren't just in the turnover department, either. He had trouble with his accuracy, even missing or throwing late on short routes in the game. 
Nebraska needs more out of its quarterback in the future if it is going to compete for division titles. It's safe to say the Huskers will have a pretty open competition at quarterback this coming spring. 
Wisconsin's Defense Is Just as Good as Its Run Game
Mike McGinnis/Getty Images
Yes, we could sit here and talk about the Badgers' 2013-FBS best 554 yards rushing as a team, or the three running backs that went over 100 yards or even the wide receiver who had two touchdowns without ever touching the ball in the passing game. 
Those were all great, but on Saturday the real story was the Badgers defense holding a top-10 ranked offense out of the end zone. 
Giving up just three points to a team that came in averaging 42 points a game and hadn't scored fewer than 28 points (against Michigan State) this season isn't too shabby of a day.
The 12th-ranked Hoosiers passing attack was held to a season-low 122 yards on 12-of-30 passing as a team. Starting quarterback Nate Sudfeld was just 9-of-22 for 99 yards with an interception of his own. 
The weather wasn't fun on Saturday at Camp Randall, but it was only part of what was going on for the Hoosiers offense. 
Missing Tevin Coleman also was a factor, as the Badgers held IU to just 102 yards and a 3.4 average as a team on the ground. That was the third-lowest team rushing total for the Hoosiers this season (92 and 98 yards). 
While Michigan State's defense is getting all the accolades, the Badgers defense is quietly making a case to be just as good. 
Michigan Finally Figures out Overtime, Finds a Run Game 

David Banks-USA TODAY Sports
The last time Michigan and the term overtime were used in the same sentence, it was also followed by the word disaster. 
On Saturday, it was near perfection in the extra frames as the Wolverines scored a touchdown on the opening drive, met the Wildcats' field goal in the second overtime and got a touchdown with a  two-point conversion to win the game. 
Much better than getting a field goal blocked and playing it completely safe against Penn State. 
The Wolverines are also finding winning close games to their liking, winning three of four games decided by a touchdown or less this year. 
If there is a silver lining to a season most Michigan fans see as a disappointment, it is that. 
Well, that and the fact that Michigan found some semblance of a running game. Freshman Derrick Green had a career-high 79 yards, and as a team the Wolverines had 139 yards on 44 carries. 
At least the Wolverines managed to get positive yards rushing, so let's not nitpick too much.  
Braxton Miller Can Run the Ball, in Case You Forgot
So far this season, the Braxton Miller show has been done through the air and not on the ground. On Saturday that all changed, though, as Miller took it to the house for 70 yards on the opening drive, and it was just a start of things to come.

Bradley Leeb-USA TODAY Sports
It led him to 184 yards on the day, an average of 11.5 yards a carry and the highest rushing total of the season. Miller went over the 100-yard mark for just the second time this season and scored just his third touchdown.
Last year, Miller went over the 100-yard mark six times and finished the year with 1,271 yards and 13 touchdowns. 
Miller also went over the 2,000-total-yard mark on Saturday. He has 594 yards rushing and 1,466 yards passing so far this season. 
Of course, this was a game against one of the worst rushing defenses in the country, let alone the Big Ten. 
Yet it was a nice reminder to teams that Miller is capable of taking a game over with his legs and Ohio State is capable of winning in multiple ways. 
It's not just the Carlos Hyde show on the ground anymore. 
Tim Beckman Is Firmly on the Hot Seat at Illinois
Losing a bunch of Big Ten games—20 in a row, to be exact—doesn't help a second-year head coach. Nor does getting into a verbal fight with your offensive coordinator in the middle of a game with camera's watching.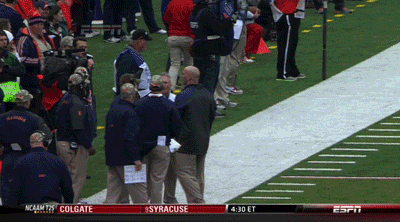 Yahoo Sports
It really is mind-blowing how that could've happened given the fact that that side of the ball isn't the issue for the Illini this season or this past Saturday.
Having no defense has been what killed Illinois over the last two years, and it hasn't gotten better over the last six weeks or so. 
Of course, after the game, both sides tried to downplay it, but even in doing that they clearly weren't on the same page. 
Sure, spats happen from time to time and all of that, but it's just another strike against the embattled head coach. Things aren't exactly getting better under Beckman, and the Illini won't have a lot of patience for losing football anymore. 
This situation should be interesting to watch over the final few weeks of the season. All that's left is the dreaded vote of confidence before Beckman departs. 
*Andy Coppens is Bleacher Repor's lead writer for the Big Ten. You can follow him on Twitter: @ andycoppens.