Arizona Basketball: Way-Too-Early Grades for Wildcats Starters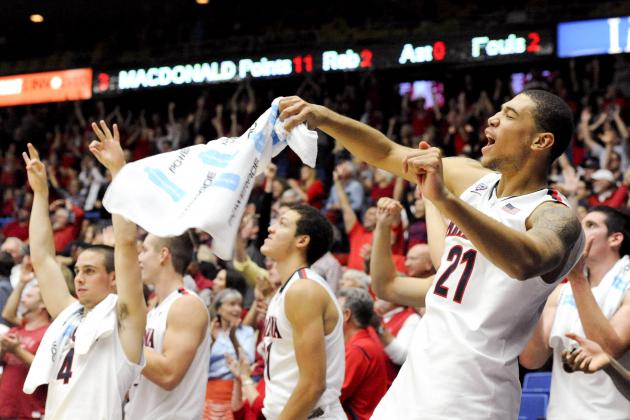 Casey Sapio-USA TODAY Sports

Arizona has started the season 5-0 for the third time in four years and is headed to New York City for a (hopeful) showdown with Duke in the NIT Season Tip-Off championship game next week.
The Wildcats have looked great in nearly every facet of the game—ahem, except free-throw shooting—and are making those preseason projections of being a Final Four contender look pretty spot on.
Five games don't make for a complete season in college basketball, but it's enough of a sample size to give Arizona's starters some way-too-early grades on their performance.
Begin Slideshow

»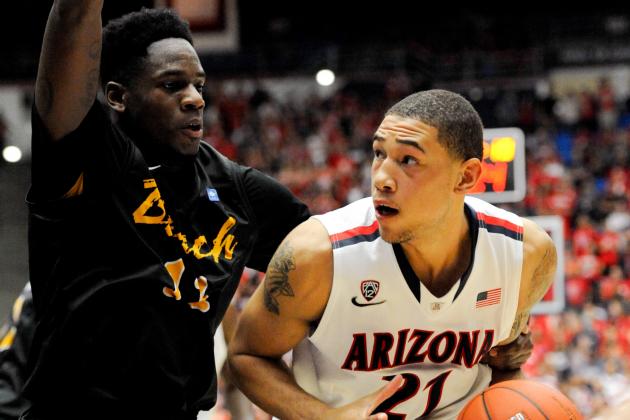 Casey Sapio-USA TODAY Sports

Grade: B+
Brandon Ashley has shown much improvement from his freshman season, especially when it comes to confidence on the offensive end. He's shooting 69.7 percent from the field while averaging 12 points and nine rebounds.
The 6'8" forward is still committing too many fouls, though, but that might be due to being more aggressive on the defensive end. The fouls are coming because of hard defense, not sloppy ball-handling, as evidenced by Ashley only turning it over six times in five games.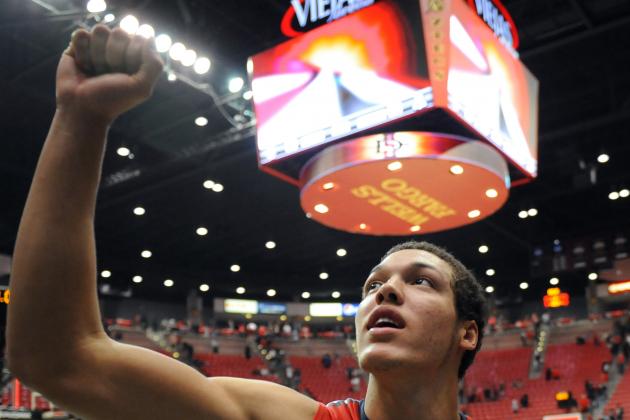 Christopher Hanewinckel-USA TODA

Grade: A-
While Aaron Gordon isn't putting up the ridiculous numbers that fellow super-frosh Jabari Parker is putting up at Duke, he is contributing exactly how Arizona needs him to in its system: as a fierce defender, an aggressive driver to the basket at times and a provider of the occasional highlight-reel dunk for the fans.
The 6'9" forward has 13 points and nine rebounds with three double-doubles. He's doing that despite some off shooting from the field the last few games and a horrible free-throw percentage (42.9 percent). Gordon wasn't brought in to be the man; rather, he was recruited by Arizona coach Sean Miller to contribute his many talents to the overall whole of the team, and in that respect he's done admirably.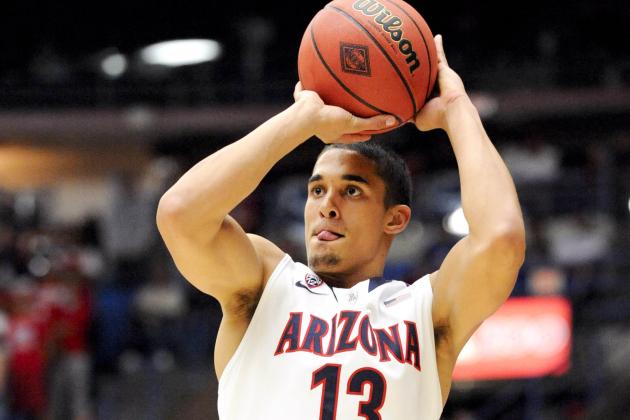 Casey Sapio-USA TODAY Sports

Grade: A
Nick Johnson has taken his game to another level so far this season, averaging a team-high 16.8 points per game while shooting a solid 58.8 percent from the field. The 6'3" junior guard has been all over the stat sheet, crashing the board on defense, hitting 85 percent of his free throws and also dishing out 11 assists.
In Arizona's last game, against Rhode Island, he was four assists shy of his first career triple-double, missing out only because the game was too out of hand to justify him staying on the court.
Johnson has done this before in brief stretches, though, then disappeared for a few games. The key for him is consistency, so how he fares next week in New York City will determine how this season will go.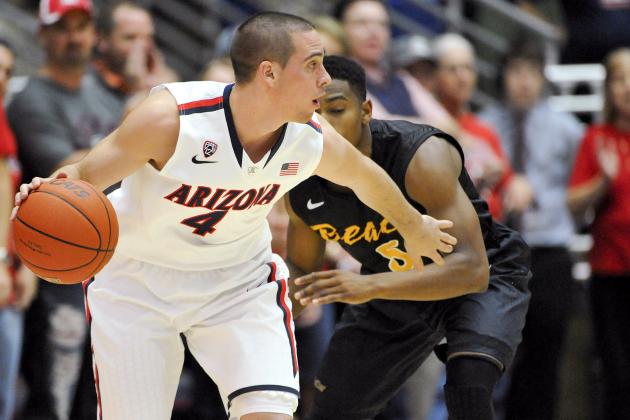 Casey Sapio-USA TODAY Sports

Grade: A
The one piece that Arizona was missing during last season's Sweet 16 run was a true point guard. Actually, the Wildcats had one, but he was stuck on the bench sitting out a year due to NCAA transfer rules.
Now that T.J. McConnell is eligible to play, it's easy to see why Arizona coach Sean Miller was so happy to get him when McConnell decided to leave Duquesne after two seasons. Through five games he has 34 assists with just 10 turnovers, while also recording a team-high seven steals.
McConnell doesn't shoot much and is under 50 percent for the season, but with so many other scorers on the team he doesn't need to. Compare that to the 2012-13 season, when de facto point guard Mark Lyons led the Wildcats in scoring, took more shots than anyone on the team and had almost as many turnovers (95) as assists (99).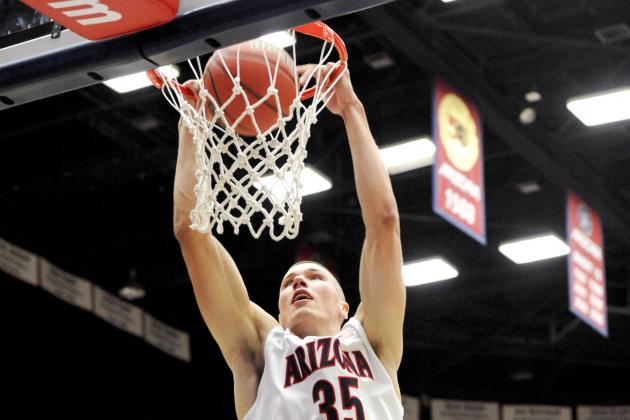 Casey Sapio-USA TODAY Sports

Grade: C
Kaleb Tarczewski has started four straight games since being a reserve in the opener, when Arizona used a small lineup for matchup purposes. He's expected to start the remainder of the Wildcats' games as their best back-to-the-basket option.
But so far Tarczewski has struggled to show the kind of improvement you'd hope to see between a player's freshman and sophomore season. He's averaging 8.8 points but only 5.6 rebounds, has taken just 26 shots and somehow fouled out in 24 minutes of an 87-59 win over Rhode Island.
The 7'0" center is looking a little stronger, but he still has a way to go to be a true force down low.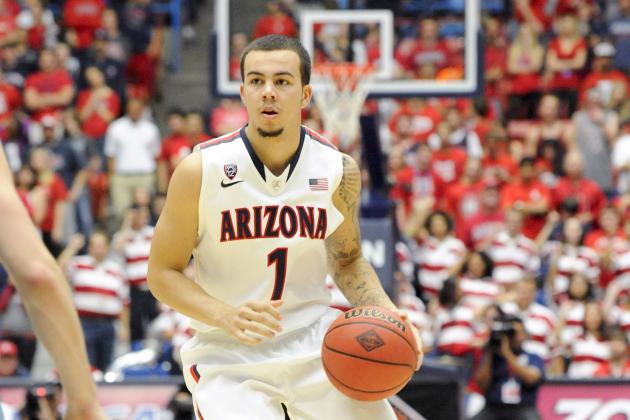 Casey Sapio-USA TODAY Sports

Grade: A-
Gabe York isn't a full-time starter, having only gotten the nod once as part of a smaller lineup, but as the first Wildcat off the bench, he's worthy of a grade at this point. And it's a good one.
The 6'3" guard only played in 15 games and logged 87 minutes of action as a freshman, while already this season he's played 111 minutes with very few mistakes. York is fourth in scoring at 11.6 points per game, and he's hitting 52.2 percent (12 of 23) on his three-point attempts.
York is showing a shooting touch that makes him look almost automatic when given an open look, a deadly weapon that is made more impressive by him coming off the bench as a form of instant offense.