NCAA Football Rankings 2013: Predicting the Top 25 After Week 12
November 17, 2013

Scott Cunningham/Getty Images
Week 12 of the college football season held an array of down-to-the-wire contests, but upsets were very rare during the exciting slate of games.
No. 4 Baylor and No. 22 Oklahoma overcame slow starts to top Texas Tech and Iowa State, respectively. Other teams, such as No. 11 South Carolina, No. 15 UCF and No. 19 Louisville, held on late to topple unranked opponents.
Seventh-ranked Auburn escaped No. 25 Georgia's 21-point fourth-quarter rally and pulled off one of 2013's craziest plays, winning 43-38.
Led by senior dual-threat quarterback Clint Chelf, No. 12 Oklahoma State picked apart 24th-ranked Texas 38-13.
However, although upsets were not prevalent, they were not absent, either. USC outplayed No. 5 Stanford at the Coliseum, upending the Cardinal 20-17 on a last-minute field goal.
The back end of the poll saw zero success on Saturday, since No. 24 Miami joined both Texas and Georgia in the loss category.
Beyond Stanford, since top-ranked teams each emerged victorious or had the weekend off, the most movement is near the bottom of the AP rankings.
Notes: Previous rankings based on Week 12 AP Top 25. This is an AP projection, not BCS.
Projected Week 13 Rankings
Rank (Last week)
Team
1 (1)
Alabama
2 (2)
Florida State
3 (4)
Baylor
4 (3)
Ohio State
5 (6)
Oregon
6 (7)
Auburn
7 (8)
Clemson
8 (9)
Missouri
9 (10)
Texas A&M
10 (5)
Stanford
11 (12)
Oklahoma State
12 (11)
South Carolina
13 (13)
UCLA
14 (14)
Michigan State
15 (15)
UCF
16 (16)
Fresno State
17 (17)
Wisconsin
18 (18)
LSU
19 (19)
Louisville
20 (20)
Northern Illinois
21 (21)
Arizona State
22 (22)
Oklahoma
23 (NR)
USC
24 (NR)
Duke
25 (NR)
Ole Miss
Bleacher Report
Fun Facts
The SEC leads the projections with seven schools listed, while the Pac-12 and Big Ten each have four teams in the poll. The ACC, Big Ten and Big 12 bring up the rear with three programs ranked.
Coming in at No. 12, UCLA earns its 500th all-time AP ranking. In comparison, Northern Illinois makes the program's 20th-ever appearance.
Following its 19-14 win over Florida, South Carolina will be ranked for the 60th consecutive poll.
Duke would be ranked for the first time since Week 16 of the 1994 season, when the Blue Devils were 25th in the nation.
If Baylor jumps Ohio State, at No. 3, the Bears will match their highest-ever ranking which occurred in 1953.
Falling: Georgia Bulldogs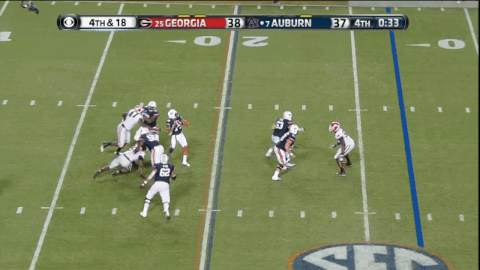 Bleacher Report via CBS
What a brutal way to lose a game.
After senior quarterback Aaron Murray bulled his way through two Auburn defenders and reached the nose of the football over the plane of the goal line, Georgia had a 38-37 lead with 1:49 remaining.
But then, in the most improbable fashion, on 4th-and-18, Nick Marshall heaved a pass into triple coverage, and a Bulldogs' defensive back was the first to touch the ball.
However, it was tipped upwards, so Auburn receiver Ricardo Louis snatched the flailing pigskin and waltzed into the end zone.
Murray was hammered on the game's final play, and Georgia lost a heartbreaker 43-38. The Bulldogs fell to 6-4 and will take on Kentucky next weekend.
Rising: Baylor Bears


Tim Heitman-USA TODAY Sports
Texas Tech jumped out to a 14-0 lead, but Baylor settled down and dominated the Red Raiders 63-34.
Bryce Petty threw for 335 yards and accounted for five total touchdowns, while Shock Linwood and Devin Chafin ran for 187 and 100 yards, respectively, in Lache Seastrunk's absence.
Only seven points separated Baylor from Ohio State last week, so Stanford's loss will most likely boost the Bears over the Buckeyes.
Baylor is now 9-0 and will battle Oklahoma State next Saturday night.
Falling: Stanford Cardinal

Jeff Gross/Getty Images
Losing to USC was not unforeseen, but it certainly is disappointing for Stanford.
The Trojans' Andre Heidari nailed a 47-yard field goal with just 25 seconds remaining to down the Cardinal 20-17.
Stanford suffered its second conference loss, and Oregon retakes the lead in the Pac-12 North Division.
The Cardinal had an outside shot at earning a spot in the BCS National Championship Game, but now, 8-2 Stanford is just hoping to make a BCS bowl.
Rising: Ole Miss Rebels
Ole Miss began the 2013 campaign 3-0, including wins over Vanderbilt and Texas, but a treacherous midseason schedule dropped the Rebels to an even 3-3.
Since Hugh Freeze's team upset No. 6 LSU, though, Ole Miss has won four straight games.
The Rebels smacked around Troy on Saturday, amassing a staggering 751 yards of total offense while allowing negative-13 rushing yards.
With the victory, Ole Miss improved to 7-3 on the season and gets a chance at No. 9 Missouri next weekend.
Falling: Miami Hurricanes
Things are just getting worse for the Miami Hurricanes without Duke Johnson—their star running back.
Despite an early 17-7 lead, the 'Canes were outscored 41-13 by the upstart Duke Blue Devils in a battle for the ACC Coastal Division title.
Miami has now lost three consecutive games, but it was not due to senior quarterback Stephen Morris, who has taken much criticism lately. Morris threw for 379 yards and two touchdowns, completing 30 of his 49 attempts.
The Hurricanes defense allowed 543 total yards, including 358 on the ground, and the unit was the biggest reason Miami dropped to 7-3 and out of the polls.
Follow Bleacher Report CFB Writer David Kenyon on Twitter @Kenyon19_BR