Just like the Tigers drew it up, No. 7 Auburn (10-1, 6-1 SEC) got a 73-yard touchdown pass on fourth down in the fourth quarter to beat the No. 25 Georgia Bulldogs (6-4, 4-3 SEC) 43-38 Saturday night at Jordan-Hare Stadium.
You couldn't have asked for a better final two minutes to end the game.
Down 20 points in the fourth quarter, the Bulldogs clawed back to within six, and with 1:49 left, Aaron Murray scrambled in from five yards on fourth down to take the lead, 38-37.
It was an extremely close play. The officials on the field ruled it a touchdown and couldn't find enough video evidence to overturn the call.
College GameDay's Kirk Herbstreit called it a "legendary play."
Legendary play by Aaron Murray to get go ahead TD in on 4th dn. What an effort! Under review, but damn, that was serious onions on 4th down!

— Kirk Herbstreit (@KirkHerbstreit) November 17, 2013
With so little time left, could Auburn possibly come back? Surely a team that relies on the run can't get a score that quickly.
Oh, how the football gods can be fickle sometimes.
On 4th-and-18 from Auburn's 27-yard line, Nick Marshall connected with Ricardo Louis for one of the most improbable game-winning touchdowns you're ever going to see. Marshall's pass was tipped by Georgia defender Josh Harvey-Clemons, but Louis was able to scramble under the tipped ball, catch it and scamper all the way to pay dirt.
The play was eerily similar to the "Bluegrass Miracle" from 2002 between LSU and Kentucky.
ESPN's Robert Flores couldn't imagine what Louis' TD catch did to social media.
November 17, 2013
Yahoo! Sports' Pat Forde thinks Harvey-Clemons will have nightmares of that play.
Josh Harvey-Clemons is a heck of a player. But he will never forget that absolute gaffe.

— Pat Forde (@YahooForde) November 17, 2013
Forde also came up with an eloquent way to sum everything up.
Some seasons are cursed. Georgia knows what I'm talking about. Some seasons are blessed. Auburn knows what I'm talking about.

— Pat Forde (@YahooForde) November 17, 2013
Of course, there were the other 58 minutes of the game.
In Remember the Titans, coach Herman Boone is questioned about his small offensive playbook. Boone replies his plays are "like Novocaine. Just give it time, always works."
He might as well have been talking about the Auburn offense.
While Gus Malzahn has an infinitely more complicated playbook for his offense, much of the success is derived from a small group of running plays the Tigers continuously run.
Auburn demonstrated that on the first drive of the game, taking 6:45 to go just 56 yards and notch a 22-yard field goal from Cody Parkey. Only twice during that 16-play drive would Marshall throw the football. More often than not, he or Tre Mason would end up eating up yards on the ground.
Of course, you can't just run the football and expect to beat a team like Georgia. After forcing the Bulldogs into a three-and-out on the next drive, it was Marshall's passing skills that were put on display. He completed his first four passes of Auburn's subsequent drive.
Corey Grant ran it in from 21 yards out to give Auburn an early 10-0 lead.
The Tigers made it 13-0 in the second quarter with a 35-yard field goal from Parkey.
Georgia's offense responded, going 75 yards in 2:56 to find the end zone on a nine-yard run by Todd Gurley and close the gap to six points, 13-7. The drive started off with a 42-yard pass play from Murray to Michael Bennett, which helped to relieve a lot of the pressure.
But once again, the Georgia defense had no answer for the Auburn ground game. The Tigers ran on all but one play of their six-play, 73-yard drive to take a 20-7 lead.
The first of three of the game's most important plays was perhaps the first play of that drive. Louis fumbled the ball after catching a pass from Marshall; Georgia's Harvey-Clemons forced the fumble and looked to have recovered it as well. Only Louis had the ball when all the dust was settled, allowing the Auburn offense to stay on the field.
Mark Richt wasn't happy with the call, and fans saw a side of the head coach few have ever seen before.
Marshall punched it in from six yards out for the touchdown.
That call was the pivotal moment of the game before the final two minutes. Who knows how the game could've unfolded if Georgia got the ball and then scored to take the lead?
Seven minutes later, Auburn made it 27-7 with another rushing touchdown, this one courtesy of Mason from 24 yards out. That TD was Mason's 17th on the season, which puts him in good company at Auburn, via ESPN Stats and Info.
Tre Mason tied Bo Jackson & Cadillac Williams for 2nd-most Rush TD in a season in Auburn history (17). Cam Newton has the record with 20.

— ESPN Stats & Info (@ESPNStatsInfo) November 16, 2013
Georgia got a field goal as the first half expired to make it a 27-10 game.
No stat was more telling about those first two quarters than the one provided by Justin Hokanson of Rivals.com.
Tre Mason (99), Nick Marshall (70) and Corey Grant (43) have all out-rushed Todd Gurley (39) at halftime. #UGAvsAUB

— Justin Hokanson (@JHokanson) November 16, 2013
Things were looking up for the Bulldogs as the second half got under way. They received the ball to start the half and made the most of that first drive. Georgia went 75 yards in 10 plays, with Murray running it in from the 16-yard line. With the deficit cut to 10 points, perhaps the Bulldogs had something to work with.
However, Auburn was there to shut the door once again—and it was Marshall doing it with his arm. He connected with Sammie Coates on the second play of the drive for 20 yards and then hit Louis three plays later for 44 yards to get down to the Georgia 7-yard line. From there, all it took was a couple of runs to build the lead back up to 34-17.
Phillip Marshall of AuburnTigers.com thought that drive was a great response from Marshall to the critics questioning his arm.
To those who have questioned it all week, Nick Marshall can throw the football.

— Phillip Marshall (@PMARSHONAU) November 16, 2013
This was also the seventh game of the season in which Georgia has surrendered at least 30 points, via NFL.com's Daniel Jeremiah.
Georgia has allowed 30+ points in 7 of their 10 games

— Daniel Jeremiah (@MoveTheSticks) November 16, 2013
Another Parkey field goal moved Auburn's lead to 20 points with 12:39 left in the fourth quarter.
Then the Bulldogs made things interesting.
A five-yard touchdown catch for Rantavious Wooten made it 37-24, and then Georgia got another touchdown, courtesy of a 24-yard pass from Murray to Arthur Lynch.
With the Bulldogs breathing down their necks, the Tigers picked the wrong time to sputter offensively. They kept giving the ball back to Georgia, giving it chance after chance to get back into the game.
Sooner or later, the dam was gonna break.
And break it did with 1:49 left in the game. Working with a short field, Georgia found the go-ahead score, courtesy of Murray.
Luckily, Auburn still had some magic left. It was a fantastic finish to what became a fantastic game.
Key Player Grades
Todd Gurley, Georgia: B+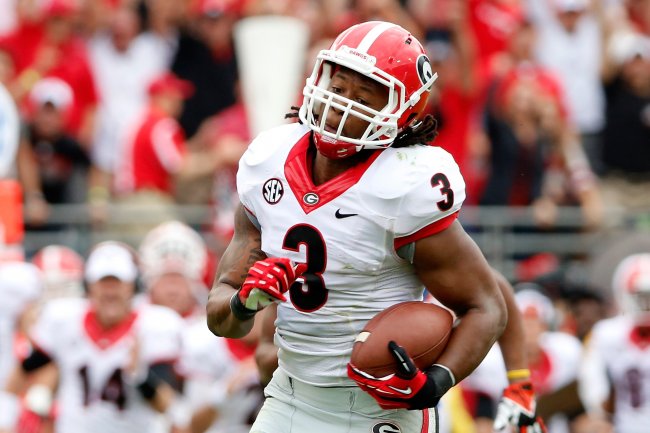 Sam Greenwood/Getty Images
When Todd Gurley was running or catching the ball, he was the most productive member of the Georgia offense. He ended up with 156 total yards and a touchdown.
The problem early was that with Auburn jumping out to a big lead, the Bulldogs had to abandon the run in order to get back in the game. More pressure was heaped upon Aaron Murray, while Gurley basically had to sit on the sidelines.
Late in the game, the sophomore running back did his best to get the Bulldogs back in it. He was a bulldozer, wearing down the Tigers defense. Even at less than 100 percent, Gurley is a handful for opposing defenses.
Aaron Murray, Georgia: A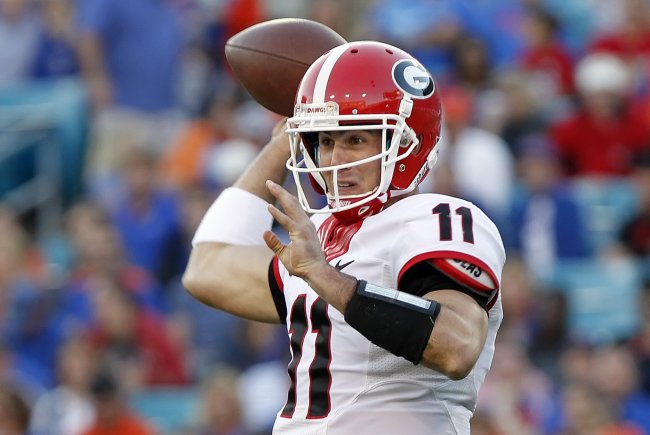 Kim Klement-USA TODAY Sports
What a performance by Murray. He struggled for two-and-a-half quarters but came alive in the second half.
He had 415 yards, two passing touchdowns and two rushing scores on the game, but it was that five-yard run that will be one of the defining plays of his college career.
Late in the game, Murray remained composed. He didn't waver and almost seemed to welcome the long odds against his team. As Todd McShay points out, you can't simply make a player want to step up when the game is on the line.
What an effort by Aaron Murray. I'm so impressed with his competitive temperament this year. Can't coach that...

— Todd McShay (@McShay13) November 17, 2013
Of course, then Auburn had to go and spoil everything.
Nick Marshall, Auburn: A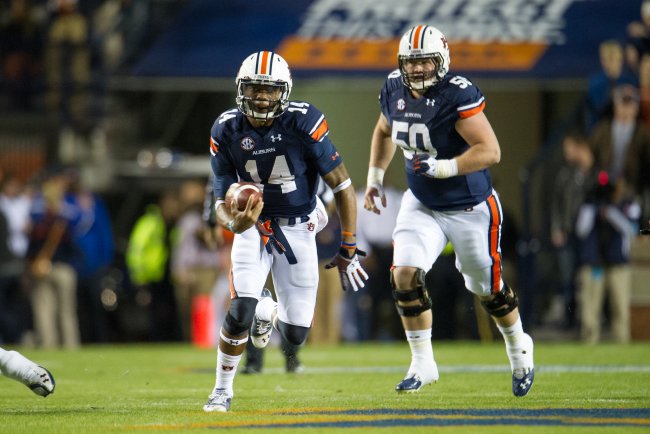 Michael Chang/Getty Images
All you have to do is watch this run by Nick Marshall to understand how good he was on the evening.
Once again, Marshall was a force on the ground. With that physical running style, he ran the Georgia defense ragged. The junior quarterback finished with 89 yards and two touchdowns on the ground. Marshall also had 229 yards passing.
However, it was his passing that got Auburn in trouble late. When the Tigers needed to move the chains through the air, Marshall couldn't get it done.
However, he redeemed himself with that late touchdown pass to win the game, even if he had to ride his luck.
What's Next?
Auburn has a week off, and then it's the Iron Bowl. With the Tigers' success on the ground, that game with Alabama promises to be a back-and-forth affair.
The Bulldogs finish up the regular season with a home game against Kentucky and road game against in-state rival Georgia Tech.