Updates from Thursday, Jan. 2
While there were rumors that Jadeveon Clowney would sign with Jay Z's Roc Nation Sports agency, Clowney decided to align himself with BC Sports (via Neil Stratton of Inside the League):
South Carolina DE Jadeveon Clowney has signed with Hattiesburg, Miss.-based BC Sports.

— Neil Stratton (@InsideTheLeague) January 2, 2014
---End of Update---
Original Text
While it remains to be seen where South Carolina superstar Jadeveon Clowney will be lining up in the NFL next year, one thing appears certain: He's ready for the next level.
According to Yahoo! Sports reporter Rand Getlin, the game-changing defensive end is reportedly considering signing with Jay Z's sports agency, Roc Nation Sports:
Source: Jadeveon Clowney leaning toward Jay Z's sports agency, Roc Nation Sports. http://t.co/3WmIoOwN1M

— Rand Getlin (@Rand_Getlin) November 15, 2013
It remains to be seen how signing with Roc Nation Sports would impact Clowney's immediate future. The agency is still in its infancy, and for now, Clowney is still an amateur. But it's certainly something to follow as the season begins to wind down.
The 43-year-old hip-hop artist, producer and entrepreneur whose real name is Shawn Carter launched the agency earlier this year and made news by signing New York Yankees second baseman Robinson Cano as its first client.
As Getlin points out, Jay-Z has already been the subject of criticism from other agencies and industry professionals who feel he has been able to avoid penalty despite bending rules and regulations.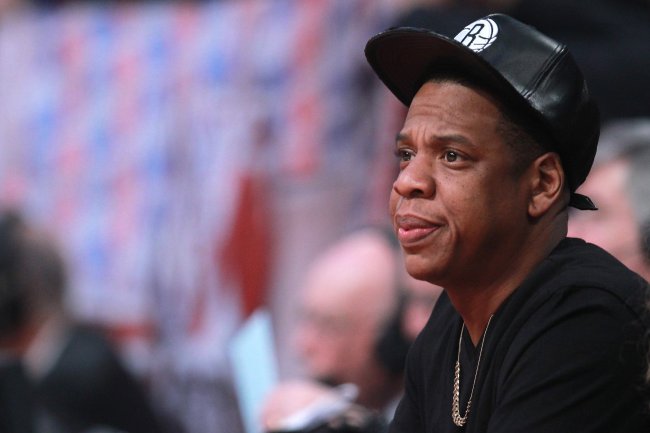 Ronald Martinez/Getty Images
As for the 20-year-old Clowney, since laying a bone-crushing hit on Michigan running back Vincent Smith in the Outback Bowl on New Year's Day, the gridiron star has struggled to live up to the immense hype.
Would signing with Roc Nation Sports be a good or bad move for Jadeveon Clowney?
Clowney, a 6'6", 275-pound freak of nature, recorded 23.5 tackles for a loss, 13 sacks and three forced fumbles as a sophomore in 2012, but boasts just two sacks and one forced fumble in eight appearances as a junior this season.
Still, the physically gifted Clowney is expected to have his name called early on during the first round of next spring's 2014 NFL draft.
Keep in mind that Clowney will have at least four more games to showcase his talent to NFL scouts. At 7-2, the Gamecocks are eligible to head to a postseason bowl game after rounding out their regular-season slate this November.