Colts Fan Attempts to Outdance Oblivious Titans Cheerleader
November 15, 2013

Photo Credit: NFL Videos (via Yahoo! Sports)
Titans cheerleader, you've been served. 
The Indianapolis Colts traveled to Nashville to take on the Tennessee Titans at LP Field. They were joined by a few of their fans, who, despite the team losing horribly to the Rams the previous week, were feeling pretty good. 
Take this Colts fan for example, because he brought every last one of his moves and used them well before the end of the game. 
A tip of the hat to Yahoo! Sports' Eric Edholm, who spotted the brilliant dance moves. 
For those who enjoy a nice GIF, we tip our hats to The Big Lead for saving this moment perfectly for posterity.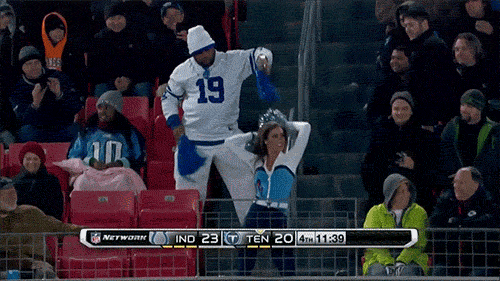 GIF Credit: The Big Lead
Now, this may have had little to do with the actual outcome of the game, unless the Colts received second-half motivation from a fan who completely dominated the party from the stands. 
However, it's just too priceless a video to pass up. 
You have the Titans cheerleader in the foreground completely unaware she is being mocked by a gyrating gentleman behind her. Please, nobody tell her, because she looks happy—like the kind of happiness that comes with leading thousands of apathetic fans who sit in their seats while she claps wildly to the beat. 
The best part is obviously the lucky lady whom this dance machine squired to the game. The look of pure joy (embarrassment?) is simply wonderful. 
Take note, because this particular Colts fan got to witness his team come from behind after the half and secure a win over their division rivals, 30-27. 
The Colts may have the technical win, but this fan took the game. I don't think any of you would dare disagree after watching this brilliance. 
Hit me up on Twitter: