Arsenal manager Arsene Wenger is looking to ease the burden on Olivier Giroud by signing a striker in the January transfer window, and according to a report by Jeremy Wilson in The Telegraph, Edin Dzeko is on his wishlist.

Wenger has serious concerns over the amount of games Giroud is having to play, and it's understood that he has altered the France international's training programme in order to reduce the risk of injury.

Having started every Premier League and Champions League game for the club so far this season, Wenger feels Giroud needs some competition, with Javier Hernandez and Karim Benzema also interesting him. Only Nicklas Bendtner offers Arsenal an alternative to Giroud and the days of him being considered a decent player are long gone.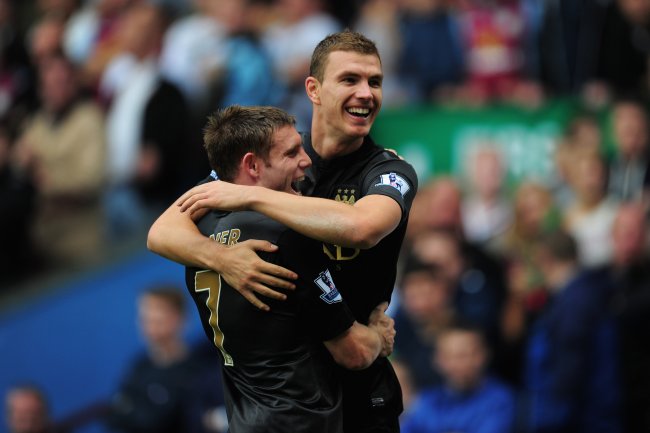 Stu Forster/Getty Images
If an acceptable offer comes in from Arsenal, City should not hesitate in doing a deal. They need to take the money and rid themselves of a player who has proven infuriatingly inconsistent and lazy since his £27 million move from Wolfsburg in 2011.

Dzeko's ability to score goals is not in question—his desire and his ability to cause the opposition problems for 90 minutes most certainly is.

He's managed six goals in 12 games in all competitions this season—a decent rate, particularly given the stop-start nature of his appearances. Last season was similar. In and out of the side for much of the campaign, he still bagged 14 league goals in 32 appearances.

Time and again, he's proven capable of scoring—either from the bench or as a starter—but there is much more to being a top-quality striker, and Dzeko need only look to Alvaro Negredo to see what's missing from his game.
Negredo, too, scores goals, but he also bullies defenders for 90 minutes, can bring a ball down beautifully with either foot and offers a presence outside of the box as well as inside of it.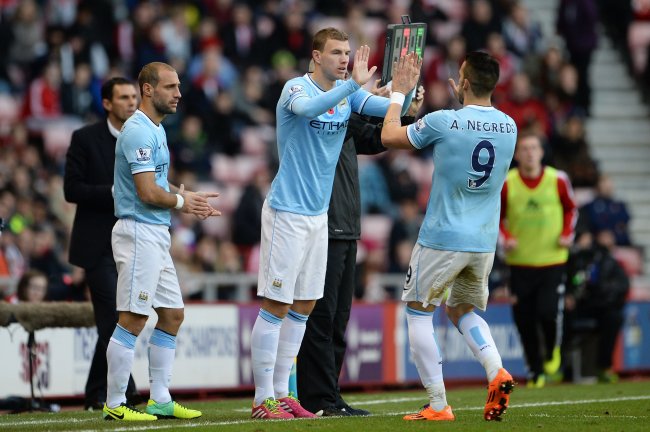 Michael Regan/Getty Images
Dzeko is often referred to as a target man capable of holding the ball up and bringing others into play, but his first touch is usually so unreliable he struggles to impose that side of his game.

He's also a serial complainer, constantly looking to shift blame for his lack of regular starts on to others rather than concentrating on improving as a player. His reaction to being substituted by Roberto Mancini on the fateful night in Munich in 2011 was a disgrace, and his comments in a recent interview with James Ducker of The Times suggested he now feels unfairly treated by Manuel Pellegrini.
Dzeko complained:
The first game of the season [against Newcastle United], I played well, just didn't score. The second game [against Cardiff City] I scored, then the manager changed me. I don't know why. Then in the third game [against Hull City] he changed me at half-time and, again, I don't know why. I mean, the team played badly in the first-half, that's for sure, but it's always on the strikers if it doesn't go well. So I think I could definitely have played more than I have done.
The sound of Dzeko blaming his manager for his failings is an all too familiar one for the City fans.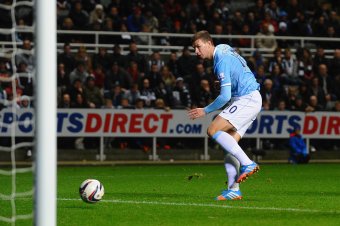 Laurence Griffiths/Getty Images
Too often he will come off the bench and score a goal, only to put in an insipid display next time he's given a starting berth. It's a frustrating patten that has characterised his time at City and means he wouldn't be missed if he were to leave.

Dzeko has qualities that will be useful to another side—his goalscoring record is testament to that—but it is quite clear that he will never be the striker Manchester City need, and they should do a deal if the right offer comes in. A move to a foreign club would be preferable, but City should not fear selling him to Arsenal.
Statistics provided by Squawka.
Rob Pollard is Bleacher Report's lead Manchester City correspondent and will be following the club from a Manchester base throughout the 2013-14 season. Follow him on Twitter here @TypicalCity.