As we hit the home stretch of the 2013 college football season, teams across the country are not only looking for one last push on the field but are making one last push to look good as well.
Northern Illinois rocked military-themed uniforms in its win over Ball State on Wednesday, fitting in with the Military Appreciation theme associated with the month of November.
Under Armour will be one of the biggest players this weekend with not only Maryland rocking some all-white uniforms but with the Hawaii Warriors donning throwbacks as well.
Northern Illinois' American Flag Jerseys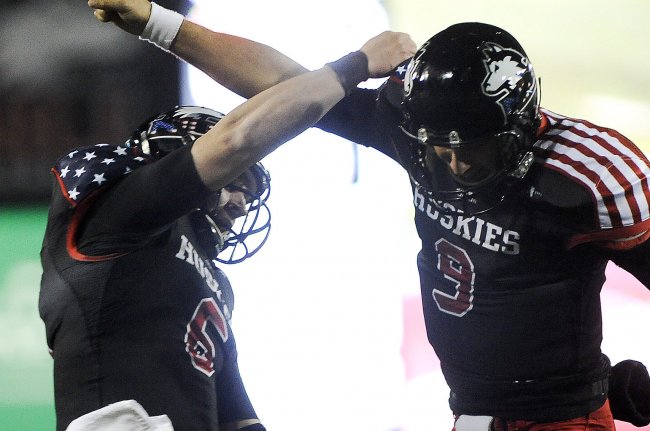 Matt Marton-USA TODAY Sports
Jordan Lynch padded his Heisman Trophy resume in style on Wednesday night against Ball State, as the Huskies rocked American flag-themed uniforms to represent Active Heroes, a charity that supports veterans and their families.
The jerseys featured Old Glory on the shoulder pads and red, white and blue lettering on the helmet decals as well.
@NIUAthletics these are so amazing! Thanks for supporting @ActiveHeroes

— Active Heroes (@ActiveHeroes) November 14, 2013
Rutgers and South Florida are also joining the trend of honoring the military on Saturday with its uniforms.
#RFootball will be wearing these helmets in honor of Military Appreciation Day on Saturday at The Point. #ChopCincy pic.twitter.com/1Def7T3RZ6

— Rutgers Football (@RFootball) November 11, 2013
South Florida Bulls going S&S helmets this Sat. vs. Memphis -> http://t.co/x7uNkHkl3Z pic.twitter.com/AYvolmYqo0

— Phil Hecken (@PhilHecken) November 11, 2013
Under Armour Killing It This Week
Under Armour, while often seen as a little brother to Nike and Adidas, is going all out this week with two of its teams.
Maryland will be rocking their all-white uniforms, per Phil Hecken of Uni Watch.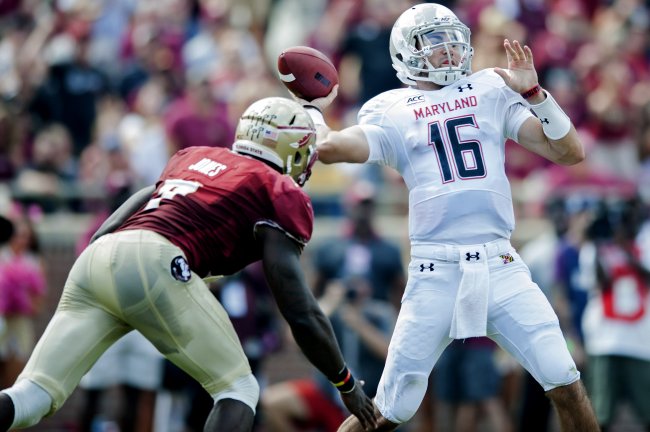 Jeff Gammons/Getty Images
Meanwhile, the Hawaii Rainbow Warriors are rocking throwback jerseys reminiscent of when they had a rainbow as their logo.
Helmet Time
Toledo, Marshall and Louisville all had interesting helmet developments this week.
Toledo rocked a yellow throwback helmet, as seen below.
More Toledo football shots pic.twitter.com/AYL99RAWtw

— Jevon Frazier ☀ (@JevonFrazier) November 14, 2013
Marshall honored the 75 victims of the plane crash that killed coaches, players and supporters of the Thundering Herd in 1970 by wearing a "75" decal on their helmets. The game was played on Thursday, Nov. 14, and was the first time Marshall played a game on an anniversary of the crash.
The tragedy was featured in the movie We Are Marshall.
The helmet every Marshall Thundering Herd player will wear tonight against @utulsa. pic.twitter.com/U9JPbN2uWO

— Dan Pearlman (@danpearlman) November 14, 2013
As for Louisville, their equipment department tweeted out a photo of a "helmet in waiting" that features a black chrome type of finish with a red tint used for the logo.
A model helmet we have as a possible alternate down the road. pic.twitter.com/aDadRsHQSt

— Louisville Equipment (@UofLEquipment) November 15, 2013