The 32nd entry in the Prizefighter series' five-year history was on display on Thursday evening in Bethnal Green, London's York Hall, pitting boxers from the United States against the hosting United Kingdom.
In the final, Michael Sprott emerged with his nearly unprecedented second Prizefighter Cup triumph in a three-round, unanimous-decision victory over American runner-up Jason Gavern.
Sprott had lost six of seven previous fights coming in. This is a huge boost for him moving forward, as he joined Audley Harrison as the only two-time Prizefighter winner.
But it didn't come easily.
Congratulations to Michael Sprott. He deserves an award from British sport. A great man.

— Steve Bunce (@bigdaddybunce) November 14, 2013
Eight fighters battled it out in the abbreviated action-packed tournament, which is a unique test of explosiveness, endurance and acclimation. The bouts happened close together, with each stage lasting only three rounds.
A £32,000 payday from the £80,000 in total prize money awaited the ultimate champion, Sprott.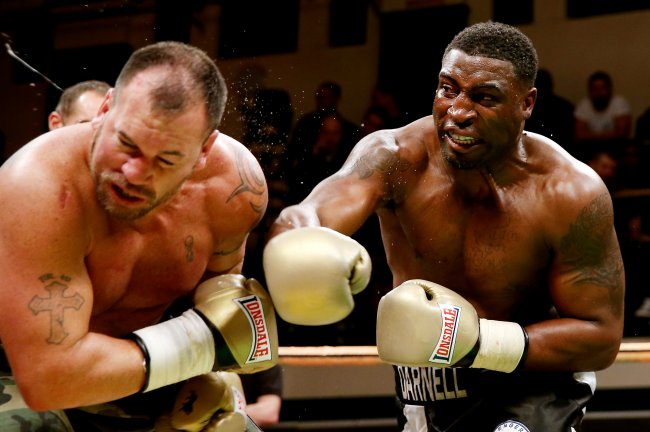 Scott Heavey/Getty Images
It was especially impressive that the 38-year-old claimed the top prize because he was competing with less rest than his foe Gavern ahead of the final fight.
In the quarterfinals, though, things started off inauspiciously for the UK, as Sprott was the only one to advance to the semis.
Sprott took a win over Damian Wills, who landed some quality shots on Sprott in the opening round but faded in the final two in a unanimous decision, which scored 30-28, 29-28, 29-28.
Sprott for me 2-1! Wills far too lazy

— Paul Smith Jnr (@PaulSmithJnr) November 14, 2013
Tom Little, who earlier in the week said he hoped to draw 45-year-old American James Toney in the first bout, instead faced Brian Minto, who took command in the first two rounds by winning each by a card of 29-28.
The 26-year-old from Hatfield had the advantage on the third card at 30-28, but it wasn't enough for Little to secure the victory.
"Lights Out" Toney lived up to his nickname by registering a TKO in the third round of his quarterfinal matchup against Matt Legg. With 45 career knockouts as a past world champion of three different weight classes, it's not much of a surprise Toney advanced despite his age.
That age revealed itself when Toney couldn't quite get up for his semifinal showdown with his compatriot Gavern. Gavern pummeled Larry Olubamiwo in a unanimous-decision win to progress to that stage.
Gavern won a majority decision over Toney, with two of the three cards revealing a 29-28 advantage and another scoring it a draw at 29 apiece.
Jason Gavern MD3 James Toney (29-29, 29-28, 29-28) #boxing #Prizefighter Wow. James Toney just lost to his sparring partner.

— Ryan Bivins (@sweetboxing) November 14, 2013
The victor indicated after the fight that he used to spar with Toney, which helped him get by his formidable opponent, per FightNews.com.
Former light middleweight world champion Paul Jones felt Toney would have obliterated the competition in his prime:
Sad to see a legend like James Toney go out like that. He's a future hall of famer time retire!..... #PrizefighterUK

— Paul Silky Jones (@1silkyjones) November 14, 2013
Toney is a shell of himself, let's be honest a prime James Toney would destroy all these guys with EASE. #PrizefighterUK

— Paul Silky Jones (@1silkyjones) November 14, 2013
Sports Illustrated's Chris Mannix believes Toney put himself in harm's way for competing after the years of punishment he's endured:
Toney is trying to earn a living. It's understandable. But anyone that has seen or spoken with him knows he needs to quit. It's over.

— Chris Mannix (@ChrisMannixSI) November 13, 2013
Thankfully for the UK fans, Sprott continued to bear the torch by defeating Minto in the other semifinal match. After taking a beating in Round 2 and narrowly edging out Minto in the first round, it seemed Sprott might have been doomed.
However, the judges concurred on a 29-28 score in the Reading native's favor.
Prizefighter: Michael Sprott survived some rough moments to edge Brian Minto in semi. Sprott-Minto final #boxing #fightnews @PrizefighterUK

— fightnews.com (@fightnews) November 14, 2013
That set up a clash of heavyweight titans in the final, where Sprott rose above the rest to stake his claim to a landmark win in the Prizefighter's young legacy.
Team UK win Prizefighter with Michael Sprott the eventual winner winning all 3 bouts via points decision

— B.H.B (@British_Boxing) November 14, 2013
Between the semifinal and final of the tournament, Croatian Hrvoje Kisicek suffered a TKO at the hands of the UK's Olympic super heavyweight bruiser Anthony Joshua in Round 2.
Note: All results are courtesy of FightNews.com.