Through the first two weeks of the season, the New York Knicks find themselves at 3-5 while struggling to find an identity as a unit. A major topic of discussion entering the year was how exactly head coach Mike Woodson would manage the unique blend of talent on the roster and if he would, in fact, be able to find a working rotation.
With the Knicks roster being constructed the way it was last summer, much was being asked of Woodson in finding a way to avoid stagnancy on offense while providing some resistance on defense. To this point, Woodson hasn't been able to dedicate himself to a winning formula—Tyson Chandler's injury only compounds the roster's initial flaws.
Many of New York's problems—it's ranked 21st in offensive efficiency and defensive rebounding rate—derive from the lineups Woody has run out—or rather, neglected to run out. But the rotations are just one of the areas the coach needs to improve on if he hopes to exit New York's hot seat any time soon.
Scrap the switching and double-teaming from one pass away.
A chief issue that's seemed to carry over from the 2012-13 Knicks has been their tendency to under-pursue ball-handlers on screens, resulting in switches that cause mismatches. Those mismatches are usually responded to by double-teams coming from the nearest defender. Knicks players often—if not usually—fail to rotate quickly enough to cover the open man.
This strategy comes straight from Woodson, who seems to be unrealistically clinging to the hope that his mediocre defenders can carry out such an intermediate scheme. On the most recent edition of The Mike Woodson Show on MSG Network, the coach explicitly detailed that he strictly forbids his point guards and centers from switching, as to avoid unfavorable matchups.
Either Woodson is stretching the truth, or his players are horrible at following directions. Below is a clip from the Knicks' matchup against the Atlanta Hawks, which ironically aired directly after Woodson made the comments on his show.
Here, J.R. Smith lazily fails to battle through a screen to stick on Jeff Teague. Andrea Bargnani then switches onto the point guard as he dives around the hoop, and you can imagine how that worked out.
In the next example, coming from the Knicks' 31-point loss to the San Antonio Spurs, Tony Parker makes use of two screens, forcing New York to assign three different defenders to the point guard on one play.
From a New York standpoint last season, it was extremely alarming that a few elementary screens could send the team's defense spiraling out of control. Apparently, no improvements have been made in that regard.
Double-teaming—either as a result of screens or seemingly out of nowhere—has been equally destructive to the team's defense. This was a clear issue last season, and still hasn't been cleared up in the six months since last May's playoff bump.
According to Synergy Sports, the Knicks defense ranks 15th in defending pick-and-roll ball-handlers, at 0.75 points per play. They're allowing a discouraging 1.12 PPP to roll men, though, and a field-goal percentage over 57 percent.
Especially with Tyson Chandler not patrolling the paint for the next month, New York's issues on the defensive end will absolutely need to be erased. If not, they'll risk falling deep under .500 before the core of the season even approaches.
Please, for the love of all that's good in the world, play Pablo Prigioni more.
Last year's Knicks won 54 games, and it was basically a direct result of having the third-most efficient offense in the league. Plenty of the credit should be awarded to Woodson's two-point-guard lineups, which, when started, were responsible for 38 of the team's wins.
In 2012-13, it was Jason Kidd who provided the calming presence when things began to go awry. The 40-year-old started off the ball through much of the season, encouraging ball flow and helping eliminate stagnancy with Carmelo Anthony or J.R. Smith on the floor.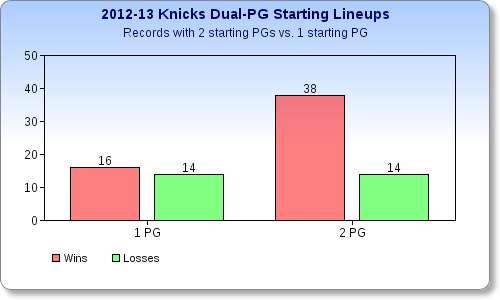 x
Kidd has moved on to the coaching ranks, but the Knicks managed to retain their other veteran maestro from last season. Unsurprisingly, the team has performed better on both sides of the ball while Pablo Prigioni has run beside Raymond Felton, but these are never the lineups Woodson turns to when New York needs them the most.
What's even more infuriating is that Prigioni-inclusive lineups have usually been the ones to dig New York out of massive holes this season. But before they're given a chance to extend damage, Woodson pulls Prigioni and the smaller assets in favor of a bigger five.
According to 82games.com, the Felton-Prigioni-Shumpert-Anthony-Chandler lineup—the starting unit through most of last season's playoffs—has played just 30 minutes this year. In its time together, though, it has posted a ridiculous net rating of plus-28—the Knicks' best among lineups that've played significant minutes together (via NBA.com).
On a team whose two most prominent scorers are isolation-style players, the emphasis must, at all times, be on ball movement. Sometimes to a fault, Smith and Anthony's offensive styles lead to a blockage of offensive flow. This is when the two point guards come into play. Having two sets of eyes on the court capable of finding the best possible shot in a given possession is key.
According to NBA.com's player tracking numbers, Carmelo Anthony possesses the ball more than any non-guard aside from LeBron James and Paul George. Limiting Anthony's ball-handling and maximizing his catch-and-shoot and post-up looks could help to boost the offense's efficiency—and Prigioni would help find these looks.
Although he's not known to pull the trigger all that often, he's sank eight of his 15 attempts from beyond the arc this season. He was a 40 percent shooter from there last year, and has posted a 46 field-goal percentage over his 86 NBA games.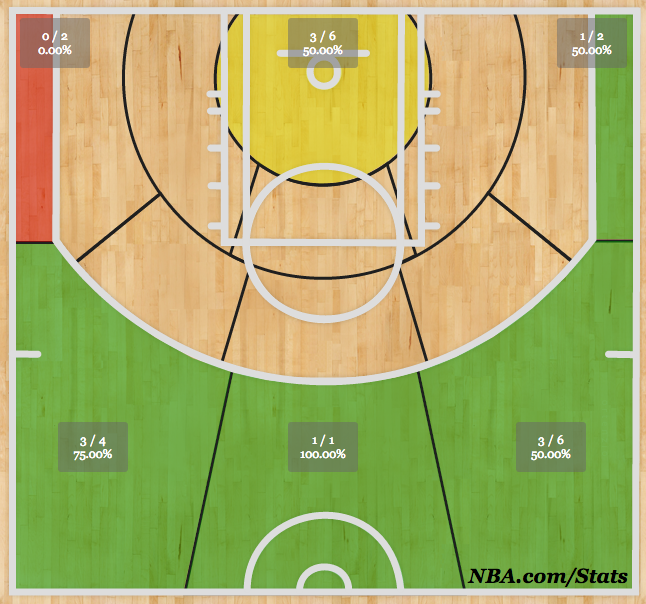 NBA.com
Prigioni is also, despite his 36 years of age, the Knicks' quickest and best defender at point guard. He is one of the only New York players who tend to pursue pick-and-roller ball-handlers after the screen, allowing just 0.48 PPP (3-of-19 shooting) on those plays this season. That ranks him second among qualified players (via Synergy).
This is a key reason why the team has allowed nearly 12 points per 100 possessions with Pablo on the floor, per 82games.
Despite all this, Prigioni has averaged just 16 minutes per game after his 37-minute opening night. Last season, the team went 16-6 when he logged more than 20 minutes.
The evidence is pretty clear. Prigioni needs to be logging more minutes than the end-of-the-bench totals he's garnering right now. Preservation is significant, but there's a difference between conserving minutes and letting a player rot away on the bench.
Allow Carmelo Anthony a chance to recharge the batteries. And Ray Felton? 35 MPG? Really?
If Woodson learned anything from last season's team, it's that preserving his core contributors for the long haul is probably more important than gutting out November nail-biters. Just ask Jason Kidd, Rasheed Wallace, Kenyon Martin and Amar'e Stoudemire.
Granted, Carmelo Anthony is younger and in much better physical shape than most of those guys, but it's probably not in 'Melo's best interest to be leading the league in minutes per game through the season's first two weeks.
After eight games, he's up over 41 minutes per contest, and the hefty total may already be taking a toll on Anthony in-game.
In first halves this season, he's shot 51 percent from the field and made exactly half of his three-pointers, equating to a pretty 55.6 field-goal percentage. In third and fourth quarters, however, Anthony has fought much harder for his points: 36.5 percent from the field and 27.8 percent from distance (via NBA.com).
Woodson says he'd like to get Anthony's minutes back down to 33 or 34 per game. He's played 42 a night so far.

— Chris Herring (@HerringWSJ) November 6, 2013
As you'll see in Chris Herring's tweet above, Woody vowed to slash 'Melo's minutes weeks ago. Getting Anthony down to even 35 minutes nightly would be ideal, so it's on Woodson to preserve his No. 1 weapon over the course of 82 games.
And speaking of the minute distribution amongst starters, Coach Woody deserves a bit more negative attention for how he's handled the point guard situation.
The coach has anointed Raymond Felton his all-enduring starter, which is understandable only to a point. But it is curious considering the extent he's willing to shift the rest of the starting five.
Felton has shot the ball at a putrid 37.6 percent clip, including a three-point mark of 20 percent. Per NBA.com player tracking data, he's shooting below 40 percent on drives this season (through 49 attempts).
He's gotten to the line for just 12 free-throw attempts this year while tossing up more than 100 shots, which would equal his worst single-season free-throw rate (.119 free throws per field-goal attempt).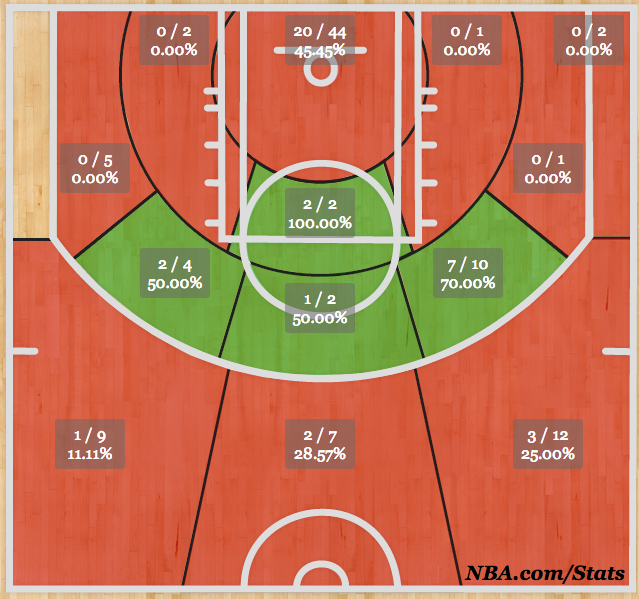 NBA.com
Synergy has him shooting at just 32 percent as the pick-and-roll ball-handler, which sets up for a miserable 0.65 PPP on sets that make up almost half of Felton's plays (49.2 percent).
Felton's defending has appeared to dip off from his already-mediocre 2012-13 season standard. According to 82games, his point guard opponents have posted a PER over 17 and are averaging more than 25 points per 48 minutes.
Felton puts forth the effort and heart you need to see from your prime point man, but the results haven't been there all season long. That does not matter to Woodson, though, who has played him at least 35 minutes in five of the team's eight games.
What was thought of as a strength heading into the season, Woodson has neglected to use his point guard depth in Pablo Prigioni and Beno Udrih—a DNP in four of eight games and averaging less than 10 minutes.
Cutting back on Felton's burn and distributing it between Prigioni and Udrih is, at the very least, worth a try at this stage of the season.
Follow me on Twitter at @JSDorn6.